After seeing pictures of Kate's first birthday party, my friend Allison proclaimed, "That is like my dream come true party."
Since her birthday is just a few weeks after Kate's I jokingly replied, "Want me to pack it all up and bring it to your house for your birthday?"
And with that, an idea was born.
My friend Allison lives about five hours from me, and since I couldn't pack up Kate's party and bring it to her, I decided to do the next best thing: deliver her a birthday party in a box, using Kate's birthday decorations and colors for the inspiration!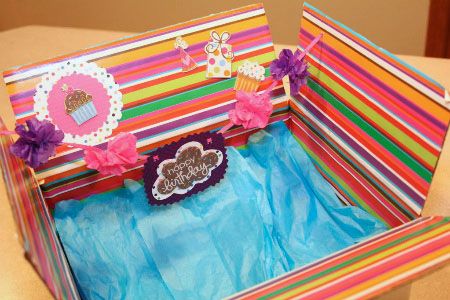 Birthday party in a box!
This is a super simple DIY project and a great way to jazz up care packages for loved ones!  First, disassemble your box and lay it out flat with the inside of the box facing up:
Next, take your favorite wrapping paper and glue it to the inside of the box. I used a good old-fashioned glue stick for this. Any adhesive will do.
Smooth your wrapping paper over the box, and trim it where there are spaces between the flaps of the box:
Reassemble your box, using packaging tape to securely close the bottom flaps.
If you'd like to include a little birthday banner that pops up when the box is opened (like I did for Allison's) take a hole-puncher and punch a hole in opposite flaps of the box. Be sure you are punching your holes into the two flaps that will be folded down first when your box is closed.
For Allison's birthday box banner I made miniature tissue paper poms like the poms I made for Kate's party. Paper cut-outs re-used from Kate's party, and some festive birthday stickers complete the decorations.
I filled the box with some of Allison's favorite things, tied it with a bow, and the package was complete:
Allison's very own birthday party in a box all set to be closed up and shipped out!