Christmas is magical.
I don't know any better word to describe it.
This time of year always gives me this feeling that I can never quite articulate–a feeling like my insides are filled with glitter and twinkle lights, and I'm never more than 2 seconds away from bursting into laughter or tears over the sheer beauty and joy of it all.
Magical.
I begin decorating for Christmas as soon as we get home from dinner on Thanksgiving Day.  While most people are succumbing to their turkey comas, I'm manic with excitement over unwrapping treasured ornaments, pulling out stockings, and filling the house with bursts of Christmas cheer–the tree, of course, being the focal point.
If Christmas is magic, the tree is the wand.  Nothing takes my breath away quite like a Christmas tree decorated with lights, love, and memories.  Our tree has been up for three weeks now and it still makes my eyes well with tears when I look at it.  I don't know why!  There's nothing particularly remarkable about it…other than it's ours.
I was so ridiculously excited to show Kate our Christmas tree the morning after I put it up.  I couldn't wait to see her reaction at the sight of such a beautifully unexpected thing in our living room!  I checked it before she woke up to make sure the lights were on, and as I carried her down the stairs I prepped her, saying, "Mommy put the Christmas tree up last night!"
We reached the bottom of the stairs and I watched as her face lit up at her first sight of it.  She stared in wonder for a moment, then turned to me and whispered, "I found it."
I laughed and replied, "Yes you did!"
"Go say hi?" she then asked tentatively.
"Sure!" I replied as I transferred her from my hip to the floor.  "Let's go say hi."
Kate grabbed my hand as we walked across the living room, stopped in front of the tree, and then she cheerfully greeted, "Hi Christmas tree!"
We spent the rest of that morning gathered around the Christmas tree while Kate ooh'd and ahh'd over the ornaments.  "Look at that one!" she said as she pointed to one of them.
"Yes, Mommy sees it." I replied.
"That's pretty," Kate gushed.
"Yes, that's a pretty one," I agreed.
"Ooh, ooh, look at that one, Mommy!" she said excitedly as she moved on to the next ornament that caught her eye…and the two of us sat there, pointing out our favorite ornaments and ooh'ing and ahh'ing over the magic that is Christmas and the wand that is our tree.
Kate admires our tree every single day, and her ritual rarely changes.  She takes me (or Greg, or Grandma Pam) by the hand, leads us to the tree, and points out all her favorites, saying, "Ooh, look at the one!"  We discuss the ornament's shape, color, and pattern, and if one falls off the tree Kate knows exactly where it fell from and insists that it's returned to its proper spot.
I watch as her eyes sparkle with wonder while she examines the red glittery one for the 1,634th time that day and exclaims, "Look at this one, Mommy!" as if she's seeing it for the first time all over again.  My 2 seconds are up, and the tears and laughter spill as I hug her tight and burst with all the joy and glitter that's inside of me, because I know without a shadow of a doubt…
The magic of Christmas lives inside of Kate, too.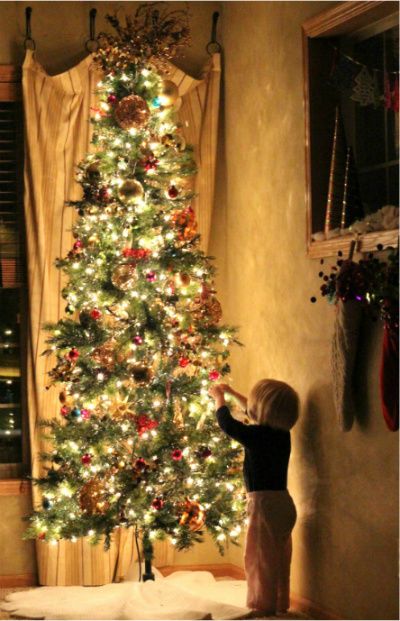 Kate: 23 Months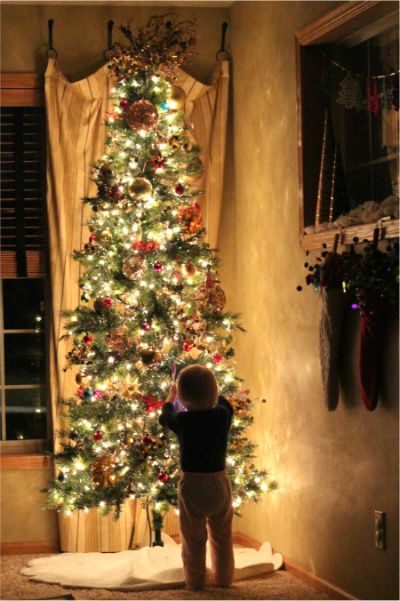 Kate & Mommy, trimming our tree.
UPDATE: Video added of Kate admiring our tree:
The pictures in this post were taken using my friend Beth's camera tips for getting a glowing effect from your tree–check it out over at Unskinny Boppy and join her "Show Your Glow" link party!