Ready for your first peek at Kate's "big girl room"?
(The very first teeny tiny little baby beginning of Kate's big girl room, mind you.)
Our original plan was to keep Kate in her crib until she outgrew it, started climbing out of it, or started driving.  Those plans changed, however, when we booked our first family getaway.  Although she still fit in her crib, she had outgrown her Pack N Play, so I (very nervously) made our hotel reservation for a two bedroom suite.
The deadline had been set.
We needed to have Kate transitioned to her "big girl bed" before our family trip so she would feel comfortable sleeping in the bed at the hotel.  This also required a switch in bedrooms since her tiny nursery was too small to accomodate all her things, plus a bed, plus space for playing.
My original hope was to have her new bedroom completely finished and decorated before we moved her into it, but life got in the way, and that little dream died on the vine.  Instead, I found myself six days away from our self-imposed deadline with absolutely zero progress made on it, so my five page list of Everything I Want To Do In Kate's Room was shorted to this five item list of Things I Absolutely Must Do In The Next 6 Days:
Pick out a paint color
Paint
Vaccuum
Buy a mattress
Buy sheets
When it comes to redoing a room, I usually pick out my paint color last.  It's a bajillion times easier to find fabrics, curtains, bedding, etc. that you like first and then match your paint color to them (versus doing the oppositve), but I didn't want to have to kick Kate out of her bedroom at a later date to paint, so I had to do the thing I hate, hate, hate: pick a paint color first.
I have a ton of ideas for decor in Kate's room, but at this point I was really only committed to two things:  the dresser from her nursery was moving with her and staying its same purple color (I'll be damned if I'm painting that thing again), and I really wanted to incorporated gold sequins somewhere/somehow in the room.
I was all over the map with this one trying to find a color that matched purple and gold.  I poured over hundreds of paint swatches in every different color and shade, from neutral beiges and grays, to bright pinks and blues.  After much anguish, I finally settled on a dark teal color, drove to Home Depot to buy it, but then freaked out in the parking lot and decided it was all wrong.
I was back at square one, but I reeeeally didn't want to have to make yet another trip to Home Depot that weekend.  I was leaving with a can of paint in my hand no matter what, so I opened the Pinterest app on my phone, reviewed my inspiration board for Kate's room, and stopped at this picture:
A little Kate Spade inspiration
I decided that if this seafoamy/aqua background was good enough for Kate Spade to use as the backdrop color for an entire line, then it should make a good backdrop for my Kate's room, regardless of what other colors, patterns, fabrics, etc. I go with – plus it matches plum and gold!
I then used the oh-so-scientific technique of holding my phone up to the display of paint swatches to eyeball what I thought looked like the best match.  Behr's Sweet Rhapsody was my winner: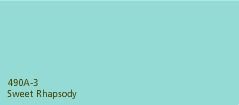 Behr's Sweet Rhapsody
It's a pretty close match, don't you think?
I did.  So I grabbed the swatch, had the color mixed, and peeled out of the parking lot with my gallon of paint in hand before I lost my nerve.  I have never spent so little time picking out a paint color, but I was on a deadline and there was no time left for second guesses.
With the paint color chosen, my next order of business was to buy a mattress.  G and I had decided to go with a twin bed in Kate's new room.  I wasn't in the mood for shopping around, researching, or negotiating at this point, so when Kate and I arrived at the furniture store I simply asked the sales lady to, "show me your most popular mattress for children."  She led me to a memory foam twin and once she said, "chemical-free" and "it's foam so they can't jump on it" I was sold.
Kate and I explored the children's bedroom displays while our sales person rang up our purchase (matresses only; I already had a plain metal frame at home).  Kate loved checking out all the different bedroom displays but I quickly noticed that she was only getting on the full sized beds – she was completely ignoring all the twins.
"Kate, look at this cute one!" I enthused, trying to get her interested in a twin bed.
"No, look at this one, Mommy!" she replied even more enthusiastically, trying to get me interested in the full-size bed she was sprawled across.
I gave several more attempts at convincing her that twin beds are the coolest, but she wasn't having it.  She ran and climbed up onto yet another full-sized bed, squealed with delight, and exclaimed, "Look Mommy!  There's enough room on here for you, too!"
Seconds later, Kate and I were snuggling and giggling on that full-sized bed while our sales lady exchanged the twin mattress set I had just purchased for the full size version my two-year-old had just talked me into.
(And here I thought I was the rockstar negotiator.)
Which brings us to . . . your first look at the very beginning of Kate's Big Girl Room (a.k.a. Kate's Room, version 2.0).
The purple dresser from her nursery will stay in here (and stay purple), but she no longer needs the changing station on top so that will go:
The glider chair (from her nursery) has also been relocated to her new room.  We'll keep the small pink chest that was in this room before (it makes a great nightstand) but it will get a makeover with a coat or two of paint:
Kate's new bed looks so sad with nothing on it but a set of white sheets, but she absolutely loves it (so much so that she she proudly shows it off to every family member, friend, and solicitor that walks through the door).  Plus, she's sleeping it in it like a champ!
Now that I've knocked out my list of 5 Things I Absolutely Must Do before Kate moves into her new room, it's time to focus on the fun stuff – curtains, bedding, headboard, art work – I can't wait!
Update:  See the next steps of Kate's room here:  Kate's Room v2.1