Day 2 of "A Week in My Life" series – the 2012 version. Enjoy!
6:40am: I don't have to run this morning, so I don't set an alarm and instead wake up to the sound of Kate and G chatting in her room. I go in and say good morning, with hugs and kisses and cuddles start my day. I pick out Kate's clothes for the day and G takes her downstairs to get her dressed and feed her breakfast while I finish getting ready.
7:15am: I can hear that Kate's having a hard time downstairs this morning.  It's hard for me not to go downstairs and help.  G is 100% competent and doesn't need "rescuing" by any stretch of the imagination, but when it comes to being his wife and Kate's mom, this has always been one of those areas where it's so hard for me to stand by and let him take the hits – I'd much rather jump in and take them myself.
Kate's pretty fussy, and soon I hear her still crying as she comes back up the stairs to see me and ask for cuddles. I ask her why she's sad, and she says she doesn't know. I think she's just having one of those mornings; we've all been there.  I let her play with my spray bottle of water while I finish getting ready, which cheers her up, but when I go to comb her hair she starts crying again. (Which is what I'm guessing upset her downstairs – G trying to comb her hair.)
7:30am: I'm ready, Kate's hair is combed, we go downstairs, and say goodbye to G as he leaves for work.  Kate still hasn't eaten so I offer her some on-the-go breakfast options to have in the car on our way to daycare. She's so fussy this morning! She doesn't want to eat anything, doesn't want to wear her shoes, doesn't want to put on her hoodie, etc.  She finally settles on raisins and a granola bar for her on-the-go breakfast, pulls it together, and starts eating as I pack up the car and write our weekly daycare check.
7:45am: Kate and I leave the house for daycare drop off, which goes surprisingly well considering she's had such a touchy morning.
8:00am: Starbucks.  It's a must.
8:30am: I arrive at work, and start doing work things.
I see an email from my friend Beth asking me out for lunch today.  I love unexpected lunch dates with friends!
11:30am: I meet Beth for lunch at Capitol Chophouse downtown and we enjoy super good food and lots of laughs.  At one point I'm teasing her about something as our waiter arrives and asks, "Can I remove these for you?" referring to our plates.
Beth nods my way, mid-laugh, and responds, " Can you remove her, too?"
"I'm a kicker!" I warn him.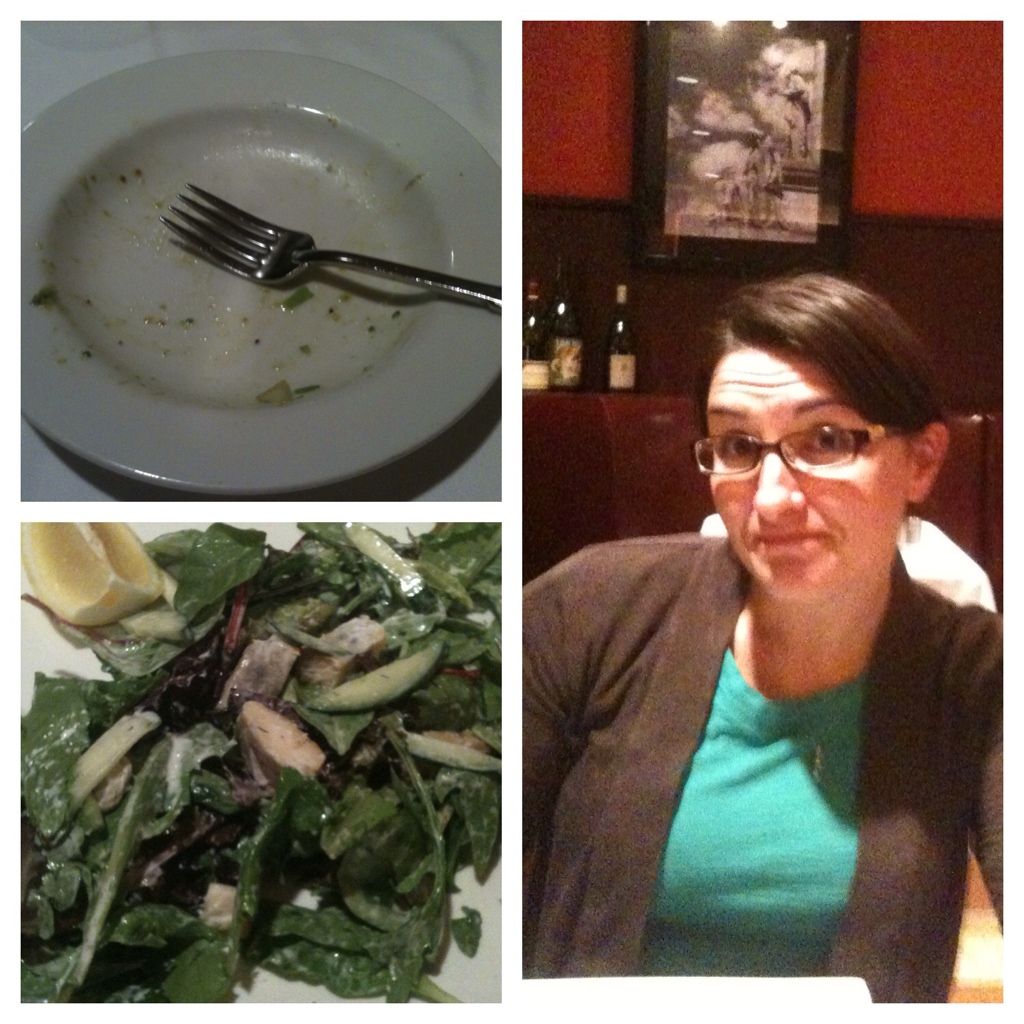 Lunch with my friend Beth – my starter chopped cobb which was so good I devoured it before remembering to take a pic, my smoked trout main course salad which was amazeballs, and my friend Beth who is agreeing with everything I say in this pic (not so much).
After lunch, I return to work and continue to do work things.
4:30pm: I'm home early thanks to a meeting out of the office near my home, so I get started on dinner.  Tonight we're having grilled ahi tuna (using a recipe compliments of Rhonda – a reader who responded to my request for ahi tuna recipes on my Facebook page) with roasted acorn squash.
5:15pm: G and Kate get home. We chat about all of our days, and then G and Kate go to the playground to play while I finish prepping dinner and get changed to go to the gym.
5:45pm: G and Kate are back. Time for G to grill up the ahi tuna I've marinated: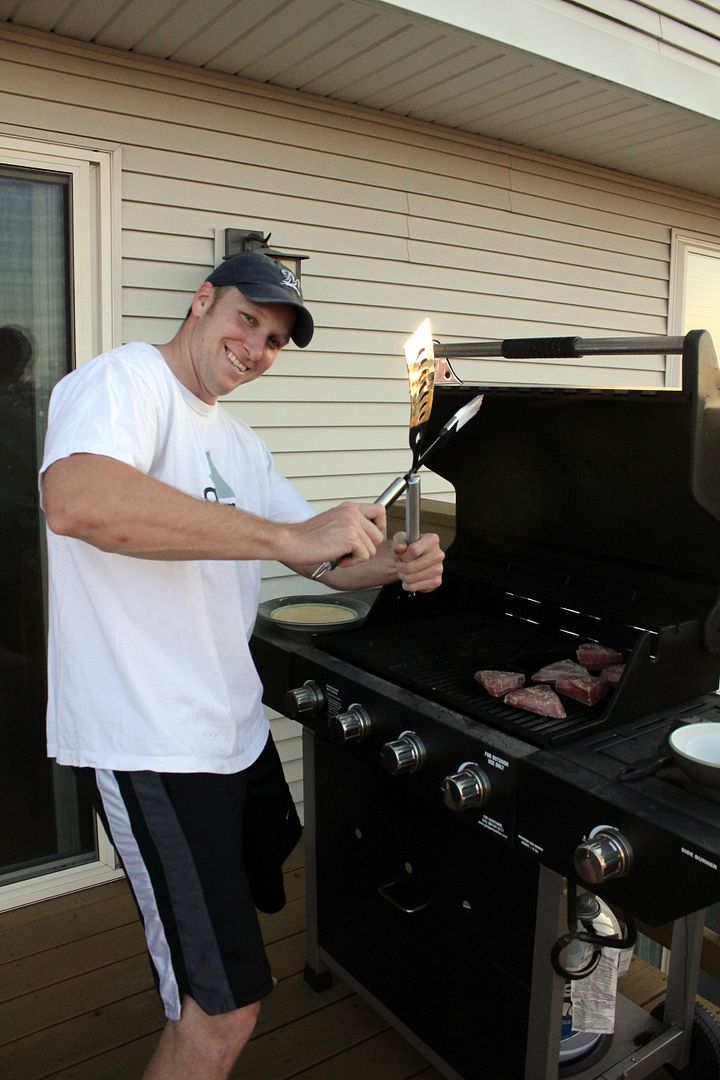 G – the grillmaster!
6:00pm: Dinner's ready!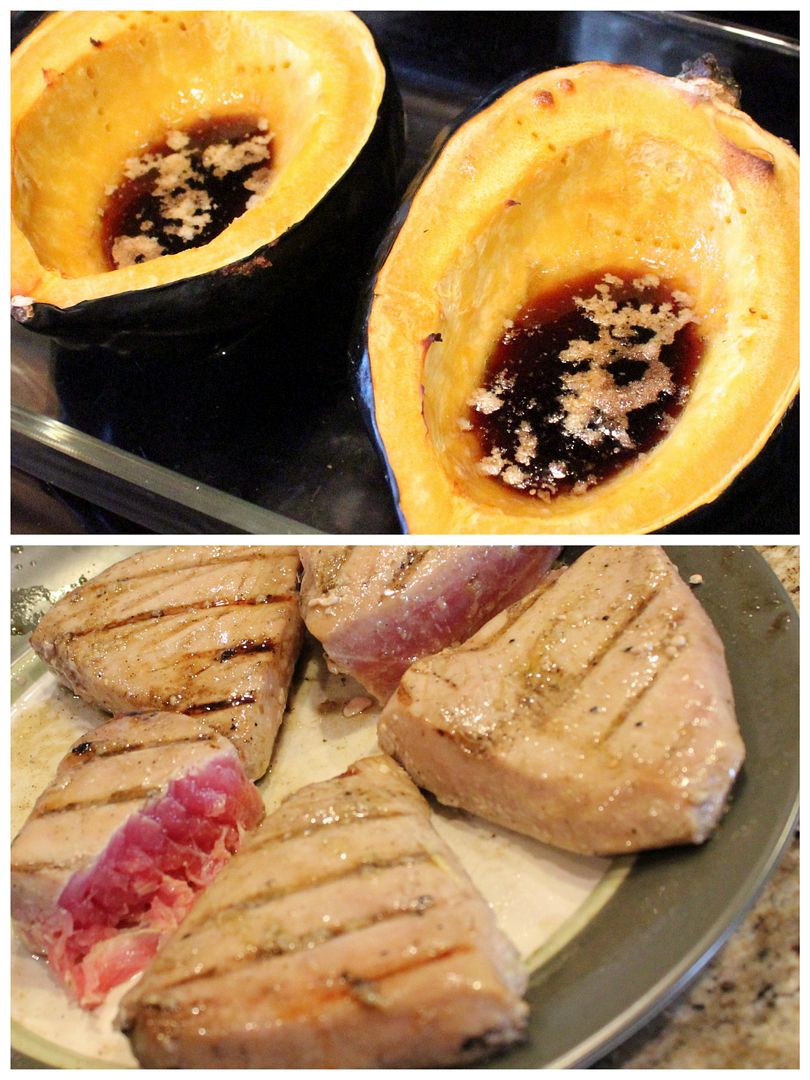 Tuesday night dinner: roasted acorn squash and grilled ahi tuna.
G and Kate (and teddy bear) sit down for dinner:
I'd join them, but Tuesday nights is my night to go to the gym.  I give Kate a kiss and tell her, "Mommy's going to the gym to exercise. You have a good bedtime with Daddy. I love you."
"I love you, too," she replies – for the first time ever!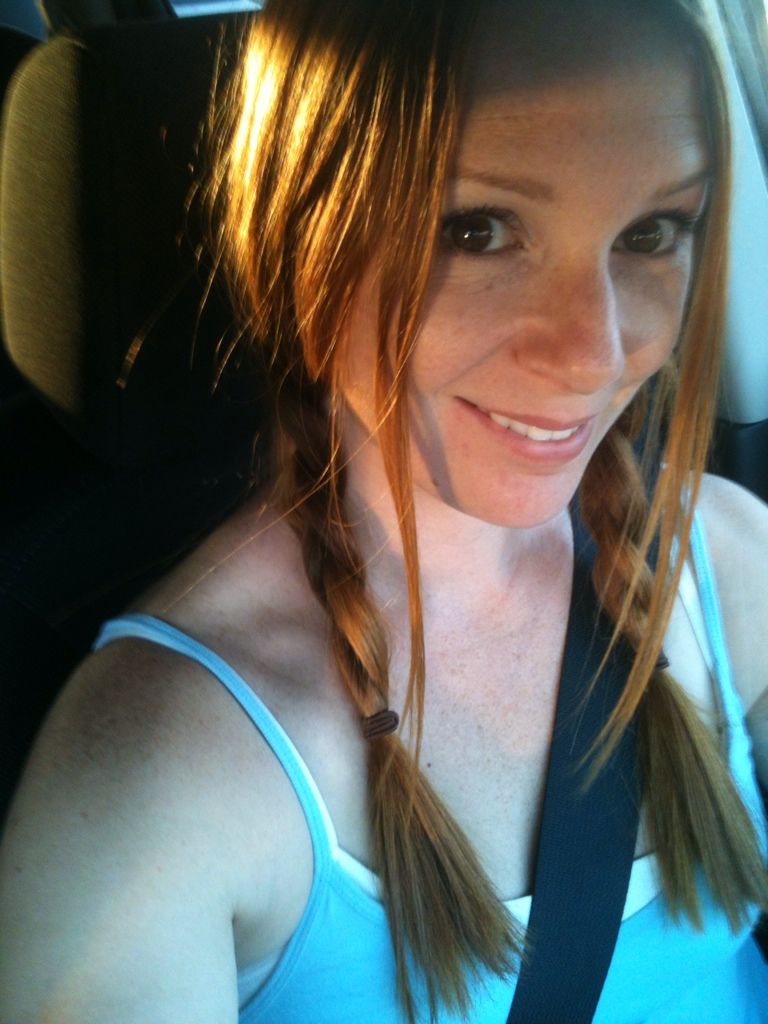 On my way to the gym in my braided pigtails – my hairstyle of choice when I'm doing bench work and sit-ups.
6:10pm: I arrive at the gym for BodyPump – an hour long total body strength-training class.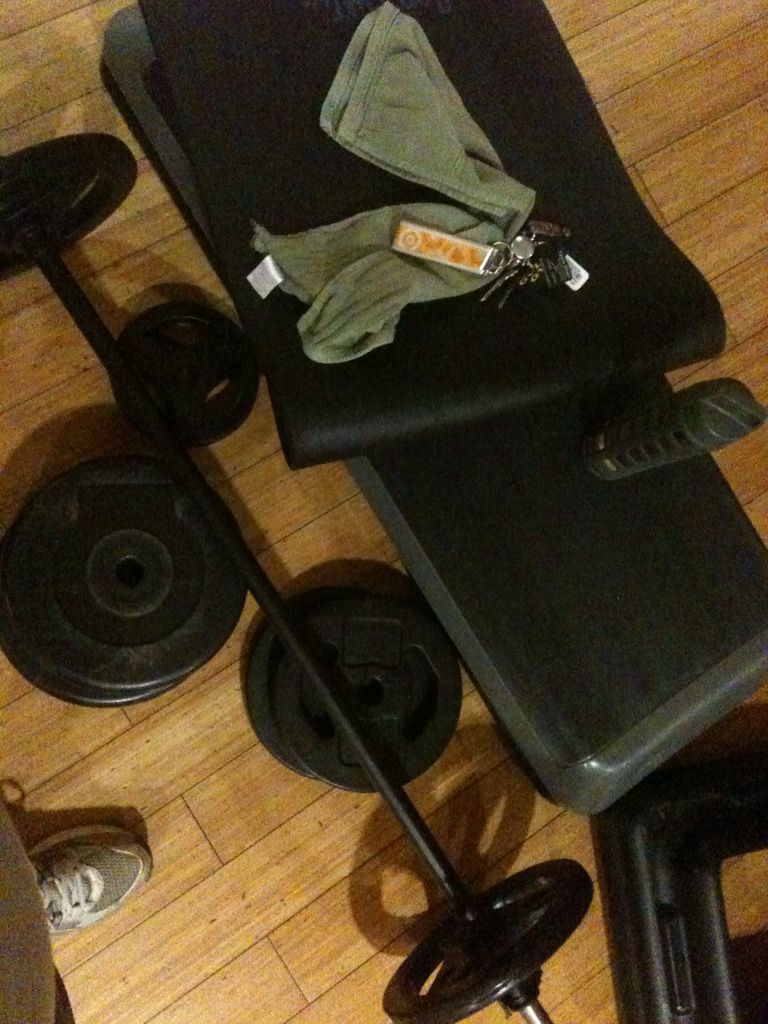 Time to pump some iron!
7:30pm: Home from the gym. G is downstairs working out so I go down to check in with him and see how bath and bedtime went for Kate (all was well).  I go back upstairs and clean up after G and Kate's dinner, and warm up leftovers for myself.
7:40pm:  I check my email on my phone and see comments from today on my blog post about my friend Katie's coffee lover's gift.  A few readers point out that I forgot to include money in her gift for the barista's tip and I feel terrible!  I immediately text her: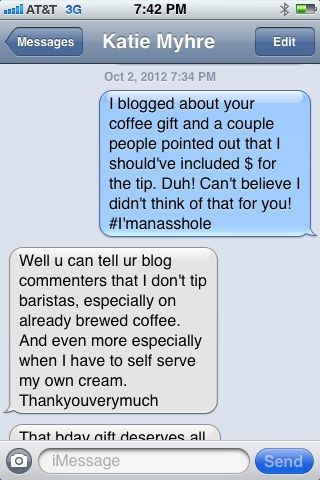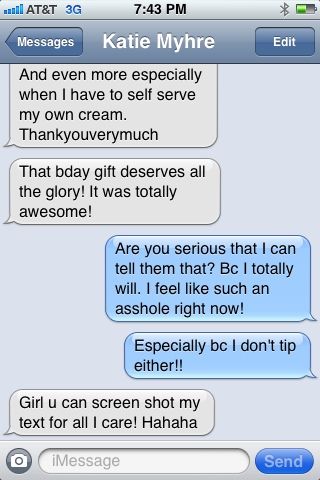 So I do.
8:00pm: I sit down to eat, pour myself a glass of chardonnay, and open up my laptop to browse Facebook.
8:13pm: G calls up to me from downstairs that he just noticed on the monitor that Kate took off her pajamas and her diaper and is currently sleeping totally naked. I go up there to check things out. Her diaper is on the floor and it's slightly wet so I know exactly what happened – she peed in her diaper and took it off because she doesn't like the feel of a wet diaper on her. I grab a fresh diaper and put it back on her along with her pajamas. She only slightly wakes up as I do this and I ask, "Did you take your diaper off because it was wet?"
"Yes,"  she replies groggily.
"You can call for Mommy and Daddy when you need to go potty if you don't want to get your diaper wet," I remind her for the millionth time.
I get her dressed again, and we snuggle for longer than necessary because I'm so grateful to have this extra time with her tonight.  I give kisses and whisper in her ear, "Mommy loves you so much," before I leave the room. I hope she dreams about how much she is loved, I think before returning back downstairs.
8:40pm:  I finally finish my dinner and continue getting sucked into Facebook.  I went to college in LaCrosse, WI and see that my friends from LaCrosse are blowing up Facebook over a clip of a local newswoman calling out a bully who sent her a nasty letter about her weight.  I click to view the clip of the newswoman, Jennifer Livingston, responding to this person's letter on air and am blown away by her composure, her message, and her strength!  I can't resist sharing it on my ATG&D Facebook page for all to see.
9:15pm: I need to go to bed!
I type up my notes from the day, kiss G goodnight, and then head upstairs to go to bed. I check on Kate before heading to my room. 
I love bedtime.