I really should have been more nervous about slapping tile up on our kitchen backsplash for the very first time, but for some reason I wasn't at all.
Not even a little bit.
Maybe it was thanks to the fantastic DIY tile class I took at The Tile Shop to prepare myself.
Or maybe it was because this isn't my "forever house" so I knew I wouldn't have to live with it for the rest of my life if I messed up.
Or maybe it's simply because once I decide to do something, I dive right in and do it – no second guesses, no wasteless worries.
I started by rounding up my arsenal of supplies from The Tile Shop and clearing off the three things that live on our kitchen countertops (the knife block, our fruit bowl, and my Keurig, for those of you studying up for G&D trivia).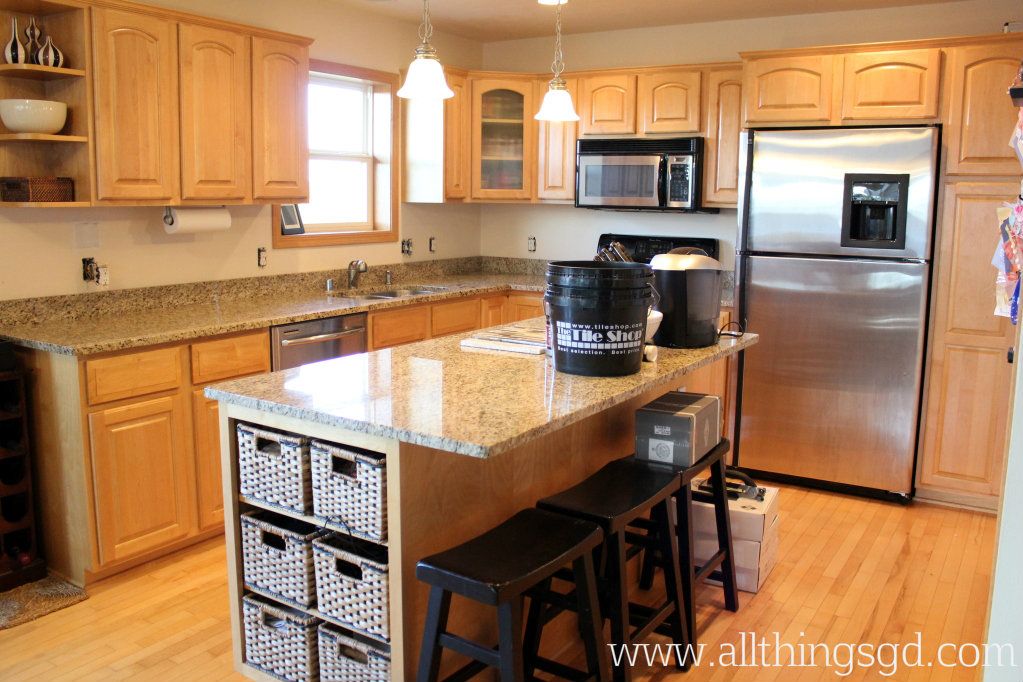 Prepping for our DIY tile backsplash project.
One additional step we took in prepping for our tile backsplash was to reduce the number of white plastic rectangles that would be interrupting our gorgeous new tiles.  We haven't had a land line in years so G removed the phone jack from the kitchen and I patched over it.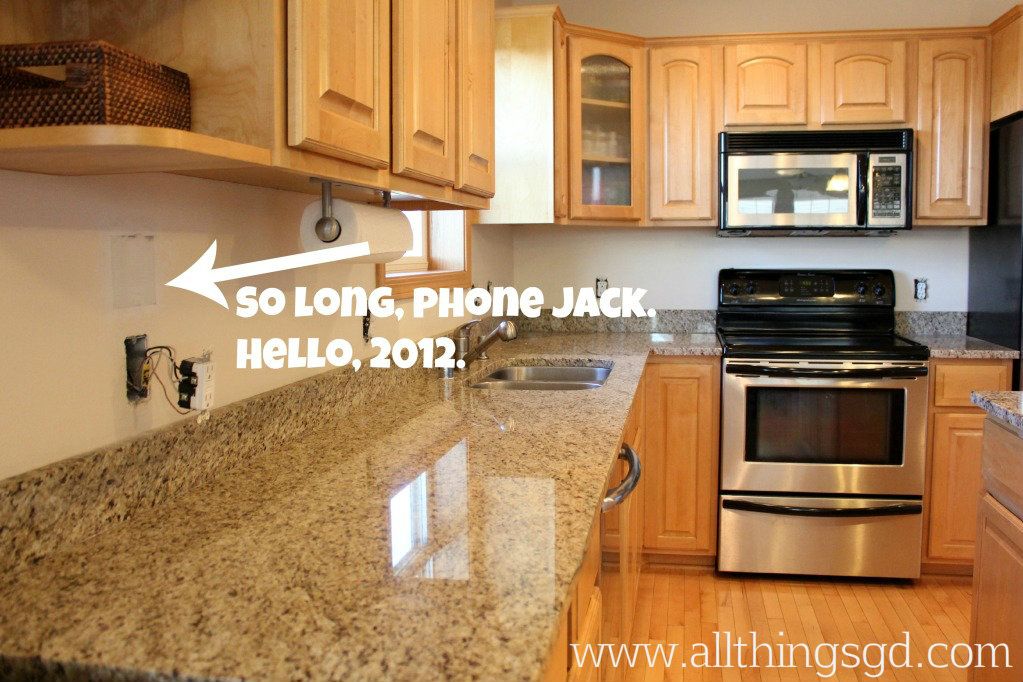 I'm all for putting pretty over practicality (I'm looking at you, 4″ heels) but this was actually G's idea – and one I originally resisted!  After we talked it out, though, it really did seem like a good move.  We have other phone jack sources in the house, so if we ever decide to get a land line (or our future buyers want one) it's still an option, and now we don't have to look at an unused, ugly phone jack breaking up our beautiful tile backsplash.
With the prep work done, it was time to get started!
Mixing thinset.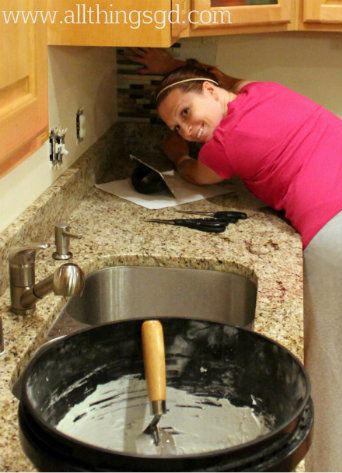 Putting up the first sheet of tile!
Tackling tiling around my first outlet, just 12″ into the project.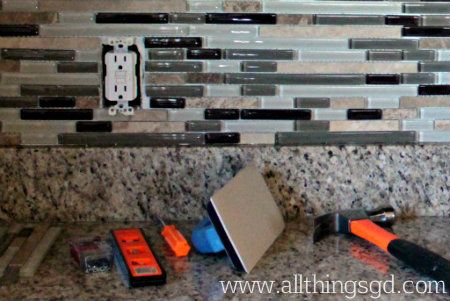 Success!
The project was slow-going on my first day – mostly due to figuring out how to trowel the thinset on in such a small, cramped space at night with limited lighting.  By Day 2, however, I had the stove wall completed, and was hitting my groove as I came around the corner to tile above our kitchen sink (in the light of day).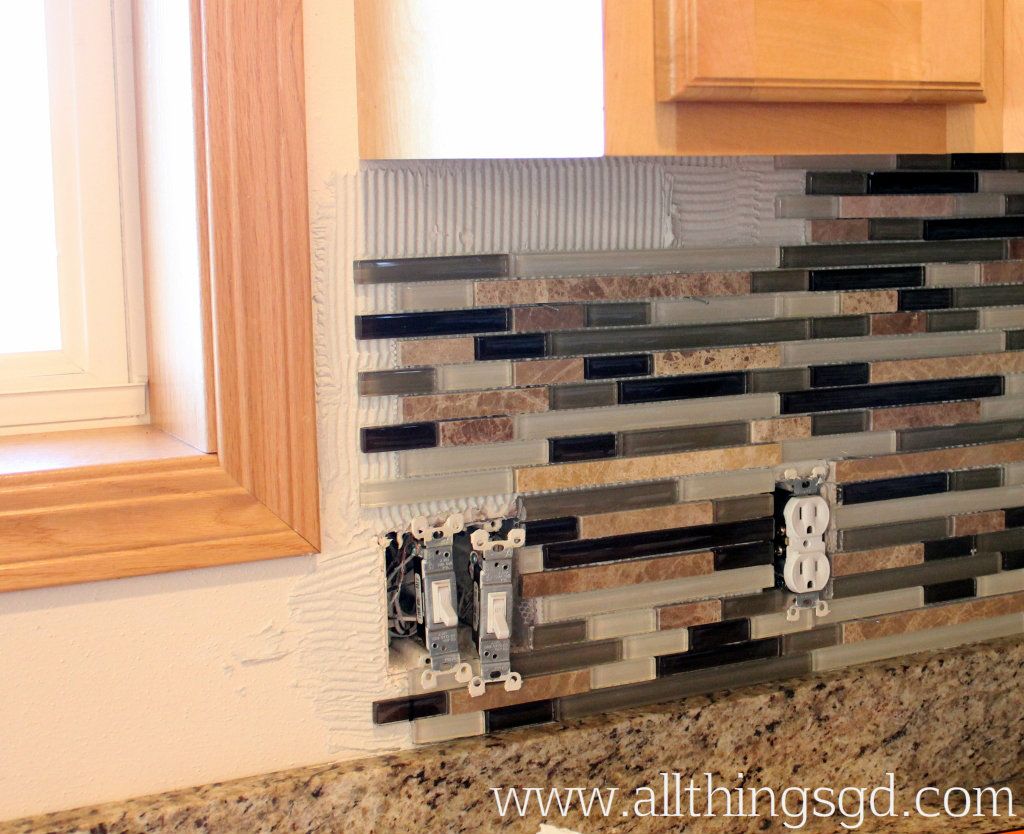 I was sooooo happy that 8 full rows of tiles fit perfectly in the space between the granite backsplash and the window in the section above the sink without needing any cuts.  Whew!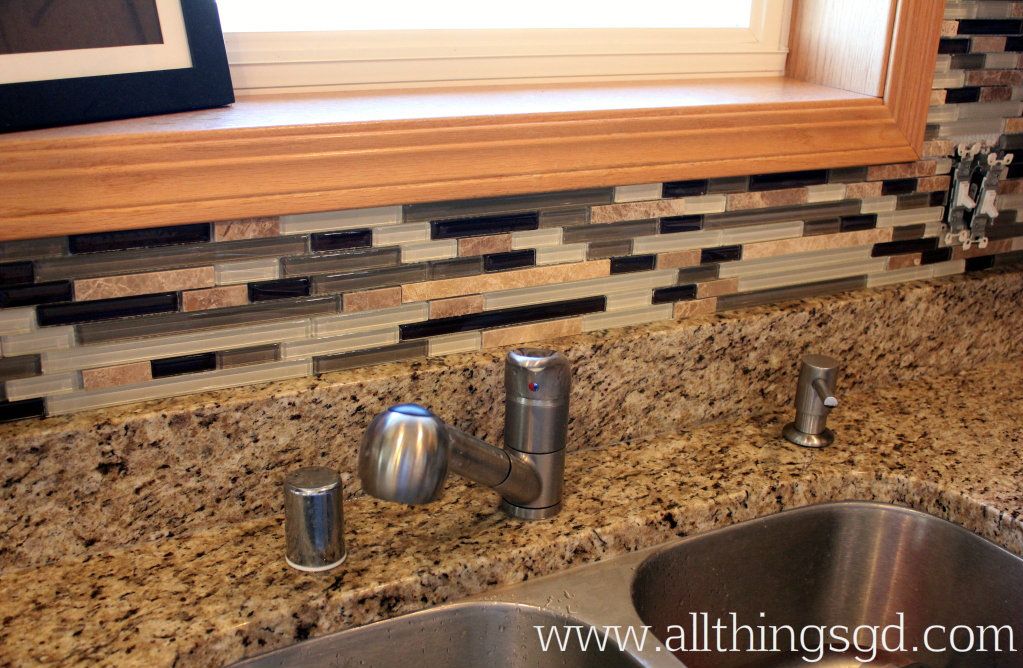 The tile we chose is Riviera Beach – a mosaic mix of travertine stone and gorgeous shiny glass.  G wanted stone and I wanted glass, so this was a great compromise for us.  The picture above shows the colors of the tile best of all the pictures in this post (click to enlarge).  That dark glass tile is my favorite and was the tipping point for me.  I found myself trying to place it in all the most noticeable spots in the kitchen so I'd see it more often!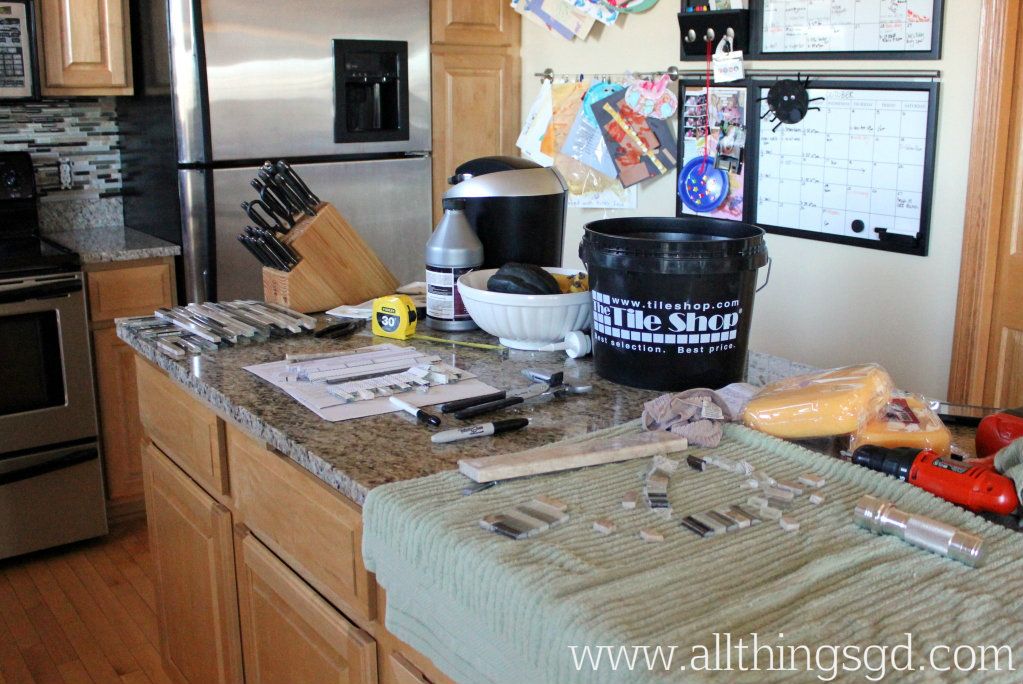 Our kitchen island doubled as my work station during the project.
I did most of the work myself, but it was still a family affair with G cutting tiles with the wet saw in the garage…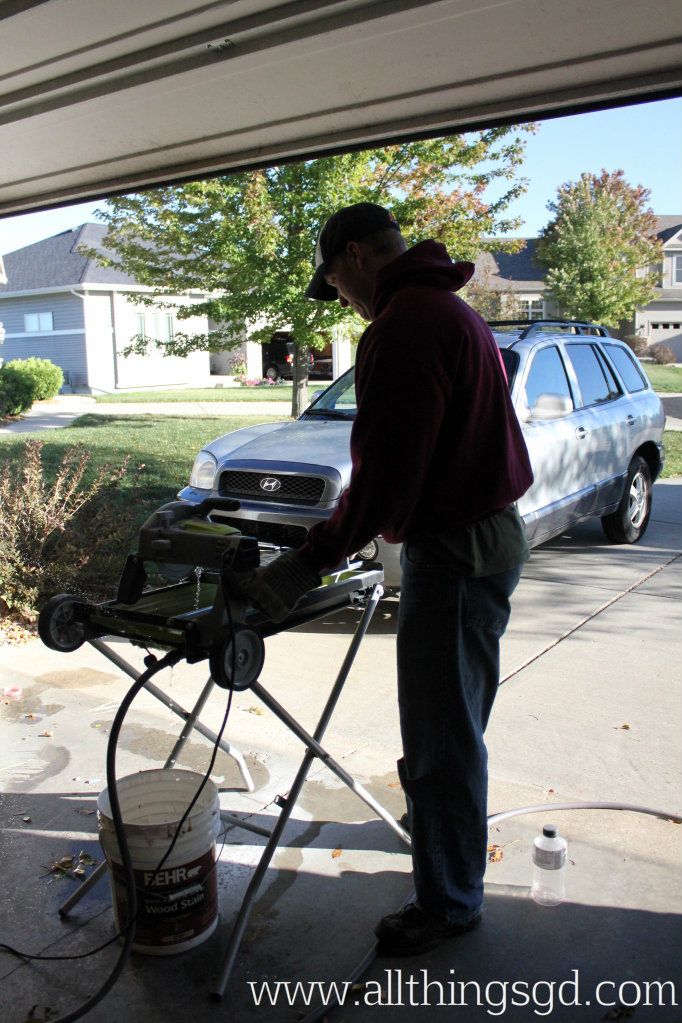 G working the wet saw.
…and Kate dressing the part in her construction worker costume – a gift to her from The Tile Shop!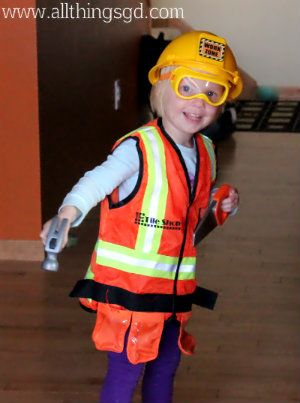 Kate, 32 months
And let's not forget my BFF, Chardonnay – never far from my side when it comes to a home improvement project!
In addition to tiling over the phone jack, another somewhat controversial decision was to disregard trimming out the end of the backsplash.  I had some very nice tile pencil trim to finish out the only exposed edge in our kitchen, but as I got closer to the end, I realized it just wasn't my style.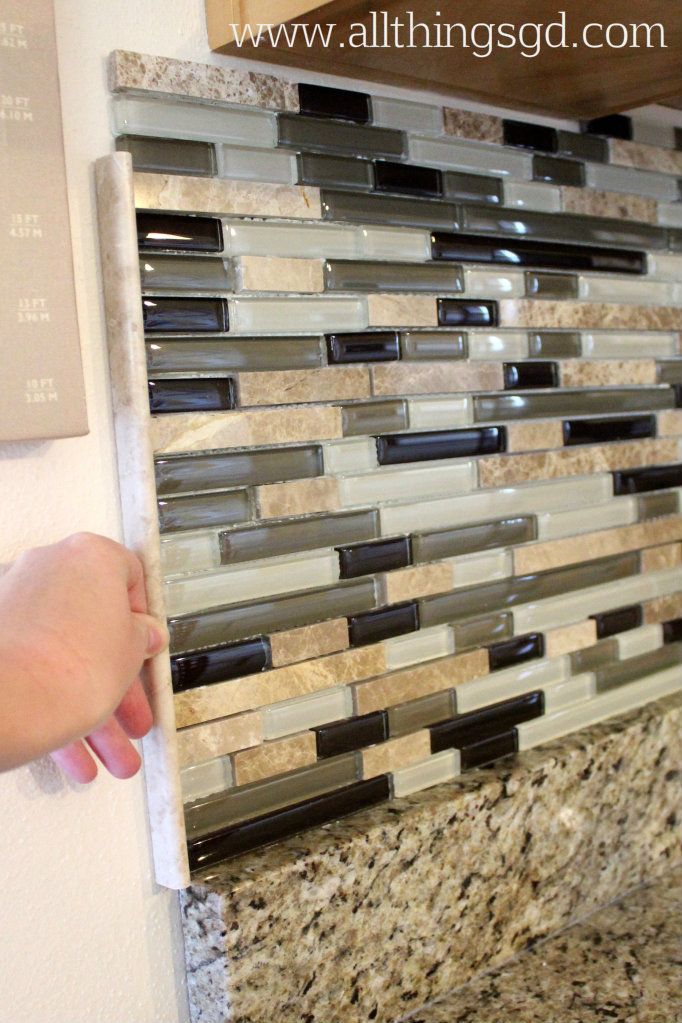 Not feeling the pencil trim at the end.
Instead, I decided to finish off the edge of our tile backsplash with a straight, clean tile line; no trim necessary.  To make it work I cut my 12 x12 mesh sheet of tile with the wet saw to get a straight edge at the end.  Then I used a box cutter to cut out the very last tile at the end of each row, and turned it around so that each tile at the end of my backsplash would have a smooth, factory edge finish (versus the sharp and potentially dangerous edge that a wet saw cut produces if it's not grouted).  It was the most time-consuming step of the whole cutting and tile setting process, but I'm so glad I did it – I love the contemporary look of this clean, multi-colored and multi-textured edge!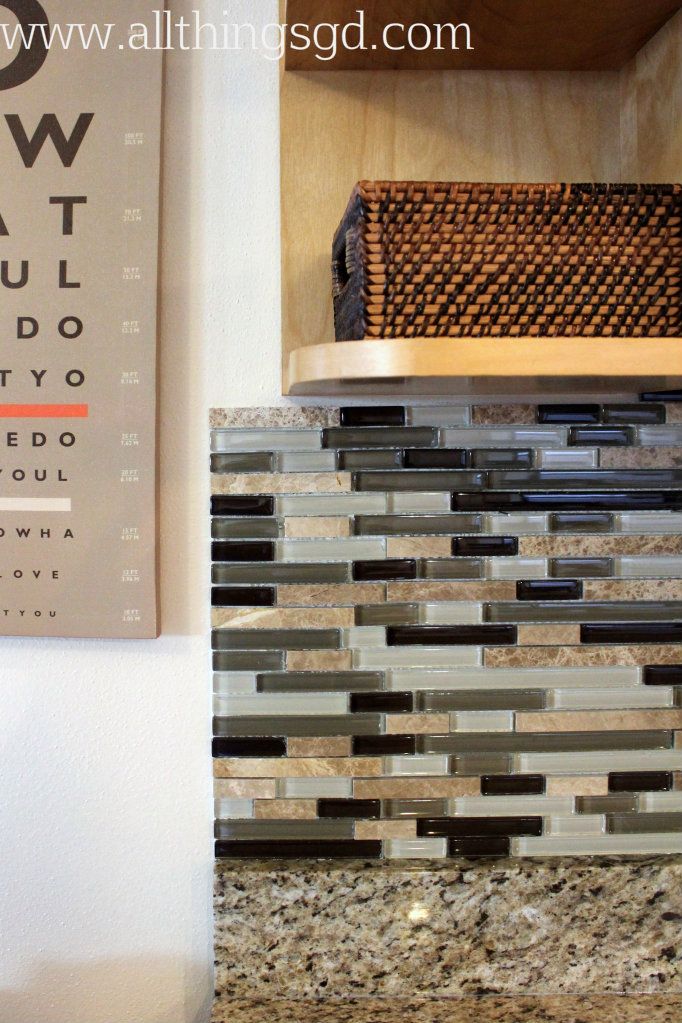 My untrimmed tile edge.
The first half of this DIY tile backsplash process took me about eight hours, split across two days.  I tackled the shorter back wall that our stove was on (7′ long, 2 outlets) first, which took me four hours, and the next day I did the longer wall (10.5′ long, 4 outlets) which also took me about 4 hours.  It was slow-going for me to start as I got used to the process, and working in hard to reach areas.  The back wall was challenging for me because I'm short and had further to reach at the corner, and also as I worked around the stove, which was pulled out so I could tile behind it.  When I moved to the sink wall the next day it felt like a breeze because I could reach everything so much easier!
There are two tips I will pass on that I found absolutely critical at this step.  One is to use a level (we have a little 9″ wide one that worked great for this project) to ensure your tile is level as you're applying it – don't trust that just because it's on a mesh grid that it's going to apply evenly!  It moves around as it sets into the thinset, just like it moves around when you're holding it.  Which brings me to Tip #2:  Use long, thin finishing nails (or wire nails) to nail your mosaic tile grid to the wall once you've applied it.  This primarily needs to be done along the bottom of the top row of the tile to keep it from sagging, but in the interest of being thorough, I hammered in little nail tile holders all around my tile grids.  You'll need to be sure not to hammer the nails in all the way; insert them only as far as needed so you're easily able to remove them with a pliers the next day after your thinset has set and your tiles are locked into place.
Overall, this first step of the project was just as easy as I thought it was going to be, although admittedly a little more time consuming than I had anticipated.  (I believe my short arms and ridiculously anal detail-oriented nature are to blame for that.)  Feel free to ask me any questions you have about this step; I'm happy to put my experience to good use!
Next up, next week – grouting!
Catch up on my Tile Shop Tuesday series with my tour of The Tile Shop store and my recap of a DIY Tile Shop class! 

Disclosures: The Tile Shop has provided me with products for this series, however, all opinions are my own. This post contains affiliate links.