I love adding color to our Christmas and I love oversized ornaments that make a statement on a Christmas tree.  These DIY yarn ball ornaments deliver both!
To make, I gathered up my strands of yarn, some balloons, and a variety of glue sources we had around the house.  I used 12″ balloons for this project, blown up about halfway – just to the point where they got round in shape.
Pour glue into a container and thin slightly with water. Dip one long strands of yarn at a time into the the glue and stir it around to get it completely coated.
Pull the strand out of the glue starting at one end, and lightly squeezing the strand between your fingers as you pull it out of the glue. You want to remove excess glue with your squeeze, but you still want your yarn strand to be wet and gluey.  Begin wrapping yarn around your balloon, continuing to wet additional strands with glue until your balloon is covered as much as you'd like.  Tuck final strand beneath other strands so it does not pull apart off of the balloon.
UPDATE: Make sure you DO NOT pat around your glue-soaked yarn as you go (or when you are done). Some readers are experiencing excess glue or film in the spaces between their yarn after they pop their balloons, and this happens when the glue spreads from the yarn out across the balloon during this step. So as you wrap, be sure to wrap your glue soaked yarn around your balloon and leave it at that. DO NOT got back over it all and try to pat it or smoosh it closer to your balloon – anything that would spread your glue out across your balloon.
I tied a strand of yarn around the end of the balloon and hung it from my upper kitchen cabinets to dry. Be sure to place a piece of wax paper or parchment paper underneath the balloons to catch any glue that might drip from the bottom of them as they dry.
Let yarn balls dry at least 24 hours (more if needed) and then pop the balloon inside and pull it out of the yarn circle frame. String a new strand of yarn through the top, and that's all there is to it!
I tried a variety of glues (my affiliate links below) I had on hand to see how each one would turn out and here were my results:
I did the red yarn ball in good old elementary school Elmer's Glue thinned with water.  Of all of the yarn balls this one is the only one that's a little soft and squishy, although it does still hold it's circle shape just fine.  This glue dried really well and was the only one of all of the glues that dried with a matte finish which I like (the rest have a glossy sheen).  If I did this again with Elmer's glue I'd try it straight up, without thinning it with any water.
I did the blue yarn ball with Mod Podge thinned with water, the pink ball thinned with Mod Podge thinned with just a teeny bit of water, and the green ball with straight up Mod Podge (no thinning)  and I'm pretty sure all three of these suckers would break a window if I threw them at one.  They're rock solid and there's no loosing that circle shape, which I like.  There's pretty much no difference in hardness among the three so if you go with Mod Podge feel free to thin it with water to stretch your dollar a little further.
I did the orange yarn ball with Aleene's Tacky Glue and have to say I never realized how thick this stuff is until I used it side-by-side with other glues!  It's super thick so I thinned it quite a bit with water, and it turned out great.  It dried very firm and the sheen wasn't quite as glossy as the Mod Podge.
Bottom line?
Go ahead and use whatever you have on hand and it'll work great.  If you're going to buy something, Aleene's Tacky Glue is the best bang for your buck since it works great watered down so you need less glue.
With all these DIY ornaments laying around our house lately Kate couldn't wait to put them to use, so we pulled out her Christmas tree over the weekend and she spent hours meticulously decorating it.  She pretty much has one rule when it comes to her tree – anything goes as long as it's not plain gold (gold glitter appears to be allowed).  She quickly claimed these colorful, oversized yarn ball ornaments for her tree and I absolutely love how they pop.  We'll definitely be making more!
Looking for more inspiration? Check out the rest of our Day 8 goodness in our 12 Days of Handmade Christmas Ornaments collection!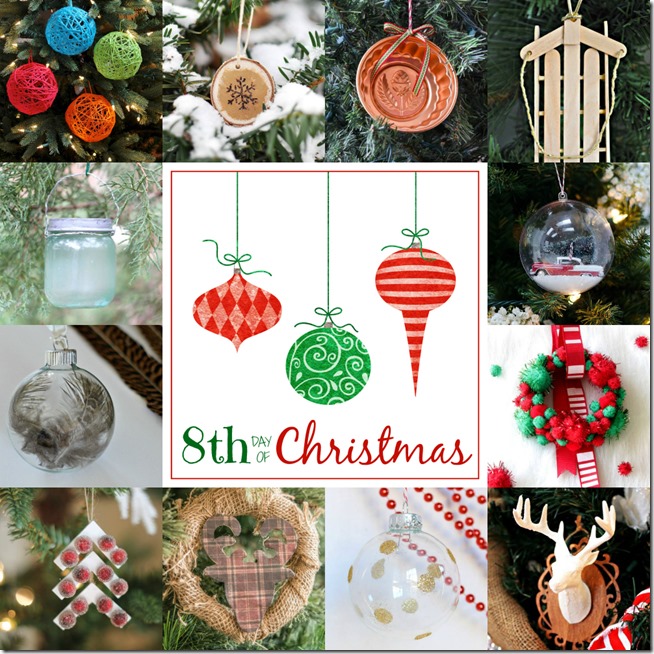 Yarn Ball Ornaments | All Things G&D
Wood Burned Snowflake Ornament | Cherished Bliss
Vintage Jello Mold Ornament | Whats Ur Home Story
Simple Popsicle Stick Sled | Serendipity Refined
Mini Mason Jar Ornament | Lovely Etc.
Snow Globe Ornament | It All Started With Paint
Wispy Feather Ornament | The Happier Homemaker
Pom Pom Wreath Ornament | Remodelando la Casa
Hardware store Christmas Tree Ornament | Thrifty and Chic
Burlap and Reindeer Ornament | Bigger Than The Three of Us
Glitter Polka Dot Glass Ball Ornament | May Richer Fuller Be
Deer Head Ornament | Mom 4 Real
A great big THANK YOU to Linda from It All Started with Paint for organizing this DIY ornament series and to Michaels for providing a gift card to cover the cost of some of the products.