Our dining room has been a work in progress over the past two years. The picture above is how it looks today, but originally it was a blank slate.

First we changed out the light fixture from the semi-flush mount to a brushed nickel chandelier that was in the eat-in kitchen threatening to decapitate my husband.
And since you can't have a dining room without a fabulous table, that became one of our first "new house" purchases. I knew
what I wanted but couldn't find it anywhere. In the end we custom ordered a table from Bermex (http://www.bermex.ca/) getting exactly what we were looking for–black finish, clean lines, and ability to expand for seating up to 12. I'm obsessively in love with this table—try coming near it without a coaster and I may take you out at the knees.
For window treatments I knew I wanted something with a pattern. My first choice was these apple green silk dupioni drapes. My second attempt found these gold-colored silk dupioni drapes a home. But sadly for both of them they didn't make it past their 30 day return policy.
I've never met a stripe I didn't like, and shortly afterwards these striped twill drapes caught my eye and I upgraded. I decided to hang the panels from hooks on the outer edges of the window to make the window appear larger, but I was having a hard time finding hooks I liked. I spotted these at Bed, Bath & Beyond–they are actually curtain hold-backs, but hung vertically instead of horizontally they make excellent hooks.

We discovered with our first house that painting is not one of G's strengths–he sticks to the heavy lifting and light fixture replacing–and the painting is all up to me. So far I'm averaging two paint jobs per room before I get the right color. For the dining room, I initially decided on cream for the side walls and a dark gold color for the back wall (left). I then quickly decided I hated it, so a couple weeks later I repainted the entire room in Sherwin Williams Whole Wheat (right) which I love.
On to the wall art. I got these 4′ long ledge shelves from Pottery Barn and the frames and candle holders from Target. The wooden "R" (purchased at Hobby Lobby for just a couple dollars) was originally bright gold and I spray painted it black. I initially did the photo wall in black, white, and silver, but in the end decided it needed more warmth so I took out all the silver and did mixed wood finishes instead.
The back wall still needed something, but I couldn't decide on what. I usually hate swirly things, preferring the look clean straight lines, but this wrought iron scroll kept catching my eye. It ended up being perfect for the space.

Now let me tell you–this sucker is heavy!! I hung it all by myself while G sat in the living room watching SportsCenter. To his credit, I didn't actually ask for any help, I just made dramatic noises here and there in attempts to get his attention. I should have known my feeble grunts couldn't compete with Green Bay Packer highlights.
I love our sofa, but the back of it is not the view I want when I'm enjoying a delicious meal. A console table from Crate & Barrel (it's the Kingston Console Table) that could double as a sideboard became the solution to that problem.

And last but certainly not least–the lighting. I was never a fan of the brushed nickel chandelier and by now it matched nothing. I had been coveting the Veranda Linear Chandelier from Pottery Barn for over a year when I finally took a chance and ordered it. I am so in love with it! It's my favorite thing in this space and completely makes the room for me.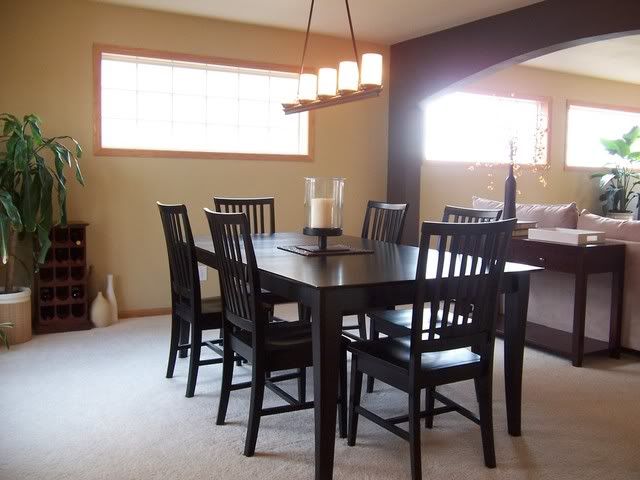 I still want to get an area rug for this room eventually and I'm sure I'll be making changes here and there, but for the most part this space is done!
Related Posts:
64 Throw Pillows & Only 1 Living Room
Girls Can Do Lighting Too
Parade of Homes–Beautiful Contemporary Home