I think 4th of July is my favorite day of the year. Not only is it a national holiday tailor made for drinking and setting off explosives, it's also the day G and I had our very first date! Yep, 9 years ago today G swept me off my feet on our very first date at Riverfest in LaCrosse, WI. We sat on a bench overlooking the Mississippi River and nervously held hands while having the standard "getting to know you" conversation. Three years later we went back to that bench and G proposed. Here's a picture of us on our bench, the day after the big proposal.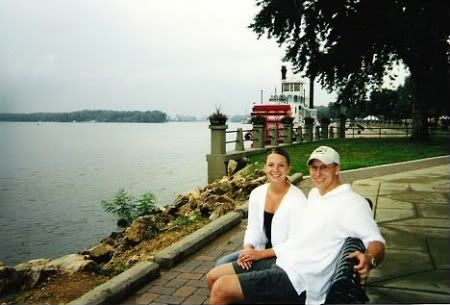 And here's another picture of us–young and in love. His cousin, Heather Fenske–a talented photographer living in the Twin Cities–was taking photographs at G's sister's wedding and took a formal one of us and then said to G, "Kiss her." He pulled me in for a smooch and she quick snapped a picture. This is one of my favorite shots of us.
Ahhh. Well, enough reminiscing for now, G & I have a party to get ready for! We're having people over tonight for our 3rd Annual 4th of July Party–looking forward to it!
Related Posts:
My Summer Vacation–Day 7
Vegas, 4 Aces, and Kate Spade
The Time I Flipped Off My Husband