Last night we had a Girl's Night Out and went to a Posion concert–WooHOO!! We had an absolute blast!! Now, if you'd have asked me 4 weeks ago to name one Poison song I couldn't have done it. And about 10 weeks ago when my friend Jill came up with the idea of going to the Poison concert, there was nothing I'd rather do less. However, she convinced me with whole "Girls Night" premise. Who can resist getting together with a fabulous group of girls you don't get to see very often (I miss you already Taps!) for a night of unabashed drinking? Not this hooker. So I caved. Gave in. And begrudgingly paid for the ticket, mentally noting how many glasses of wine that would've gotten me if we've just had a Girl's Night Out, minus Poison.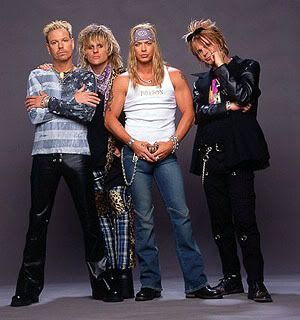 Well, flash forward to 3 weeks ago when my friend Jill made me a CD of Poison's greatest hits so I'd at least know some of the songs for the concert. And now can I just say–OMG, I LOVE POISON!! The first time I listened to the CD was at my office and I knew I was hooked the second I had to lift my arms up from the keyboard in the middle of typing a report to rock a quick air drum solo. I listened to the CD 5 times that day. And then I popped it in my car CD player and have been listening to it non-stop ever since. Talk Dirty To Me is definitely my favorite song. And Nothin' But A Good Time? How can I resist? Something to Believe In? Sing it to me Bret.
And speaking of Bret Michaels–I'm slightly ashamed to say I just found out a week ago that he's the lead singer of Poison. G and I were driving home from the Brewer Game jamming out to a little Unskinny Bop and this conversation ensued:
G: In less than a week you'll get to see Bret Michaels. Are you excited?
D (confused): Bret Michaels?? Is that the guy from Rock of Love?
G: Uh…yeah.
D (even more confused): Is he coming to Madison or something?
G (beginning to wonder who the hell he married): Um…yeah. Poison. Remember? Their concert next weekend…
D (shocked and amazed): Bret Michaels is in Poison?!?!?
G (seriously doubting his choice in a life mate): Are you kidding me right now? Bret Michaels is the lead singer of Posion.
D: No way!! So Bret Michaels–that guy from Rock of Love–is the guy singing to me right now??
G: Wow.
Can you believe it? I went from not knowing a single Poison song to being a huge fan–and might I add Poison trivia expert (but only if the question is who the lead singer is)–in less than a month. Now that takes drive and commitment.
And here we are at Jill's house about to leave for the show–WooHoo!! L to R: Sara, Dana, Melissa, Amanda, Jill, Me, and Beth. And if you don't have a large inflatable beer mug you can put on your front porch for occasions just like this–I'm not sure I want to know you.

Related Posts:
The Night the Circle Room Took One for the Team
All Things Loved In July
The Time I Flipped Off My Husband