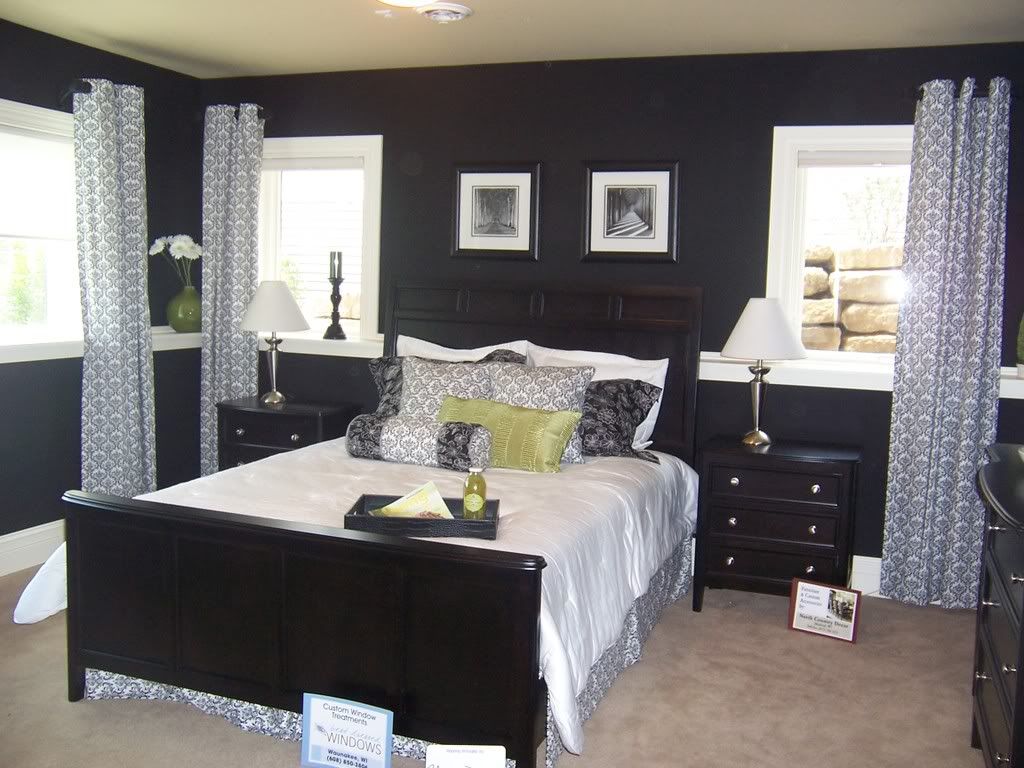 This black & white Guest Room featured in Temple Construction's Southbridge Parade of Homes home was too cool not to have its own post.
For starters, this guest room was located in the lower level of the home–otherwise known as the basement, which is typically the darkest space of a house with the least amount of natural lighting. I absolutely love that they didn't shy away from doing a dark color down here. All four walls of this room were painted BLACK! I always thought all all-black room would look cave-like (so did you–admit it), but this didn't at all. The only natural lighting in this space came from the 3 half-windows pictured above. The white trim and white bedding really helped keep the space from feeling too heavy.
And in addition to all black walls they also did black furniture, which was surprising! It would've been safe to go with white furniture, but the black-on-black of that furniture up against the wall really makes a statement. They even did black frames for the wall art! I love the mix of different "shades" of black.
The black & white accents are cute (and not overbearing) and I like the pop of chartreuse; however, I think it would have been nice to see something that tied in the carpet color too. Or maybe a large patterned black & white rug to break up all that light brown? Or maybe even bring some green to the floor? I'm not sure, but that carpet isn't quite working for me. What do you think?
The accessories and textiles may need some tweaking, but it's those bold walls and black-on-black that really does it for me. So interesting! I guess only one question remains–think I can talk G into letting me paint a room black?
Related Posts:
Parade of Homes–Gorgeous Traditional Style Home
Parade of Homes–Fabulous 2 Story Living Room
The Circle Room