I received a reader request from my fabulous friend Beth who'd like to see some DIY headboard options for her darling daughter Maya. Well ladies, here's what I was able track down–hope you see something you like!
The first thing that came to mind is a DIY headboard made from a piece of picket fence. My mother-in-law did this in her guest room and I just love it. Nice and simple, and oh so cute. Unfortunately I don't have any photos from my mother-in-law's house, but here is one from Better Homes & Gardens. I also found a slight variation at HGTV.com.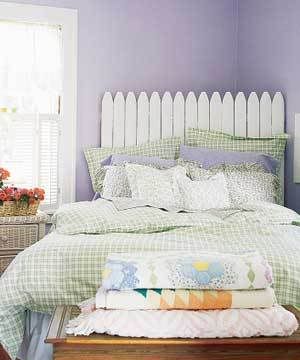 Another great idea is this simple DIY canopy, which would be so cute for a little girl's room–and you could change out the fabric as she grows and her tastes mature!

The fun fabric and shape of this charming DIY upholstered headboard keeps it looking young and playful.

Another simple great idea–again from Better Homes & Gardens. This headboard is made from plain old bi-fold closet doors painted with stripes.

I love this chic suggestion from Domino–painting a faux headboard right on your wall using a color just a couple shades lighter than your wall color. Don't want to buy a whole other can of paint? Just mix some white paint with your existing wall color paint and you're good to go.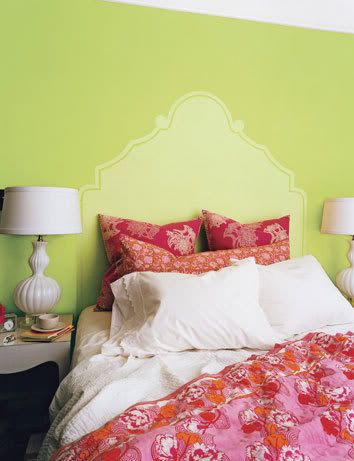 Although not necessarily what comes to mind for my friend's daughter Maya, here are two more ideas from BHG that I just love–Pic 1 is made from a painted paneled door, and Pic 2 is made with weathered shutters.
As you may have noticed by now–Better Homes & Gardens is an excellent site for finding some beautiful DIY headboard ideas! To see these DIY headboard ideas and more, check out their slide show of 29 Cheap & Chic Headboard Projects.
And if anyone has any other great ideas for Beth's daughter, we'd love to hear them!
Related Posts:
DIY Tufted Upholstered Headboard
Parade of Homes–Indoor Basketball Court
The Inside of My Fridge
MorePlatformBeds.com sells the hardwood, wrought iron, and storage platform beds you've been looking for!