Tonight was Twilight Night! I could barely work today I was so excited! G decided to go with me to check out what all the fuss was about, so first I had to lay down some ground rules:
1. No making fun of the movie.
2. No making fun of me if I cry.
3. No asking questions during the movie.
4. In fact–no talking. No talking during the movie at all.
The wait between my work day ending and the movie starting had my stomach in knots and my head in the clouds–so I had to calm my nerves (with some wine, of course). And then I spent a good 20 minutes touching up my makeup (for my literary boyfriend, of course) before we headed off. Even my eyes–which are usually a really dark brown–looked more…dare I say?…lighter for the main event. Clearly I'm well-fed and happy.

I was absolutely beside myself with glee when we got to the theatre (and did I mention the stretch limo and school bus practically blocking the entrance??) and couldn't resist having G take my picture beside the Twilight poster I'd been sighing over for weeks.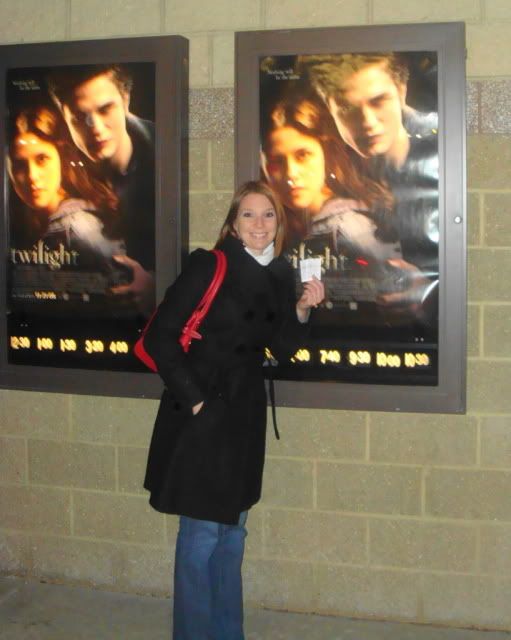 After the doors opened, G and I found primo seating and made ourselves comfortable amongst the sea of teen queens and lip gloss. I swear I've never seen more Uggs in one room in my life. One Miley worshiper actually came up to me and screamed, "Oh my God! You're so cool for being here!!" Um. Thank you for reminding me I'm nearly 2 decades older than you are. I might have been mortified if I wasn't so damn excited for the movie to start!
Which leads me to the movie. The thing that has had me beside myself with excitement all day. Scratch that. All month. The only thing that's kept me going since finishing the last book. The light at the end of my tunnel (before I turn around and start the journey through the tunnel all over again). I was finally seeing it–THE TWILIGHT MOVIE!! And you know what??
I hated it.
Hated. Not even half the movie was true to the book. And the execution was terrible. It was down-right embarrassing, if I'm being honest. And I'm too upset to tell you how I really feel about the portrayal of Edward in this movie. Words rarely escape me but I can't even go there right now. I'm so disappointed. Without question, the anticipation leading up to it was the best part. It was so bad I need to put this whole movie thing out of my mind. I refuse to let it stain my feelings about the books. The glorious, amazing, fabulous, wonderful books. In fact–I'm going to start re-reading Twilight (again) right now. Something has got to get this horrible taste out of my mouth–and it's cheaper than a lobotomy.
Related Posts:
The Only Thing on My Mind Right Now
Life After Twilight
All Things Loved In October