I've gotten a few emails from readers asking for the Country Breakfast Casserole recipe that I made on Christmas morning, so I thought I'd share it here for you all to enjoy!
Things You Need
12 oz Bacon or Sausage
4 c. Hash Browns, Thawed
1 ½ c. Shredded Colby Jack Cheese
3 Beaten Eggs
1 c. Milk
¼ t. Pepper
Salsa (optional)
In skillet, cook sausage or bacon (crumble cooked bacon). In 8″x8″ baking dish, layer potatoes, ½ the cheese, meat, and remaining cheese. In bowl, combine eggs, milk and pepper. Pour over cheese. Bake COVERED at 350˚ for 50-55 minutes or until knife inserted comes out clean. Serve with salsa. This dish can be prepared, covered, and chilled for up to 24 hrs before cooking.
This dish serves 4 hungry house guests. When I make it for more than 4 people I double all the ingredients except the meat (I doubled the meat once and thought the flavor overpowered the dish), and bake it a little longer.
And now–a word of caution. When you make this dish ahead of time and transport it to your destination, be sure to hold it LEVEL, and with BOTH hands. You know that scene in The Family Stone when SJP's uncooked egg dish spilled all down the front of her? Yeah. I had a similar experience on Christmas Eve, walking up the sidewalk to my in-law's house. Lesson learned.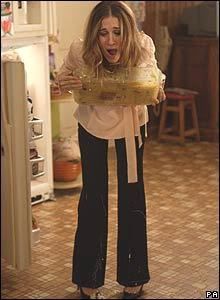 Related Posts:
Christmas Dinner Planning
Delicious Broiled Shrimp
A Lot of Wine Went Into This Kitchen