Our 2008 Christmas decorations are up! And in light of the less than fabulous economy, I decided to deck our halls without spending a dime! Everything you see below is reused from previous years. And since I still wanted to mix things up, I had a fun time thinking of new ways to keep decor from previous years looking fresh. Hope you like it!

I meant to hit up the after Christmas sales last year for a matching tree skirt, but never got around to it. So this year–instead of dropping $$ on a new one–I used a faux fur throw blanket, borrowed from Chase's never-ending collection of blankets. The gold and bronze glitter trees on the console table are from Target, purchased last year. And our white tray–which is always placed there–holds this year's holiday cards.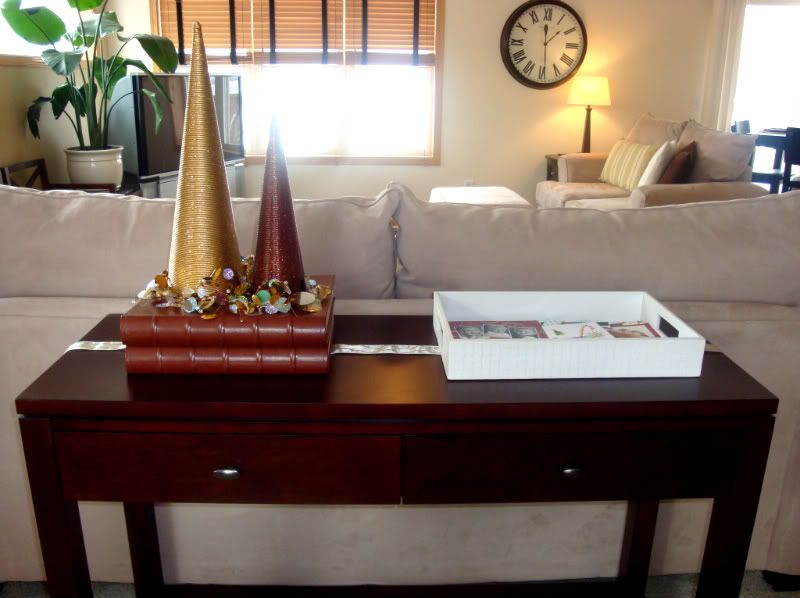 I've gotten a lot of mileage out of these Pottery Barn bayleaf and glass beaded garlands I purchased two years ago (middle picture). In 2006 I used them to line the windows, last year I tied them together and made a large swag over the living room windows, and this year I wrapped them in a circle to make little wreaths to hang from the windows. So versatile!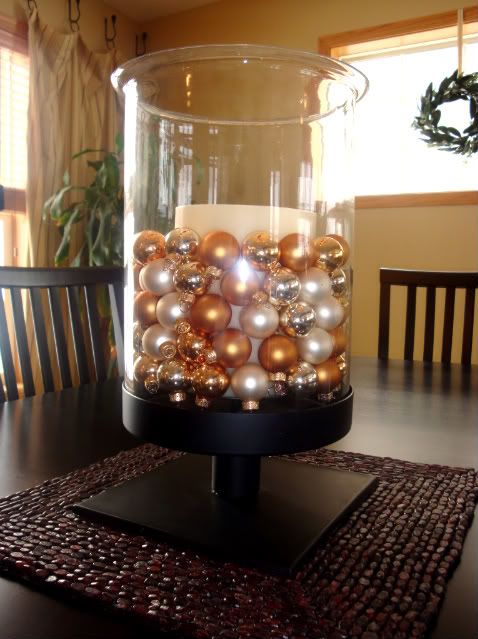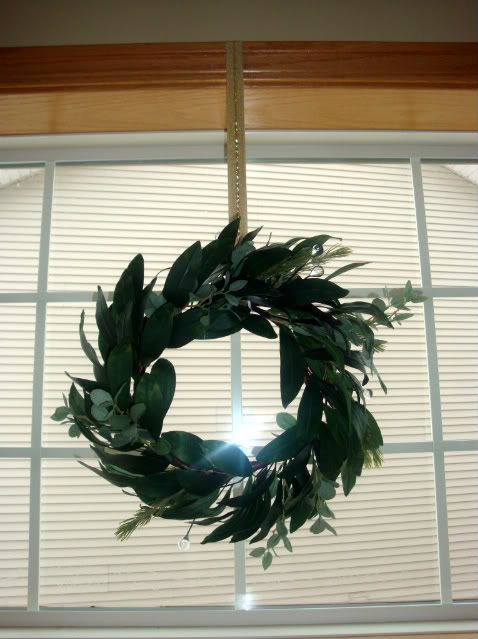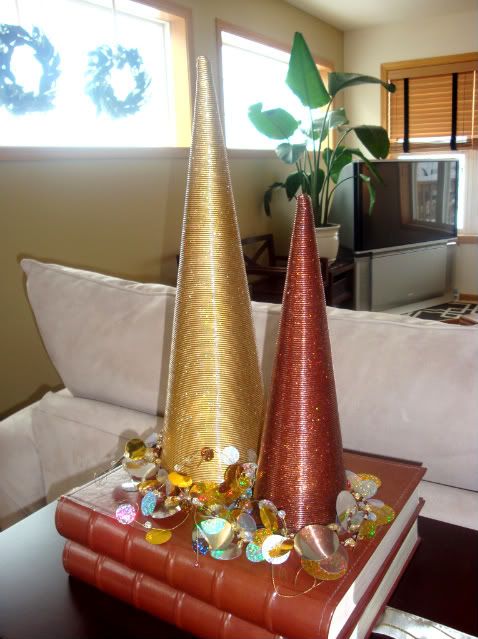 This is our first Christmas with our fabulous new chandelier, so I had to gussy it up a bit! I purchased a spool of elasticized gold sequined "ribbon" last year to make napkin rings, but never ended up using them. When I pulled them out of one of my Christmas decorations totes this year I decided they'd be perfect over the shades of our chandelier! I put 2 "napkin rings" on each shade for extra thickness.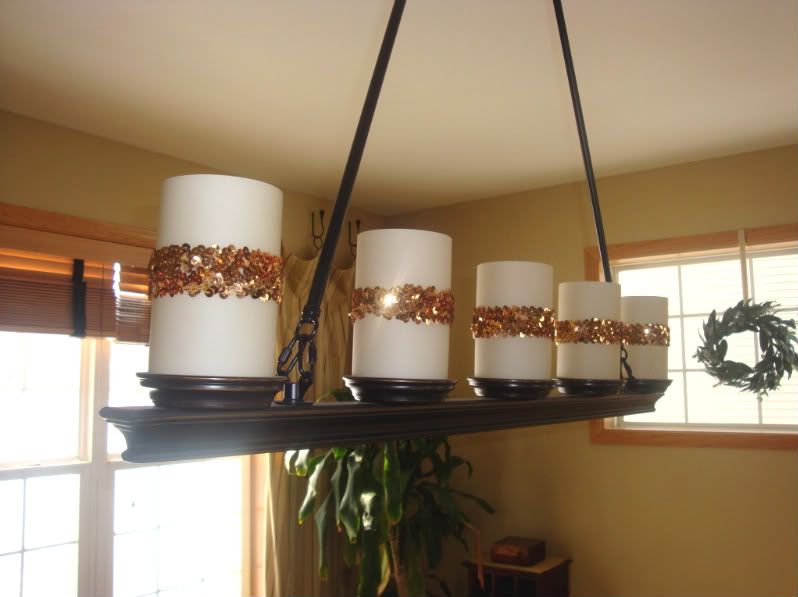 I've pretty much done the same thing with our photo gallery wall for the past 2 years, so this year I wanted to mix it up a bit. I had some leftover wrapping paper and plenty of ribbon and gold gift tags on hand, so I decided to wrap some of the frames to look like presents. I just love how it turned out!

Some close-ups of our picture frames making a temporary guest appearance as Christmas presents: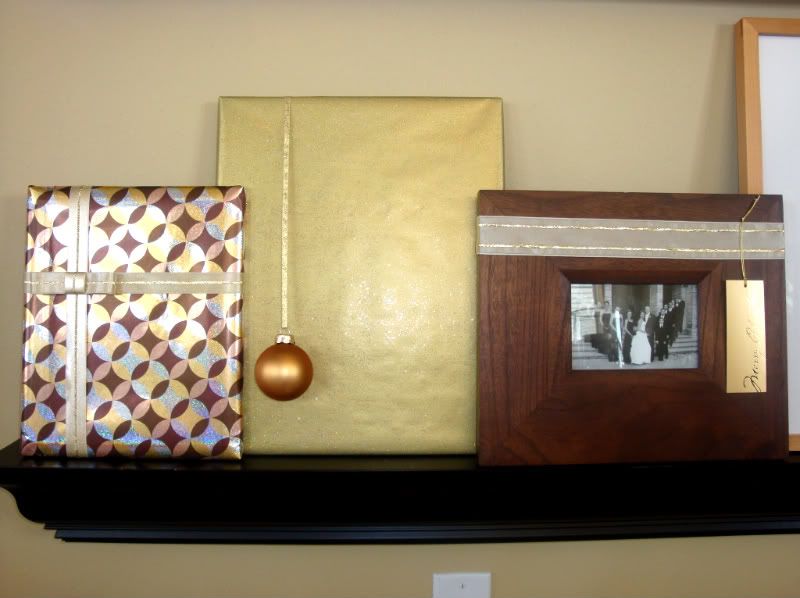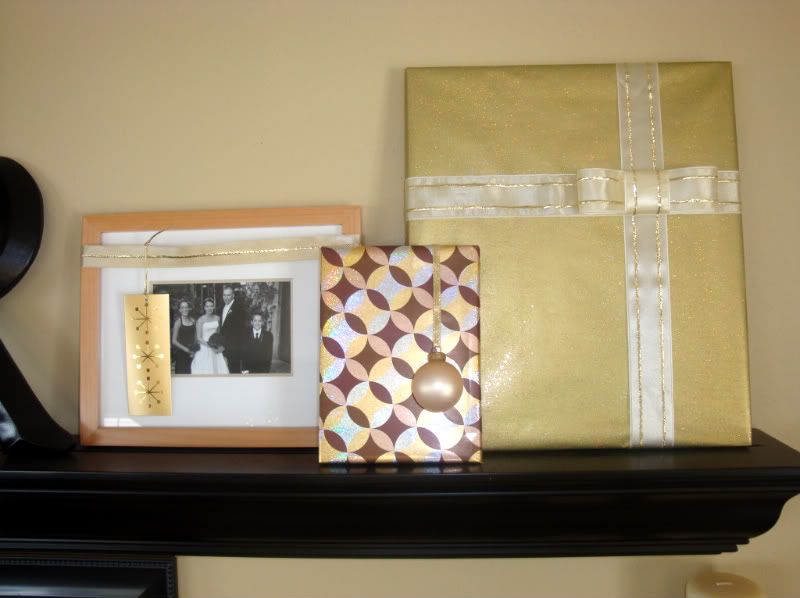 I had to include this picture from the living room because Chase made an appearance! See her sitting on her bed to the right of the couch? Posing like the little diva she is? Yeah. Now that is a Christmas miracle!

My beloved tree! Similar to last year, but this year I left off the cream ribbon so it's a little more gold. Love my gold!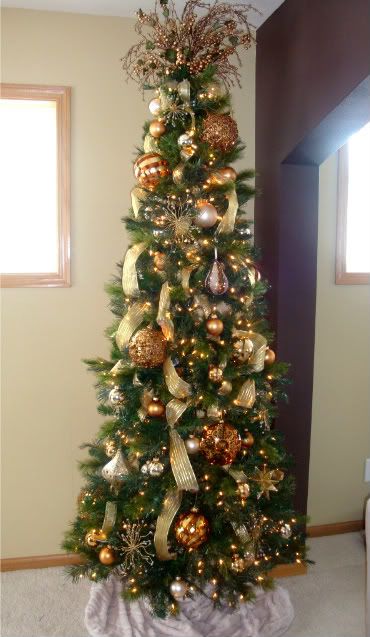 Some Christmas tree close-ups. See that bronze and gold medallion ornament in the upper right corner of the second pic? That was a gift from my friend Allison (aka halfofvamh) last year! And the large gold ornament covered in little triangle mirrors to the far left was a gift from my friend Beth a couple years ago. They're 2 of my favorite ornaments!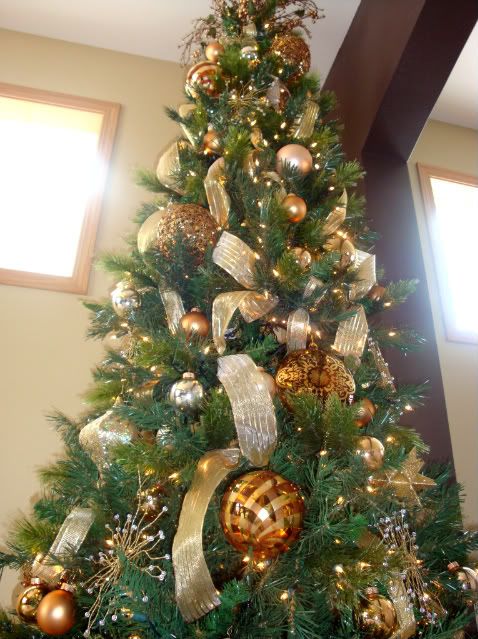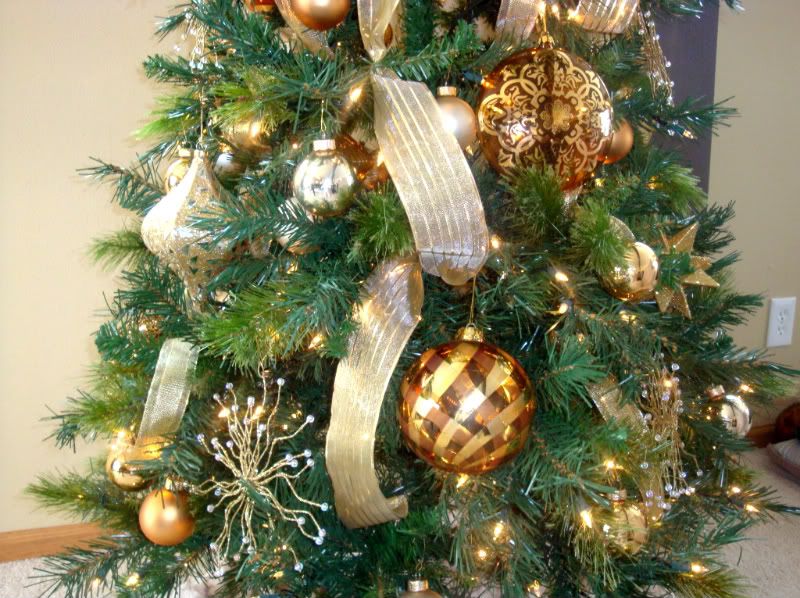 It was also time to mix things up with the entryway this year, so I went for some red! The stocking on the left is stuffed with my red Christmas tree topper from last year. And the stuffing for the stocking on the right, as well as the dots of red in the garland, are from the poinsettia and garland I used to dress the body of my red tree last year. And to finish it off–my baby tree in the corner dressed with loads of red beads!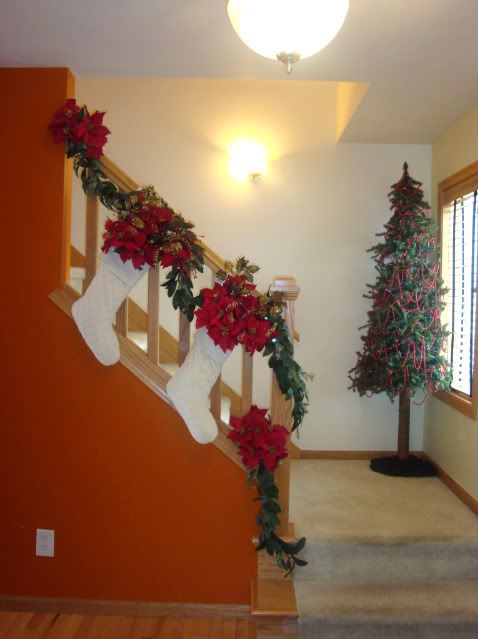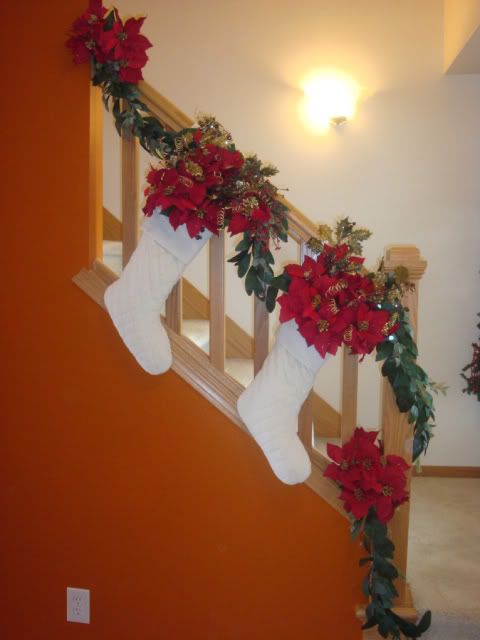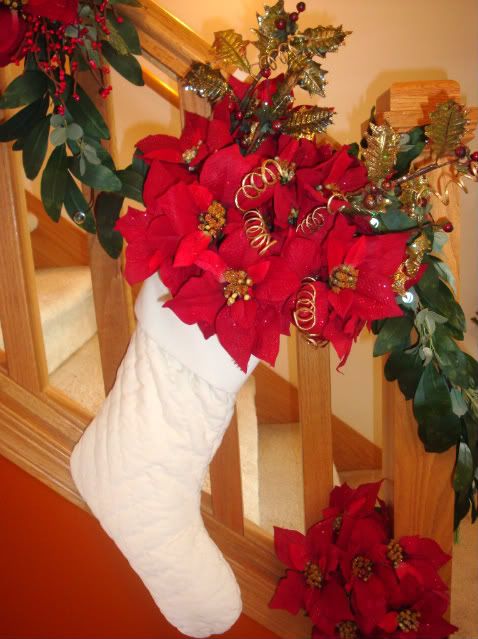 I haven't decided on this year's tablescape yet, but I'll be sure to post pics when I do. Hope you enjoyed my "didn't spend a dime" Christmas decorations this year!
Related Posts:
I'm Dreaming of a GOLD Christmas
First Noel in our Current Home
One Last Christmas Throw Back