You have to check out this Better Homes & Gardens Unfinished Storage Cabinet Makeovers slideshow–I stumbled across it one day and I'm in love! It's amazing what you can do with a little innovation and a whole lot of imagination. Here's just a sampling of ways they've turned armoires, cabinets, and cupboards into pieces that more than pull their weight around the house:
This antique armoire was repurposed as a Baking Center even Betty Crocker would envy. With plenty of shelving for utensils and ingredients, cork board on one door to hold recipes, and a magnetic chalkboard on the other for your shopping list–this little number doesn't mess around! Not to mention the lower drawer which offers vertical storage (my favorite kind!) for baking pans.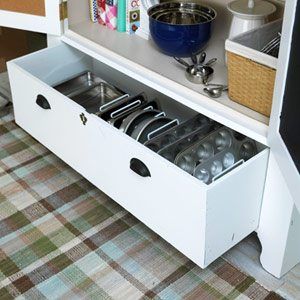 Make Martha proud with this do-it-all Craft Cubby! Is it a printer compartment or fabric storage? A slide-out keyboard tray or the perfect spot for rolls of wrapping paper? And how 'bout them doors?? Cup hooks inserted into cork squares (which are glued to the door panels) keep crafting supplies easily at hand. On the other door, metal sheets and magnetic clips hold a calendar and greeting cards. And my favorite part–paper towel holders mounted to the door are perfect for holding spools of string and ribbon!

This custom-made Snack Center from Thomasville Cabinetry stores all sorts of drinks and snacks. The right side of the cabinet even features a cereal station and recycling bins!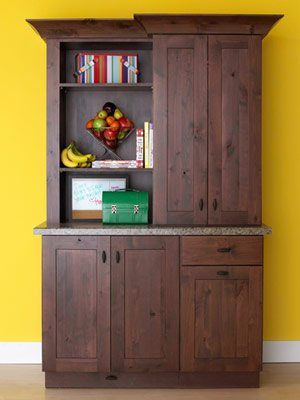 And my personal favorite–this media center armoire turned Drink Bar! Shelves originally meant for a VCR or DVD player now hold cocktail glasses. A towel bar shelf screwed to the back makes use of vertical space. And hooks mounted to the door keeps bar tools and supplies handy. And I love the pull-out keyboard tray used as a mixing area–so clever!

These are just a few of my favorites–CLICK HERE to see the rest of the amazing makeovers (including additional pictures of the units above) that Better Homes & Gardens has to offer!
Related Posts:
Organization–Tips For Getting Started
Organized Kitchen Pantry
My Spice Cupboard