I've been tagged by my friend Emily at imperfect to share with you my Christmas traditions–a tag I'm happy to accept, and excited to write about!
But now comes the tricky part.
The part where I have to ask myself: What are my Christmas traditions? Do I even have any?? Think D. Think!
Well…there was that one Christmas Eve when I was a kid and my mom made oyster stew for the family and announced it would be our new family tradition. She proudly planned to make oyster stew for us every Christmas Eve from that point forward. The only problem was all of us kids hated oyster stew. We tasted it, choked back vomit, and refused to eat another bite. So that was the end of that.
Back to the drawing board. Think, think, think. There has to be something that happened every year?? No–something other than the endless guilt trip you got when it was time to decide which parent to spend the holiday with.
???
Okay. Seriously? An annual guilt trip cannot be the only Christmas tradition you can think of.
Oh. Here's one. My non-religious, non-churchgoing family absolutely, without question, AND DON'T YOU DARE FORGET IT, has to recite the Lord's Prayer before we eat our Christmas meal. Granted, the f-bombs start flying 5 minutes later and by the end of the meal we're pooling our pocket change for bail money–but souls be damned if we forget to say this prayer once a year before we eat! And you better keep your hands folded and your eyes down, because everyone at the table thinks it's their personal mission to be on prayer patrol.
Hmmm…well now you just sound like you need a drink. That's it–drastic times call for drastic measures. Go back to Emily's blog post to see if you can copy some of her answers.
Stockings! YES! Stuffing Christmas stockings with all sorts of goodies is an annual tradition in my family. One that has happened for as long as I can remember, and still continues to this day.
Ooh–I've triggered another one! Homemade pie. MMMmmm! My great-grandmother taught my mom how to make pies from scratch when she was a little girl. And then when we were little girls, my mom taught me and my sisters. Christmas just isn't Christmas without someone in my family making some good ol' homemade pies using great-grandmother's secret pie crust recipe! (And then someone else in the family later saying, "This tastes funny–what did you do wrong with the crust?" But I digress…and could use another drink.)
Well I think that's about all I've got for long-standing Christmas traditions. Or at least as far as I'll go before we have to get a leather sofa and an hourly rate involved. But I'll close in sharing with you one new Christmas tradition I've started. I always put my Christmas decorations up the day after Thanksgiving, and ever since it came out, I have to watch Love Actually (and drink wine) while decorating my tree. It's a new tradition I look forward to every year!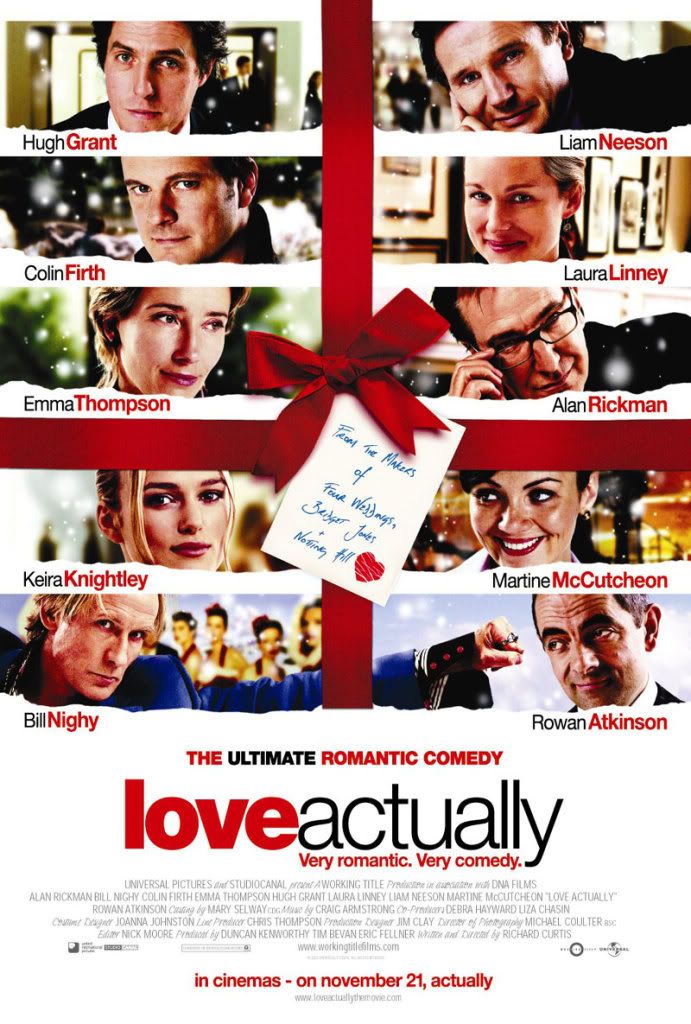 And yes, I have given thought to how this new and very beloved tradition of mine will play out once we have young, impressionable children running around. (This movie is rated R, and rightly so.) But you know what? Maybe making your children a little bit uncomfortable at Christmastime is what my family's all about.
Who am I to mess with tradition?
Related Posts:
Deck the Halls! And Don't Forget the Walls!
Desperate Times Call for Desperate Measures
8 Things You Don't Know About Me