I was shopping for my friend Kelly's baby shower gift a few weeks ago and picked out a couple things from her registry. While walking to the gift wrapping aisle I started feeling disgruntled–like I always do–about spending money on something that will soon be thrown away. While frowning at the ridiculous prices charged for decorated paper I kept thinking: I'd much rather put this money toward something for the baby.
And then I decided to revolt! I marched right out of that gift wrap aisle, and headed back toward the baby section. By the time I passed housewares I already had my plan–I would find a cute little baby blanket and wrap the gift in that!
My gift was a little too large for the blanket to be entirely secured by tying it together at the top, so first I brought the two short ends together, sewed some string through, and tied it in a bow for easy undoing: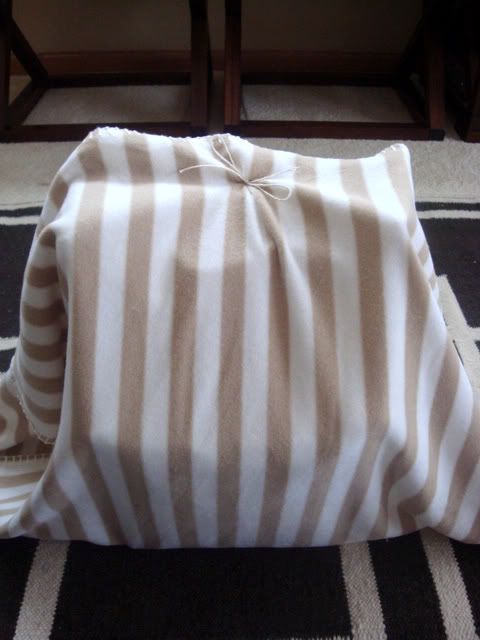 Then I gathered up the rest of the blanket and tied it together with another easy-to-untie bow. The blanket I chose had a cute little animal applique on one corner, so I made sure to put that corner in front (you can see how that turned out in the bottom picture).

I signed the inside cover of a baby book (instead of spending money on a card–something else I hate doing) and tied it around the gift using grosgrain ribbon that was originally tied around the baby blanket I purchased.

And there you have it–gift wrapping that's paper-free and 100% reusable, for the same price as a disposable gift bag and card. Hope you consider trying something like this for your next gift-giving event!
Related Posts:
Festive Holiday Packaging
How to Stuff a Duvet Cover
DIY Tufted Upholstered Headboard