This recipe–compliments of my sister Amy–is the perfect summer salad! It's incredibly easy to make, and oh-so-delicious. It tastes just like a caramel candied apple!
What You Need
Apples
Snickers Candy Bars
Cool Whip
Instant Butterscotch Pudding Mix
Directions
Chop up about 5 large, crunchy apples into bite-sized pieces.
Add Snickers pieces–about 8-10 snack sized Snickers bars are good.
A tip for getting your Snickers from bars to pieces–throw them in the freezer (still in the wrapper), once frozen take them out and beat them (while still in the wrapper) with the flat end of a meat tenderizer. Then cut off the end of the wrapper and you have perfect little Snickers bits for your salad! (And the larger bits are good for tossing in your mouth while no one is looking.)

Mix 1 package of butterscotch instant pudding mix (just the powder) with 1 small container of Cool Whip. Add this to your big bowl of apples and Snickers, and mix it all together.
Chill until serving.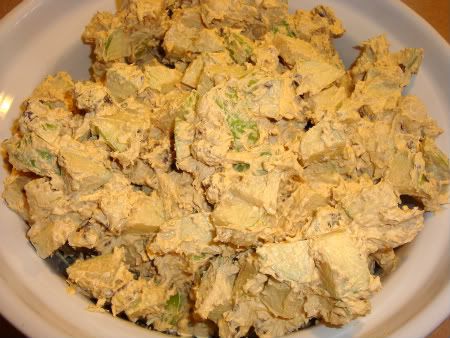 And that's all it takes! Quick, easy, and sure to be a hit. I don't even like apples, but I love this recipe. Give it a try and let me know what you think!