My pregnant friend Jill has been craving cake lately, so in addition to making a diaper cake gift for her baby shower last weekend, I thought I'd give the mama-to-be some real cake to sink her teeth into!
I first saw these cake pops on my friend Carla's blog and thought they were such a neat idea! They're lollipops, but instead of a sucker candy topping, they're topped with chocolate-covered cake. Pretty neat, huh? I tracked down the recipe, along with many helpful tips, at the source–Bakerella. This woman does amazing things with cake. Spend five minutes at her blog and you'll gain tons of baking inspiration and at least five pounds just staring at her delicious photos!
After you dip the cake pops in chocolate, they need to sit upright to dry. I poked them into a rectangular piece of styrofoam to dry and later decorated the styrofoam with decorative moss and ribbon, and used it as the "platter" at the shower.

I made one batch with devil's food cake and chocolate coating:

And another batch with vanilla cake and vanilla-flavored coating: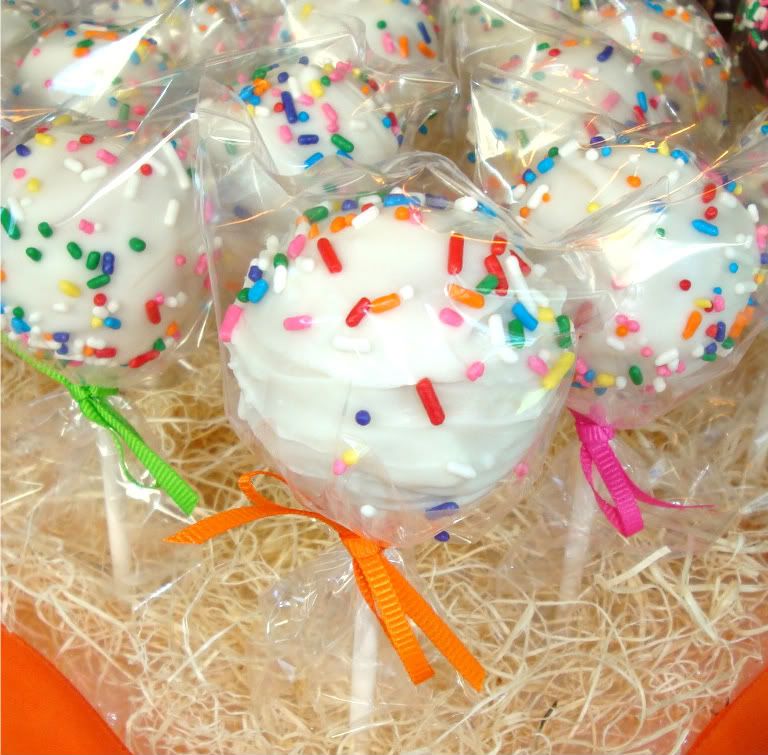 Although they were time consuming, they were a lot of fun to make, and even more fun to share. They were a huge hit at the baby shower! And since they were individually wrapped, guests were easily able to take extras home with them to enjoy later or to share with others.
And for those of you looking for even more baby shower inspiration, I have to tell you about another neat idea of the day. Jill's friend Saz–the wonderful host of the shower–did an ice cream sundae buffet with ice cream and toppings from Culvers. I just loved this idea–it was so good!