I love graph paper. It's quite possibly my number one favorite decorating tool–after my wine, of course. Before I spend even a minute moving furniture or pondering whether something will fit in a space, I bust out my trusty graph paper and get to work.
The first space I graphed in our current house–and also the first space I decorated–was the living room and dining room. The space is one large open room with an archway in the center.
Before:


With the exception of a short wall in the dining room, there are windows on every single wall in this space, which makes furniture placement a bit of a challenge. On top of that G has a monster of a TV that he wanted to stay in the living room. I wanted a lot of seating, but I also like things to feel spacious and open. And last but not least, I wanted both spaces to complement each other, but still be two distinct spaces. How did I make this all happen? Well, it all started with graph paper!
First I measured literally every inch of this space to determine exactly how much space I had to work with and exactly where things like windows, outlets, cable jacks, and floor registers were placed–all things that need to be considered when deciding where furniture and electronics should go. For this step I do a rough sketch on notebook paper. I'm just looking for the measurements at this point.
Next, I graph out an exact replica of the space on graph paper, only in a much smaller scale. Now this may seem like a difficult task, but it's actually very simple. I measure the room in inches, divide by 10, and then graph everything in centimeters. For example, let's say a wall is 123″ wide. 123 divided by 10 = 12.3. So for that wall I measure out 12.3 centimeters on my graph paper. And since centimeters are in tenths, it's actually very easy to measure 12.3 centimeters–it's just 12 centimeters plus 3 more little hash marks on the centimeter side of your ruler. Piece of cake, right?
Here's the final graph of my living room/dining room space–the living room is at the top of the page and the dining room is at the bottom (click to enlarge):

Let's take a closer look (click to enlarge if needed). The two small shaded squares toward the center of the side walls is the archway–that's how much surface area the actual archway takes up. Each outlet is marked with a star, cable jacks are marked with a hash mark, floor registers (which stick out from the wall a little bit) are drawn as little rectangles on the inside of the floor plan and marked with stripes, and windows (which don't stick out from the wall) are drawn as rectangles on the outside of the floor plan. The dotted line on the right side of the living room represents the separation between the living room and the kitchen. That space is all open, but the flooring changes from carpet to hardwood so I wouldn't want my living room furniture going past that dotted line. There's another dotted line on the bottom right in the dining room, which is an open space that leads to the entryway.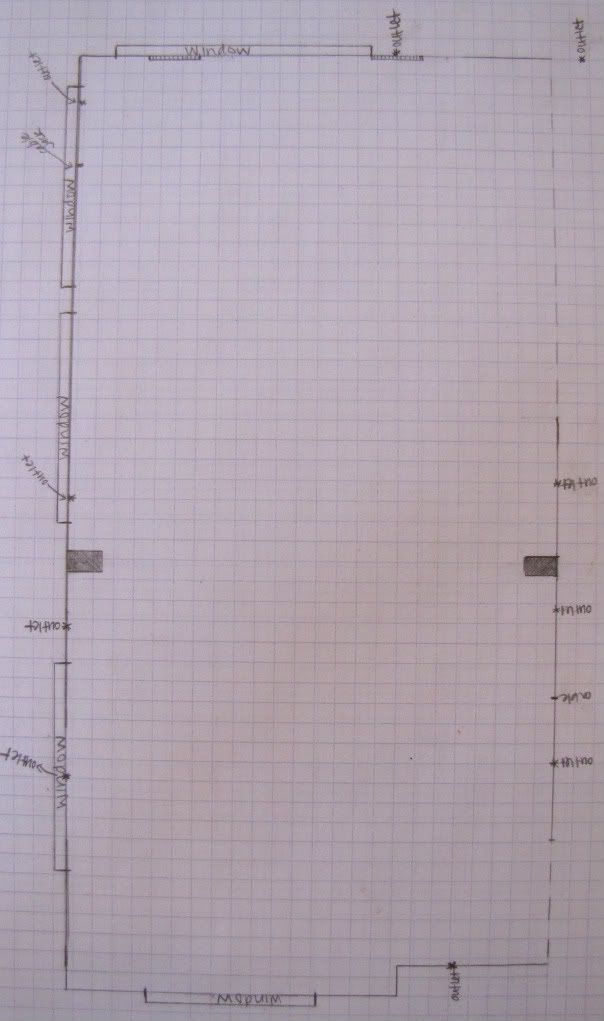 Once the space is all graphed, it's time to turn to the furniture. Again, I measure everything in inches, divide by 10, and then graph it in centimeters. Then I label each piece of furniture and cut them all out so I can move them around my little paper house. It's much easier to move a paper rectangle labled "couch" than it is to move an actual couch!
My paper living room furniture started out all white until I decided I needed a rug, but was having such a tough time visualizing it in the space. Not to mention the fact that I couldn't decide on a size. And would it be too much brown? If I had Photoshop, or even any basic computer editing skills, I could have doctored up a picture to get a sense of what things would look like, but alas I have no Photoshop and am rather technologically challenged. So to put my mind at ease I got out my markers and started coloring my little paper furniture. Yes, I got a little OCD when it came to coloring the rug. I admit it. I own that. But you know what? My worries about purchasing the rug disappeared after seeing it in my paper living room, so I ordered that bad boy and now I can't imagine the room without it!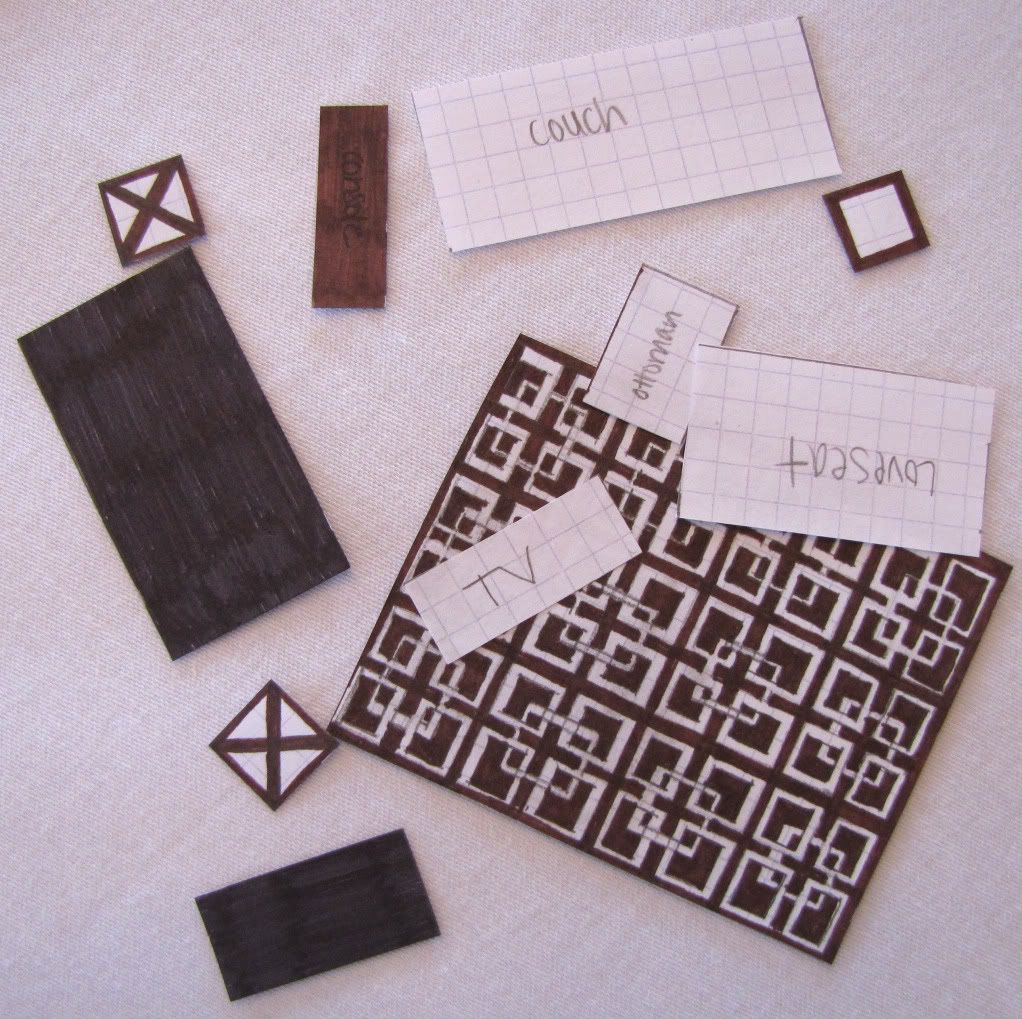 Here's a picture of the furniture arranged in the space. The dining room table may look a little small, but that black rectangle doesn't include the chairs that go around it, or the space you need to pull chairs out. Also, the table extends to seat up to 12 people, so it needs all that extra room on the ends. (Click to enlarge)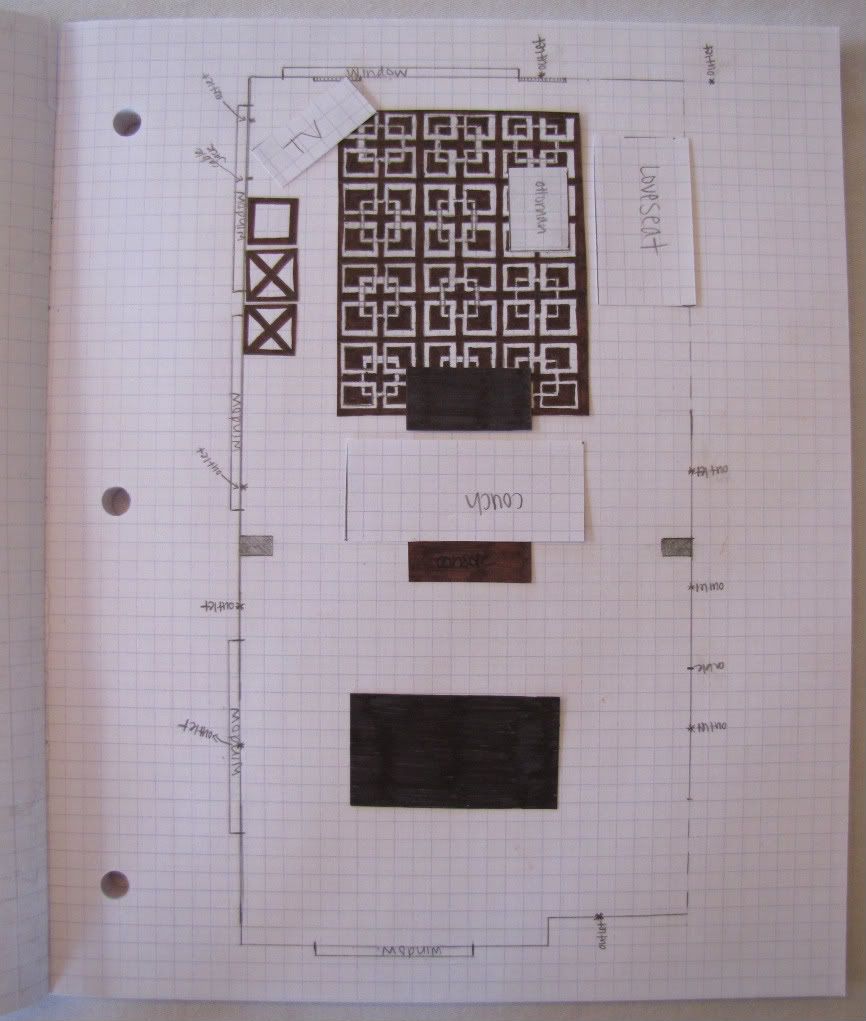 View of my paper living room from the kitchen: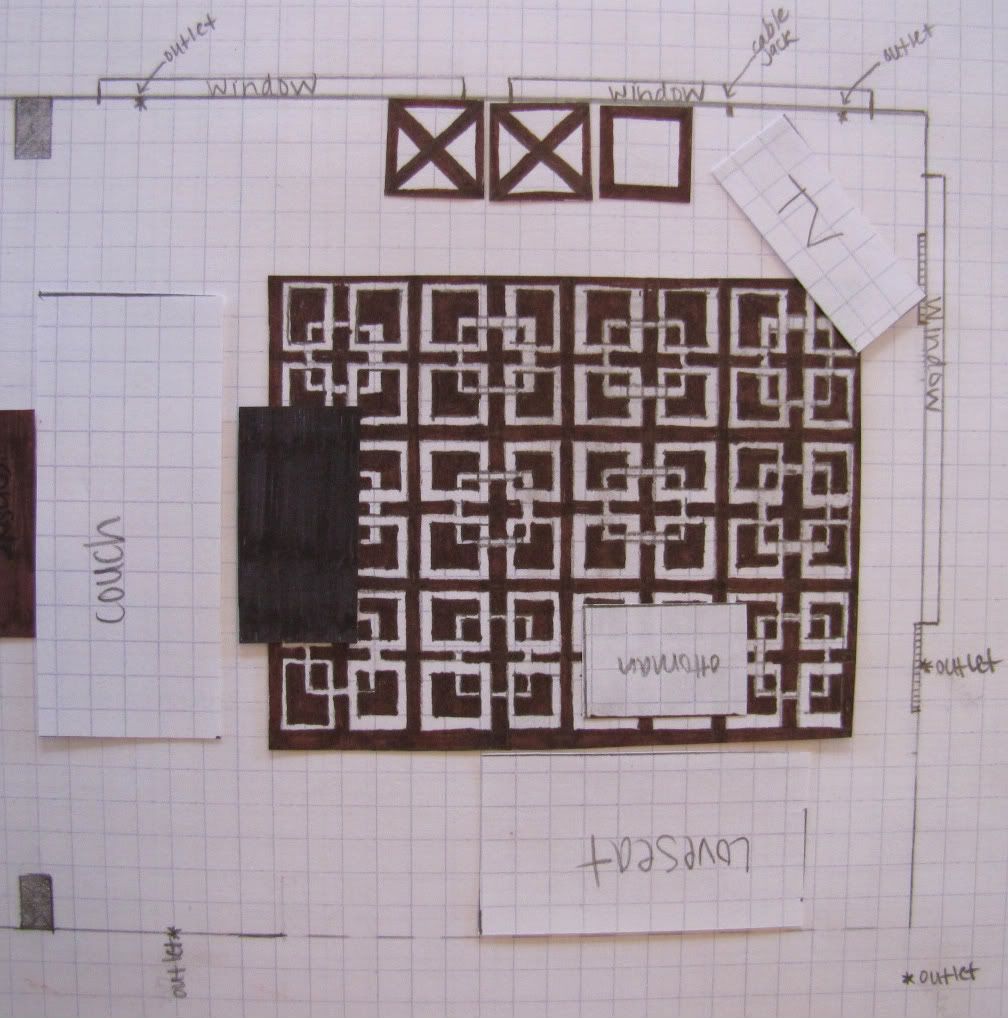 And the same view in real life: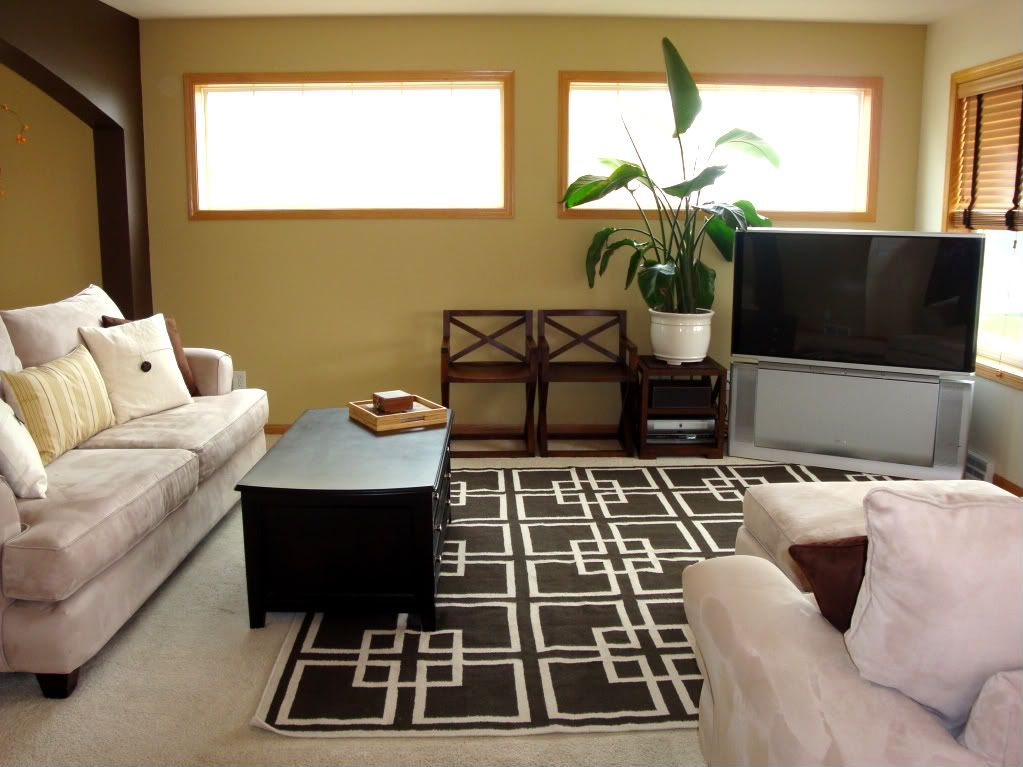 When I'm all done playing house, arranging furniture, and deciding on rug sizes, I toss all my paper furniture in a small ziploc bag for safekeeping until next time.

Everything stays in my little graph book where I can always come back and reference it when needed. It's time consuming up front, but so convenient to have later when I'm looking at getting new furniture or I'm interested in re-arranging a room!