August 31-September 6
For those of you who have been waiting for a picture of our baby's crib–here it is! It was a gift from G's boss Dave and his wife Julie, who are so wonderful and generous, and it looks beautiful in the nursery!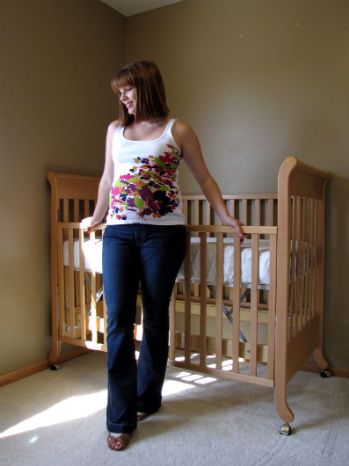 One of the things I've been trying to focus on lately with my pregnancy is staying in the moment. I find myself saying and thinking, "I can't wait until she's here!" Then I catch myself and realize that this pregnancy has already gone by so fast. And soon she will be here. And then before I know it she'll be dyeing her hair hot pink and hopping on the back of some guy's motorcycle graduating from high school and leaving for college. I'm trying hard to stop wishing for the next thing, and instead enjoy the moment. This moment. I know I won't get it back, and I want to focus on savoring each and every minute.
I'm very proud to say I ran 20 miles/week through my 20th week of pregnancy, but my body has made it clear that it's time to cut back on my mileage. The pressure on my bladder has been increasing and around the 2 mile mark the urge to pee gets pretty strong. But that I can handle. What's really sidelining me is that around the 2.5 mile mark my feet start getting really sore and tingly, and by the 3 mile mark they feel almost numb–like I'm running on stumps. I've tried loosening my shoelaces and stretching longer before and after my runs, but nothing seems to help. Is this my body's way of telling me it's not happy about lugging this big old belly around? (Possibly.) Or punishment for continuing to wear heels every day? (Probably.) Either way, I've decided to start limiting my distances to 2 miles/run and right now that is feeling much better.
On to baby stats! This week our little girl should be nearly 8 inches long–about the size of a small doll. She can now perceive lightness and darkness and can also hear my heartbeat and all my other bodily functions (all privacy is lost when it comes to pregnancy–this is to prepare you for motherhood, I'm guessing). Her eyelashes and eyebrows are formed, and she is developing her sense of touch, so maybe now she can feel it too when she sucker-punches me in the gut!
The highlight of week 22? G and I went to the Taste of Madison (an annual food festival in our city) on Sunday and I had deep fried cheese curds, a cream puff, a slice of turtle cheesecake, and an oreo espresso ice cream waffle cone.
Best. Lunch. Ever.
Additional Pregnancy Week 22 Posts:
All Things Loved in August
Floral Exchange