Considering Baby G&D is due January 4th, it's a pretty safe bet that we're going to have a little Capricorn on our hands (Capricorns are mid-December to mid-January babies). I'm a little bit ashamed to say I wasn't even aware what our daughter's zodiac would be until I received this fortuitous gift from my friend Beth:

She came across this very surprising onesie while shopping for her daughter in Baby Gap. It was laying on a table of toddler clothes, completely out of place. She picked it up and noticed the dates for the zodiac and thought, "Oh, what a coincidence. That's when Dusty's baby is due."
And then she noticed the small Capricorn description underneath the little goat applique and knew this unexpected discovery would be the perfect gift for any child of mine: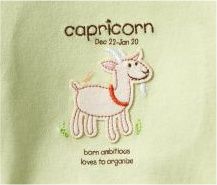 born ambitious
loves to organize
Can you believe it?? I know I couldn't! Prior to giving me the gift she showed it to our friend Jill whose immediate reaction was, "Are we sure Dusty's not a Capricorn?"
What a crazy coincidence!
Thanks again for such a wonderful gift Beth! You know I'm not much for hanging onto things past their use–but this one's a keeper for sure!