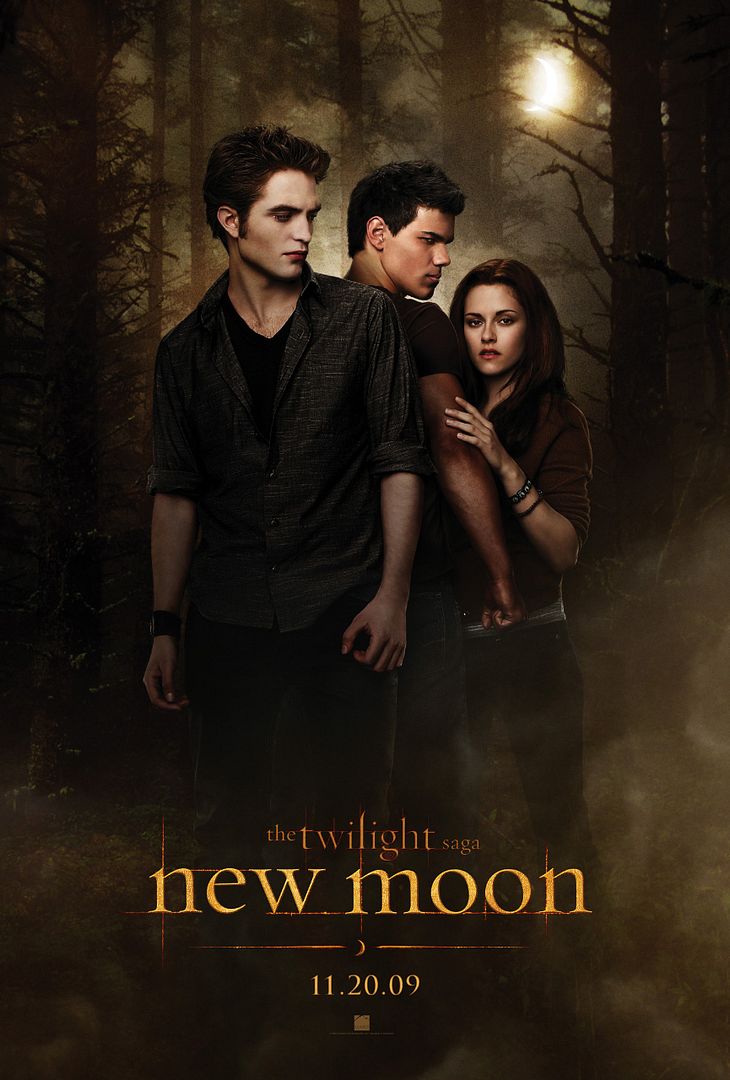 After my complete and utter disappointment with the first Twilight movie, I decided to do 2 things differently in anticipation for New Moon:
I did not re-read the book so it was fresh in my mind.
I lowered my expectations.
Preparation is key, people. And you know what? I think it worked…sort of. I will say that I liked this movie much better than the first one, but I still felt like it could have been so much better…
Let's start with what I liked about it:
They stayed much truer to the book this time which I was pleased to see. Of course they can't incorporate everything from the book into the movie, but one of the things I hated about the first Twilight movie is that they added things that never happened in the book. I can see cutting out parts of the book for the sake of not having a 5 hour movie, but don't cut out the story that I love just to introduce brand new, not in the book, information! I was happy to see they restrained themselves with New Moon. And since they stayed truer to the book, I was able to watch the movie without just taking in what was on screen–I could also think about how it was written in the book and remember how I felt when reading about it, which really enhanced the movie for me.
The special effects were a huge improvement. I loved the werewolf phasing scenes!
I thought the chemistry between Edward and Bella was a lot more believable in this movie. (And I totally cried during their break-up scene.)
Edward's makeup was better, although I still could have done without the man lipstick.
Alice's hair was cuter this time around.
And now for the things I didn't like:
Edward's fart faces. He spends half of his scenes with his nose and face all scrunched up and uncomfortable looking. Doesn't it look like he's smelling the nastiest fart? IT DRIVES ME CRAZY!
I hated, hated, hated how it took the actors 20 minutes to deliver a line. I get that they're trying to be all dark and twisty and Meredithy, but COME ON. Granted I'm a fast talker, but I don't know anyone who carries on a conversation that slowly. I was half wondering if they had to wait for someone in the wings to whisper their next lines to them before they could recite them. Let's speed it up for Eclipse, mmkay?
Edward's head floating in the corner of the screen whenever Bella heard his voice. Oh. My. God. If there was ONE THING I could change about this movie, this would be it! I literally cringed when it first happened. Groaned when it happened a second time. And by the third time I was composing a strongly worded email to the director in my head, begging him to please FOR THE LOVE OF ALL THINGS TWILIGHT ask, "Does this seem cheesy??" before adding crap like this to the next movie!
Overall, I really do think it was a big improvement from the first movie and I think I'll like it even more after seeing it a second time…but I'll be waiting for the DVD.
Interested in reading more of my Twilight posts? Here they are in order:
Don't Send Out the Search Party Yet
Life After Twilight
The Only Thing on My Mind Right Now
The Twilight Movie
Bite Me
My Twilight Saga
All Set for New Moon!