After one ultrasound, four months of planning and execution, and a handful of reader death threats later, the time has come to finally reveal our daughter's nursery!
Now this may come as a surprise to you, but I was absolutely clueless about what to do for our daughter's nursery. I figured it would be so easy to come up with ideas for a girl's room so I had really only given thought to what I would do if we were having a boy. Once we found out we were having a girl I was so ecstatic I cried tears of joy the entire day–and then realized I didn't have one single idea about what to do for her nursery! I hopped online, hoping for a little inspiration, but I really didn't want her room to look like your typical girl nursery which was pretty much all I saw. I was about to give up for the day when I looked down at my belly–with our little girl kicking away inside–and thought: Hmmm, I like these colors…
And then the ideas came.
So as strange as it may sound, the nursery was inspired by this Old Navy tank top that I was wearing on that glorious day I discovered I was going to be a mother to a daughter.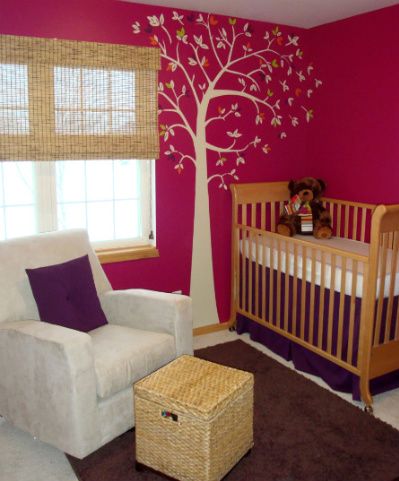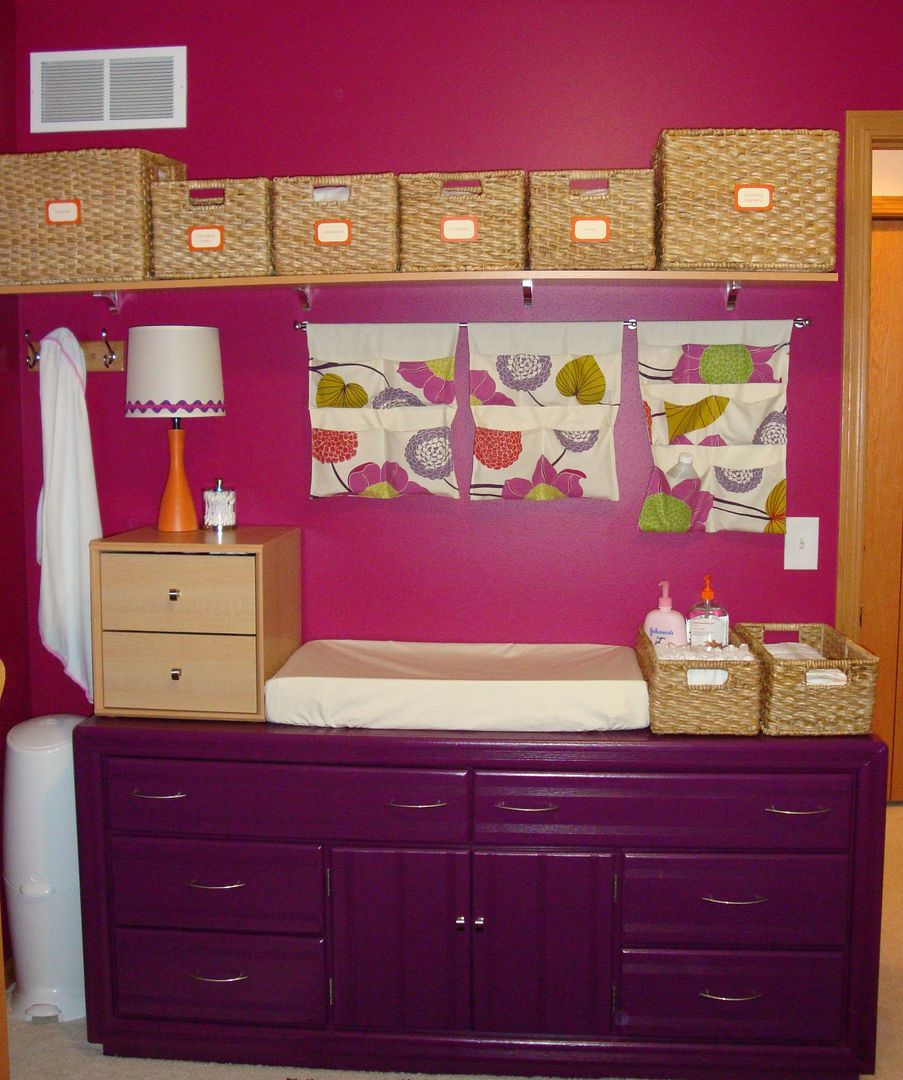 Close up of the tree–our favorite part of the room! I started with a beige-colored Neu Tree vinyl wall decal from Wall Slicks, and then added the colored leaves for a little more depth and interest.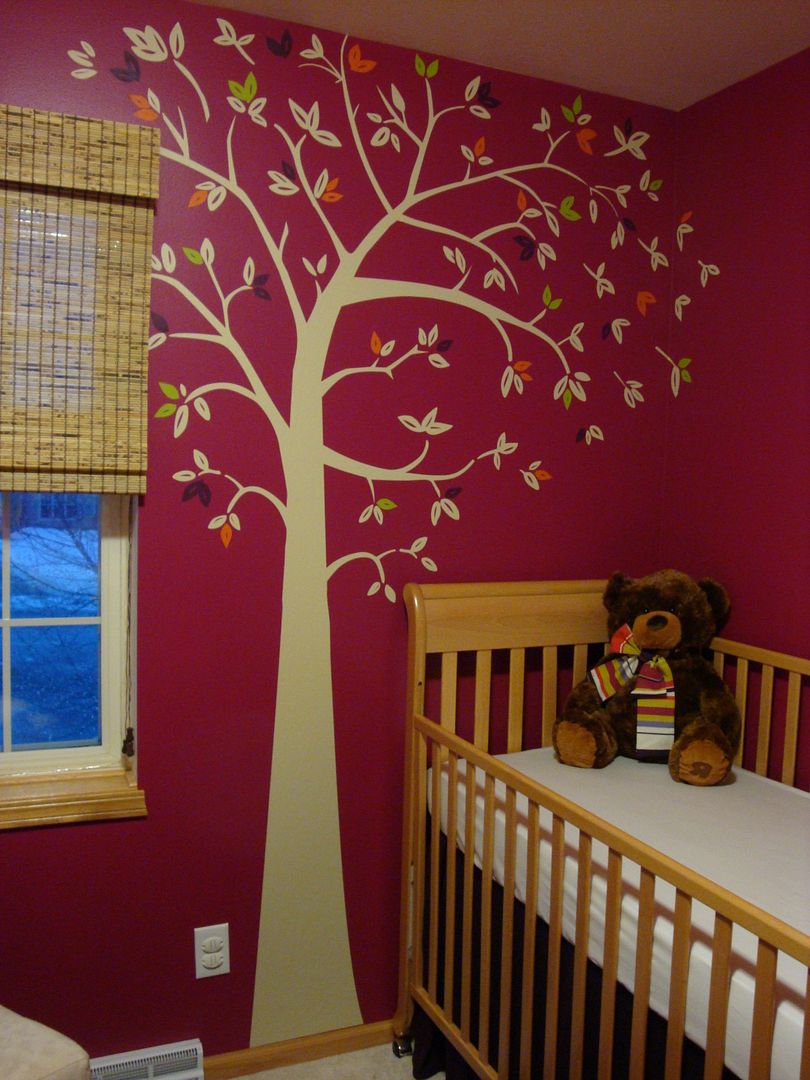 It pretty much took forever to hand-cut each of these colored leaves–but it was worth it!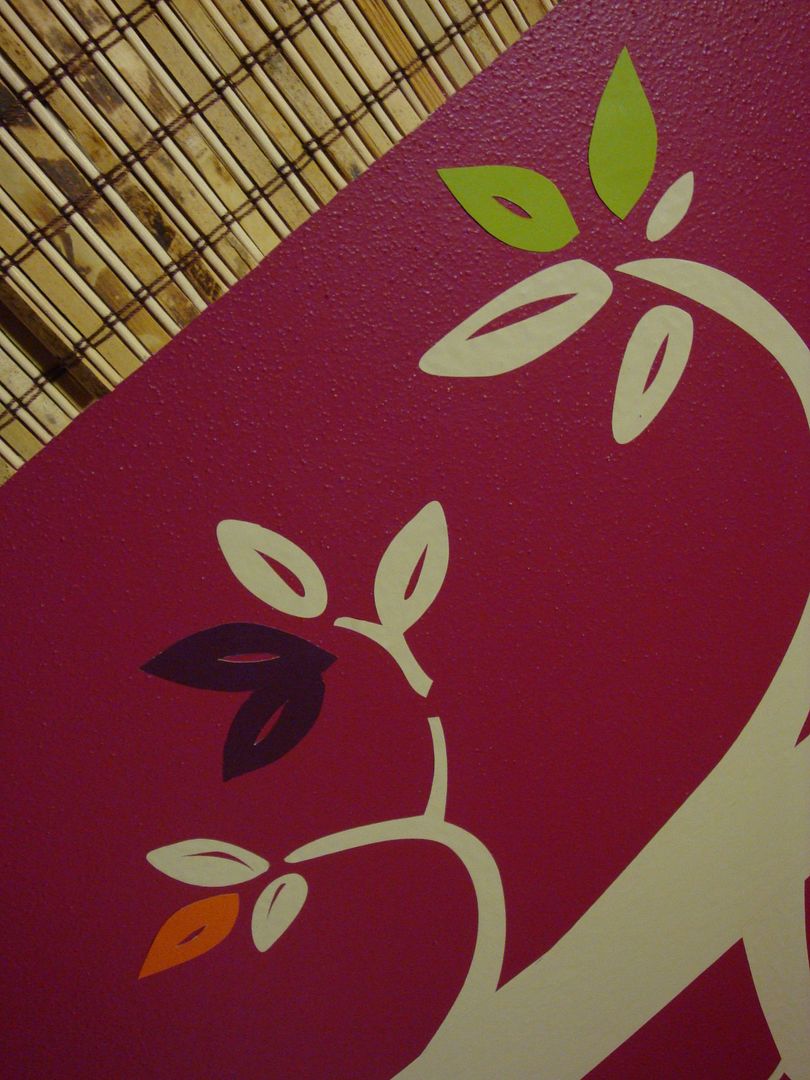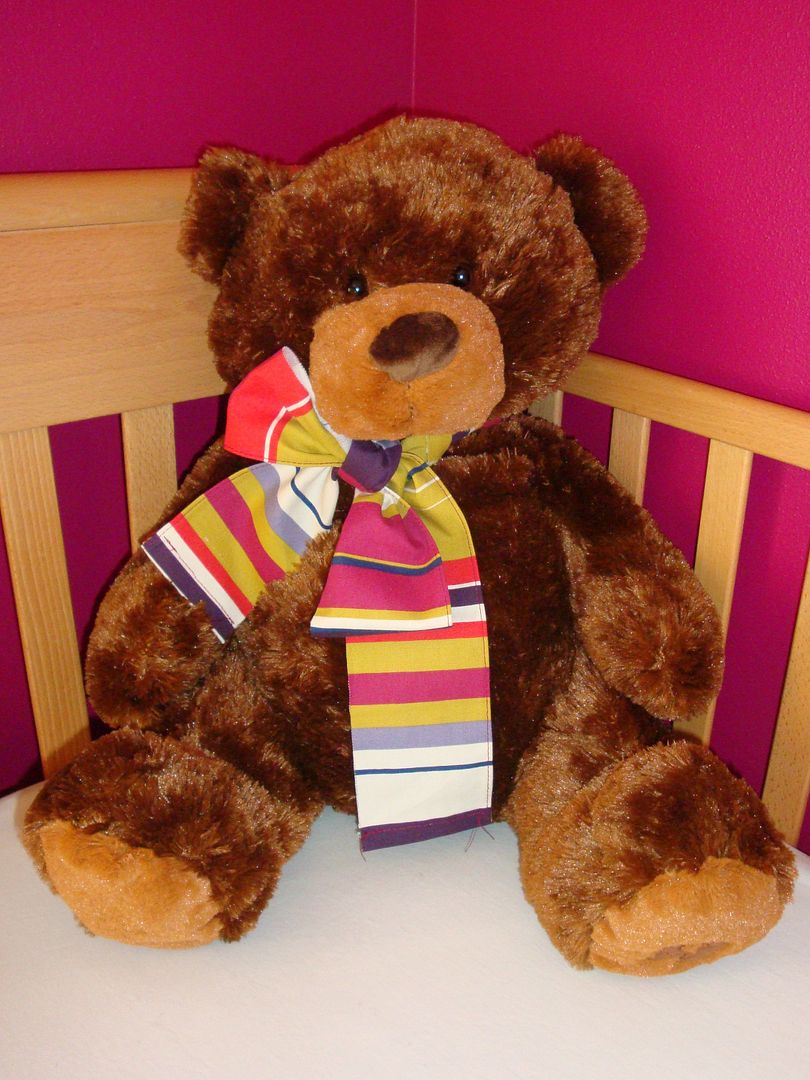 The curtain behind the glider hides the closet. As you can see, you have to step up to get into it (it's located above the stairway), so it's not the most ideal space. Because of that we're only using the closet for longer-term storage and not things we need to access on a regular basis. I had G remove the door and I added this curtain so I could fit the glider in the corner and not have to worry about it being in the way of opening the door. The curtain hangs from hooks above the door frame, and a tie-back mounted inside the door frame holds it back when needed.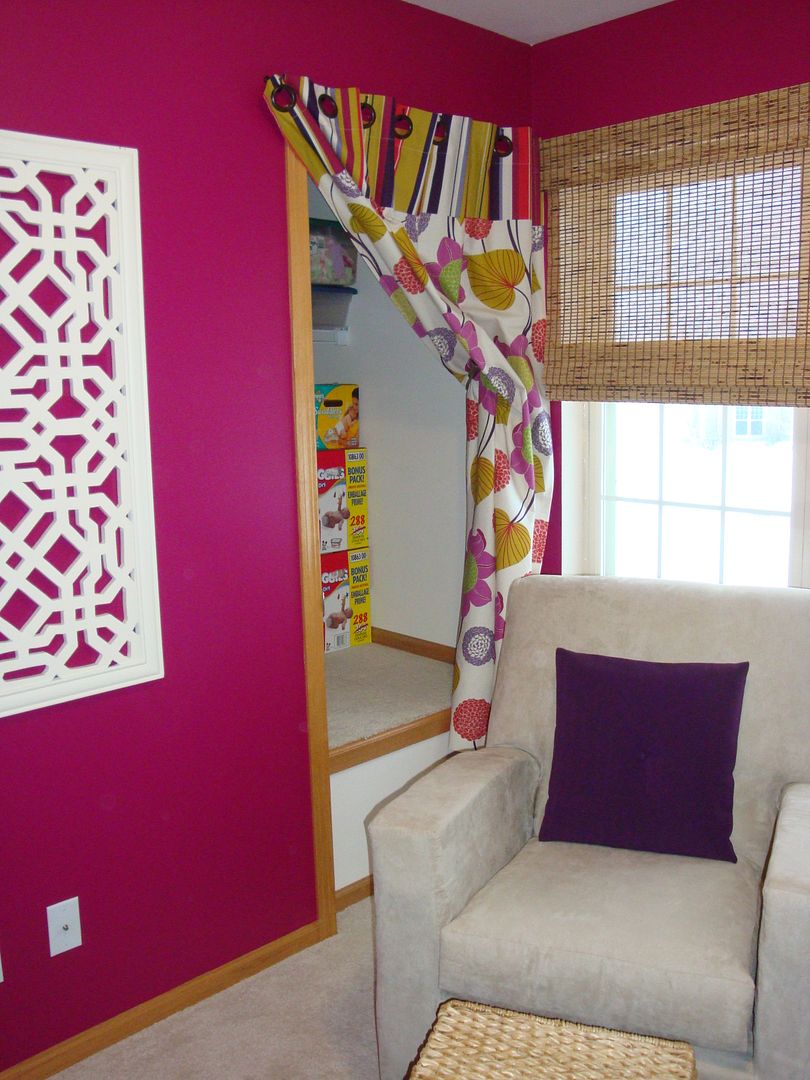 Where the action happens! Since the closet isn't easily accessible I wanted to make this a functional spot where we could easily access all the things we'd need on a daily basis. I refinished this large dresser (a hand-me-down from G's boss Dave and his wife Julie) and it's now filled to the brim with adorable little baby clothes.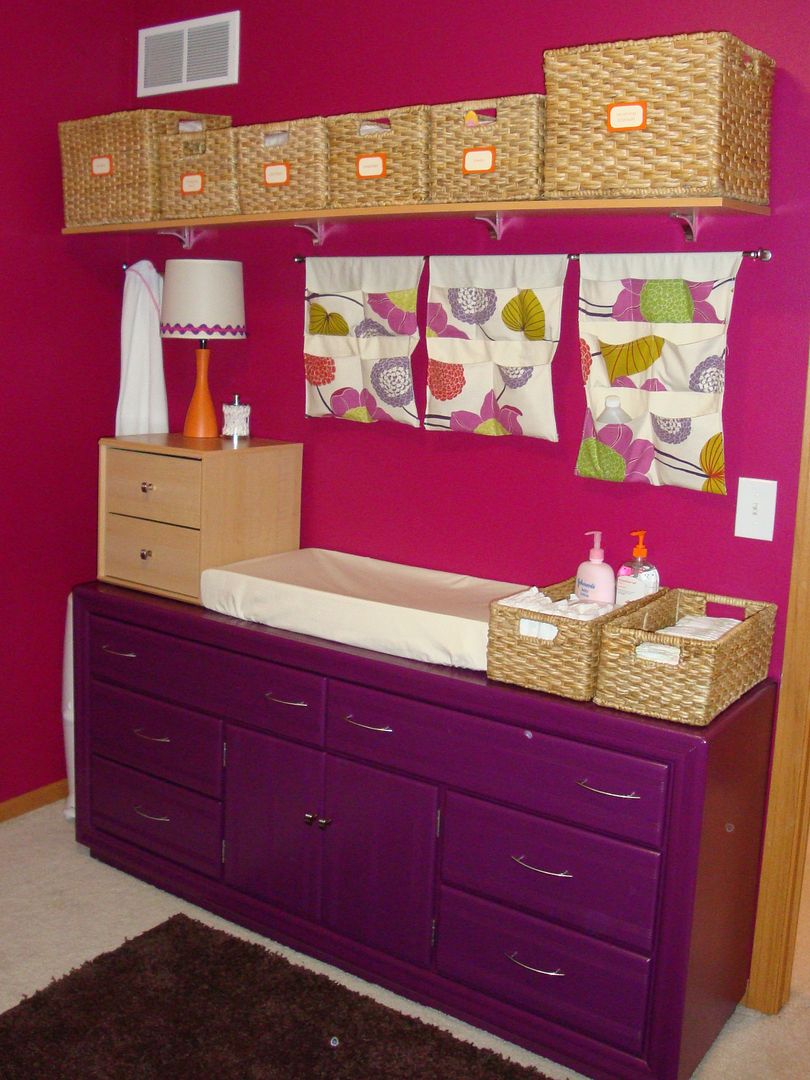 A Diaper Genie sits on the floor to the left of the dresser. The 2-drawered cube sitting on the dresser holds onesies, undershirts, and socks. The two baskets to the right of the changing pad hold diapers, wipes, lotion and hand sanitizer. I mounted some hooks on the wall to the left of the lamp which can hold pretty much anything–towels that need to dry, an extra blanket, the next day's outfit, etc. I had my friend Steph (the brilliant talent behind Mada's Place) make me the 3 hanging wall pocket organizers which I hung from a small curtain rod. They store all sorts of miscellaneous baby items and toiletries that will be nice to have close at hand.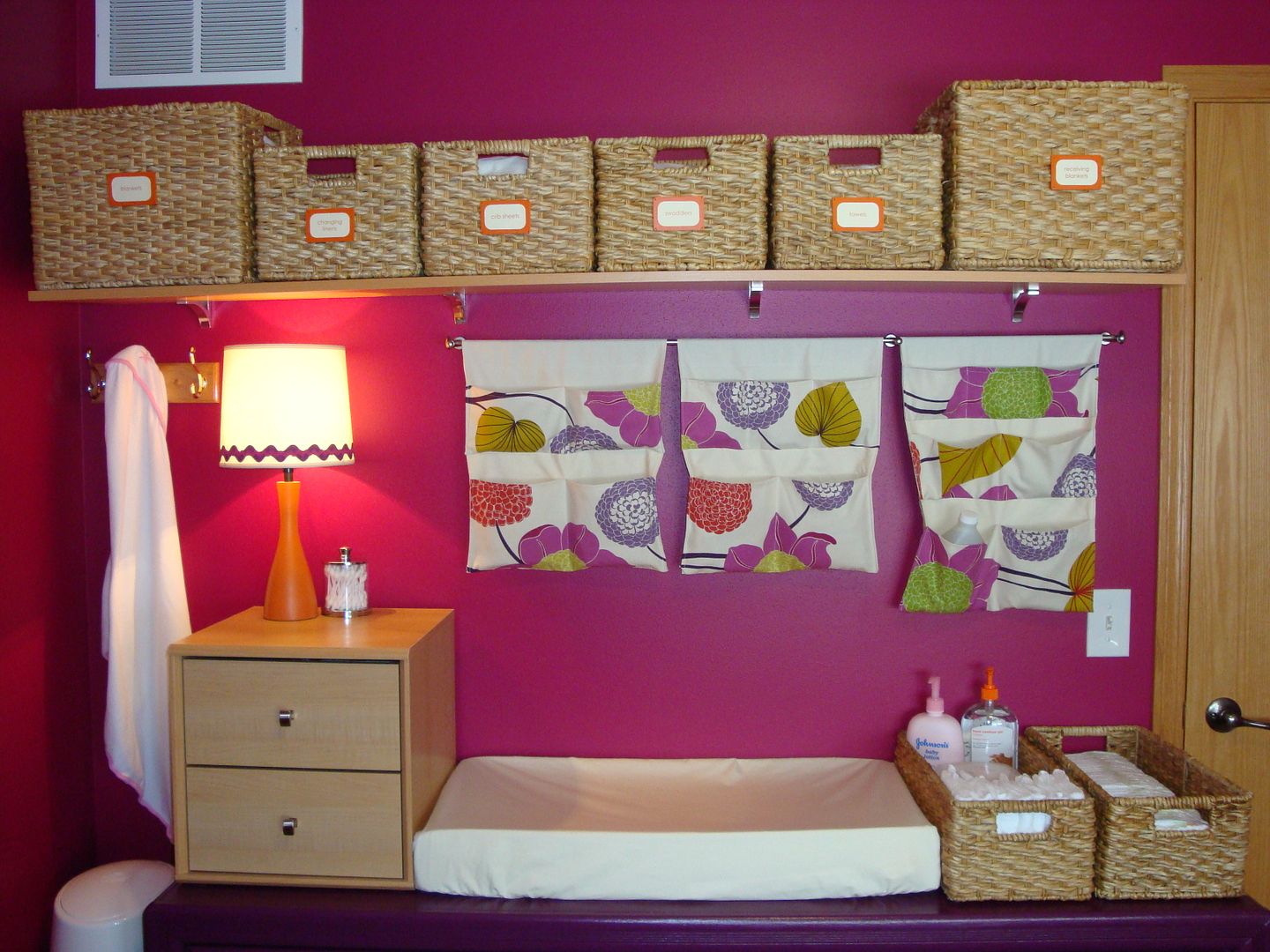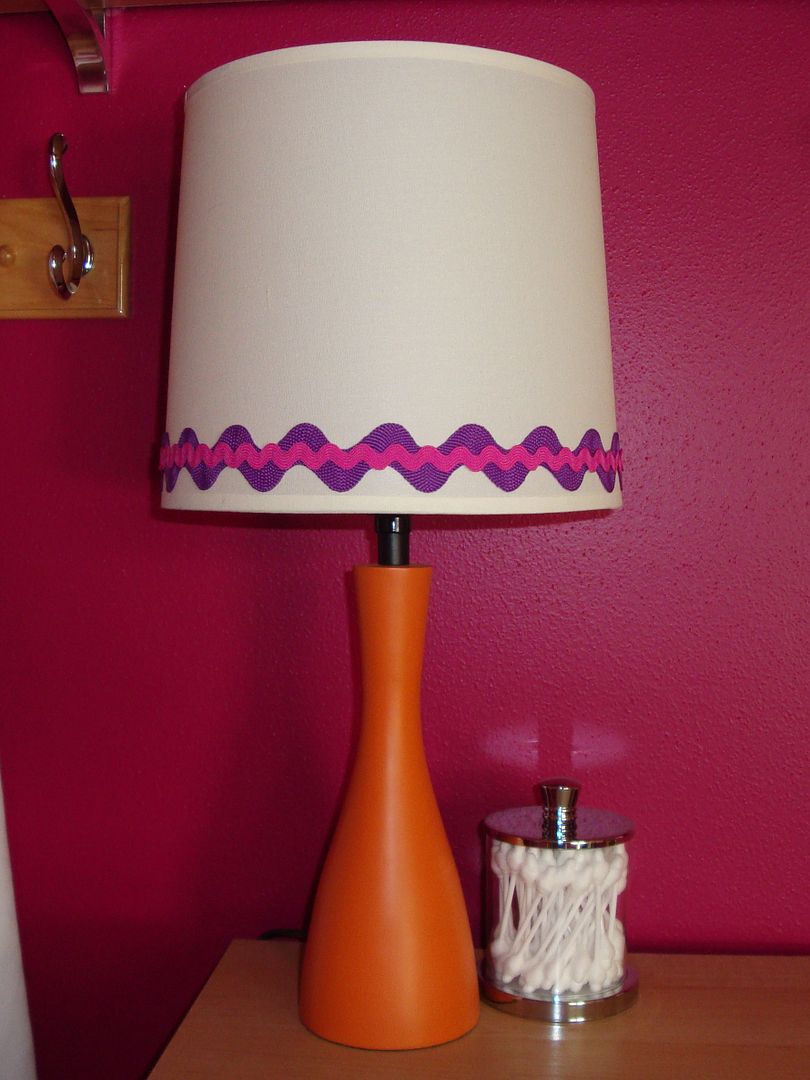 The baskets on the shelf hold baby blankets, changing table linens, crib sheets, swaddlers, and towels.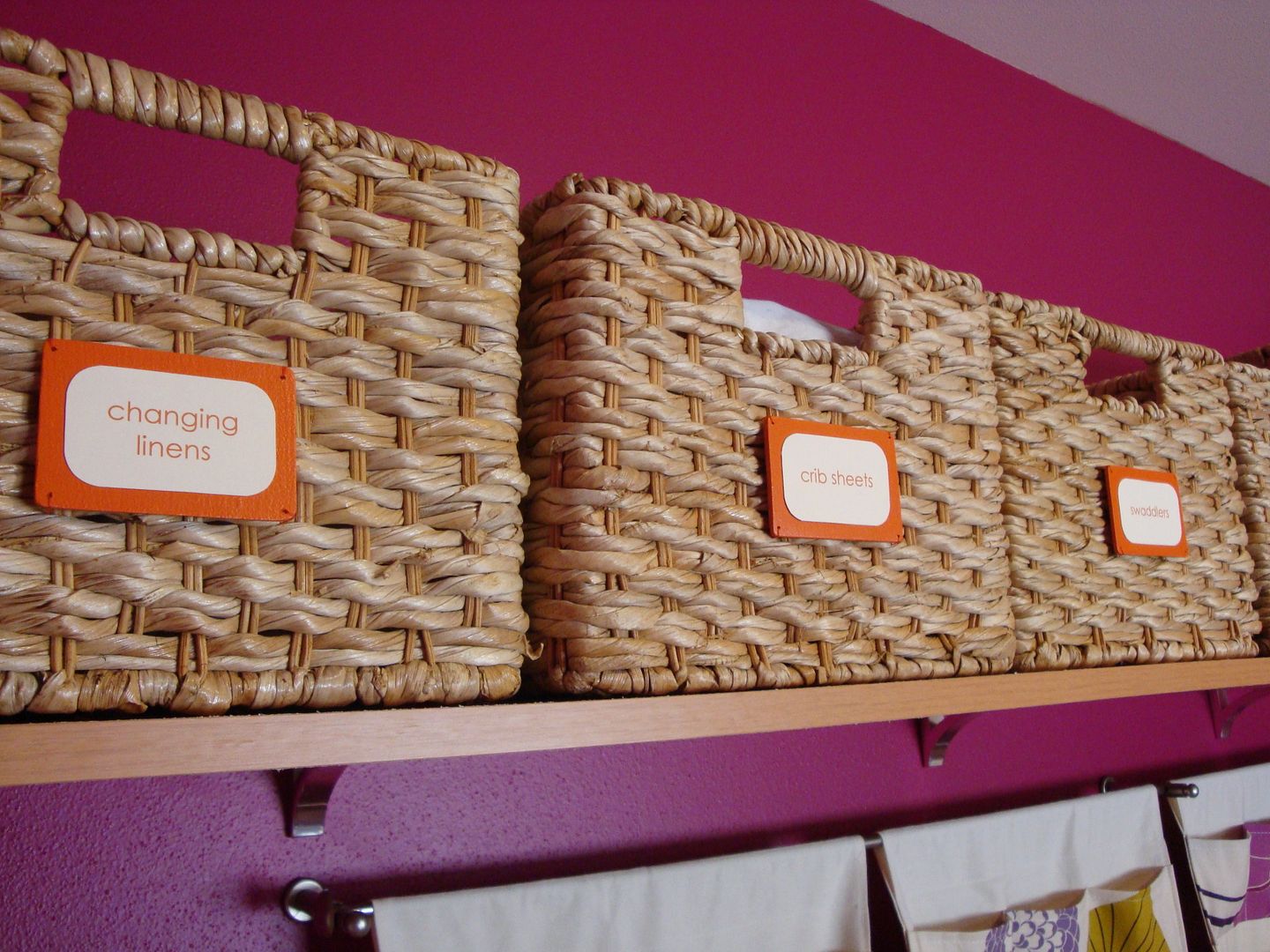 The little bear is sitting in the crib in earlier shots, but his permanent home once our daughter arrives is this wooden highchair at the foot of the crib which was actually my highchair when I was a child. It needed a lot of TLC, but I refinished and repaired it and I'm happy to finally have a spot to display it.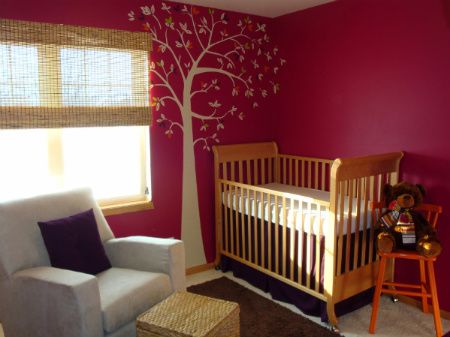 Update: CLICK HERE for Part 2 of this post which features loads of before and after pictures and more details on how I put this room together!