Before we kick off all the behind the scenes details of how I put Kate's nursery together, I have a few more "final" pictures to share. These were taken by Andrea Elberg–the photographer who did Kate's newborn photo shoot–and they capture the room so much better than I was able to!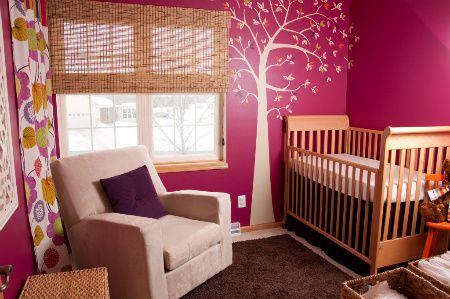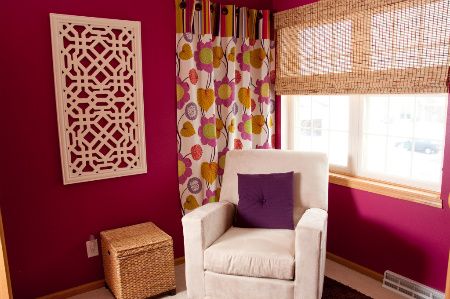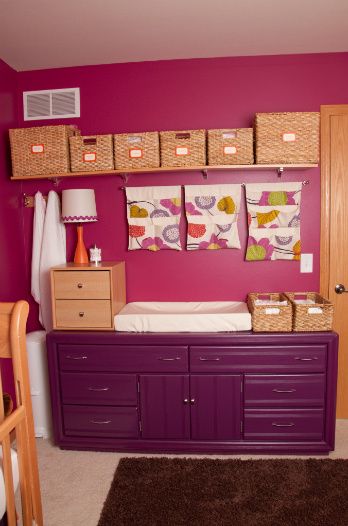 If you read Part 1 of Kate's nursery you already know that this room was inspired by this Old Navy tank top I was wearing that wonderful day we found out we were having a baby girl: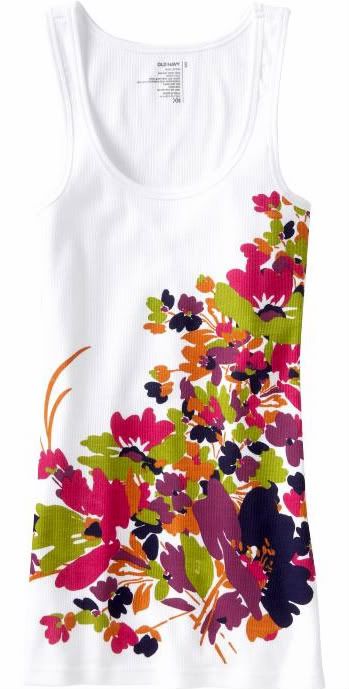 I really wanted to do something nontraditional, with colors you don't typically see in a nursery, and these colors certainly fit the bill. We started out with the crib which I first showed you in this post. Little did you know this picture was also a little teaser of what was to come!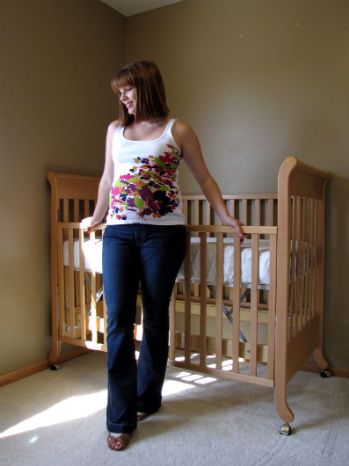 Next came choosing a paint color. I was pretty positive I wanted to do magenta walls, but I slapped a few plum colored paint swatches on the wall as well for some options. When choosing a color I like to scatter multiple swatches of each paint color around the room to see how the colors look in different light.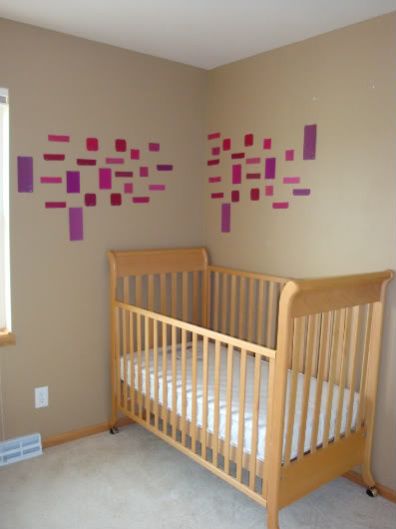 Choosing this paint color was probably the most difficult of all the rooms in our house, but I happy to report I got it right in one try. I picked Raspberry Pudding by Behr and I absolutely love how it turned out! It's such a gorgeous, rich, deep color. I also used Behr's Ultra Premium Plus paint, which has the primer built in, and I have to say this is THE BEST paint I have EVER used. It went on so beautifully. With a color this dark I could have easily needed to do multiple coats (and at 21 weeks pregnant who wants to deal with that?) but here's how the room looked after just one coat: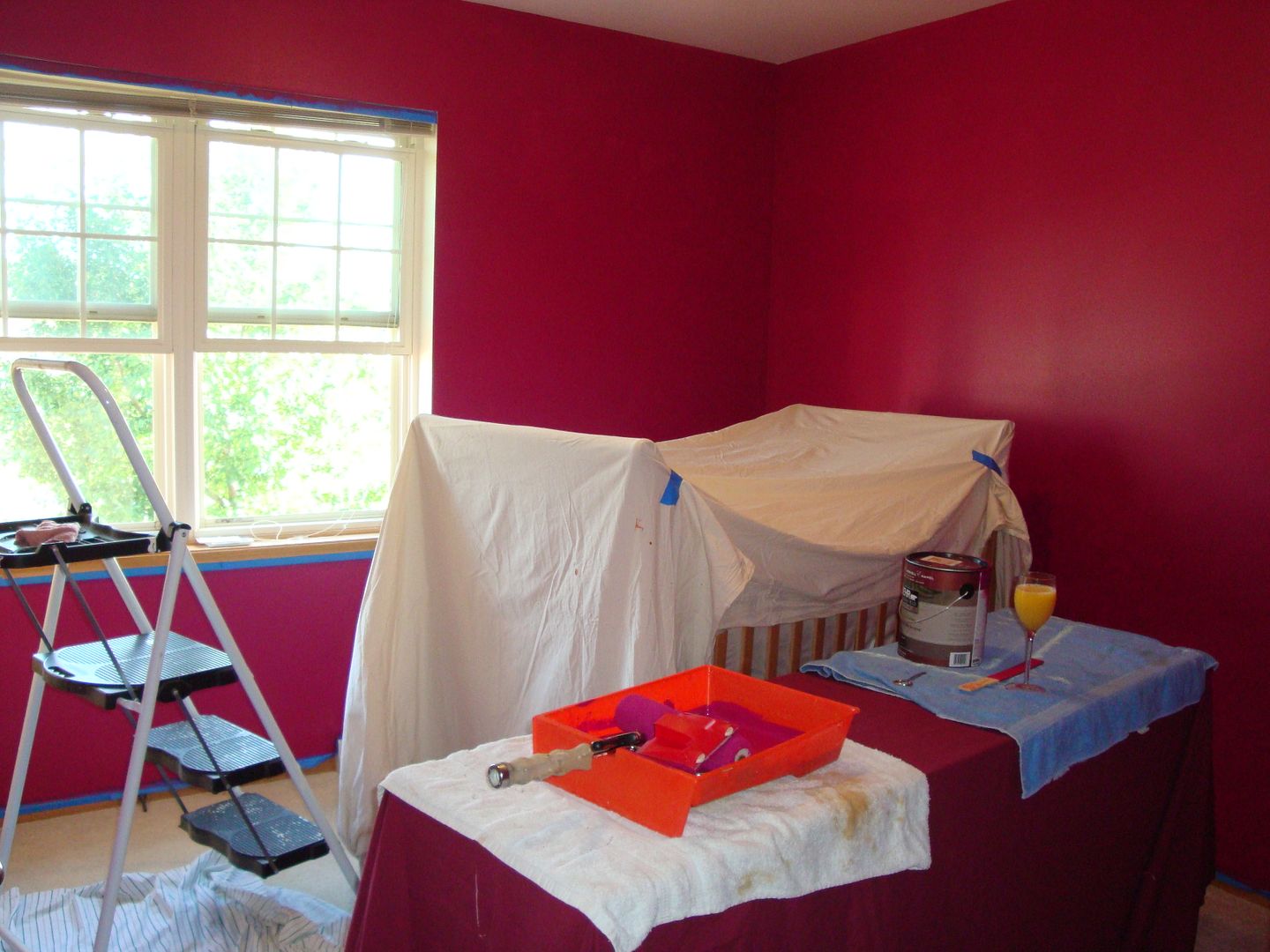 See my wine glass filled with orange juice in the picture above? Since I couldn't enjoy my usual routine of drinking wine while painting, I decided this was the next best thing.
After two coats of paint the walls were finished:

Next I turned my sight to Kate's dresser. This dresser was a hand-me-down that we were given when we first moved into our house and had been sitting empty in one of our guest rooms. It was outdated and not my style, but it was in excellent condition, and a great size and shape. In the interest of doing the nursery as inexpensively as possible I decided to make it work. I spent a lot of time thinking about how to give this dresser its much needed facelift and was willing to settle for an "it's fine" outcome versus an "I love it!" outcome. G had previously primed and painted it white before we put it in our guest room, but it still wasn't doing much for me, so I decided to go with a dark color.
Here's a before picture: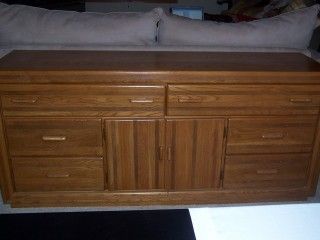 And the after: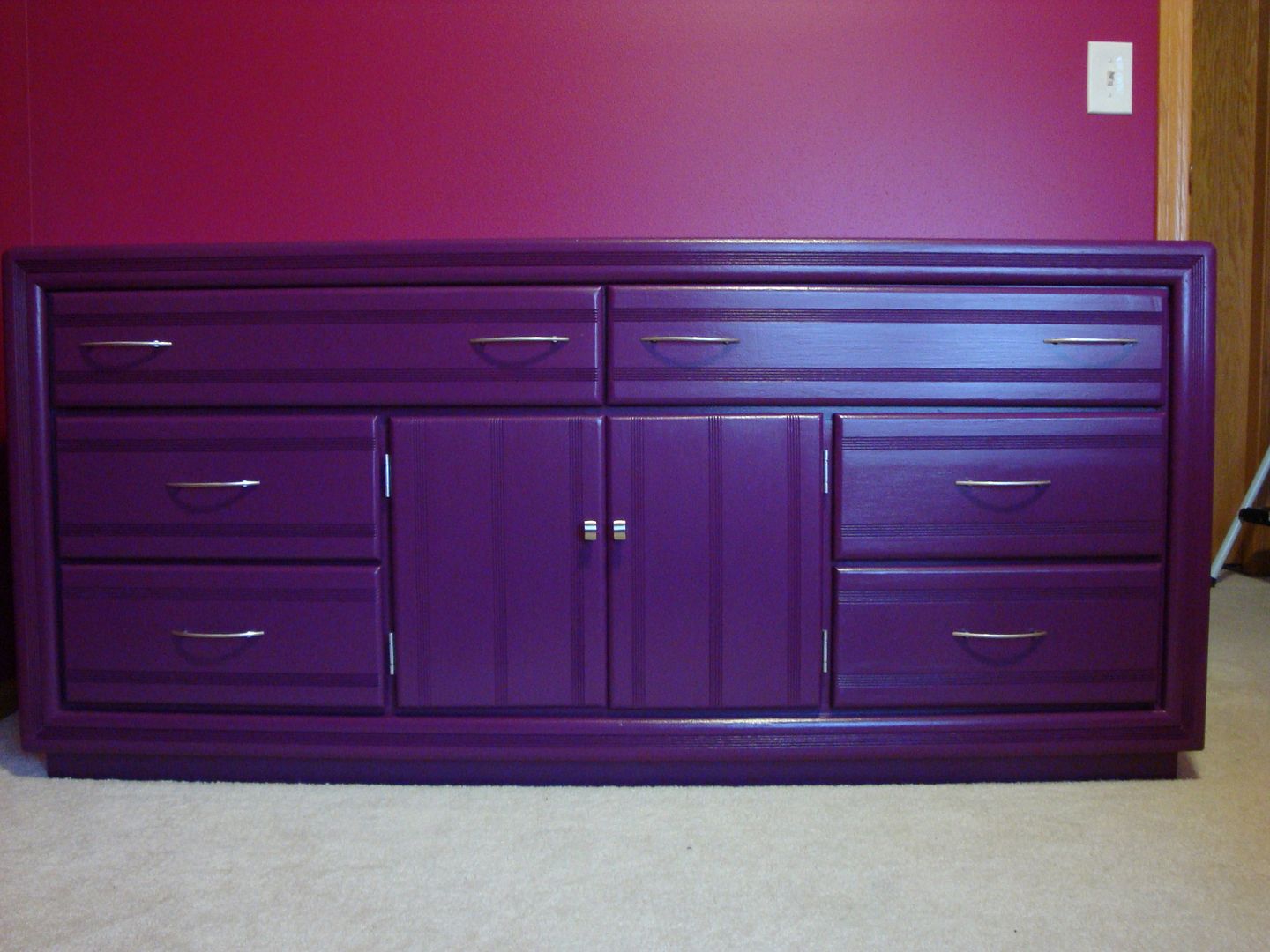 I painted it Delicious Berry by Behr, and instead of fighting with the lines carved into the dresser, I decided to embrace them, changing out the hardware from the chunky wooden handles to these sleek chrome ones.

I am so thrilled with how this dresser turned out. I was willing to settle for an "it's fine" outcome and instead it turned into a piece that I absolutely love. It's definitely something we'll be hanging on to for a long time!
Next came the tree. I found this Neu Tree wall decal from Wall Slicks and decided it would be the perfect focal point for the room. It's advertised with the tree leaning to the left, but I knew I wanted to place it next to the window and have it leaning over the crib, so I contacted Wall Slicks to see if they'd reverse the image for me which they did. It just goes to show it never hurts to ask!
Putting it up was very easy, albeit time consuming. It goes up in pieces–starting with the trunk–by peeling the decal off its paper backing and adhering it to the wall (click pictures to enlarge):
Applying the branches and leaves: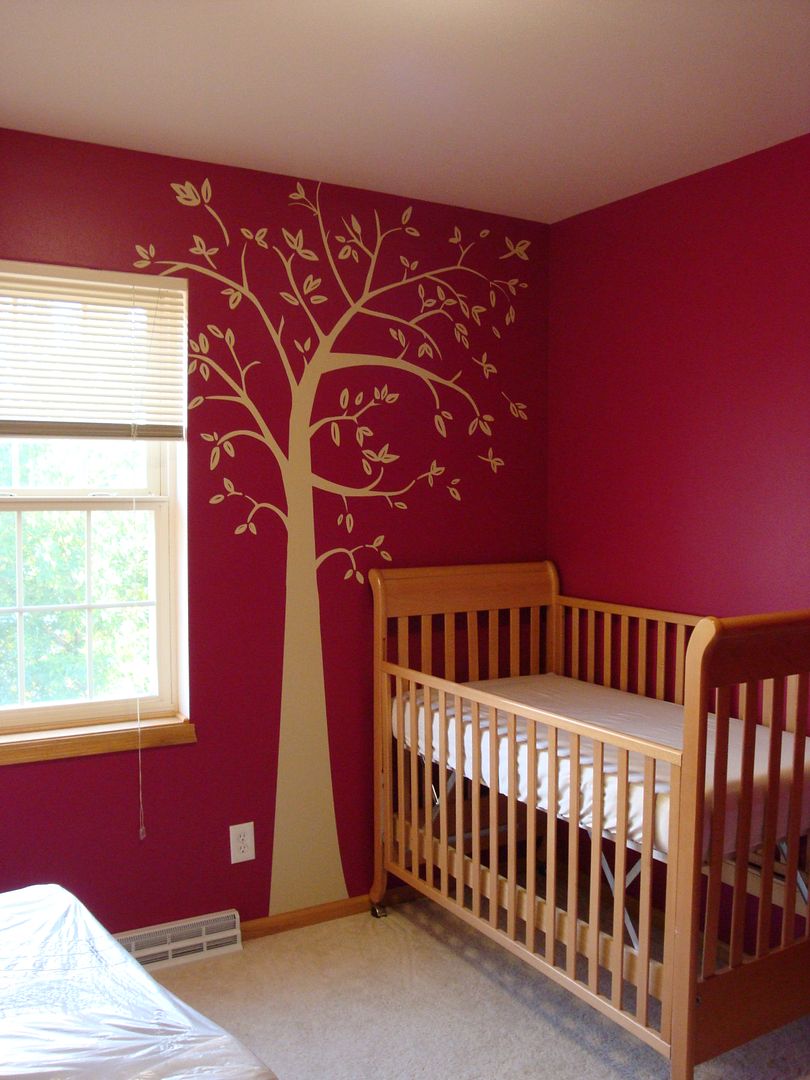 Once I had the decal completed I thought it needed a little color, so I decided to add more leaves in the accent colors I was using in the nursery. I considered trying to hand paint the colored leaves onto the wall, but I didn't trust my hand to be steady enough for that not to turn into a total disaster. I then considered painting something that I could cut out and attach to the wall–but what? Canvas? Special paper? Wood pieces? The entire time I'm trying to figure this out, I'm staring at the paint chips of the accent colors I'd chosen taped to the wall.
Nice, large, paint chips.
Color already on thick paper.
For free.
I like to think that if I wasn't pregnant when I was doing this room that I would have thought of it sooner, but really it's hard to say because I'm sure I would have been drinking instead.
I would like to thank Home Depot for not kicking me out after raiding their paint chip selections for my little project. Once I had my stock pile safely smuggled back home I got to work tracing and cutting out leaves. This little project took FOREVER…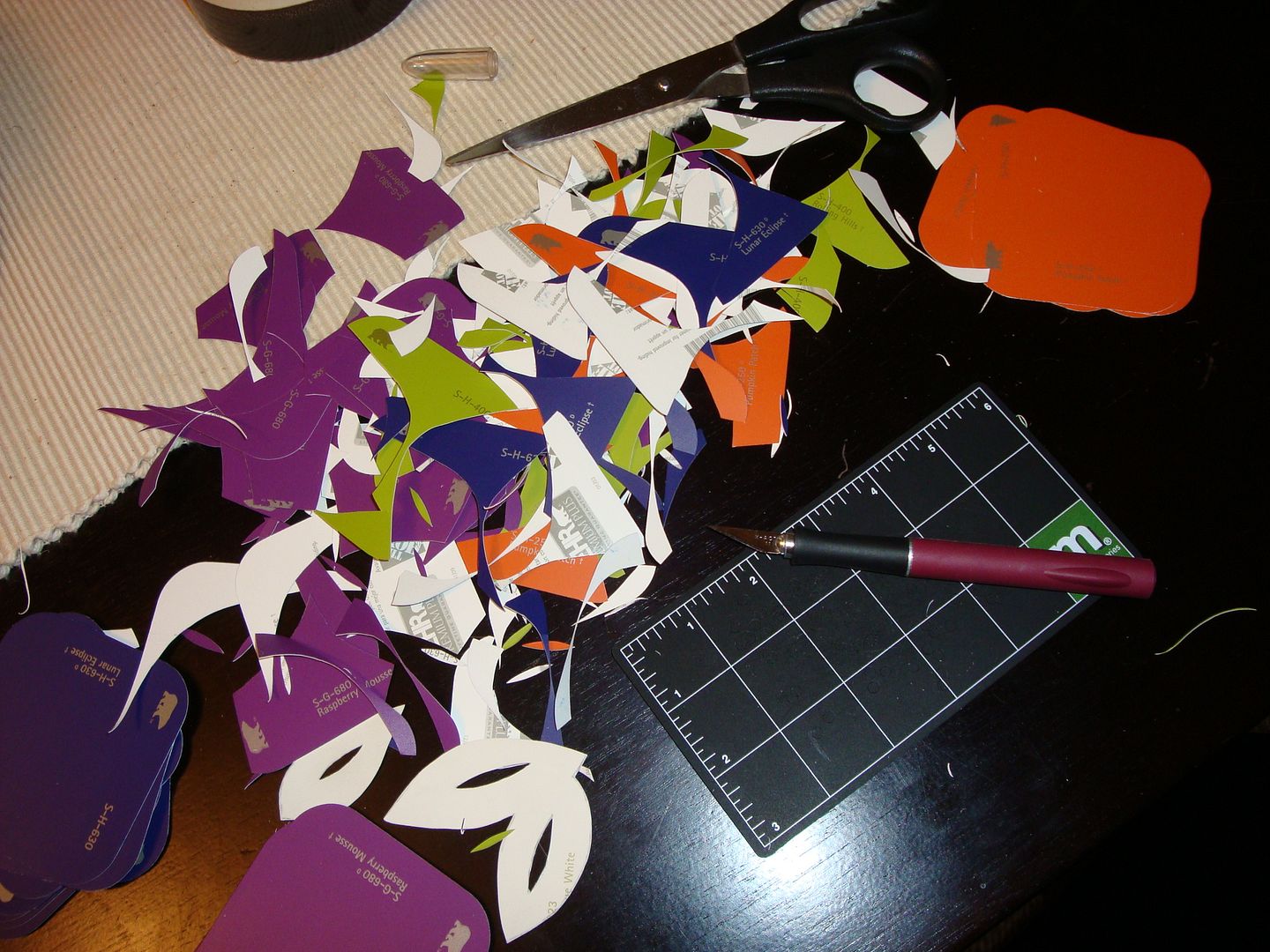 …but not as long as it took to decide where all my new leaves should go and to adhere them on.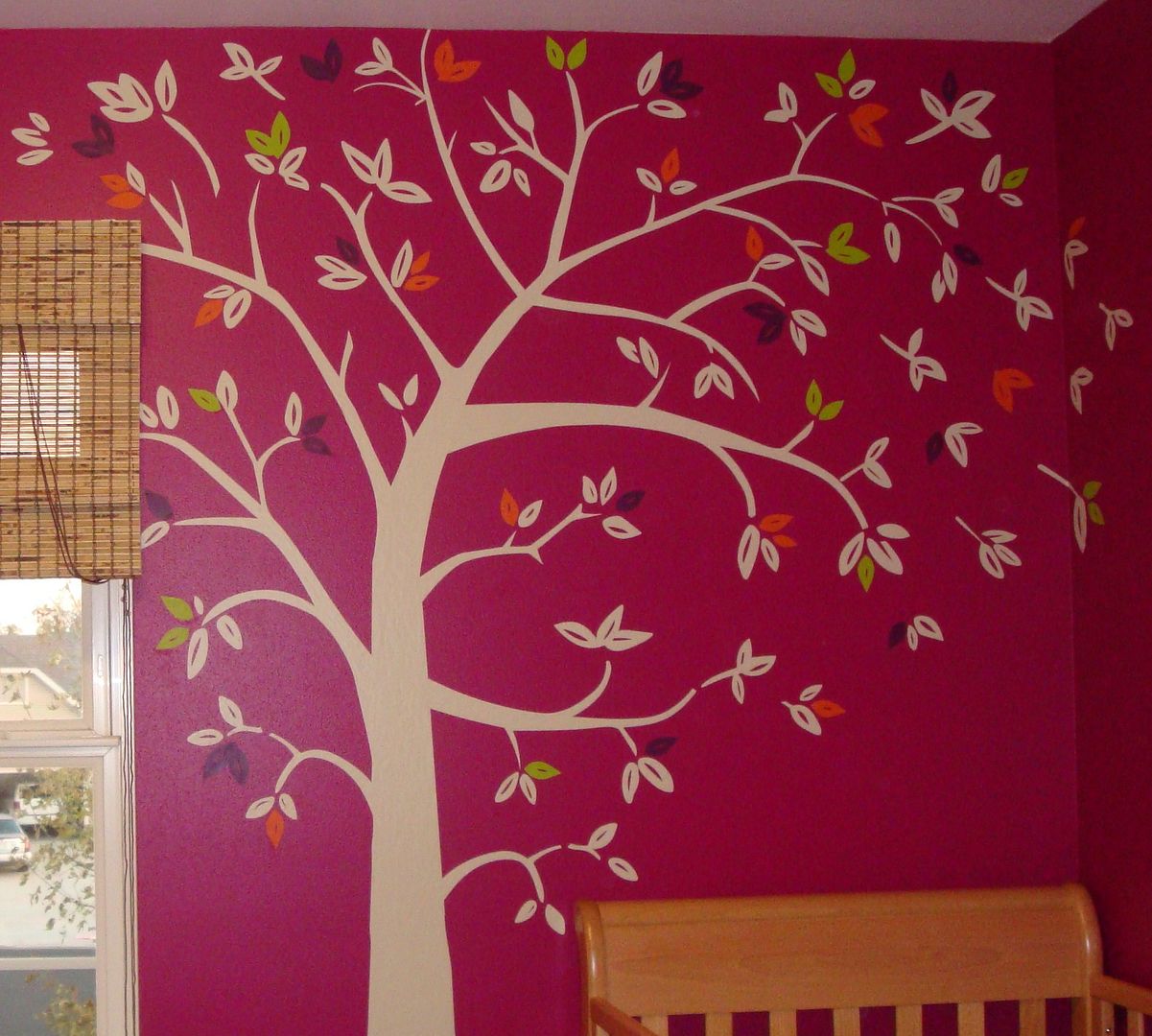 I used Modge Podge to paste the leaves onto the wall–a decision I'm sure I'll regret later, but after trying several other ideas only to wake up the next morning to find all my hard work scattered across the carpet I was ready to pull my hair out and bust out the staple gun.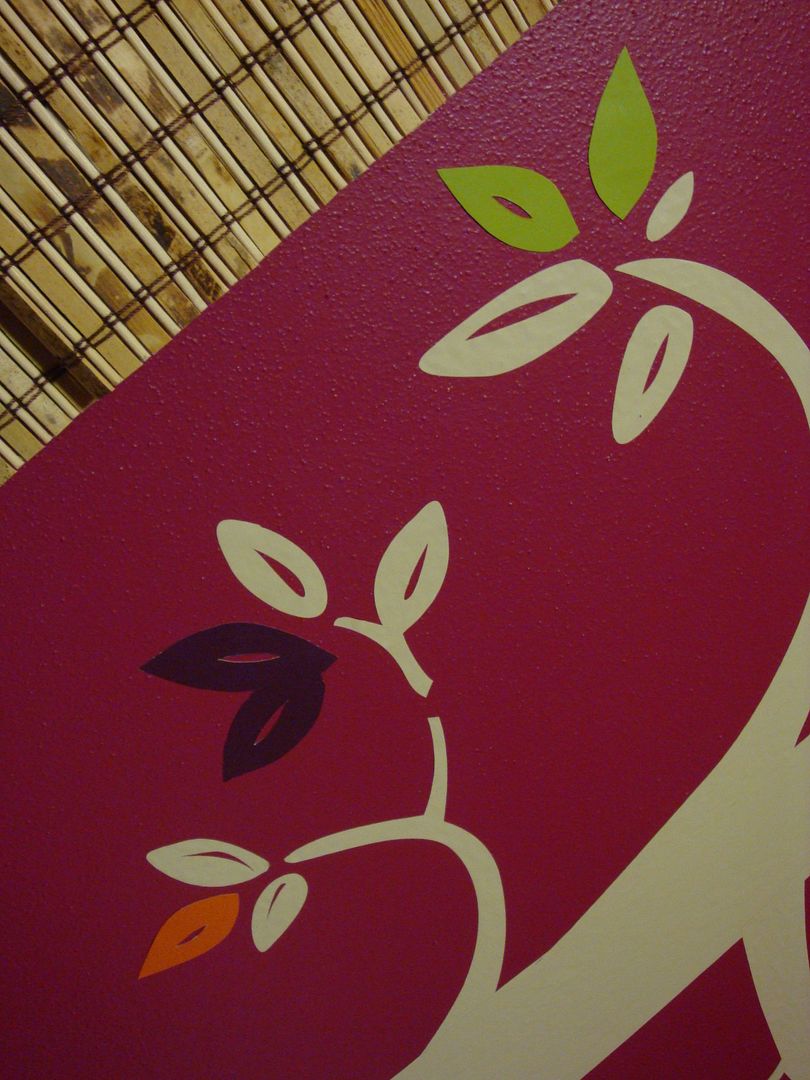 In the end, all the extra effort was totally worth it. I just love how this tree turned out!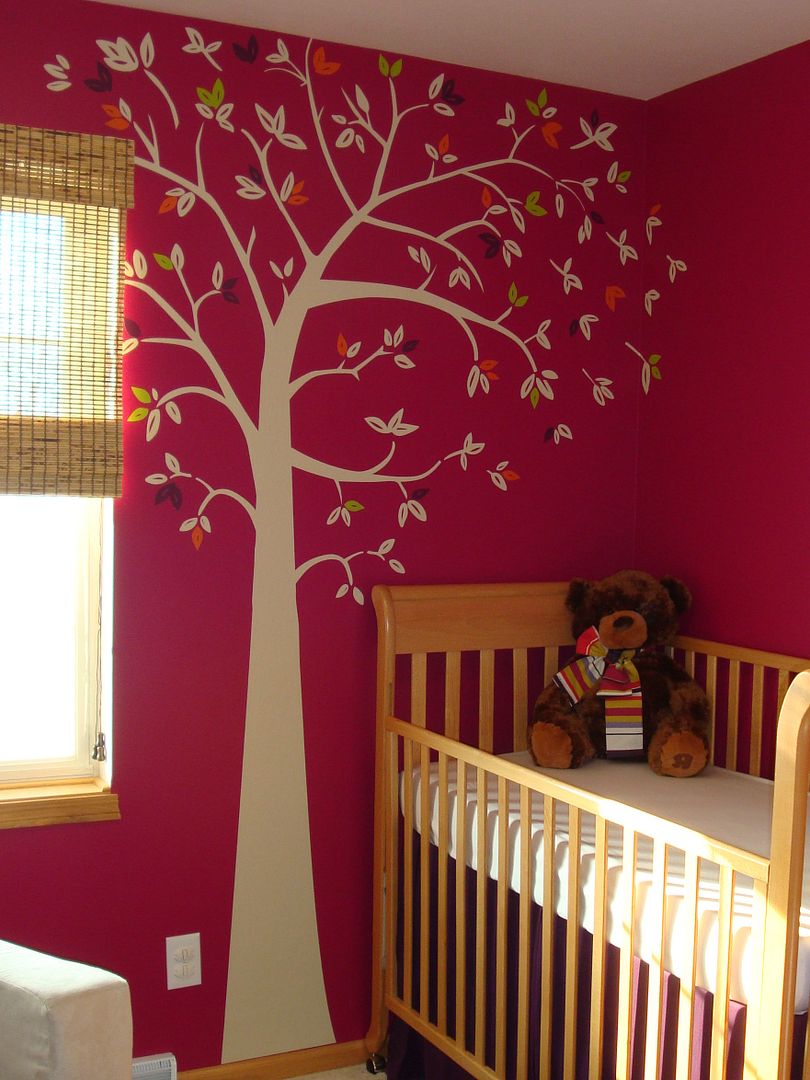 The closet in this room is located above the stairs and you have to step up to get into it, so it's not the most convenient use of space. I decided to use it for longer-term storage for things we don't need to access on a regular basis such as our stockpile of diapers and wipes, and totes of clothes she doesn't fit into yet. I decided to remove the closet door and replace it with a curtain because I wanted to be able to put the glider in the corner and did not have enough room to do so and allow for the surface area the door needed to swing open and closed. This room is so small that using a curtain instead of a door saved me a lot of space. I found this curtain at Pier 1 and couldn't believe how well it matched the room. I had originally planned on doing something solid, but nothing looked right, so I got incredibly lucky to find something patterned that matched so well! The curtain is hung from little hooks I screwed above the door frame, and tie-back mounted inside the closet holds the curtain aside when needed.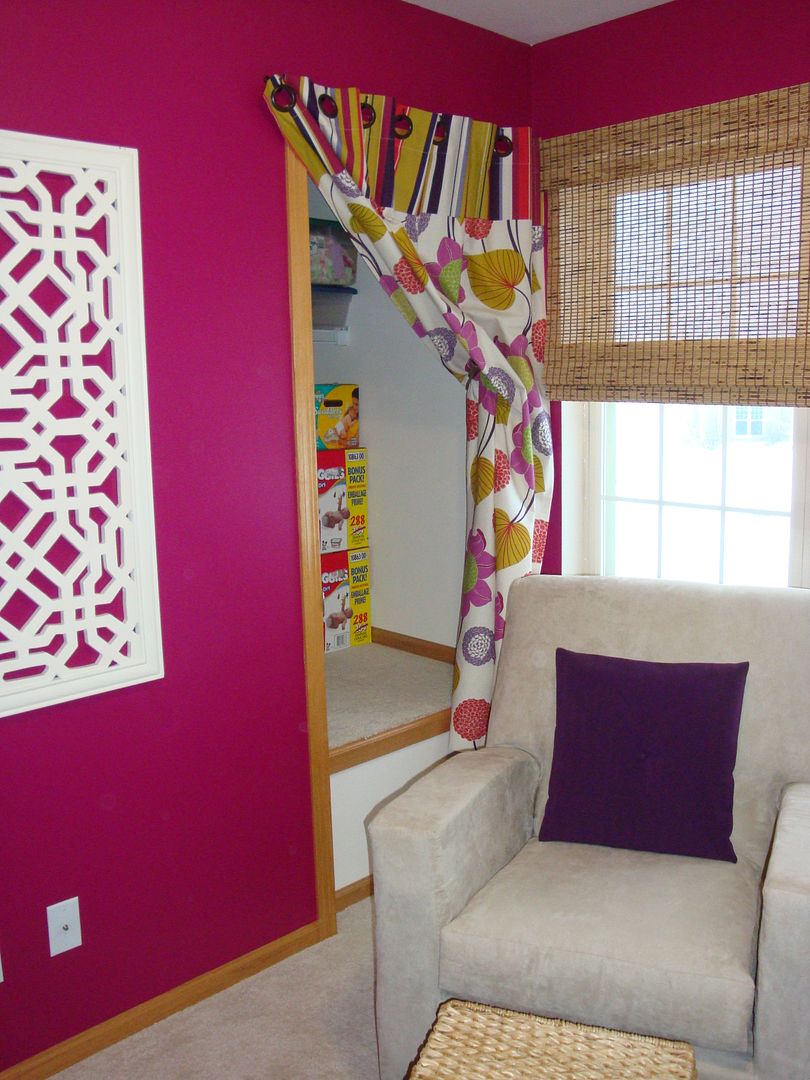 Close up of the hooks I used to hang the curtain. They were originally black, but I painted them bronze to match the curtain grommets: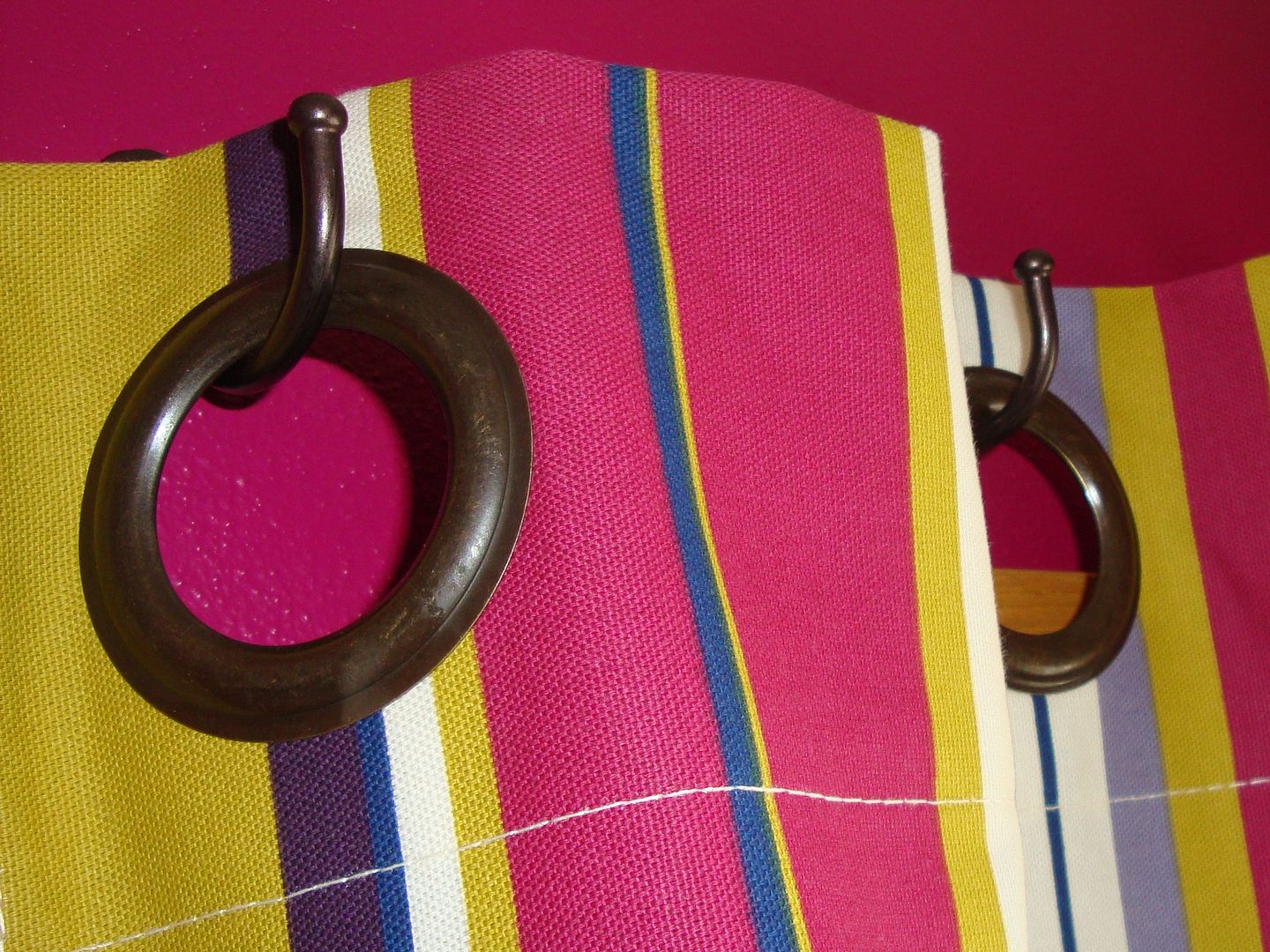 The wall art is a Nate Berkus panel I got on clearance from Linens N Things a couple of years ago. It was originally $80 but I only paid $10 for it! It was white with a black frame, and was a little banged up, so I spray painted it off-white. The banana leaf cube is from Target and doubles as an ottoman and storage for Kate's toys. The bamboo roman shade and chocolate shag rug are also from Target. The glider (our big "splurge" for the room) is from Wal-Mart and I made the throw pillow out of the same fabric as the crib skirt.

Next I set my sights on the changing table area. Since we were only using the closet for longer-term storage, I knew I needed to make this space as functional as possible. I wanted storage for everything we'd need on a daily basis. I started with a changing pad (from Target) and a hung a shelf (from Home Depot) overhead. I used toggle bolts to secure the shelf brackets to the wall to ensure I had the strongest hold possible.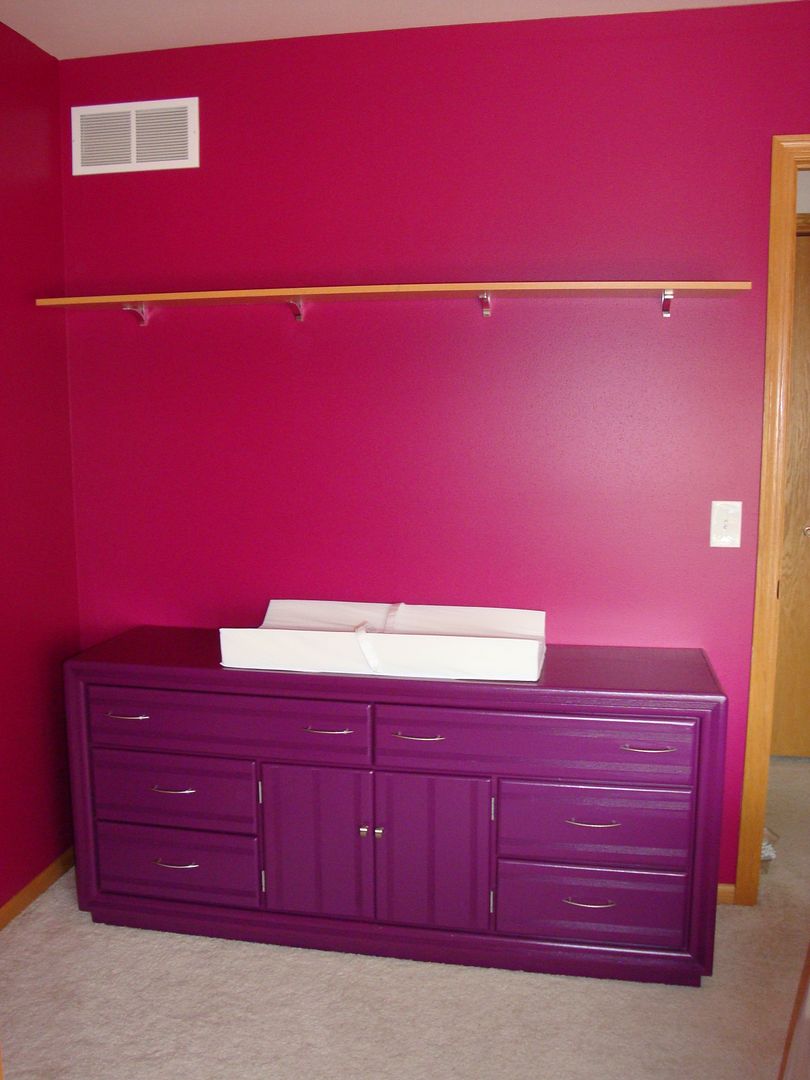 I knew I wanted to do baskets on the shelves, but deciding on which ones was of course a process. True to my "buy everything in sight and bring it home to see" process, I raided several stores and came home with A TON of baskets in all sorts of materials, shapes, and sizes.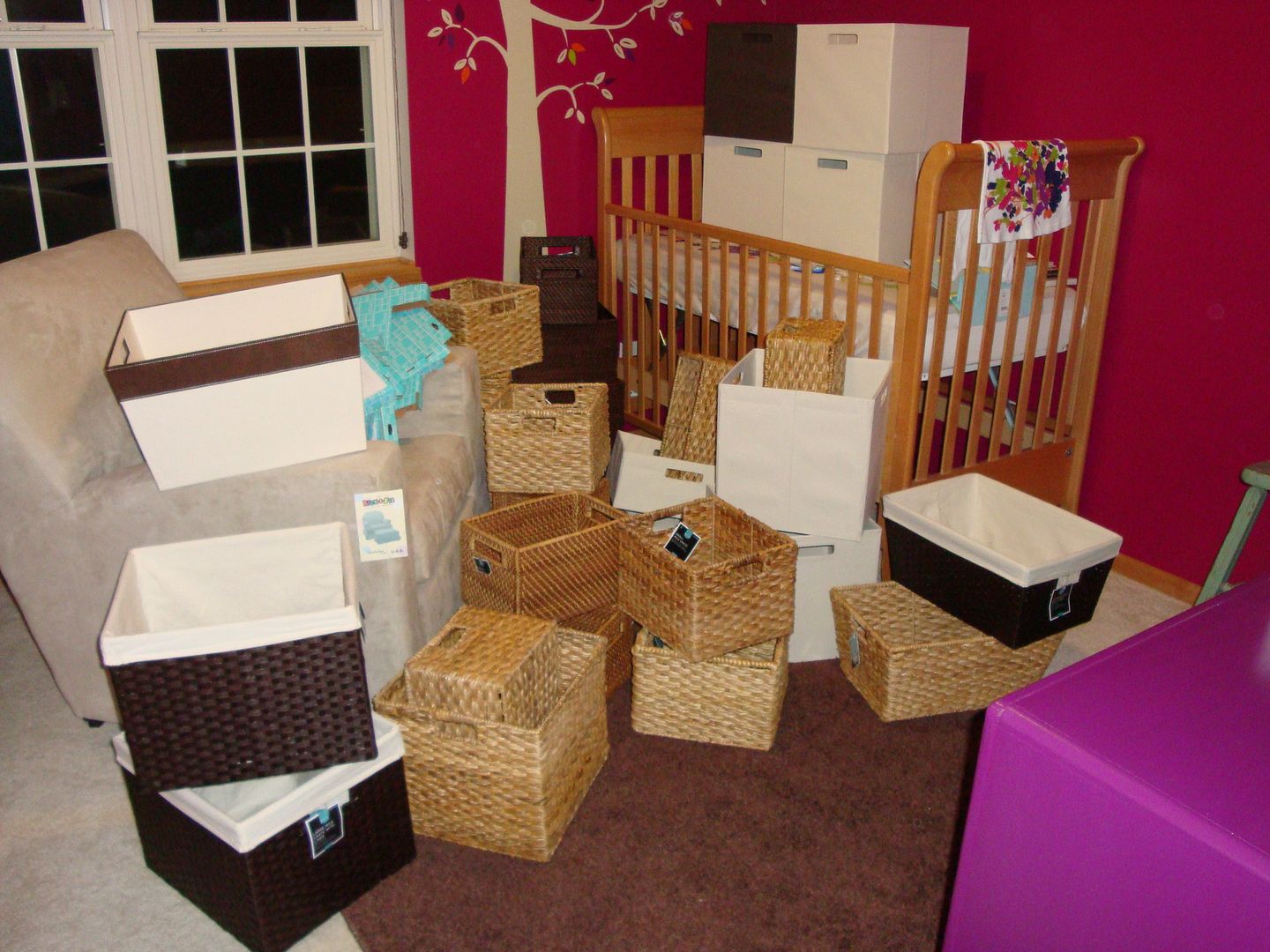 I ended up going with the banana leaf cube baskets from Target in two different sizes. The baskets hold blankets, swaddlers, baby towels, crib sheets, and changing table linens. I made labels out of small wooden rectangles that I picked up at a craft store. I drilled 4 holes into them, painted them orange, printed labels out of cardstock and pasted them on. I then used matching orange embroidery floss to "sew" them onto the baskets.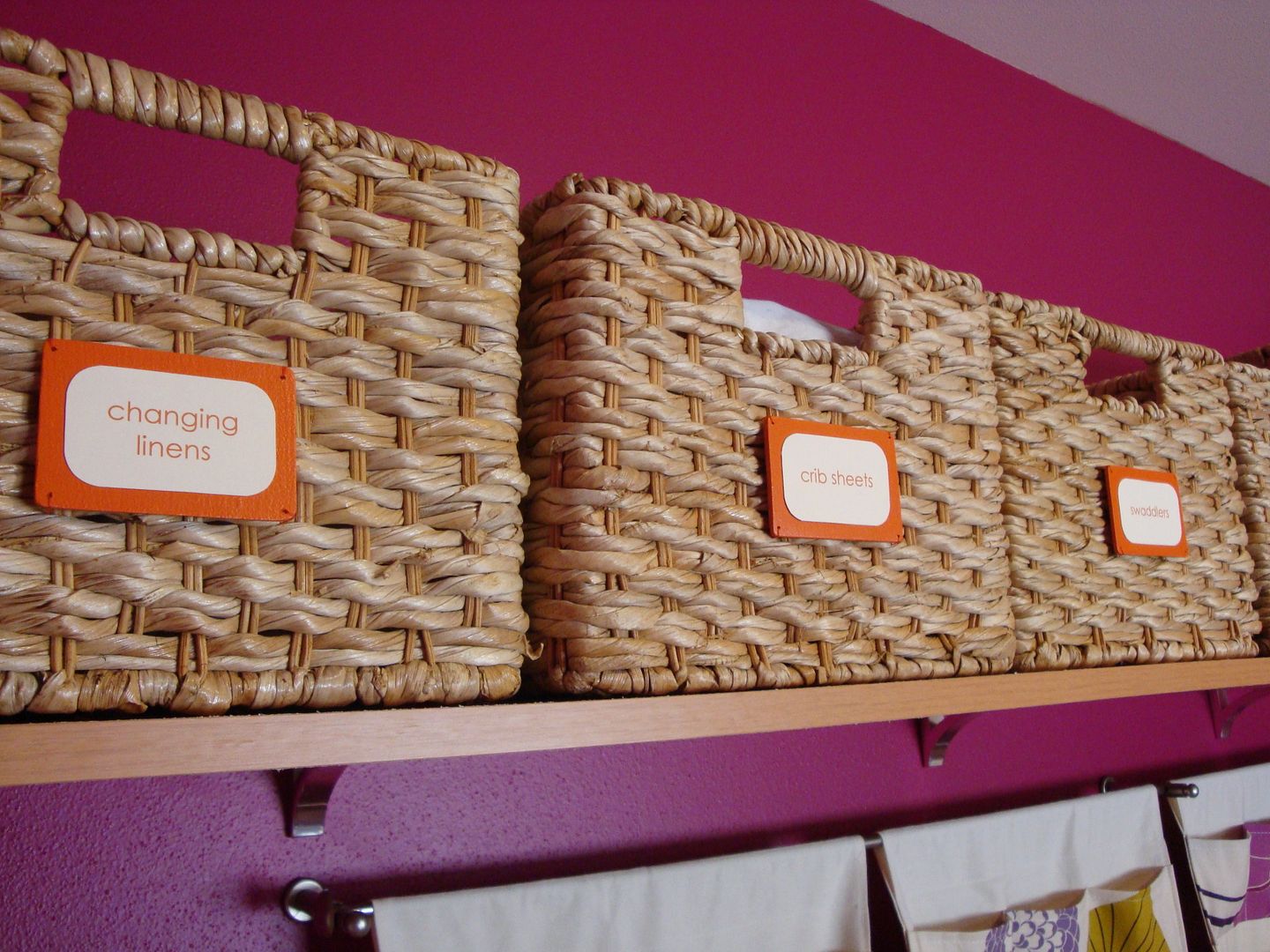 Below the baskets I installed a curtain rod (from Bed, Bath & Beyond) to hold hanging pocket orgnaizers, made by my friend Steph from Mada's Place out of a second floral curtain that I purchased from Pier 1. The pocket organizers hold everything I need close at hand when we're at the changing table, as well as all the other little baby items that need a home (creams and ointments, baby toilitries, etc.). To the left of the hanging organizers are hooks (from Target) which can hold towels, blankets, or baby outfits.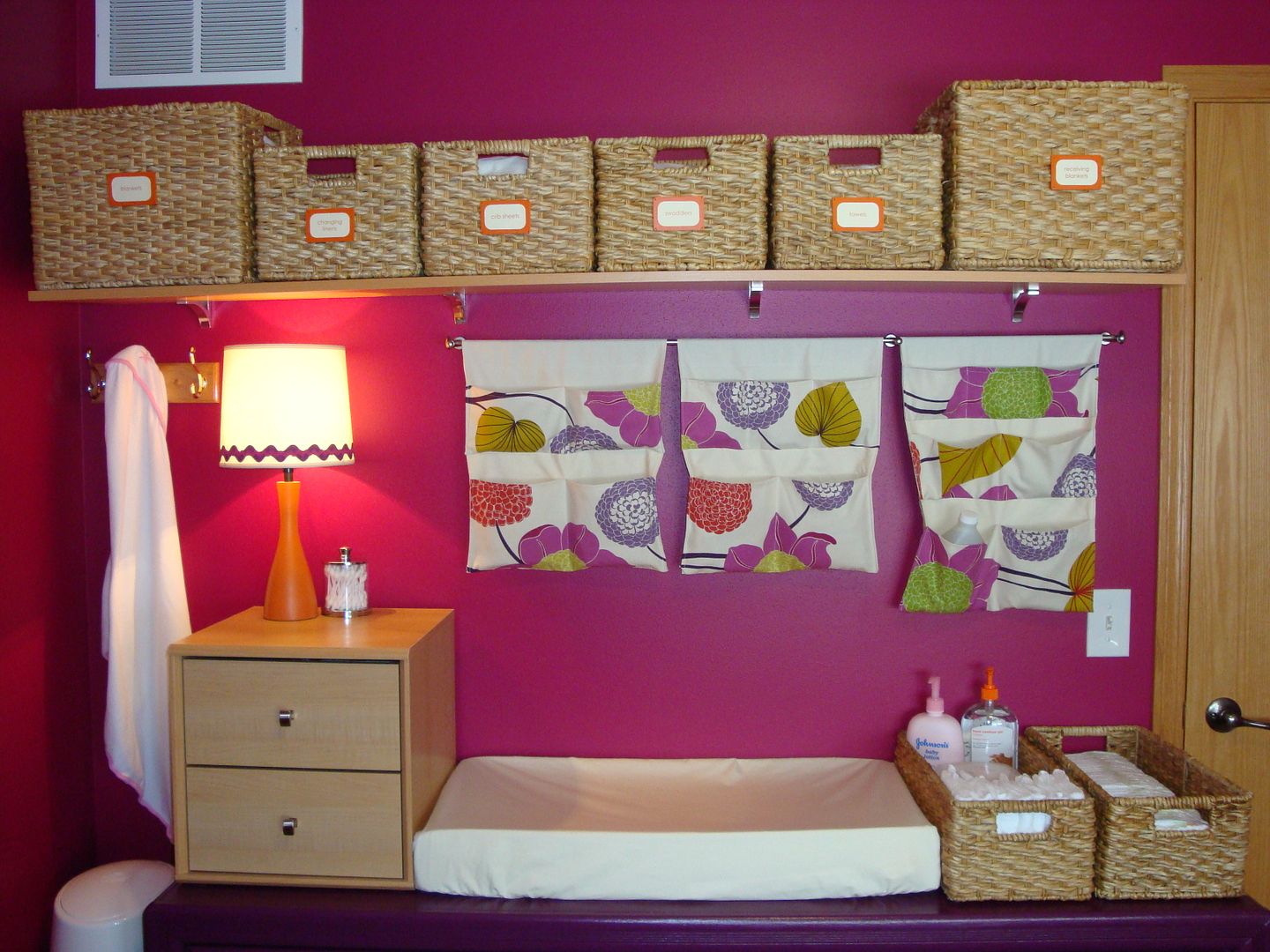 There was just enough room to the left of the dresser for the Diaper Genie–a little item we're already very much in love with. The two-drawer cube sitting on the dresser is from Target–the top drawer holds onesies, and the bottom drawer holds socks, baby leg warmers (another favorite of mine), and tights. The two baskets on the right side of the dresser are actually banana leaf DVD bins–one holds Kate's diapers, and other holds wipes, baby lotion, hand sanitizer, and extra burp towels. On the back of the bedroom door I put up two hooks which hold a mesh laundry bag for Kate's dirty clothes. With the exception of a few dresses that are hanging in the closet, all of Kate's clothes are in her dresser. For right now we have all her newborn and 0-3 month clothing on the left side of the dresser, and all her 3-6 month clothes on the right side. Larger sized clothes are currently in totes in the closet until she can fit into them.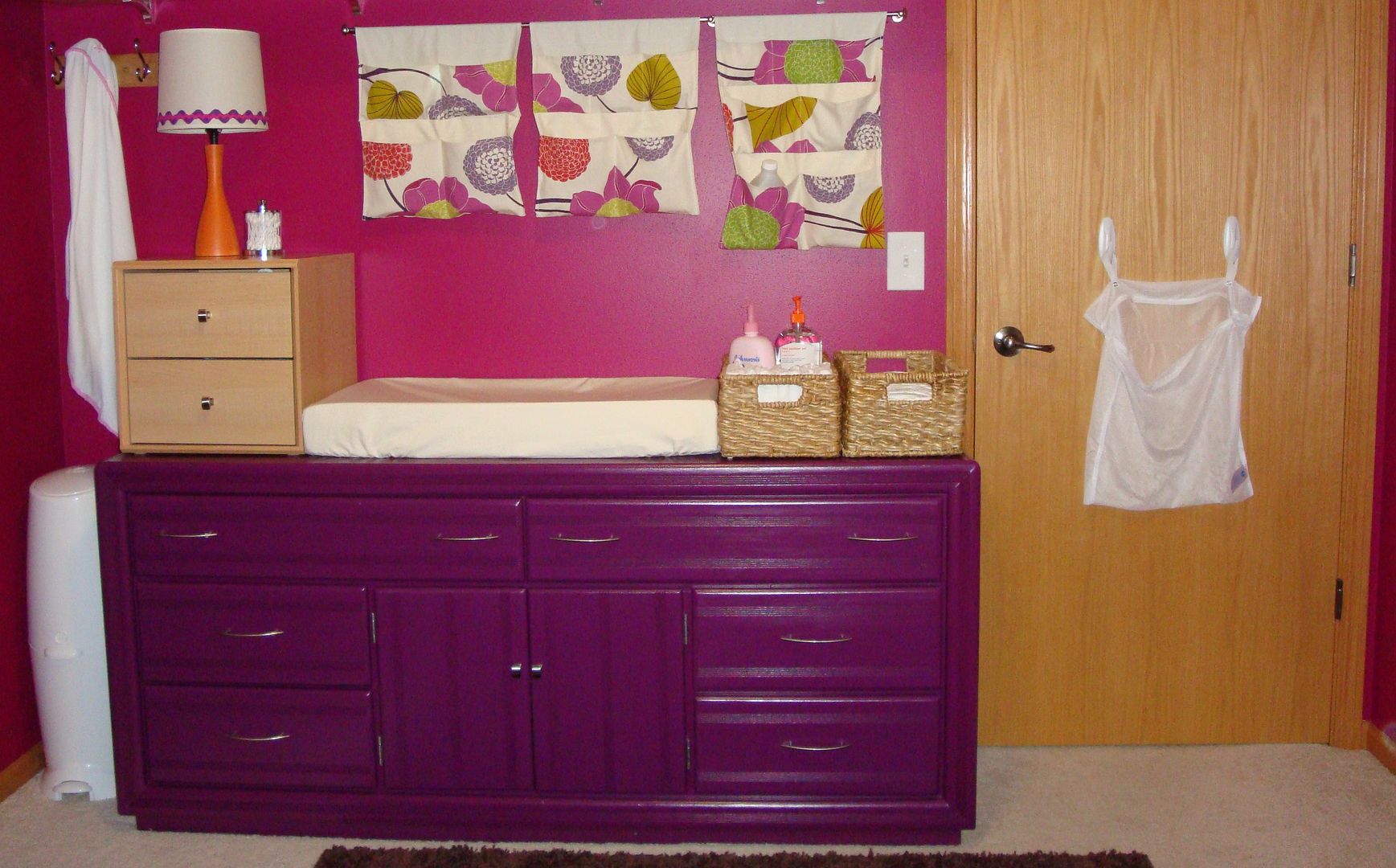 The overall result is cute–but most importantly it's functional!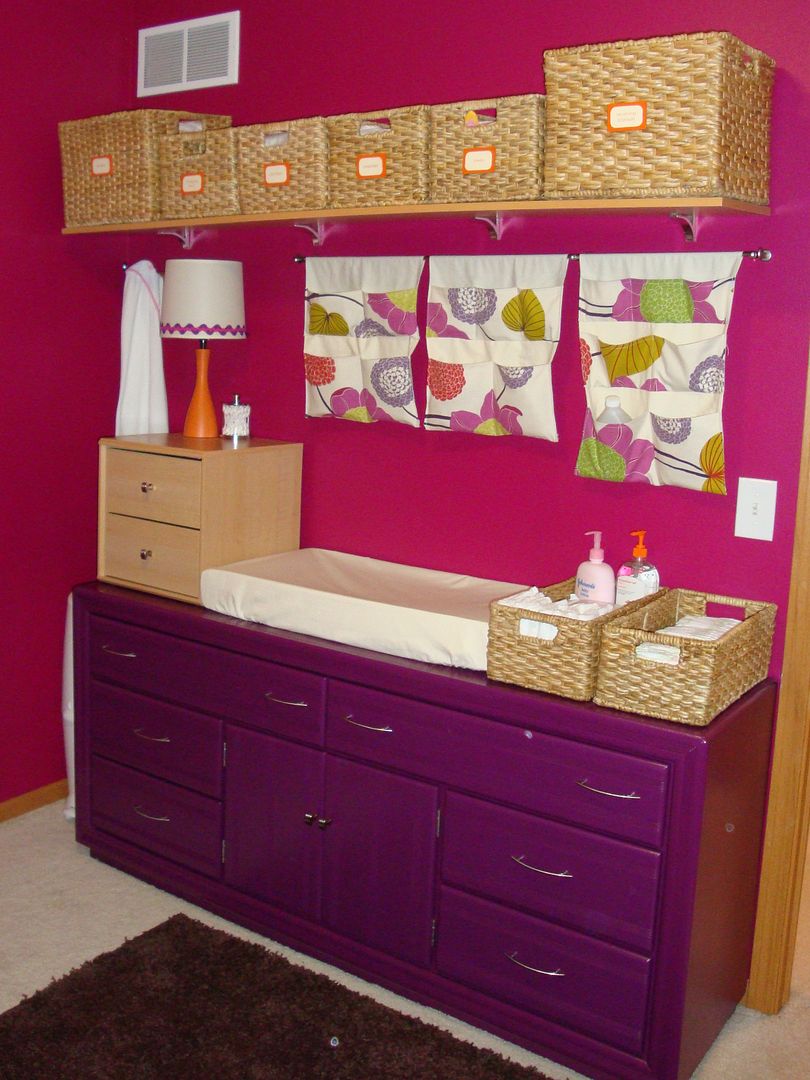 My last big project for this room was refinishing this antique high chair, which was actually my high chair when I was a child. I've always loved this chair and have been hanging on to it hoping to find a good spot for it to call home. Unfortunately it was in pretty bad shape, with most of the leg pieces no longer staying together.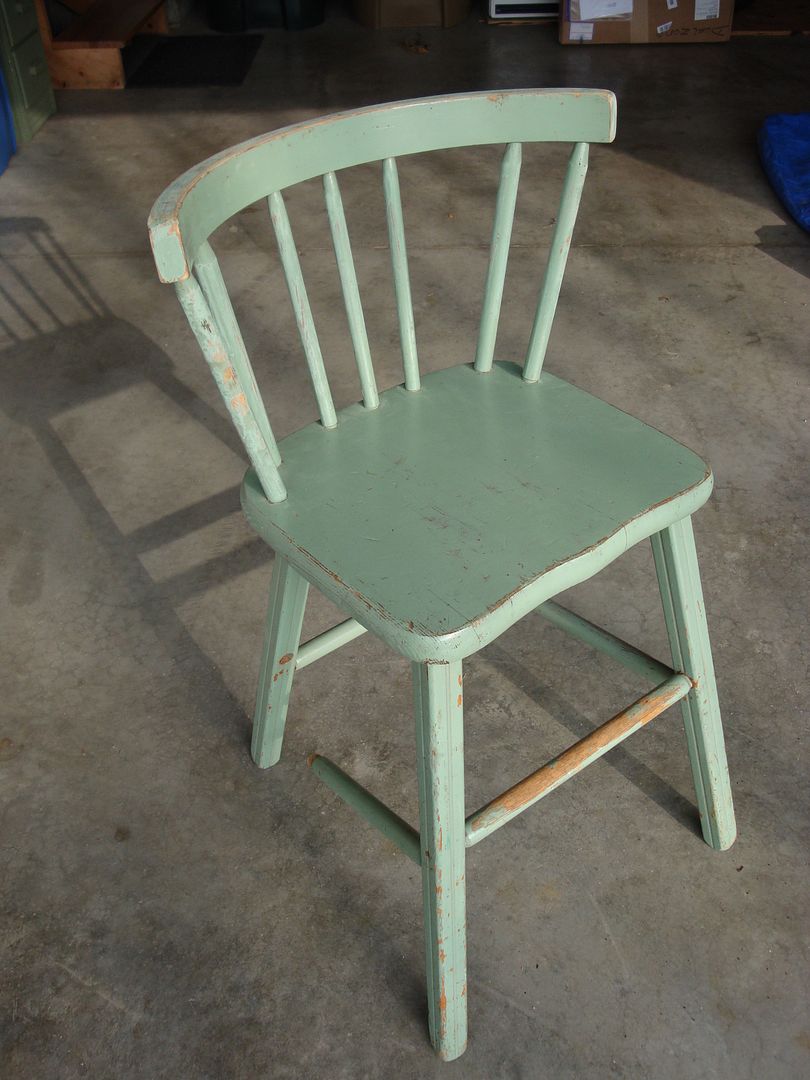 I personally always loved the color and worn look of this chair, but in the interest of putting it in Kate's nursery I decided to paint it to give it a more updated look. I chose orange because it's my favorite color and this piece was so personal to me. Some sanding, wood glue, screws, and a few coats of paint (Pumpkin Patch by Behr) later and this chair was as good as new! I got this cute teddy bear for Kate from Toys R Us, and made this necktie out of the stripes from the extra curtain I had purchased for the hanging organizers.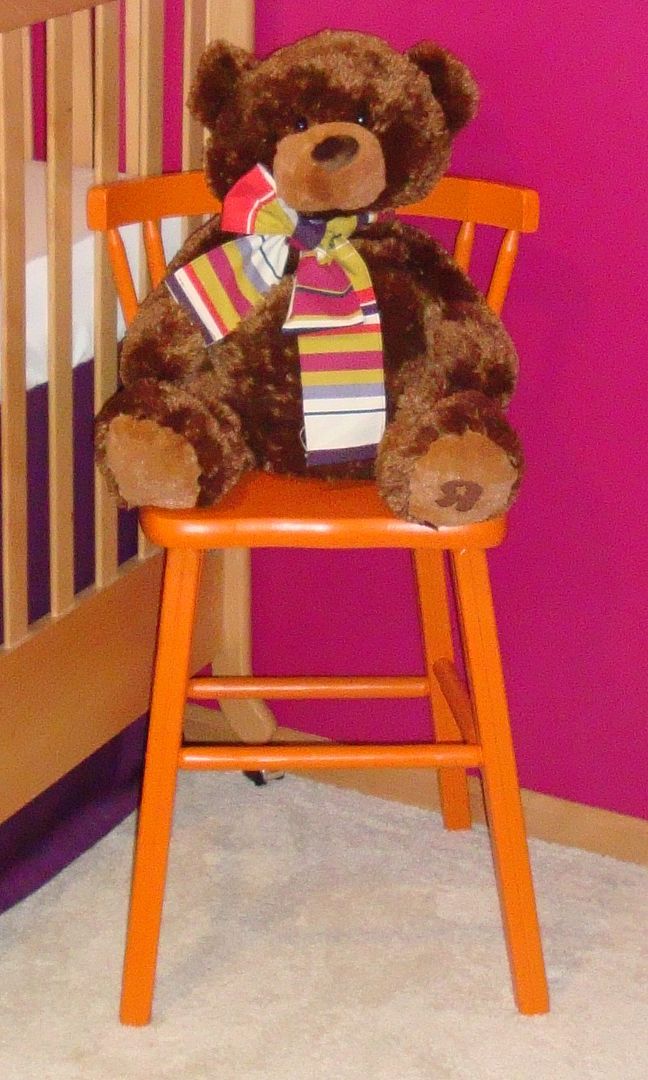 In the interest of saving money, I decided not to buy fancy baby bedding and instead just went with a simple sheet (that's all babies need anyway, right?) and a crib skirt. I had my friend Steph make the crib skirt out of a dark purple herringbone-patterned fabric. Since our crib sits in the corner I had her make the crib skirt in two different lengths. One "L" of the skirt (the side and end you see in these pictures) has a 25″ drop, which is the drop from the mattress to the floor when the crib is in its highest position. The other "L" of the skirt (currently not pictured) only has a 15″ drop, which is the drop from the mattress to the floor once Kate is older and the crib is moved to its lower positon. All I need to do is flip the skirt around and we're all set–it's like two crib skirts in one!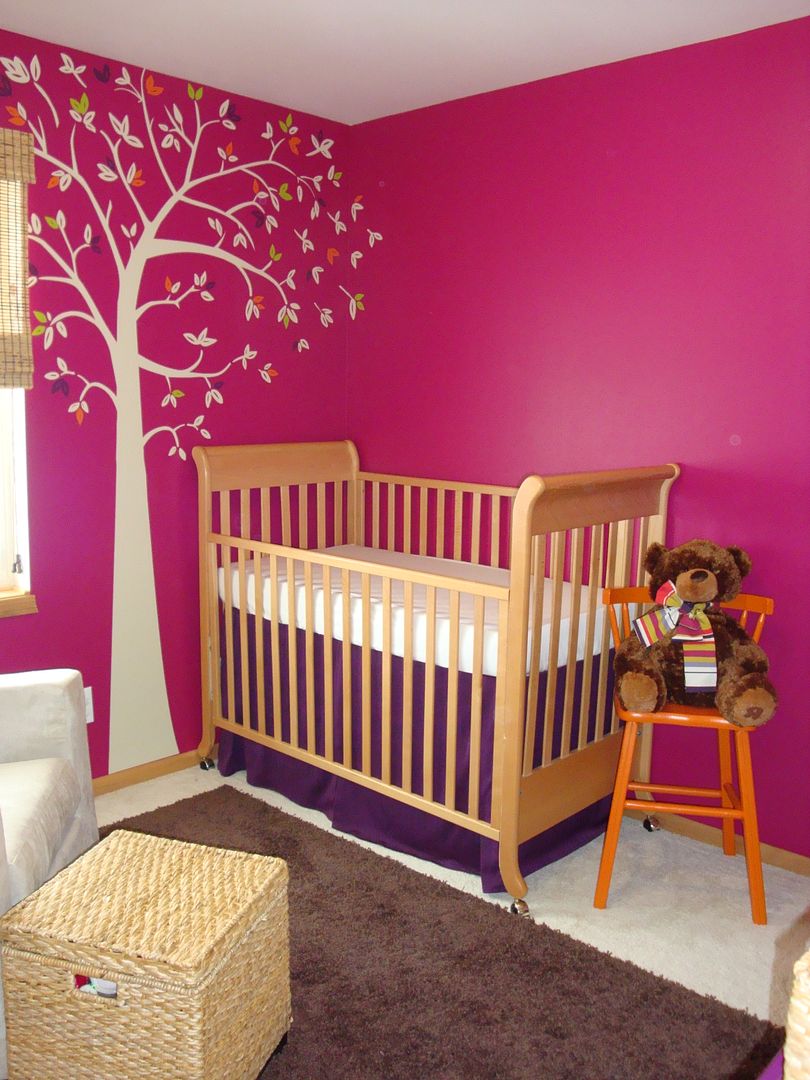 And last but not least, three totes slide perfectly underneath the crib for additional storage: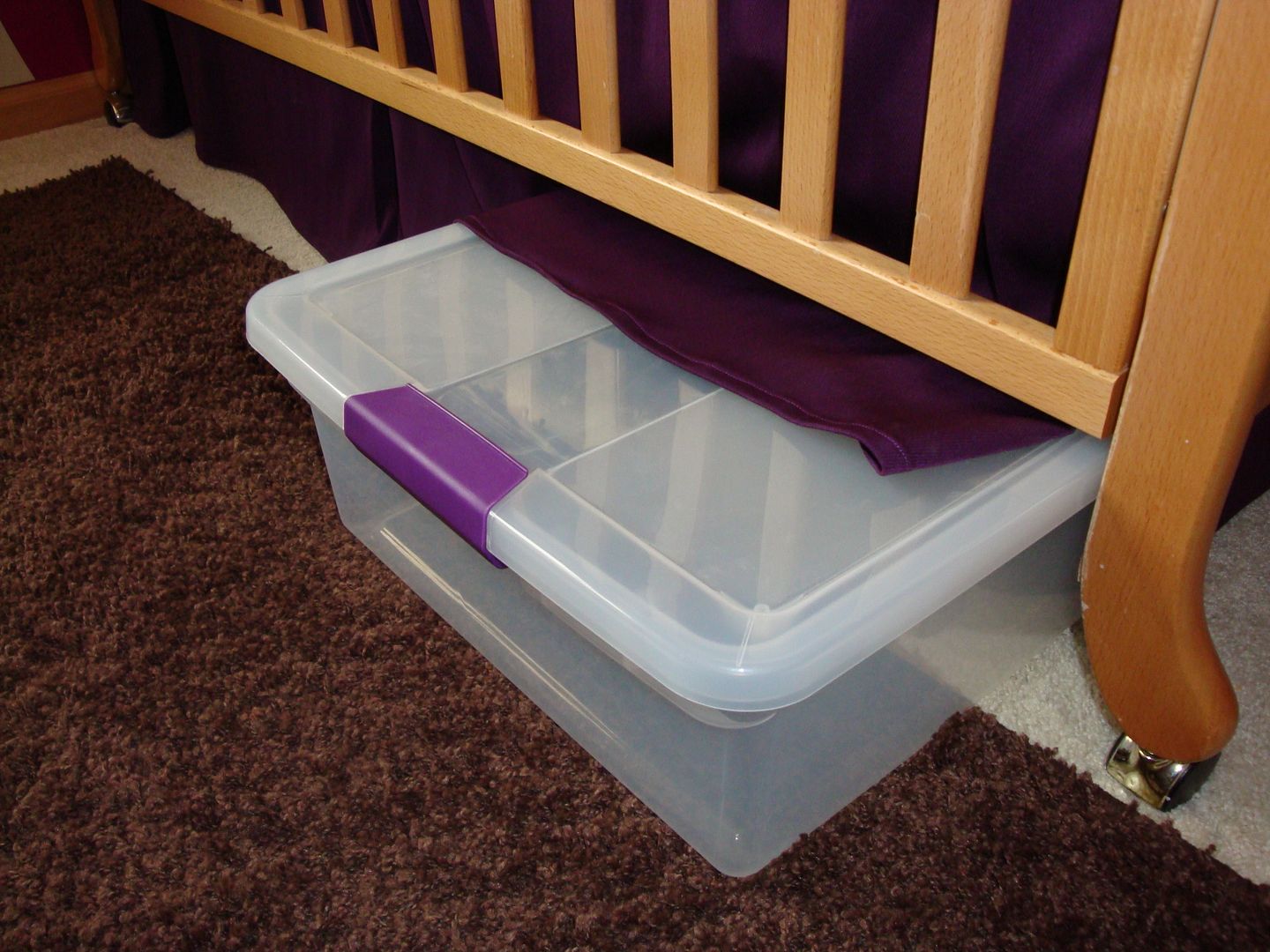 And once again, the finished product: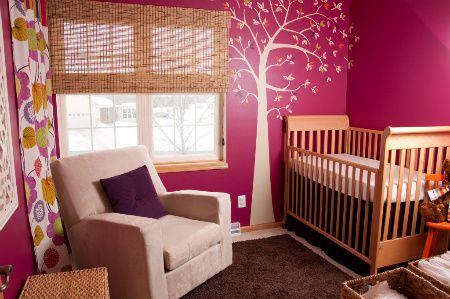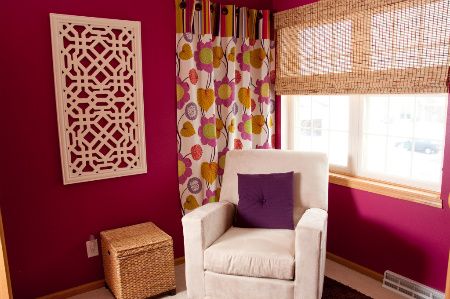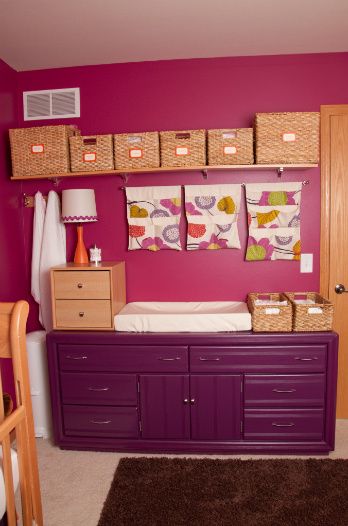 I'm pretty sure that's everything anyone could possibly want to know about Kate's nursery, but if by chance I missed anything you were wondering about feel free to ask!