Read Part 1 of my labor & delivery story here:  My Unfavorable Cervix
I can break my labor up into three different stages: Easy Labor, Medium Labor, and HOLYSHITI'MDYING.
My Easy Labor started around 8:30pm when my water broke, with contractions that were mild little annoyances but completely tolerable. By the time we got to the hospital it was 11:00pm and my contractions were about five minutes apart but still mild. We were admitted to the hospital's triage unit where they did a test to confirm that my water had broken, and then we waited for what felt like forever for a birthing room. In hindsight, this was the only time during my labor that my contractions were mild enough that I might have been able to sleep through them, but unfortunately that was difficult to do while we were in the triage area.
We finally got moved to our birthing room around 1:00am and both of us were pretty tired. G settled in to the sofa bed and I settled in to the hospital bed, but unfortunately by then only one of us was able to get some sleep. My contractions were getting stronger–just strong enough that I was unable to sleep through them but I still did my best to try to rest.
After an hour or two my contractions had gotten to the point where laying down felt too uncomfortable and I thought I could manage them better if I was upright and moving around, so I left G asleep in our room and snuck out to start walking the hospital halls. The halls in the wing of our birthing center basically made up one big circle which I lapped countless times. I definitely consider this the start of my Medium Labor. My contractions were still five minutes apart but getting much stronger. I really did find that moving and trying to walk through them helped quite a bit–especially at first. Eventually they got to the point where I could no longer walk through them, but instead had to stop, grip the hallway railing with one hand and my belly with the other, and just breathe through them. I have to admit–it was during one of these contractions that I thought, "This is it. We're only having one child. I can't go through this again." And at the time I meant it.
After a few hours of walking the halls I was exhausted. It was now Saturday morning and I hadn't slept since Thursday night. I decided to go back to my bed to try to get some rest. Being upright felt better than laying down so I moved my bed into the upright position hoping that would help, but by this point my contractions were three minutes apart and just too damn strong for me to get any sort of rest. I was in a lot of pain, but trying hard to stay focused and breathe through them. I kept reminding myself, "It's pain with a purpose. It's pain with a purpose." I was checked again around 6:30am and was certain they'd tell me I was pretty far along, but instead they told me I was only dilated two centimeters.
Two centimeters?
I'd been in labor for ten hours and I was only dilated TWO LOUSY CENTIMETERS?? Some women are dilated two centimeters for DAYS before they even FEEL their first contraction!
By now it was clear I still had a pretty long road ahead of me and I was absolutely exhausted, so I asked the nurse about my pain relief options. I needed something–ANYTHING–to take the edge off and help me get some rest. The nurse suggested a narcotic and informed me they also wanted to start me on Potocin to try to speed things up. Both required an IV, which of course I wasn't crazy about.
"Which arm would you like it in?" the nurse asked.
"My left," I answered. "I'm right-handed so if you put it in that arm I'm afraid I'll never use it again."
The narcotic was wonderful. It didn't take away the feeling of the contractions completely, but it did dull the pain enough that I was finally able to get some rest. An hour and a half later they decided to increase my Potocin. Unfortunately this was also the time my narcotic wore off.
Not a good combination.
Consider this the beginning of my HOLYSHITI'MDYING Labor. My contractions were ridiculously strong and one right after the other. I mostly just remember holding G's hand and trying to breathe through them, although there were definitely times that I lost focus and just sobbed through them instead. And then there were a few that I just lost all control whatsoever and ended up vomiting through. It wasn't pretty. I asked for another dose of narcotics, but they informed me I had to wait at least two hours between doses.
Two hours between doses but the medication only lasts 90 minutes?
Even in excruciating pain I could do the math. The last thing I wanted was to be going through this again in 90 minutes.
Enter the epidural.
Just like I'd assumed, by this point I didn't even care what they had to do to me, I just wanted the pain to be over. I remembered from the ten minutes of birthing class I made it through before passing out that the anesthesiologists talk you through the process to make sure you know exactly what is going. Um. No thank you. When my anesthesiologists came in to administer the epidural (this was around 9:00am) I remember telling them, "Please don't give me the details; just do it." They told me there were a few things they had to tell me about just so I knew when not to move. Honestly the only thing I felt through the whole process (other than uterine-ripping contractions) were the initial little pricks while they numbed my lower back–it was similar to the little needle pricks you feel when you get your gums numbed at the dentist. Once I was numbed I didn't feel a thing. I knew they were doing things back there because they kept reminding me not to move, but I didn't even feel their hands on my back, let alone anything else they were working with back there. The hardest part by far was trying to remain still through the contractions. I just held G's hand and stayed focused on him and his encouragement.
The epidural was sweet relief and once it kicked in I was able to again get some rest, although it was interrupted quite a bit. I had been in labor for over 13 hours and still wasn't progressing as much as we'd all hoped so they hooked some straps around my belly to monitor both my contractions and Kate's heart rate. Shortly afterwards they put an oxygen mask on me–although neither G nor I can remember exactly why. I'm guessing it had something to do with me needing more oxygen. (You can't buy brilliance like this.)
By 11:30am I had been in labor for 15 hours but had only dilated 4 centimeters. To make matters worse, they had discovered that Kate's heart rate was dropping with every contraction I was having. They guessed there was an issue with her umbilical cord–that it was either pinched or twisted. It was at this time that our doctor asked us to consider a C-section. He informed us that things were not at the critical point where they would insist on doing a C-section, but the likelihood was high that it would get to that point. However if we wanted to continue laboring to see if there would be a possibility of delivering Kate vaginally I could. The choice was ours.
Everyone left the room to give G and I a few minutes to make our decision. G knew I was hoping to avoid needing a C-section but I thought it sounded inevitable–I could either have a C-section now, or have one later. For me the idea that we could be meeting our precious daughter in just half an hour was way too tempting to resist, so we opted for the C-section. We later found out that the umbilical cord was wrapped around Kate's leg, acting as a tether which kept her from descending. With each contraction that tried to push her down, her umbilical cord pulled her back up, so there was no way she would have been born vaginally.
Of course a C-section wasn't something I was mentally prepared for, and once we made the decision I couldn't help but think of exactly what that entailed: being cut open…while still awake. So of course I vomited. And had I been upright I'm sure I would have fainted. Instead my body decided to start shaking uncontrollably. Everything started happening incredibly fast. I was surrounded by people who were moving me, prepping me, making sure my epidural was effective and I was still fully numb (those were my favorite people)–lots of talking and lots of hands everywhere. I remember thinking it was strange that I was surrounded by so many people, yet no one seemed concerned about my shaking. Could they not see it? Was I not being dramatic enough?? Soon my teeth were in on the action, chattering away, and still no one seemed phased.
"Excuse me," I finally said. "I'm sh-sh-sh-shaking pretty ba-ba-ba-ba-badly."
"Oh, that's normal," they assured me.
It turns out uncontrollable shaking is a common side effect of an epidural.  I'm guessing this is something I would have learned in birthing class had I been conscious for it.
I was still shaking away as they wheeled me into the You'll Have a Scar for Life Room, with my vomit bag tucked securely by my side. Once G was properly attired and looking all McDreamy we were ready to go.
Here's a before shot of me, G, and the thin blue sheet of paper separating me from a lifetime of therapy: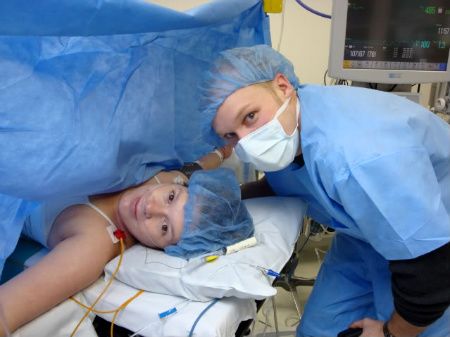 Side Note: Did you know you don't have to wear those crunchy cotton hospital gowns while you're in labor? I wore a bra tank from Express on my top, and my modesty out the window on my bottom.
The only thing that got me through the procedure without having a panic attack was my wonderful husband. Once again I just stayed focused on him while he held my hand and gave me words of encouragement. I felt lots of tugging and pressure, but of course no pain. Without question the hardest part of delivering a baby via C-section was being able to mentally make it through. I tried my hardest to ignore what was happening to my body, and stayed focused on G and the thought of meeting our baby girl in mere moments.
I'll never forget the first time I heard her.
G and I were staring in each other's eyes when we heard our daughter let out one single short cry and then we burst into tears. "Was that her?" I asked, although I knew it was. She soon let out more wails and I wanted to jump right off that table, go to her, and wrap her in my arms. Since I was a little…indisposed…at that moment, G went to her instead. "She's so beautiful!" he reported back and I couldn't wait to see her. Luckily I didn't have to wait long. Around the corner soon came my husband and my daughter.
My family.
My life.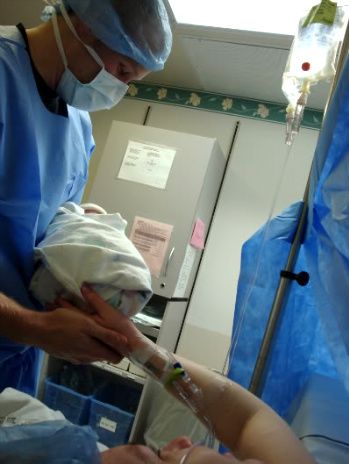 Our first family portrait: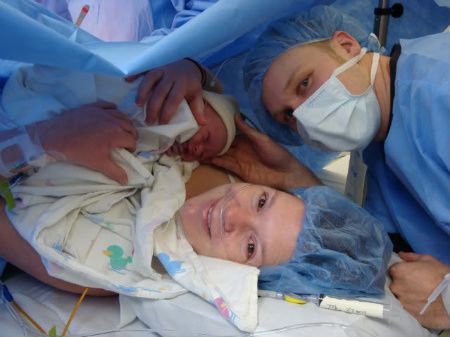 Forty weeks and 5 days of pregnancy, 15 hours of labor, and one C-section later, our gorgeous girl had finally arrived! Kate was born at 11:58am on Saturday, January 9, 2010, weighing in at 7lbs 2oz and measuring 19 inches.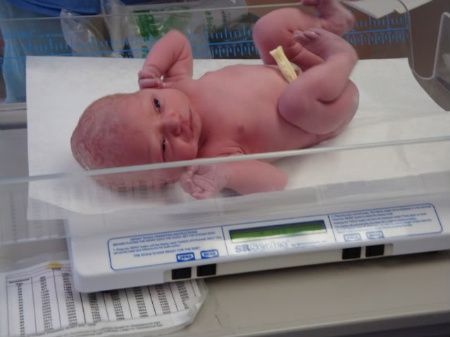 Every day, every hour, every second–I'd gladly do it all over again for our precious little girl. She was more than worth it!