It was a lot of trial and error (and even more purchases and returns) when it came to maternity fashion throughout my pregnancy, but here's what I've learned over those nine months:

Quick Links:
When to Buy
Maternity Bands
Maternity Jeans–Sizing
Maternity Jeans–Styles
Maternity Tops
Dresses
Cardigans
Maternity Sweaters
My #1 Style Tip
My Maternity Fashion

Maternity Fashion:  When To Buy
This–like everything else with this post–is going to be different for everyone, but I'll tell you what worked for me. I found I did not need maternity tops until my third trimester. Even though I had a pretty big belly, prior to my third trimester most maternity tops were way too long for me and I preferred to wear my regular longer tops. Keep in mind that height comes into play here (I'm only 5'4″), plus my pre-pregnancy tops were mostly loose and flowy. If you don't need maternity tops yet but are antsy to buy some, I recommend buying styles that will be suitable for the weather you'll have during your third trimester just to play it safe. If you need maternity tops sooner than that you can always buy them then, but you don't want to be stuck with summer maternity tops only to find you didn't need to wear them until November.
I needed maternity jeans much sooner. I started wearing a maternity belly band (reviewed below) around week 15, and maternity jeans around week 20. I would recommend getting maternity jeans as soon as your regular jeans are no longer comfortable, because that elastic waistband is sheer bliss. There's no reason to hold out and be uncomfortable.
Back to Top

Maternity Fashion:  Maternity Bands
I started out using the BeBand maternity band to hold my regular jeans up when I could no longer get them comfortably buttoned, but I found that I preferred looping a rubberband through the button hole instead. I didn't like that the maternity band would roll and ride up in the back. I had to adjust it nearly every time I got up from a sitting position. That said, the maternity band was still my best option during the period of time when my regular jeans were just starting to get too snug at the waist and I couldn't find a rubberband small enough to close the gap between my button and my buttonhole, and for when my belly grew so large that a rubberband was no longer large enough to close that gap. Overall, I do think the $16 I spent on the BeBand maternity band at Target was worth the money because it did help me get more wear out of my regular jeans than I otherwise would have.
Back to Top

Maternity Fashion:  Maternity Jeans
I started wearing maternity jeans around week 20 of my pregnancy and I loved them! After weeks of messing with buttons that didn't button and zippers that didn't zip, it was a little feel of heaven once I finally caved and gave in to that sweet elastic.
Let's start with sizing:
The biggest mistake I initially made was buying maternity jeans that were too large. I assumed I would be kissing my pre-pregnancy size goodbye, so I bought my first pair of maternity jeans one size larger. While overall they fit okay, the biggest thing that bothered me is that after wearing them for a few minutes I started having that saggy butt look going on in back. With my belly growing to unrecognizable proportions I found that the more fitted I kept things everywhere else the better I looked and felt. Baggy jeans just weren't doing it for me. I finally bought some maternity jeans in my pre-pregnancy size and they fit wonderfully–not too tight, no extra looseness, and no baggy butt!
Here's what I figured out about maternity pants and how to decide what size to get. If you tend to find your pre-pregnancy self in between sizes, ask yourself what it is about a pair of jeans that would make you have to go up a size? For me it's my waist. My waist is pretty much straight up and down (it doesn't curve in like most people's) so when jeans don't fit me, it's usually there. Well for maternity jeans the waist is all elastic, so you really don't have that problem. Get the smaller size. Now if your problem spot is in the butt, hips, or legs and that's why you would typically go up a size in some regular jeans–try the larger maternity size. I've found that maternity jeans will fit you just like regular jeans in the butt, hips, and legs.
Now if you've got a pretty good idea of what size you should be buying early in your pregnancy, but are worried about what size will work for you later on in pregnancy as you gain more weight, ask yourself where you tend to carry your weight when you've got a few extra pounds on you. When I was heavier I carried pretty much all of my weight in my belly, and my hips and legs stayed about the same. Knowing this, I figured that even if I gained more than I wanted to during this pregnancy it would probably all be in my mid-section–and again, that's where your maternity pants are all elastic, so you're good. If you tend to gain weight in your legs, hips, and/or butt, you may want to consider buying a size up to last you more throughout your pregnancy.

Next–maternity jean styles:
I tried on A LOT of maternity jeans throughout my pregnancy and as far as waistlines go I found that I was on the two extremes–I liked the "hidden panel" or "secret panel" low-rise jeans and the "full panel" maternity jeans the best.
As for the hidden panel, I only liked them if the "panel" was denim (picture 1)–not the thick elastic (picture 2).

Photo Credit: Gap
I found that the jeans with the thick elastic tended to be too tight at the top, giving that dreaded muffin top look. The
denim
hidden panels, however, did not do this. I also like that the denim hidden panel jeans had belt loops. Since the waistline of these jeans sits underneath your belly I found they were a little more prone to sagging (primarily an issue as my belly grew). Belting these jeans (below my belly) helped them stay up on my hips. Plus, when belted they don't even look like maternity jeans because your belt hides the elastic waistline! Another plus of these jeans is that you don't have to worry about what I like to call "visible
panel
line"–the maternity equivalent of the dreaded "visible panty line." Visible panel line (VPL) is when you can see the seam through your shirt of where your maternity panel ends and your skin begins. You'll have enough bumps and bulges throughout your pregnancy–no need to purposely create one more! These jeans were the perfect maternity jeans to start with because they look and feel the closest to "real" jeans in my opinion. I was also able to wear them all the way to the end of my pregnancy, and continue to get a lot of wear out of them in the post-partum "fourth trimester" until my regular jeans fit again.
My other favorite waistline is the "full panel" or "high panel."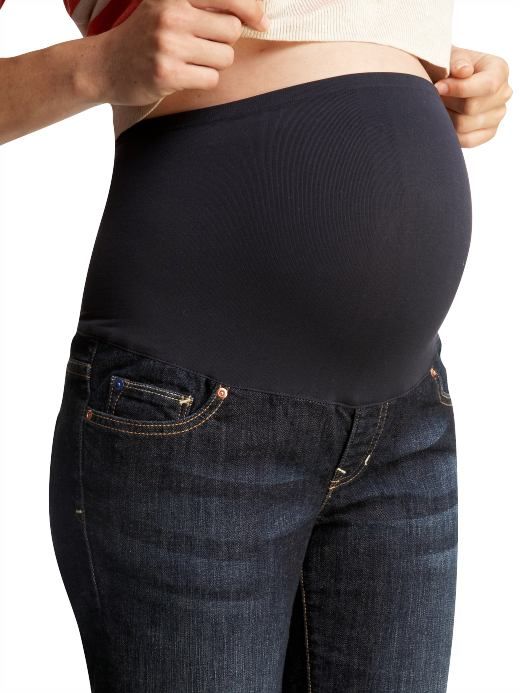 Photo Credit: Gap
The trick to choosing a full panel style is to make sure you get a panel that is high enough that it stops at the top of your belly (not mid-belly) to avoid that VPL that I talked about above. Another tip for avoiding VPL is to make sure the seam at the top of the panel is not too thick or too tight. You want it to be tight enough to stay up, but you
do not
want it digging into your skin. My favorite thing about the full panel styles is that they did the best job of staying up and preventing that saggy butt look. I also liked the nice smoothing effect the full panel can give you–this is especially nice under closer-fitting maternity tops. Most full panel denim comes with the panel in navy blue, although I know some brands carry full panel jeans with the panel in a nude or flesh color. I never tried the nude colored panels, but to prevent the dark navy from showing through my lighter colored maternity tops I just wore a white or nude tank top/camisole underneath my shirt (see more below). Another bonus to full panel styles is that you can fold the panel down and wear it
under
your belly for some added versatility.
Waistlines I did not like were the "real waists" or "adjustable" waists, and the "demi-panel" waists.
Let's start with the "real waist" jeans: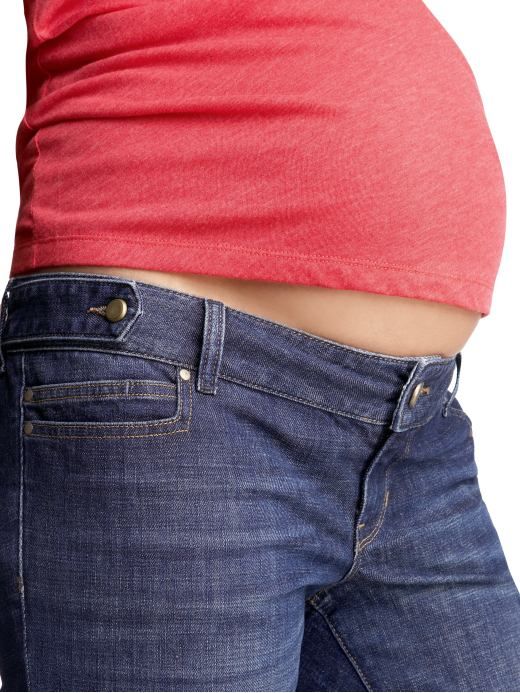 Photo Credit: Gap
The "real waist" maternity jeans are great in theory. They look just like regular jeans–no one would ever know you're wearing maternity jeans! The only problem is I found them to be uncomfortable and very difficult to keep up. These jeans still function with a real button and zipper, and have a band of adjustable elastic that runs through the waistband from one side, around the back, and to the other side. On the inside of each side of the waistband there is an opening where you can pull the elastic to adjust it, making it either tighter or looser. The elastic is then secured at the tightness you chose by a button located on the inner waistband. I found that no matter how tight I pulled the elastic, the jeans still fell off my hips and were too saggy in the rear and upper legs. What's worse is that the buttons on the inside of the waistband holding the elastic in place dug at my sides which was very uncomfortable. I was
really
hoping to make these style of jeans work so I tried multiple styles in multiple sizes, but in the end I returned every pair. If you're going for a "regular jeans" look I'd recommend sticking with the denim-topped hidden panel jeans (reviewed above).
Demi-panel or "medium panel" maternity jeans are similar to the hidden panel jeans reviewed above, only the thick elastic panel comes up a little higher on your belly: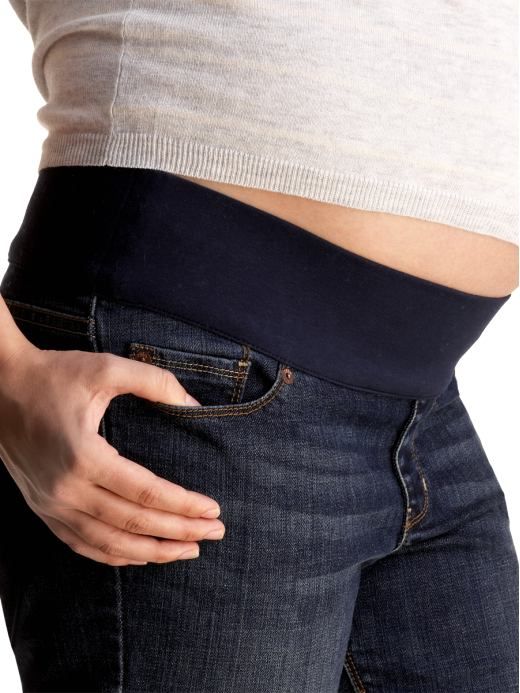 Photo Credit: Gap
Just like the thick elastic versions of the hidden panel jeans, try these at your own risk. I found you got both VPL
and
muffin top with these jeans. The double whammy.
Back to Top
Maternity Fashion:  Maternity Tops
Just like with maternity jeans, you're going to want to buy your regular pre-pregnancy size for maternity tops. If you're looking to buy maternity tops before you actually
need
them, it may be a little difficult to know if the maternity top you're trying on is going to fit you a few months down the road. A lot of maternity stores have little belly pillows you can strap around your stomach to give you an idea of how your tops will fit when your belly gets bigger, however, I found these to be unrealistic. My best advice when it comes to fitting a maternity top is to look at the arms and shoulders. If the arms and shoulders fit you well then you're on the right track. If the arms and shoulders are too big on you then put the top back. No matter how big your belly gets, it's
highly
unlikely your arms and shoulders will
also
"grow into" the top.
As for styles, my personal preference for maternity tops were tops that hugged my baby bump all the way to the bottom. I thought this was a much more flattering look versus styles that hung straight down from the outermost point of my bump.
I found I was able to wear a lot of my regular, longer-length tops even into my third trimester. I also continued to shop my favorite non-materninty stores, buying tops in my regular size, but in longs, or just looking for tops that looked extra long. I'm only 5'4″ tall so luckily this worked well for me. I found that regular tops in "long" versions tended to offer more style and color varieties than maternity lines. For example, most of Gap's maternity tops come in very limited colors–mostly neutrals. But if you check out their regular women's clothing line you can find the same top in non-maternity in an array of colors. I found that purchasing these non-maternity tops–in the extended length sizes–worked great.
Another tip for your regular tops is to layer a longer tank top underneath them. I found this to be a great way to get some more wear out of my regular tops that were just beginning to get too short in length.
One staple in my maternity wardrobe were maternity camisoles. I wore this seamless camisole (I bought one in each color) nearly every day of my pregnancy once my bump started showing. It was super comfortable, and I found it made my tops lay nicer.
Back to Top

Maternity Fashion:  Dresses
I loved wearing dresses throughout the first half of my pregnancy (summer and fall) and cardigan sweaters throughout the second half of my pregnancy (fall and winter). When you get to that point at the beginning of your pregnancy where it practically takes an engineering degree to rig your regular jeans to stay up, trust me on this–flowy cotton dresses are a breath of fresh air. No zippers. No buttons that don't quite button. Nothing tight around your belly. And best of all–easy bathroom access! I found I did not need to buy maternity dresses–my regular ones worked just fine. By the time my belly got really large I was no longer interested in wearing dresses because of our cold Wisconsin winters.
Back to Top

Maternity Fashion:  Cardigans
Cardigans were my go-to wardrobe item once the weather started getting cooler–which for me was in my third trimester. Being pregnant, I also tended to feel warmer than usual so layering was my best option since I could take off my cardigan if I started getting too hot. I bought one maternity cardigan early in my pregnancy, but later found that I didn't really need it. My regular cardigans worked just fine–I either wore them fully open, or partially open with them tied, belted, or buttoned above my bump. I'm also finding cardigans to be invaluable during this post-partum period for hiding spit-up covered shoulders before leaving the house to run errands–a little trick I've used more times than I care to admit.
Back to Top

Maternity Fashion:  Maternity Sweaters
Maternity sweaters are tricky for the same reason cardigans are a lifesaver–even when it's cold outside, you still tend to feel warmer than usual. Even though the end of my pregnancy came in the middle of a blistering cold Wisconsin winter, I only had one maternity sweater–and it was very lightweight, which turned out to be perfect. Anything thicker or heavier would have had me easily overheated–and it's not like you can strip off your sweater if you get too hot in the middle of the work day! I purchased my maternity sweater at the end of summer, right when the new fall styles hit the stores. I think this was the trick to getting a lightweight sweater, because when the cold weather hit and the winter styles came out I found them to be way to thick and heavy for this pregnant woman.
Back to Top

My #1 Style Tip
My number one pregnancy style tip is to embrace it! I absolutely loved being pregnant and loved my changing body and growing baby bump. I loved wearing form-fitting clothes that accentuated–rather than hid–my belly. I also had fun with my bump–"accessorizing" it with belts, pins, and fun graphic tees. I think you'll find you'll have a lot more fun with fashion when you're pregnant if you decide to embrace it!
Back to Top

My Maternity Fashion