At what age does your child start being annoyed by you?
Luckily Kate can't talk yet, but if she could I'm pretty sure she'd be saying, "GET OUT OF MY FACE, MOM!"
I can't help it. I'm obsessed with her.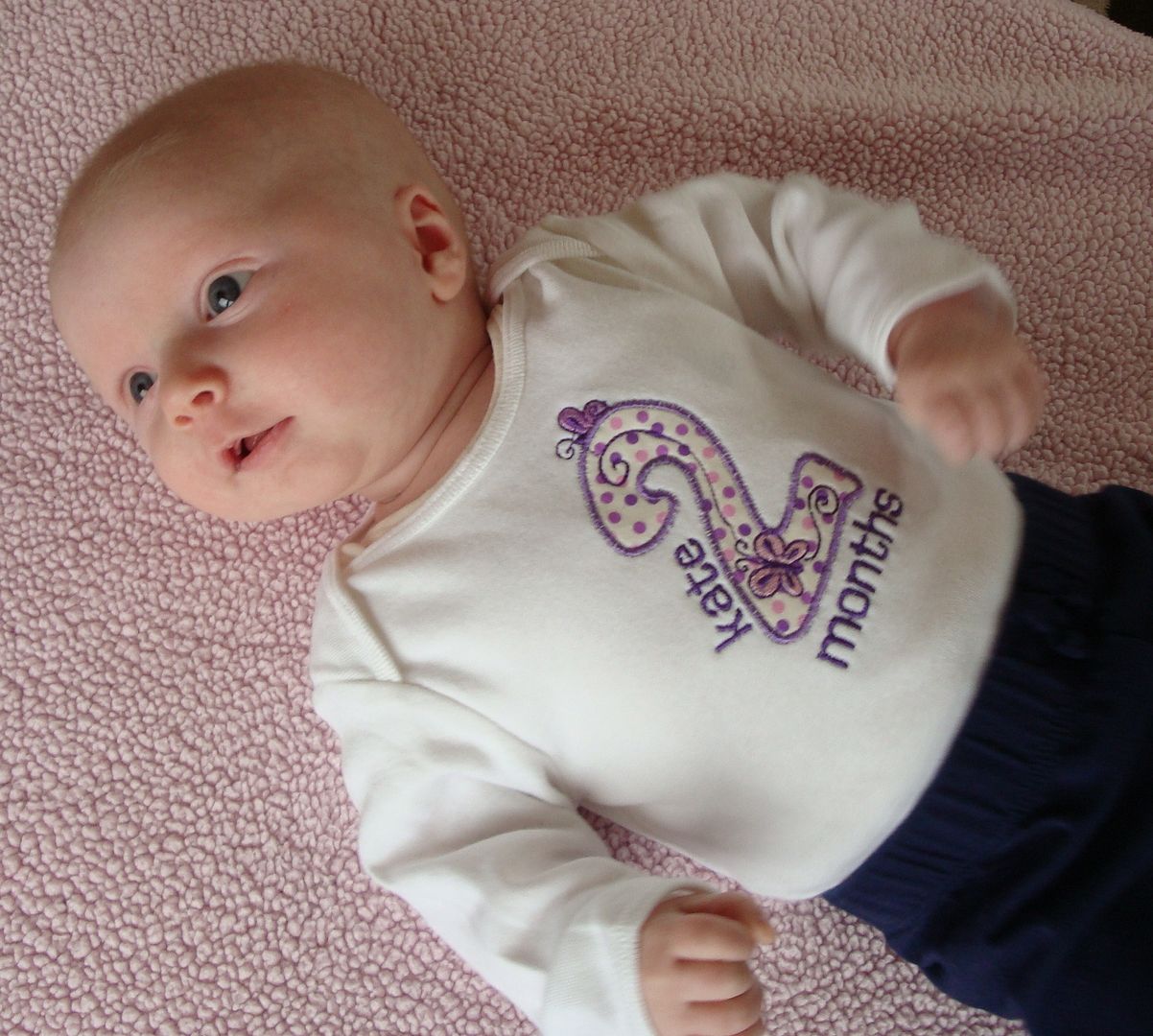 Personalized baby shirt from The Cotton Cupcake Shoppe
Come on. If you could look at that face all day, you'd be all up in it, too!
Something I won't capture on film are her less ladylike habits–like farting. This girl can toot! I call her Toots MaGoots, and G is even starting to categorize them. His favorite is "the machine gun." I'm guessing there's no need for further explanation…
Another one of Kate's favorite "tricks" is lifting up both her legs at the same time, along with her little tush. And once she's got them lifted she likes to hold them up there for a few seconds–like a baby reverse ab crunch. Ever since she discovered she can do this, she loves to practice. She'll do it for us when we're changing her diaper (oh, she's so proud!) or when she's on her play mat. My favorite is when she does it when she's sleeping. She'll wake up, do a couple lifts, seem satisfied that she's still got it, and then go back to sleep. Such a little cutie!
This past month (at 2 months old) marks the beginning of Kate finally taking an interest in her baby swing. Before, she'd sit there for a few minutes but not seem engaged in it at all, but now she loves swinging and enjoys watching the mobile that rotates overhead. There have been a few times when she's been really upset (like when she got her shots a few weeks ago–eek!) and nothing seemed to help her feel better–except the swing. Thank goodness for that thing! Of course most of the time I can't just let her sit there and enjoy the ride. I feel the need to let her know I'M STILL HERE so I sit in front of her and talk and play and sing.
(You just shaved another year off your answer to my original question, didn't you?)
Another thing Kate's taken an interest in this month is her nursery. Considering how much time I spent on it, it's been so gratifying to see. When we rock in her chair she seems to really love the graphic lines of the Nate Berkus panel I hung on the wall, and the big bold print of the floral curtain. Both get lots of stares and lots of smiles!
Kate is also starting to enjoy baths. Well…maybe not so much "enjoy" as it is "no longer screaming her head off when she's naked and there's water touching her." It's a good start.
I pretty much talk to Kate nonstop. If she's awake, I'm talking. Whether it's on a walk ("Look both ways before crossing the street–and don't do drugs."), driving in the car ("That's a house. That's a car. That's some asshole who just cut Mommy off."), or folding laundry ("This is a pink shirt. This is a pink blanket. This is a pink dress. This is a pink sock."), I pretty much never shut up.
(Just lost another year, didn't I?)
G is just as talkative with Kate, but much less annoying I assure you. One of the most exciting things to happen over this past month is that Kate is starting to join in on the conversation! She's beginning to make vowel sounds and once she gets going she's quite the little chatterbox! It is our absolute most favorite thing to hear, and I'm so thrilled that we got video of her chatting away when she was 11 weeks old (see it here)!
Earlier this month I packed up the clothes that Kate's already outgrown. Now that was an emotional afternoon! I labeled the most special ones with little tags that said, "This is the outfit we brought you home from the hospital in." and "This was Mommy's favorite outfit to dress you in when you were a newborn." I like to think I won't forget these things, but you just never know!
And speaking of cute clothes, here's a sneak-peak of Kate's personalized 3 month onesie from The Cotton Cupcake Shoppe: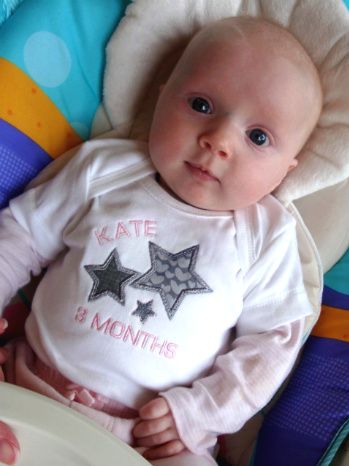 It was so hard to get a picture of her without her hands clasped together, but I finally got one! Being in her face 24/7 seems to increase my odds, so I've got that on my side.
Does she look annoyed to you yet?
Additional Kate 2 Months Posts:
What's My Name?
Kate's Hands
Those First Few Weeks