Kate turned 5 months old this week and I cannot get over the developmental explosion that has occurred in her over this past month! Who knew so much happened at only four months old?!?
We decided to make a few–fairly major, in my opinion–changes once Kate turned four months old, starting with moving her to her crib. Prior to this point Kate had been sleeping in a bassinet next to our bed. I loved being able to just open my eyes to see her and know that she was okay, but we couldn't keep her there forever. She was starting to outgrow it and we were concerned that the longer we waited to transition her to her crib the harder it might be. (On me.) Well I'm happy to report that we all did great and Kate has successfully transitioned to sleeping in her own room in her own crib!
The next transition was weaning her from swaddling. We had planned on doing this slowly, and a few weeks after the transition to her crib because we didn't want too many changes at one time, but when I was getting Kate ready for her second night of sleeping in her crib she pitched a fit like I have never seen when I was swaddling her! So I made a deal with her: "If you bust out of this swaddle tonight I promise not to re-swaddle you." She busted out of it within ten minutes, and I kept up my end of the bargain. As I expected she didn't sleep as well that night as she usually does, but we made it through. And once we made it through one night without swaddling we decided to go for it and quit cold turkey. Each night got a little better than the one before it and it didn't take long at all before she was sleeping like her usual self again.
Now that we were no longer wrapping Kate up in a baby straightjacket each night, she embraced the opportunity for movement and almost instantly turned into a side-sleeper. We couldn't believe it! All these months of sleeping on her back and the second she had the option to shift positions she went for it. Who knew? Shortly after this, Kate rolled over for the first time on purpose (she had an unintentional roll-over at 3 months old during some too vigorous tummy time which may or may not have traumatized her for life–we're putting money away for the therapy bills just in case). But this one was a REAL roll over! Of course I had to grab the video camera to try to capture it on film for Grandma Pam–and here it is:
Once Kate figured out this skill–and how to roll from her front to her back–she quickly went from being a side-sleeper to a tummy sleeper!
Kate's hand coordination has also grown in leaps and bounds over this past month. It seems like every day Greg and I are going nuts over some new, amazing, and incredibly talented thing she is doing with her hands. "She just reached out and grabbed that toy! Did you see that?" or "Kate just hit the button that makes the 'moo' sound! I bet she did that on purpose–she's brilliant!" or "OH MY GOD SHE JUST PICKED UP HER PACI AND PUT IT BACK IN HER MOUTH! I'm adding that skill to her college applications."
More "firsts" this month include her first trip to the dog park (she loved it) and her first time being transported in a baby carrier instead of her stroller–she really loved that! G walks with her forward-facing in the carrier and she is all smiles and laughs (not to mention lots of spit-up–it's a bouncy ride) the entire time! We also introduced Kate to her Exersaucer, Bumbo chair, and Jumperoo this month and it is like a whole new world has opened up for her! She just LOVES her Exersaucer
and Jumperoo
–especially the Jumperoo. It's so much fun to watch her bounce away, and here's a video of her doing just that.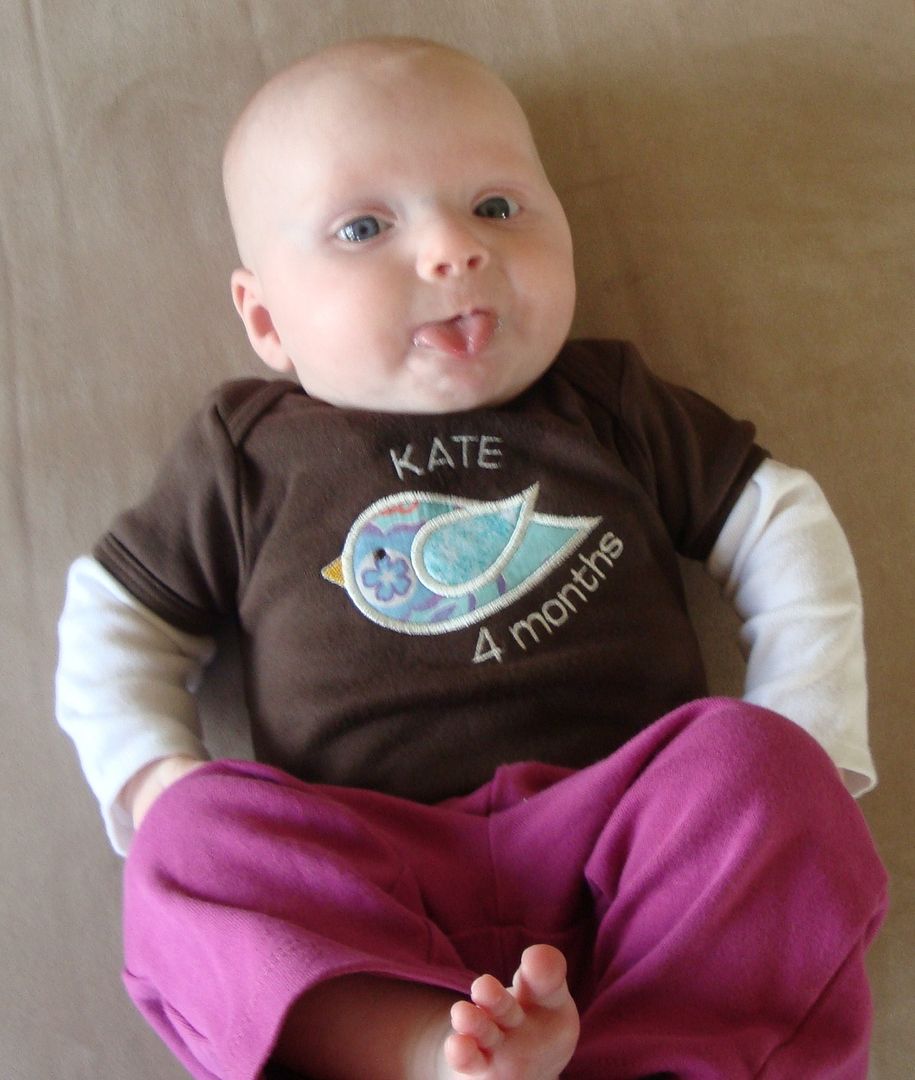 Additional Kate 4 Months Posts:
Things Loved in May