Time never went by so quickly before I was a parent.
Kate is now six months old (six months!) and still as happy and cheerful as ever. Over this past month (at five months old) she has just begun taking an interest in Chase (our greyhound) which has been so much fun to see. All she has to do is see Chase and she'll burst into laughter. Greg and I work our asses off to get a giggle out of Kate–blowing on her little belly, making silly faces–we'll do it whatever it takes to hear that magical sound. But apparently all Chase needs to do is breathe within Kate's line of sight and nothing makes her happier.
Kate's activity time continues to be filled with lots of excited jumping in her Jumperoo, leisurely swaying in her swing, walks around the neighborhood, and of course business meetings in her Command Center (aka the Exersaucer). She still enjoys her floor activity mat, but now that she's getting older she requires more space. We lay a baby blanket on the living room floor next to her activity mat, toss a bunch of her toys on it, and she rolls and scooches her way all around the floor. We can already tell that once she gets the hang of crawling she is going to be fast! Her new development over this past month has been getting the hang of sitting up. She is just starting to be able to sit unassisted for short periods of time–about five to ten seconds–so we've introduced a couple of toys that are meant for more "sitting up play" which she enjoys.
Kate currently naps for about four hours during the day (split between either two or three naps) and goes to bed around 6:00pm, sleeping until about 6am. This little girl loves her sleep! We've been trying to push her bedtime back just a bit, but on most nights she barely even makes it to 6pm. Kate's bedtime routine consists of a bath (we do them every three nights right now) or a face and neck washing, change into pajamas, and read a book (if she's still alert enough and has the patience for it). Then we pull the blinds, turn off the lights and feed her a bedtime bottle in the rocking chair in her nursery. When she's done with her bottle we put her in her crib "drowsy but awake," offer her a pacifier, turn on a little fan in the room for some white noise, and then walk out and close the door. We've put Kate down "drowsy but awake" since she was born and we're very lucky to say that she goes right to sleep on her own without any fussing. Although Kate sleeps for twelve hours at night, it's rare that she will go the entire twelve hours without waking. I'd say about 75% of the time she wakes up for one middle of the night feeding and goes right back to sleep.
Kate gets five or six bottles each day and drinks about 5-7 ounces per bottle. Greg and I continue to be worried about her weight as her percentiles in that department keep dropping, but Kate makes it very clear when she's had enough to eat, and when that happens there's no convincing her otherwise! She will purse her lips together and stick the lower one out in a pout. Sometimes she'll add a little spitting sound to really get her point across. And when push comes to shove she'll block her mouth with the back of her hand until you've set the bottle down. She's quite the clever girl!
I'm very surprised to say that Kate made it five months before getting sick. She's had a runny nose for a day or two before, but this past month was her first time really truly being sick…and it wasn't pretty. She caught some sort of stomach bug which caused lots and lots of vomiting. At first we thought it was just some heavy spit-up, but when she projectile vomited all over Greg and her rocking chair immediately following her morning bottle, we realized this was much more than spit up. Much, much more. I called our pediatrician's office and they recommended giving her Pedialyte–which is gentler on baby bellies than formula–until she was able to keep something down, so off to the drugstore I went. I have to admit–all of the Pedialyte options caught me a bit off guard. There was grape, fruit punch, orange–so many fun flavors and colors! What's a first-time mom to do? In the end I worried that if our little finicky eater was introduced to a fun fruit flavor she'd probably never go back to drinking her formula, so I go the boring clear unflavored kind. An hour later I was patting myself on the back for my brilliance in Pedialyte picking when Kate once again vomited all over me, the couch, and the living room floor…and her vomit was clear. Not fruit punch pink or grape-flavored purple. Score one for this first-time mom! Luckily we didn't have to deal with vomit–clear or otherwise–for too long since Kate was feeling better and back to her old self in just a day or two.
The cutest thing to see over this past month is how Kate's obsession with her hands has been replaced with an obsession with her feet. Every chance she gets those little toes go straight into her mouth!
Kate: 5 months
I'll end with some of my favorite expressions from Kate's 5 month pictures. Enjoy!
Serious baby: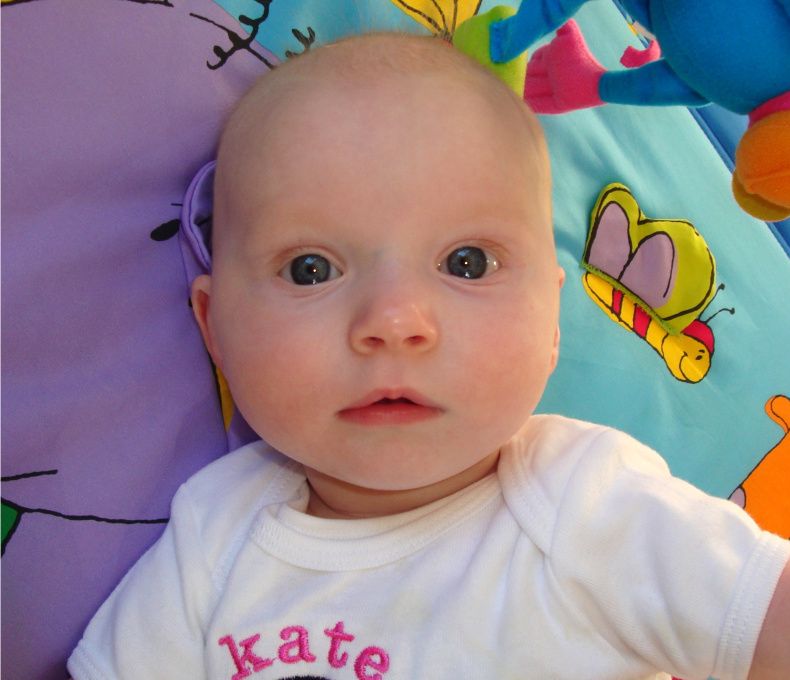 Pouter face:

And our happy little girl!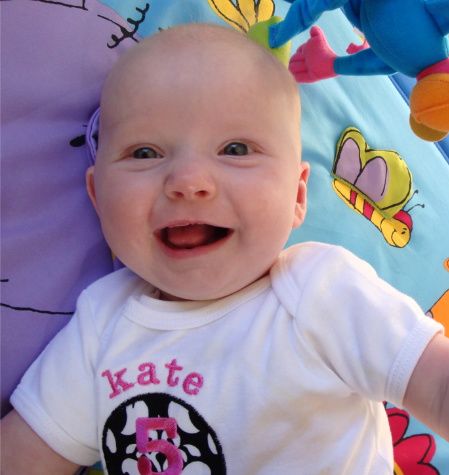 Personalized onesie made by Amber from The Cotton Cupcake Shoppe.
Additional Kate 5 Months Posts: