One essential ingredient to getting your newborn to sleep well is room darkening shades. Around Kate's fourth month of age two things happened–we moved her to her crib and she started becoming more aware of her surroundings. I decided it was a good time to get some room darkening shades to help Kate with her daytime naps and her before sunset bedtime. I scoured the internet for either a darkening liner that I could attach to her current bamboo shade or even a second set of darkening shades that I could hang underneath what she currently has, but I found it impossible to find anything that was the right size, or even close to being affordable.
Time for my first post-baby DIY project!
I went to JoAnn Fabrics where I picked up some black-out lining on sale for less than $5. The width of the fabric turned out to be exactly the measurement I needed lengthwise for my window, so my window width became my cut measurement.
I removed Kate's current shade and placed it face down on the kitchen island:

Then I laid the black-out material over the shade and trimmed off any excess:

As you can see, I didn't bother with ironing because honestly, who's going to see it? Besides, the fabric is a lightweight vinyl kind of fabric, so I can't imagine it's that easy to iron without melting. Nobody wants that kind of mess.
Pinning fabric to wood isn't the easiest of tasks, so I marked little x's on one row at the top of the shade to make sure my fabric stayed lined up as I worked: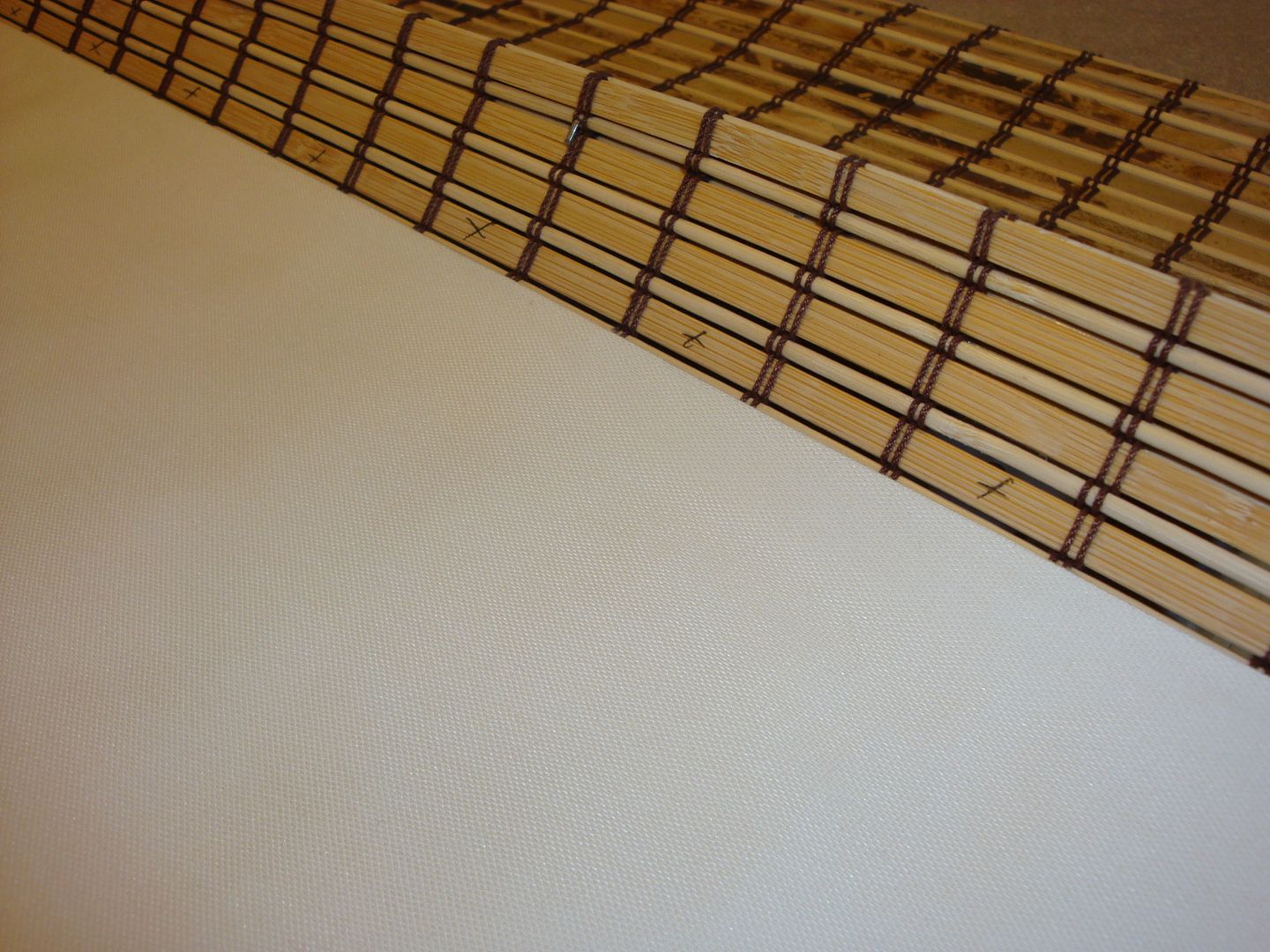 Next, I used leftover embroidery floss from my DIY upholstered headboard project, and a curved upholstery needle to sew the lining to the shade. I used brown floss and put the stitch around the thinnest band of wood in the blinds–right in between the brown stitching that's already on there so it would blend in unnoticed–and just knotted off the tails:

I found when installing a privacy liner (that I overpaid for!) to the back of the bamboo roman shade in our master bedroom that it's important to secure the fabric not only to the top and sides of your blinds, but also all throughout the middle. If you skip securing the lining throughout the middle of your shades your lining fabric will puddle and hang down below the bottom of your shade when your shades are open. Not pretty. So next I got to work stitching the fabric all throughout the shade:

Be sure to keep the cords of your shade straight and out of the way while you do this–you don't want to accidentally catch them while you're sewing.
A rehang of my shade, and the task was complete!

I'd show you an "after" photo of the new and improved shade actually doing its job and blacking out the room but…well…the room is blacked out.
So there you have it–an easy DIY room darkening shade for under $5 and completed in less time than it takes to drink two glasses of wine! (I timed it.)