Kate turned 9 months old last week! Here's a look back at all she learned and experienced at 8 months old:
Kate got her first tooth! And her second! Her two bottom teeth have popped through, one right after the other (seen here). Let me tell you, those were not fun weeks.
Kate is doing really well with her finger foods. G and I continue to be amazed with her fine motor skills, although this little girl may be a little too skilled for her own good. Apparently now that she's mastered finger foods she no longer has a use for all the pureed foods her Mom has spent countless hours preparing and freezing for her. All Kate wants to do is feed herself finger foods! I guess I shouldn't have been so quick to prepare so much pureed food for her ahead of time. Lesson learned! She'll still occasionally eat it, and I plan on using it up in other baby food recipes like pancakes and meatballs, so I guess it's not a total loss.
Kate has also mastered her sippy cup. If you remember from her 7 month post, Kate has limited ability to suck so we had to remove the valve from her sippy that makes it spill-proof (and turns it into a regular cup but with a spout). I thought we'd be dealing with spills everywhere for quite some time, but she's been doing a great job. (She likes to chug–wonder where she gets that from…)  Here's a video of her drinking and eating, and you may hear her little burp at the end, too!
Pretty much the only thing we allow Kate to watch on TV is a baby signing video–
Baby Signing Time
–which she
loves
.  So far we have
Baby Signing Time Volume1
and
Volume 2
.   They teach basic baby signs set to really cute songs, with real children showing the signs, and a little bit of animation. We've been working on some of the signs with her for a couple of months, and she's just starting to sign "more" and "all done" for us when she eats. She's not consistent with it yet, but it's been so much fun to see her learning, and
so helpful
for her to be able to tell us what she wants!  I can see how this whole dual-communication thing could be life changing.
Kate will now stand holding on to things (like the ottoman) if you put her in that position, and she is just starting to pull herself up to a standing position on her own.
We took Kate to her first Badger football game last month and she did so great! G bought Kate her first Badger gear–a cute pink cheerleader outfit–and Kate clapped and cheered (two new things for her) right along with the fans. It was so much fun!
Kate continues to say "Mama" but no other words yet. She's just starting to make the "G" sound and will babble "Ga-ga-goo-goo" all day long. Poor Greg jokes that she's going to say "Greg" before she says "Dada" but I don't think she'll let him down!
Kate's 8 Month Stats
Bedtime: 6:30pm
Wake Up Time: 6:30am
Naps: 2x/day for a total of 3-4 hours/day
Bottles: She is offered 7.5 oz bottles 4x/day (when she wakes up in the morning, wakes up from her first nap, wakes from her second nap, and before bedtime)
Meals/Solids: Eats breakfast at 7am, lunch between 12-1pm, dinner at 5:30pm
New Foods: Chicken, Green Beans, Black Beans, Broccoli, Zucchini, Toast/Bread, Plums.
Developmental Milestones & "Firsts": Stands with assistance, starting to pull herself up to a standing position, starting to sign, first tooth, first Badger game.
Favorite Toys: Toy telephone
, Lamaze Puppytunes Dog
, and this Fisher Price barking/bouncing dog, and she still loves her rubber ducky!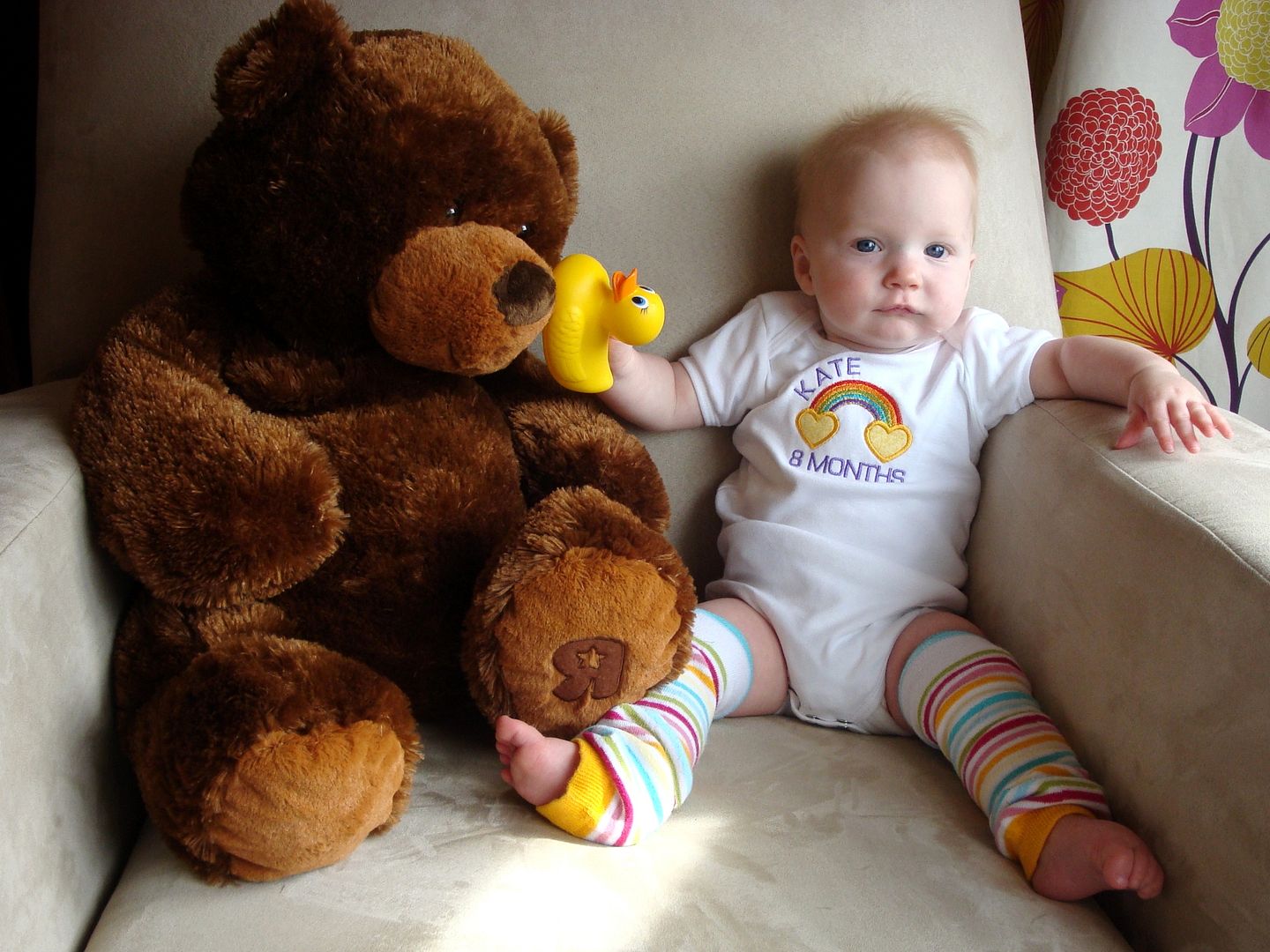 Additional Kate 8 Months Posts:
Toy Box