Kate recently had another photo shoot with the wonderful Andrea Elberg, and despite things getting off to a rough start, I'm so thrilled with how the pictures turned out!  We originally planned on having Kate's pictures taken outdoors at the UW-Arboretum, but shortly after arriving we were SWARMED by mosquitoes!  In less than ten minutes I had over 100 mosquito bites all over my body–even through my jeans!  It was absolutely crazy (and ridiculously itchy), but somehow, by the grace of God, Kate didn't get one single bite–I was so grateful for that! 
We didn't really have a Plan B in mind, but it quickly turned into going back to my house so I could get out of my clothes and bathe in Caladryl.  Once home, we decided to just plop Kate down on the kitchen floor in the same location where her newborn photos were taken, and Andrea snapped away! 
When I saw this strand of pearls in another photo shoot Andrea had done, I knew Kate would love them!  This is one of my favorite pictures from the day:
Andrea had a turquoise suitcase–one of her props–with her, and I thought it would be fun to include it in Kate's pictures because I loved the color. 
After seeing Kate with the turquoise suitcase, it gave me an idea!  I ran upstairs and grabbed one of my antique suitcases from
the circle room
, the tablecloth from the side table in
our main guest room
, my
DIY flower pin
, and a pair of heels–threw it all together, sat Kate inside, and Andrea got some really cute shots!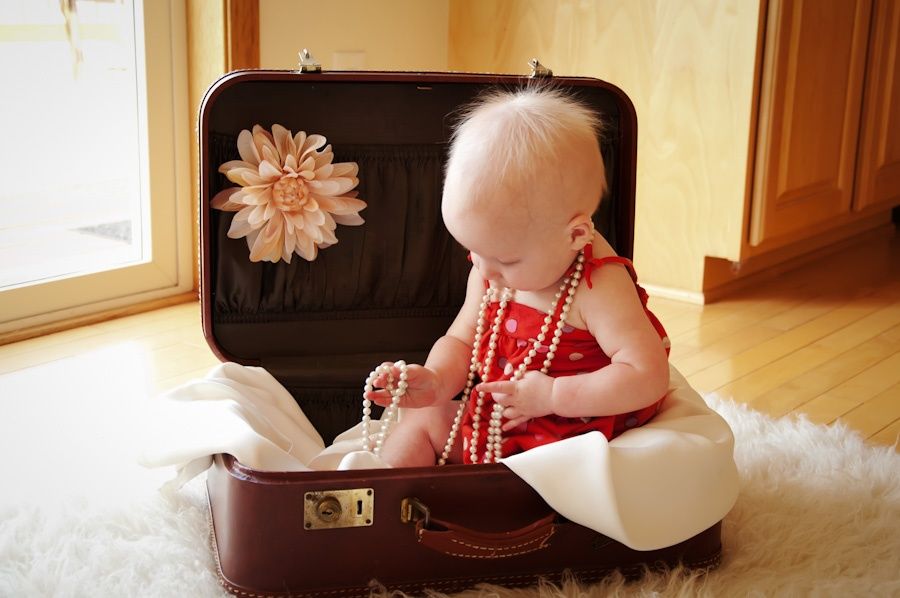 What started out feeling like a day that everything was going wrong, actually turned into a really fun, spontaneous, and adorable (if I do say so myself) photo shoot capturing Kate in all her smiling and sitting-up glory at 7½ months old.  Thank you so much Andrea!