Kate is 10 months old today, and after all she's been through this past week I'm sure she's happy to say goodbye to being 9 months old!  Before we focus on being in double-digits, let's take a look back at all Kate learned and did at 9 months old:
Kate is pulling herself up onto things like crazy!  She pulls herself up to stand at the coffee table, the ottoman, her toybox, the dresser, in her crib, everywhere!  She's going to be one ripped little girl with all the pull-ups she performs all day.  Since she's started pulling herself up in her crib we've had to lower it all the way down to its lowest setting which means now I can barely reach anything in there.  That back corner would've been a good place for her to stash all her pacifiers–I'd need an extension ladder to reach all the way back there!
I mention "paci stashing" because we weaned Kate from her pacifier over this past month.  (And yes, I need a glass of wine just from typing that sentence.)  Nine months may seem early for pacifier weaning, but it was really important that we did it before Kate's surgery.  Kate relied on her pacifier at naptime and bedtime to help her fall asleep and we needed to help her learn how to fall asleep without it since she wouldn't be able to use a pacifier post-surgery.  I did my google research to try and figure out the best way to go about pacifier weaning, but there really isn't much information out there for her age so we decided to go cold turkey.  EEK!  It was a rough few days, but we made it through and we know it was the best thing for Kate.  The last thing we wanted was for her to have one more thing to be upset about while she was recovering from her palate repair.
Back to the fun stuff!  Kate has started taking baths in "the big girl tub" which she loves.  We fill up our master bathtub with a couple inches of water, toss a bunch of toys in there, and she splashes around and plays.  We've come a long way since her newborn days of crying in her infant tub!
We have a children's music channel on Pandora (internet radio) which Kate likes to listen to, and over this past month she's started dancing along to the beat.  It is so cute to see her little tush bounce up and down when her favorite songs come on!
Kate has been "army crawling" since she was 6 months old, and just when we were beginning to think that would be the extent of her crawling, we were wrong–she's finally started "regular" crawling up on all fours with her belly raised off the ground.  Her increased mobility seems to have made her impatient to get to the next level because she is also beginning to test out walking.  She loves walking behind her little push toys or with G or I holding both of her hands.  I don't think we're going to be able to go without a baby gate in the house for much longer!
You may notice from Kate's recent pictures that this girl has got some CRAZY hair going on.  It's all different lengths (with the longest strands, strangely, coming from her crown) and sticks straight out in all directions.  Let me tell you–it's quite the attention getter!  We can't take her anywhere without at least half a dozen people commenting on it.  I actually got it tamed down once and had it all laying nice and smoothly but I quickly realized it wasn't "her."  Her wild and crazy hair is a much better match for her big personality so we just let it go!
In addition to her big and bubbly personality, Kate continues to show us her independent side.  Last month I shared that she prefers to feed herself her solid foods, and this month she's insisted on holding her own bottle.  Kate uses a special bottle (called a Haberman Feeder) with a long nipple that you need to squeeze or pulse each time she closes her mouth as if to suck.  The squeezing mimics sucking (which Kate cannot do because of her cleft palate) and releases milk into her mouth so all she has to do is swallow.  We never thought Kate would be able to bottle-feed herself because of the coordination that goes into it, but after months of having an up close and personal view of Mommy and Daddy pulsing the bottle while she "sucks" Kate has now figured out how to do it on her own.  It's been so remarkable to see!  Of course, we still hold her while she bottle-feeds to monitor how she's doing and jump in with assistance when needed, but without a doubt she prefers to be the one in charge.
It's rather contradictory, but our Little Miss Independent has also entered that attachment stage that many babies go through.  She has periods where she's pretty clingy and only wants Mama.  It's a bit stressful on all of us but we know it's normal for her age.  We've found that taking our time introducing her to new settings or "people who aren't Mom" helps the most.  Once she gets warmed up she's more comfortable being held by others or being put down.
And then of course there's Kate surgery to repair her cleft palate, which happened on the tail end of being 9 months old.  It's hard for me to put words to everything we've been through with that, so I will save it for another day.  Right now G and I are focused on being strong for Kate and getting through these difficult couple of weeks.  Kate seems to be doing a little better every day and we are so proud of her.  I cannot thank you all enough for your words of encouragement, support, and kindness.  It has meant so much to us and we sincerely appreciate all of you who took even the shortest moment to send a positive thought our way.  Thank you so much!
Kate's 9 Month Stats
Bedtime: It's been 6:30pm for quite some time, but we've been slowly trying to push it back.  Prior to Kate's surgery she was making it until 6:45pm or 7pm.  Since her surgery her entire schedule has been thrown out the window and she sleeps and wakes around the clock.  It's like going back to caring for a newborn!  The one good thing about this, though, is that Daylight Savings (moving our clocks back one hour) didn't affect Kate at all.  I'm pretty confident that once Kate is feeling better we'll be able to get her back to her old schedule fairly easily.
Wake Up Time: As we moved Kate's bedtime back a little later we noticed that she started waking up a bit earlier.  Most mornings she'd wake at 6:15am (versus her usual 6:30am).  Currently (post-surgery) she wakes up at 11:30pm, 1:45am, 2:30am, 4am, 5:15am…
Naps: Kate is still averaging two naps per day for a total of 3-4 hours/day.
Bottles: Prior to surgery, Kate was offered 7.5 oz bottles 4x/day (when she woke up in the morning, woke up from her first nap, woke from her second nap, and before bedtime).  Now that Kate is recovering from her palate repair, eating is incredibly painful for her and quite the challenge.  We offer her 2-4 oz bottles around the clock and just cross our fingers she'll drink something.
Meals/Solids: We used to feed Kate breakfast at 7am, but she wasn't that hungry so soon after her morning bottle so she wouldn't eat much.  We noticed she'd get hungry again in the late morning and would want more to eat.  It was getting to the point where she was eating two small breakfasts, so instead we decided to push her breakfast time back a bit.  She now eats one full-sized breakfast around 8:15am.  Lunch is still between 12-1pm, and dinner around 5:30/5:45pm
New Foods: Pumpkin, cheese, pasta, kiwi, and cauliflower.  Kate has been unable to eat solid foods since her surgery.  Her "last meal" before her surgery was her first taste of homemade macaroni and cheese which she loved!
Developmental Milestones & "Firsts":  Regular crawling, beginning to walk with assistance, weaned from pacifier, moved crib all the way down to its lowest position, taking baths in the full-sized bathtub, first trip to a pumpkin patch.
Favorite Toys:  I guess we shouldn't be surprised considering Kate's current attachment phase that she's also beginning to show attachments to certain toys and objects.  Right now her favorite "toy" is a woven wristlet key fob I got from my friend Steph's Etsy shop (Mada's Place).  I have one on my keys and she is always trying to grab it out of my hands but I won't let her play with it because my keys have been dropped in more dingy parking lots than I'd like to consider.  I finally ordered her one of her own and she's obsessed with it!  It pretty much goes everywhere she goes.  She loves it so much I immediately ordered three more as back-ups.
Her other favorite toy is a super-soft little stuffed bunny that I spent a ridiculous amount of money on when I was pregnant and hormonal.  It was the first toy I bought for her and of all of her crib loveys she's decided this one is her favorite (oh yeah, I'm beaming).  It's the first thing she grabs when we lay her down to sleep, and she's usually holding onto it when she wakes up.  We even brought it into surgery with her as her comfort item, so Kate and her bunny have certainly been through a lot together already!
Other favorite toys include this Fisher-Price Brilliant Basics Activity Walker
(which folds flat for sitting floor play, or pops up and she can walk behind it and push it around), remote controls, measuring spoons, and piles of folded laundry.  Her Baby Signing Time DVDs
(which I blogged about last month) have been a LIFESAVER since her surgery, so they deserve another mention.  When Kate is at her fussiest they're the only things that will take her mind off her pain long enough to calm her down.  Those videos have been worth every penny!
And now I'll end Kate's 9 month post with some pictures of her first pumpkin patch visit a couple of weeks ago!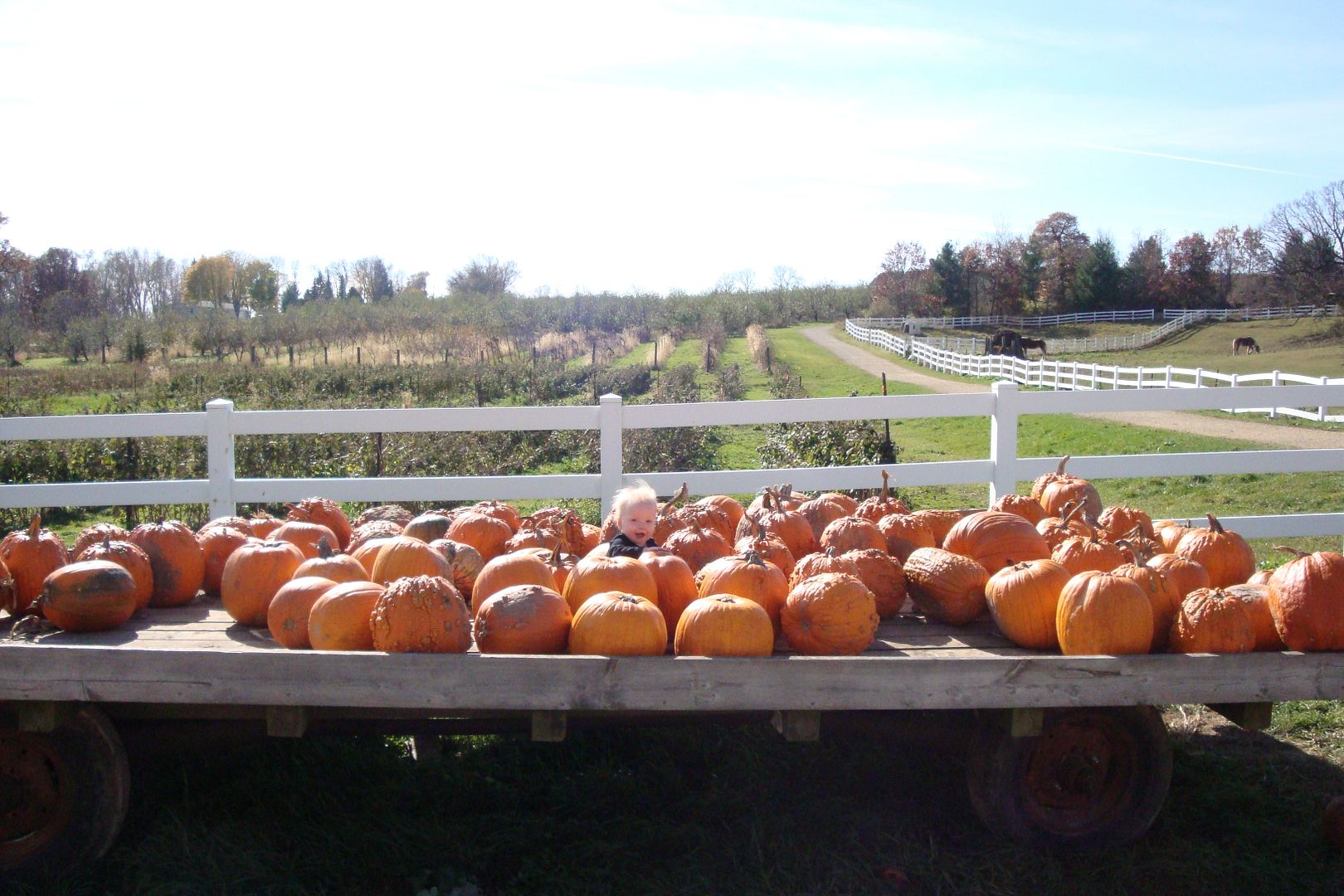 Can you spot our little pumpkin?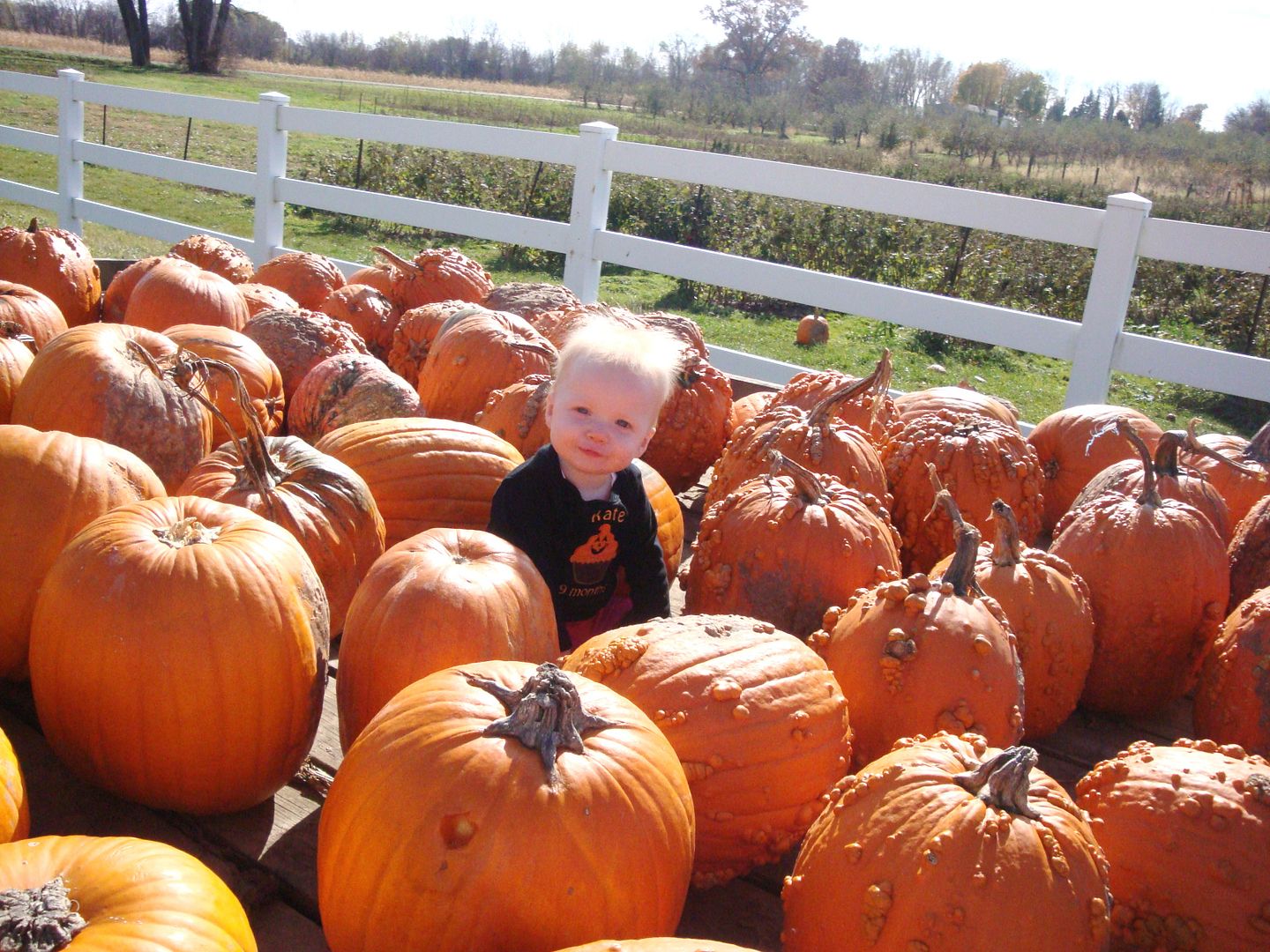 Additional Kate 9 Months Posts:
Things Loved in October
Prayers for Kate
Kate Update