We've got a full-time walker on our hands!
Kate took her first steps shortly after her first birthday, and since then she's really taken her time transitioning from scooting to walking as her preferred mode of mobility. I kind of love that about her–she's very careful and doesn't rush into things. Since those first steps, she's practiced her walking nearly every day in very small doses and for very short distances. We had no idea when she'd decide to go pro, but I had a feeling it would be soon, so about a month ago I got her infamous scoot on video and I'm so glad I did because it was one of the last times we saw it!
Now that she's mastered the art of walking, she apparently no longer needs us. I instinctively jump to her aid when it looks like she's about to trip over the rug or a toy as she smoothly walks from one end of the house to the other, and she looks back at me like, "Mom, please. Haven't you seen me practicing in three-feet-distances over the past two months? I've got this. Cool it." Or I pick her up to carry her from Point A to Point B and she wiggles out of my arms, her squeals insisting, "I can get there on my own THANKYOUVERYMUCH!"
See what I'm saying?
Walking = Who Needs Parents?
She's upstairs scouring the classifieds for an apartment to sublet as we speak.
Other Big Girl News this month is that we transitioned Kate from her highchair to a booster seat at our kitchen table. We should have done this sooner! It's so much fun to have her sitting up at the kitchen table, and it makes it much easier for us to eat together as a family. Now that she doesn't have a highchair tray in front of her, she is eating off a plate (and doing great at it!) and using a bowl without much assistance needed from us. We also introduced her to forks, and are giving her more opportunities to practice with her spoon. For the most part we still need to stab or scoop the food for her, but she's getting there!
Kate dropped her morning nap this month, and in response we moved her lunch and afternoon nap up a bit. She's made this adjustment really well–even the Daylight Savings time change didn't phase her! As for new vocabulary, Kate says "socks," "outside" (ou-siiiide), "hi" (to everyone at Target), "teeth," and "all done" (although really this is more like two grunts after her meals, along with the "all done" sign, but I understand it so I told her she can add it to her lease application).
Now, for some daycare news. I haven't blogged about this–or really, even talked much about this–because it's damn hard to do either when you're spending all your time snot-crying your face out.
(Deep breath)
Kate's been having a very difficult time at daycare since shortly after her first birthday. From the start, we looked for reasons in hopes to figure out a solution. Did our trip to Mexico in mid-January throw her off? Is she sick? Is she not getting enough support during the transitions? Is this related to her development? Her temperament?  Her schedule? The new kids at daycare? WHAT THE HELL IS GOING ON?!?
We tried everything we could to turn the situation around, and while at times it seemed like things were getting better, enough was enough. Kate was miserable. And when Kate's miserable, Mommy's devastated. And when Mommy's devastated, Daddy pours her a glass of wine and starts cold-calling new daycares.
We pulled Kate from her daycare shortly after she turned 14 months old, and although we had absolutely no idea what we were going to do next, I was 100% confident it was the right decision. The fact that I was finally able to make it through my day (or say the word "daycare") without bursting into tears were pretty good indicators we were on the right track. I got permission from my boss to stay home with Kate until we were able to find something new for her (again, how incredible is my boss?!), and thankfully Grandma Pam was able to come and watch Kate two days/week so I could still put in some office time.
After the stress and heartache we endured over the previous two months, I was adamant that we were only going to give this daycare thing one more shot, so we better take our time and choose wisely. I still valued Kate being in daycare three days/week for the social aspects it offered, but if Kate wasn't ready for that I was prepared to leave the job I loved to stay home with the child I loved far more.
It was a major crossroads, and something I spent a lot of time praying and thinking about. The conclusion I repeatedly came to was this:  When you make a decision that's in the best interests of your child, how can you go wrong?
A few weeks ago, G and I finally agreed on the daycare we were willing to try. It was, in nearly every sense, the exact opposite of Kate's first daycare: it was a center (versus in-home), fewer kids in her space, all the same age as her, and multiple adults available for when she needs some cuddles and 1:1 time.
I am overjoyed to say that Kate absolutely loves her new daycare! G and I were prepared for a rough start, but she did great from the very beginning. I did my first drop off the other day and Kate practically jumped from my arms and into the arms of the lead staff person in her room. Then I gave her kisses, said goodbye, and waited anxiously around the corner to make sure she was okay.
She was more than okay.
She was happy.
I walked to my car…sat down in my seat…and cried.  Only this time, finally, (thankfully!) they were tears of happiness and relief.  Anyone whose child has struggled with daycare know how heart-ripping it feels, and I am endlessly grateful that it's over.
Kate's Favorite Things:  Bunny,  books, bubbles, swinging at the park, her new bean bag (she loves to tackle it), her hand-me-down play kitchen (gotta love hand-me-downs!), her play dishes
, Elmo, Cheerios…and her new daycare! YAY!
Kate's Schedule
6:30am: Wake up
7:00am: Breakfast
8:30/9am: Morning snack
11:00am: Lunch
12:00pm: Nap (usually about 3 hours)
3:00pm: Afternoon snack
5:30pm: Dinner
6:30pm: Bedtime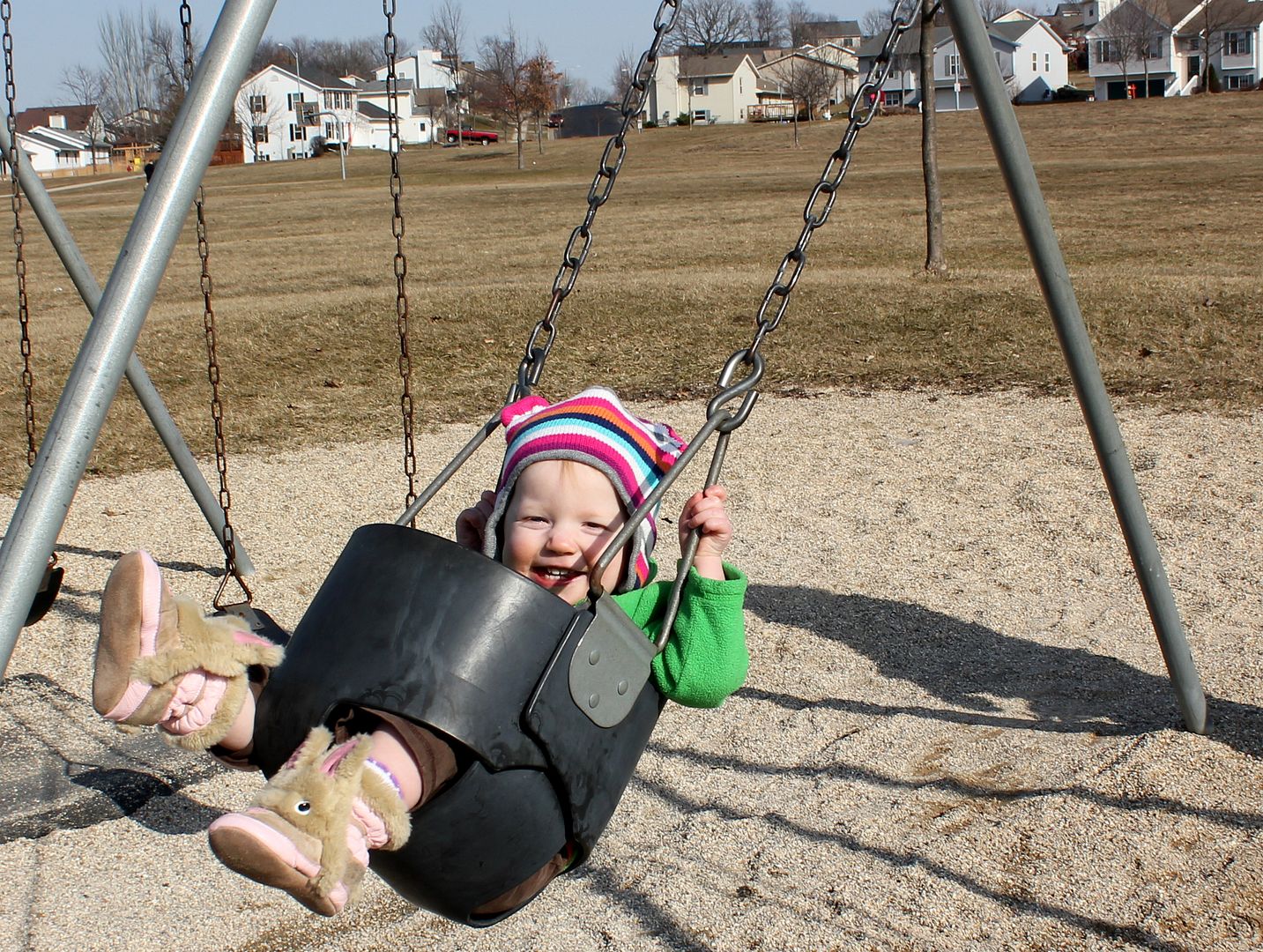 Kate: 14 Months