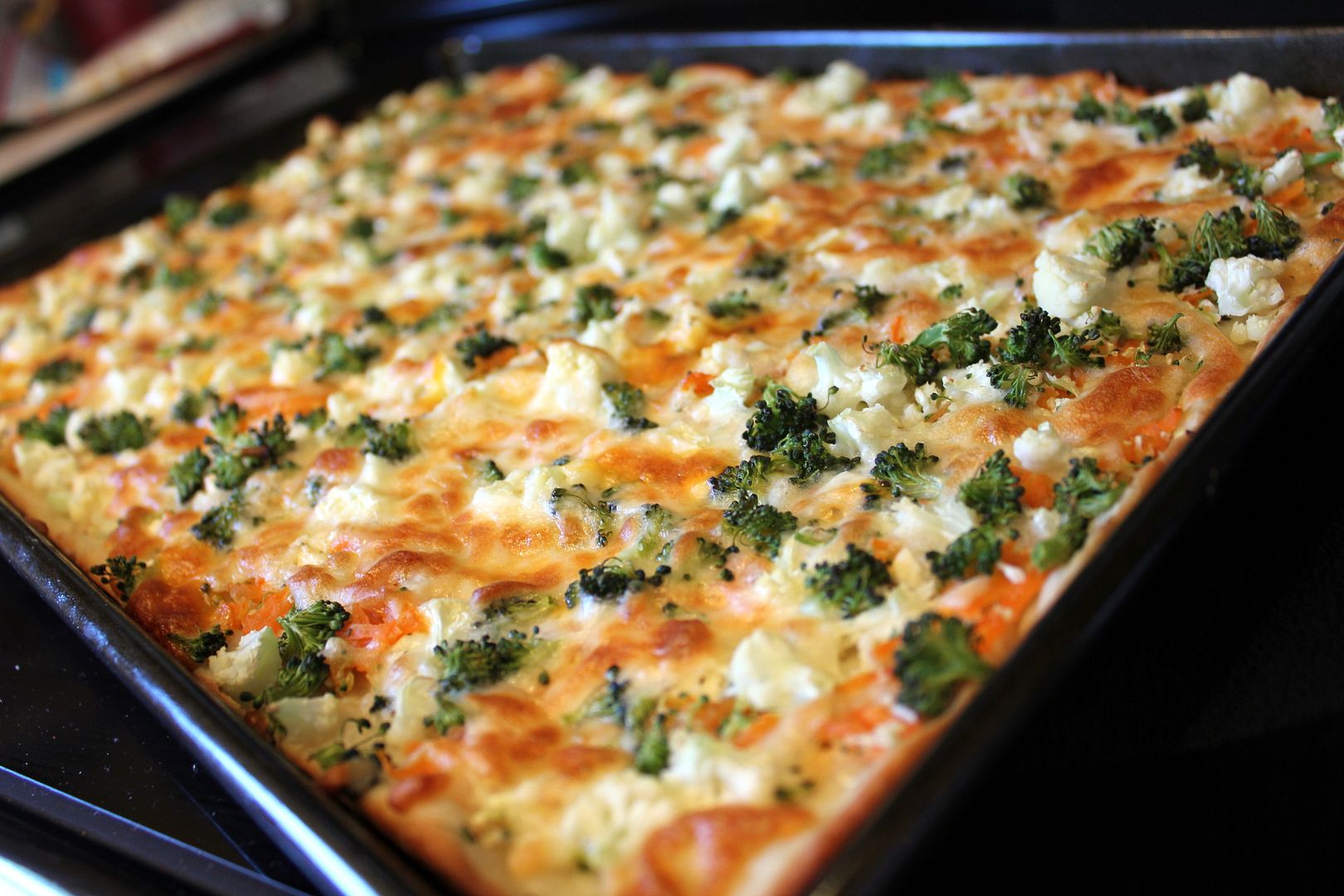 This veggie pizza recipe is compliments of my friend Jenna, and is one of Kate's favorite meals!  I usually make 2-3 pizzas at a time, bake them, cut after cooling, and then freeze leftover slices in freezer bags for quick meal options on our busy week nights.
Ingredients
Pizza Crust
Roasted Red Pepper Alfredo Sauce
Veggies
Shredded Cheese
Directions
Spread a pizza crust onto a cookie sheet/jellyroll pan (I use the just-add-water pizza crust mixes).  Spread a light layer of roasted red pepper alfredo sauce over the crust, top with your favorite vegetables and cheese, and bake according to the crust directions.
My Notes
You can use plain alfredo sauce if you want, but the red pepper alfredo gives it more flavor and surprisingly isn't too strong.
Once opened, the jar of alfredo sauce only keeps for a few days so if you're not going to use it for something else you can freeze it in an ice cube tray like you would pureed baby food, and then thaw the cubes later for future veggie pizzas.
Sometimes I add a little minced garlic over the sauce, and/or some feta cheese.  I've also used pesto as the sauce (instead of alfredo) and that's good too.
For veggies I typically use carrots, broccoli, and cauliflower.  To really load up on the vegetables in each bite, I take all of the carrots and about 2/3 of the broccoli and cauliflower, finely chop them with my food processor, and spread them over the sauce first.  Next I add the shredded cheese (usually mozzarella).  Lastly, I cut up the rest of the broccoli and cauliflower into small bite-sized pieces and put them on top.  They get nicely roasted this way, and I like Kate to be able to see what she's eating so she recognizes the vegetables when she sees them in other recipes.
Hope this veggie pizza is as big of a hit in your house as it is in mine!