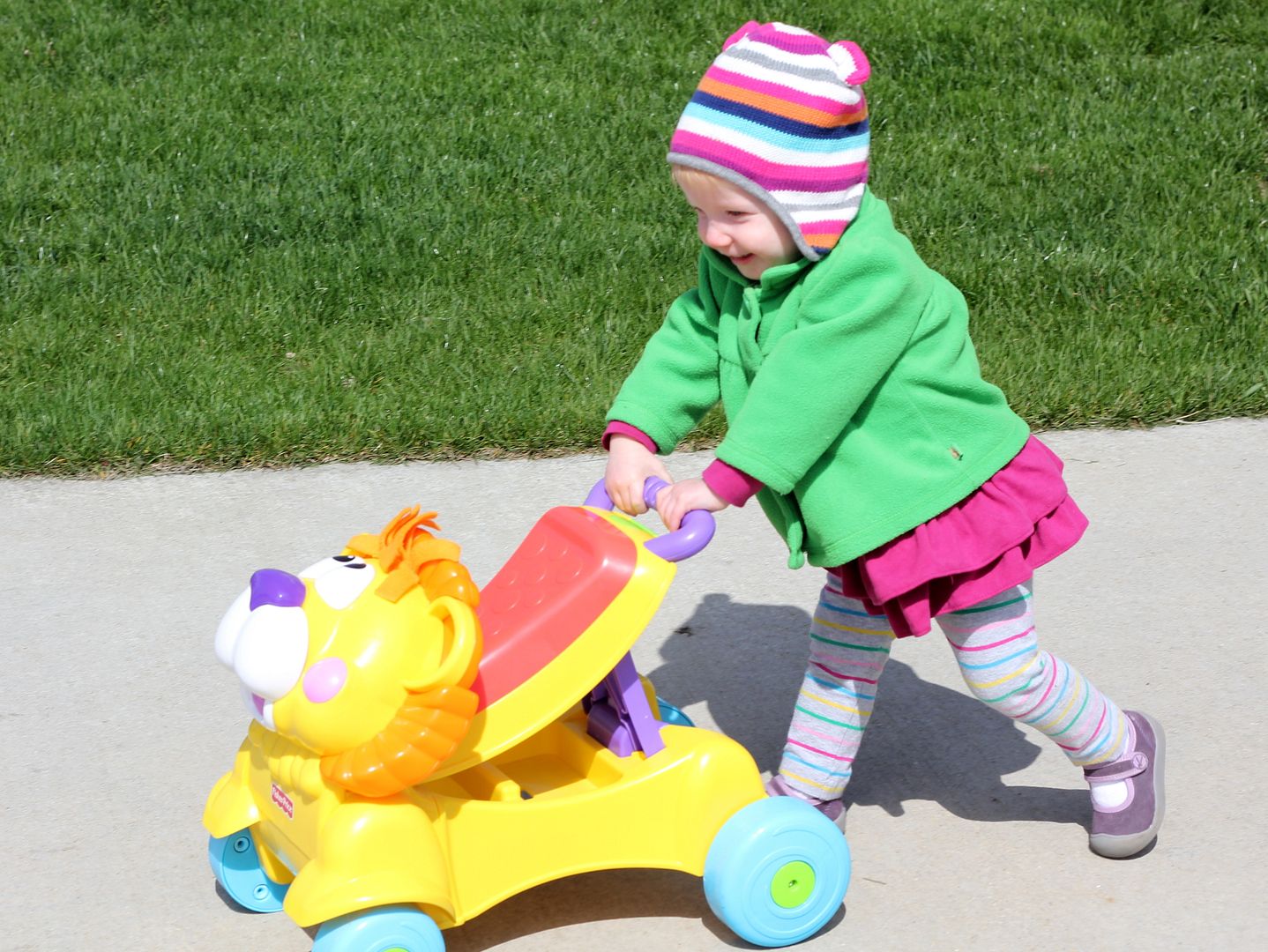 Kate: 15 Months…and always on the go!
If you didn't already know this, my first name is Dusty.
This is a little fact that Kate has discovered at 15 months old, and she has decided she prefers addressing me as "Dusty" instead of "Mama."
*sigh*
It begins.
What's really begun this month is bigger than Kate's realization that her mom goes by more names than just "Mama" (for the record, I also answer to "Sweetie," "Honey," "D," "Hooker," and "Queen D of the G&D Universe")—she is realizing and understanding everything and COMPLETELY BLOWING OUR MINDS.  G and I say things like, "Let's go upstairs" and she'll turn around and head for the stairs.  Or, "Let's take off your shoes" and she stops in her tracks, sits down, and starts taking off her shoes.  While undressing her I take her arms out of her sleeves and ask, "Can you show Mommy how you take off your shirt?" and she pulls it over her head and flings it to the ground*.
Like I said—mind-blowing!
I'm now to the point where I'm testing her, trying to catch her up on something.  The other day I thought of something she's never done, and I've never said, talked about, or asked her to do: "Kate, can you show Mommy how you open the closet door?"  She stared at me for about 2 second with this, "Really?  This is the best you can come up with??" look, and then walked over to the closet door (there were 3 doors in the room), stood on her tip-toes, grabbed the lever, pulled it down, opened the door, and then turned around and smugly looked at me like, "What else you got, Hooker?"
Uh…guess it's time to safety-proof those doors.
Other mind-blowing 15 months antics include Kate's memorization of her books.  She is beginning to say the words before we even turn the page!  One of her books has a page that reads, "What's that?" and just before we flip to it Kate exclaims, "Whassat?!"
She is such a little bookworm, and has also figured out that G can't say no to her when she brings him a book to read.  She'll bring him a book, curl up onto his lap, and when he's finished reading she marches right over to her bookshelf, grabs another one, and the process begins again.  Sometimes they go through all the books on the shelf in one sitting.  Not only does Daddy have endless patience, but he also does the different voices—he's the best!  Here's a video of her bringing a book to G, and then trying to decide if she wants to hang out for story time or not, little stinker:
Kate has expanded her book love at bedtime and she now brings a book into her crib with her when she lays down.  G and I love watching her on the video monitor flipping through pages and pretending to read to herself before she dozes off.  So cute!
Kate was really fighting her diaper changes this month—refusing to lie down or stay still for them—so I taped some magazine pictures of babies' faces underneath the shelf that's above her changing table so she can see them when she's lying down, and that did the trick!  She loves looking at "her babies" and waving to them, saying hi.  Before we even begin diaper changes I'll say, "Kate, let's go see what your babies are doing!" and she's so excited to check them out.  We even play peek-a-boo with them, which is one her FAVORITE things to do right now.  Peek-a-boo gets big laughs every time!
*She gets that from me…but enough about my freshman year of college.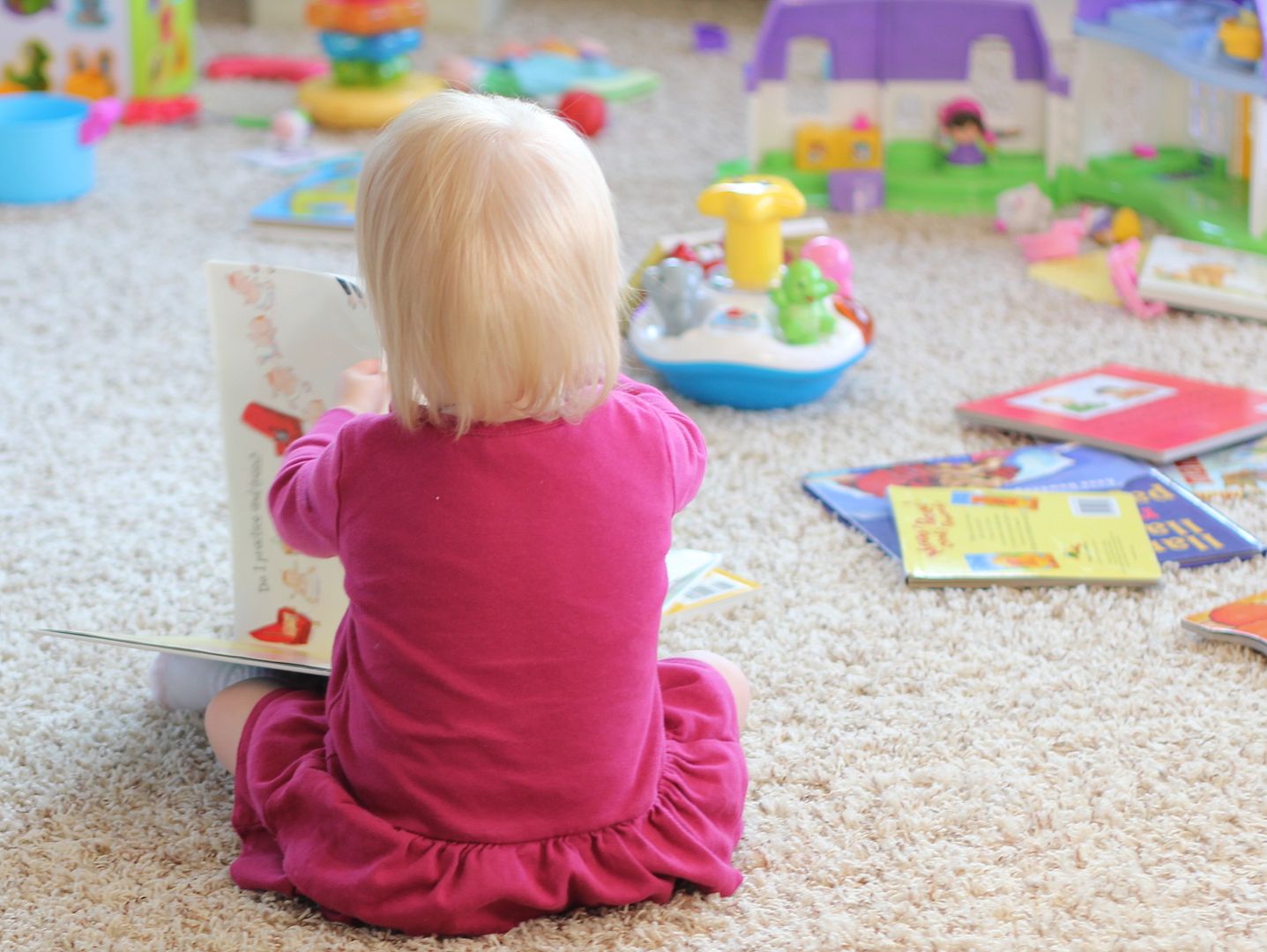 Additional Kate 15 Months Posts: 
Happy Easter!
That's What He Said