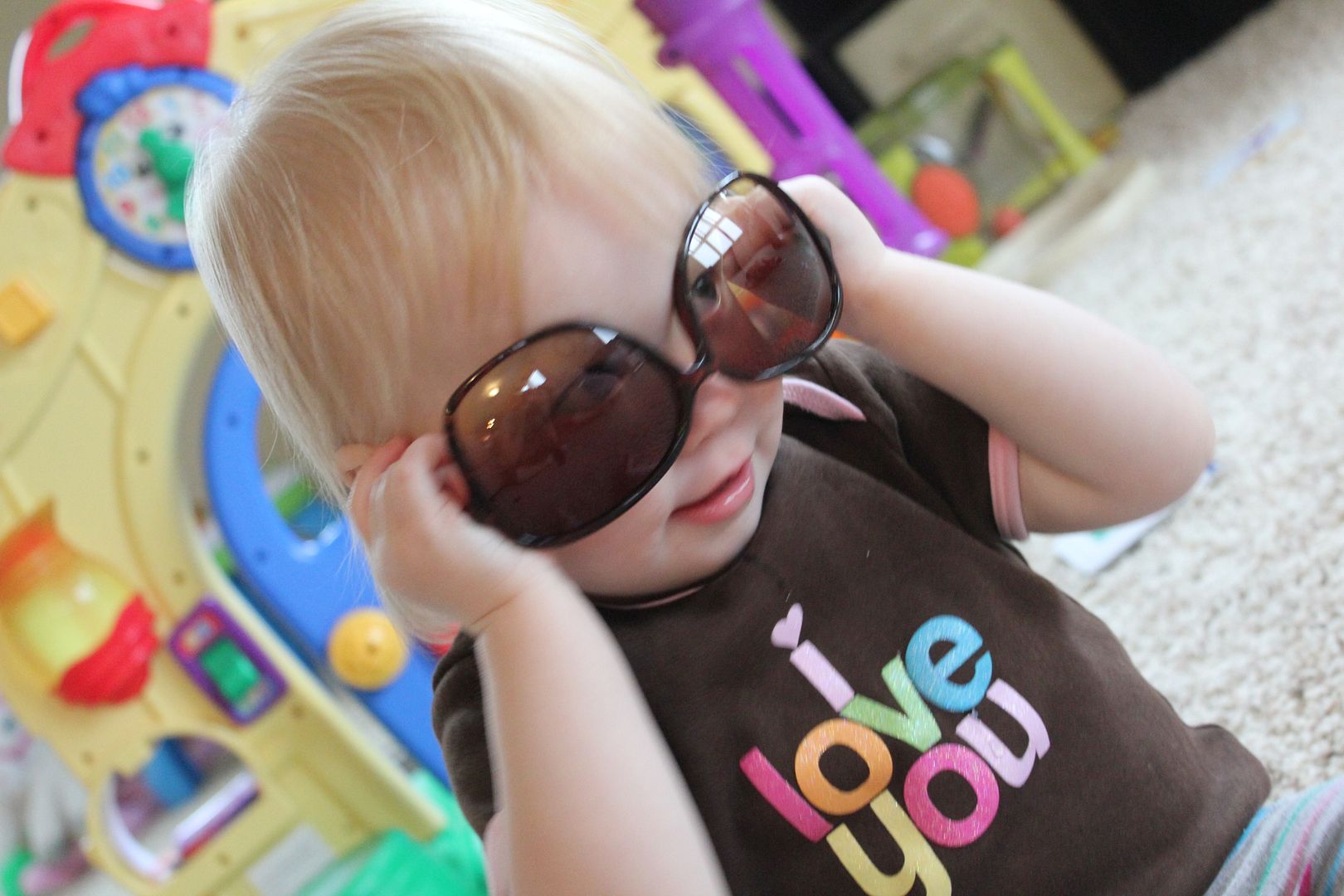 Kate: 16 Months
You know how I thought 15 months was mind blowing?  Well what's bigger than "mind blowing"?
Mind melting?  Mind exploding?!
Whatever it is, that's how I feel about observing Kate at 16 months old.  I'm pretty sure it's my favorite age so far!  (It's possible I say that every month, but dammit, I mean it.)
The biggest mind blowing, melting, exploding thing is that her vocabulary has skyrocketed!  She's gone from knowing a handful of words, to having the ability to kick my ass at Scrabble.  The following is a list of words Kate currently says.  Some of them are ones she's been saying for awhile–like "Mama" which was her first word (yeah that's right)–but most of them are new this month:
Kate's Words: 16 Months
Mama
Sit
Up
Elmo
All done
Bye-bye
Dusty
Ball
Teeth
Amen
Sun
Book
Cheese
Pants
Bubbles
Legs
Crayons
Goodnight
Umbrella
Socks
Drink
Dada
Outside
Yeah
Yay
Hi
Kate
Chalk
Eat
Cheese
No
Milk
Zebra
Please
Nana (for Banana)
Glasses
Eggs
Bunny
More
Grandpa
Puzzle
Pasta
I couldn't believe the "puzzle" one when I came home and Grandma Pam announced she could say it after they'd spent some time playing with puzzles, but sure enough, she could:
Most of the above words are said in response to us saying them first.  For example, at bedtime I'll ask, "Kate, would you like Mama to put some lotion on your legs?" and she'll pat her legs and say, "Legs."   Or I'll ask, "Do you want some cheese?" and she'll reply, "Cheese!"  She doesn't go around naming things on her own yet, but the girl can repeat almost anything*.  She's also just beginning to string words together.  We taught her how to ask politely when she wants to be picked up and now she says, "Up, please."  She also requests, "More please" at mealtime when she'd like more food.  My favorite is when she said, "Goodnight, sun!" as I closed her blinds at bedtime.
(You're "awww"-ing.  I can tell.)
Her memory is crazy good, and she has started saying the next words to books and songs like Twinkle Little Star and a fun little alphabet song we sing ("A is for apple, a-a-apple, B is for ball, b-b-ball…") before G or I say them.
I'm telling you—this is mind exploding, bending, twisting, melting stuff!!
Kate is also learning her animal sounds–and since I know you think I'm lying, here's the proof:
Sixteen months marked Kate's first skinned knee, followed quickly by her second skinned knee so she had a nice little matching set.  Going from walking on the soft surface of the grass to the solid surface of the sidewalk throws her for a loop.  She's stumbled a few times, so now when she's outside and sees there's a change in surface coming–the grass, the sidewalk, the crack and slight drop between the garage and the driveway, etc.–she gets down, crawls over it, and then stands back up and continues walking on her merry way.  I think this is her plan for preventing future skinned knees, and frankly, I think it's brilliant.
Speaking of knees, Kate also knows her body parts!  She can name and point to her belly, nose, eyes, ears, teeth, legs, etc.  She also loves naming your body parts, so if you're holding her be on guard for her to gouge your eyes out and proudly exclaim, "EYES!" or jam her grubby fingers in your mouth and gleefully announce, "TEETH! TEETH!"
It's her thing.
And, oh yes, how can I forget? Kate got both a new house
and new car
this month.  Her parents?  Neither of those things.
* Mama's really gotta start keeping those f-bombs in check.