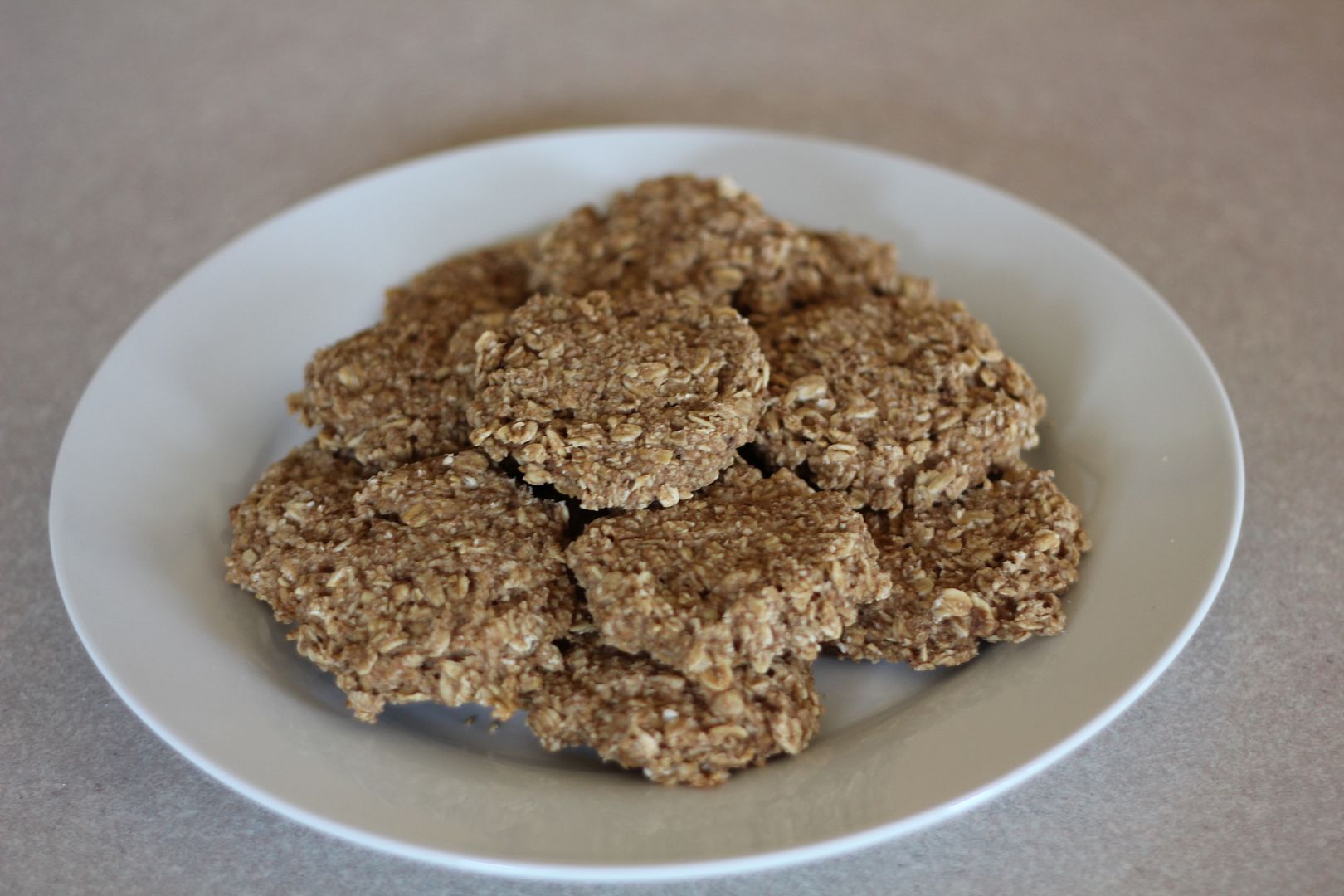 One of the first finger food recipes I made for Kate are these oatmeal banana drops–a recipe that I found (and slightly modified) on www.wholesomebabyfood.com under "teething biscuits."
This recipe caught my eye because it contains no egg or wheat–two things we had yet to introduce to Kate at the time.  These "cookies" were a favorite of hers from the start and they're my go-to recipe when I have overly ripe bananas on the counter about to go bad.  They're easy to toss into my bag for an on-the-go snack, make healthy (and cheap!) treats for daycare or playgroups, and they're freezer-friendly!
Ingredients
1 c. quick oats
1 c. ground oats (grind quick oats to make a course flour)
1/4 t. salt
1/4 t. cinnamon
1/4 t. ginger
1/4 t. nutmeg
1 t. baking powder
1 c. (about 2) overripe bananas, mashed with a fork
1 t. vanilla
1 T. oil (I use coconut oil, but any will do)
2 T. applesauce
Directions
Mix dry ingredients.  Mix wet ingredients.  Add wet to dry.  Drop by spoonful onto parchment paper or greased cookie sheet.  Bake at 350 degrees for 12-15 minutes.
My Notes
The original recipe calls for 3 T. oil (and no applesauce), but I thought the cookies were a little too oily.  I cut the oil to 1 T. and added 2 T. applesauce for a slightly different (and healthier) variation.  Feel free to play with the amount of oil and applesauce you prefer.
I spin 1 cup of quick oats in my food processor to make the 1 cup of ground oats.  Actually, I grind up several cups of oats at a time and store them in resealable snack bags so I have ground oats on hand for future recipes without having to dirty up my food processor each time:
Hope these cookies are a hit at your house!