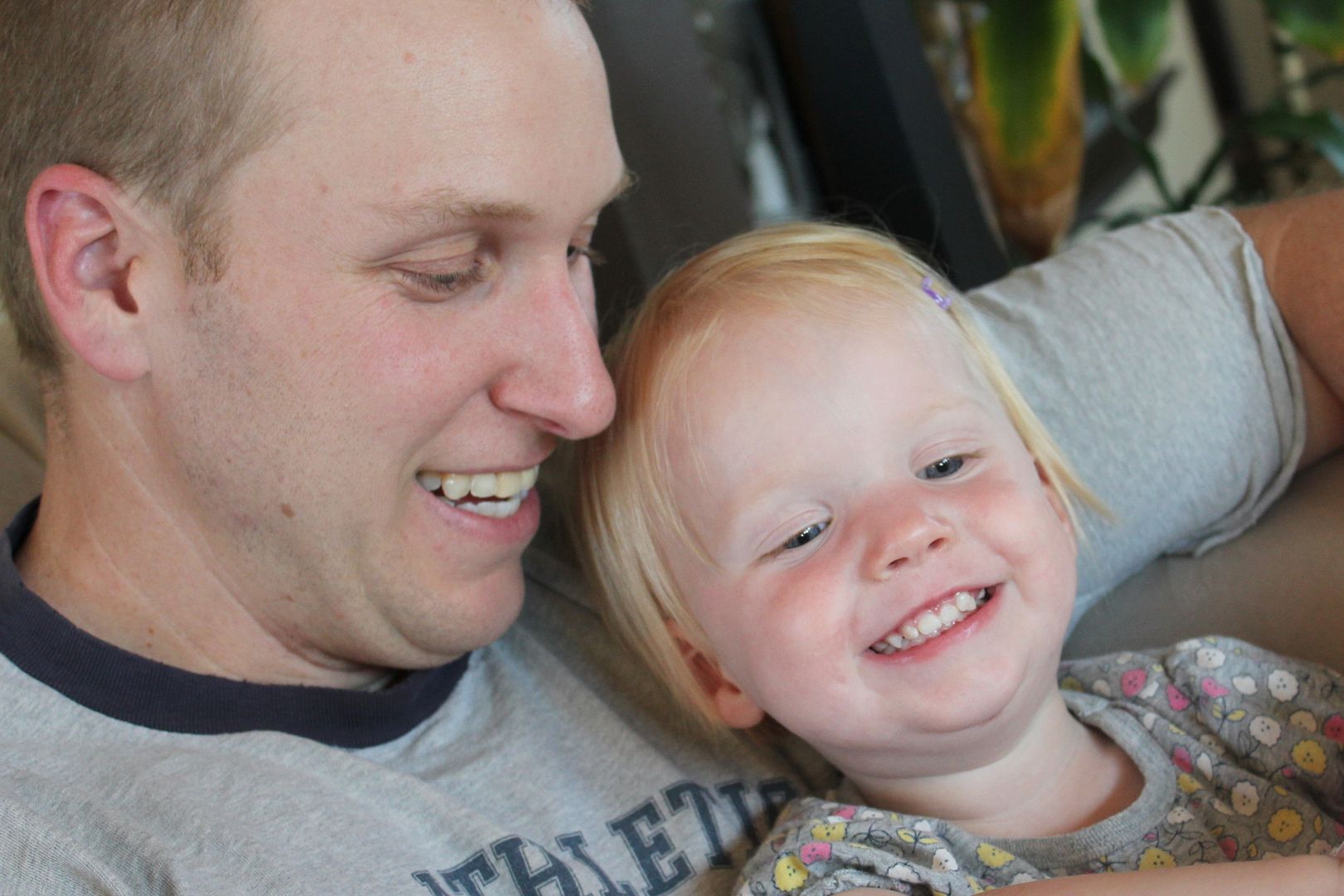 Kate (19 months) reading a book with Daddy.
We've been working on manners with Kate, and I think she's got them down!  She says "please" when asking for something, "thank you" when she receives it, "help" when she needs assistance with something, and "sorry" if she thinks she's harmed someone (usually one of her stuffed animals) in some way.  Since she was an infant we've been trying to teach manners by saying the words for her.  For example, I'd serve her meal and say, "Thank you, Mama."  Or she'd point for her milk (and later request "milk") and we'd clarify, "milk, please" as the proper way to ask.
"Please" was the first one she started saying, followed by "thank you" and "help" (such a helpful word to know!)  Kate saying "sorry" has been the most surprising to us as that's not something we've taught her to say!  It's not that we don't think the word is important; it's more that Kate has yet to display the kind of behaviors that we think require an apology.  So imagine my surprise when she was running around the living room one day, took a little tumble that landed her on her stuffed puppy, and she got up and said "sorry" to Puppy before going on her merry way.
What?!
I find this fascinating.  Not only did she pick up on the word "sorry" somewhere along the line, but she also understood the concept that you say it (unprompted!) when you think you may have wronged someone.
This blows my mind.
I know adults who haven't even mastered this one yet.
In additional Bragging About My Kid news, Kate can now count from 1-12!  She's been toying with the idea of counting for a while now and we'll often hear her counting a string of numbers like "1, 2, 3, 4" or "9, 10, 11, 12" but this month is the first time I've heard her put them all together from 1-12.She can also name a word for each letter of the alphabet!  We often sing
this phonics song
from a video my friend Saz made for us (only I often forget the words and make up my own, so instead of singing, "C is for cat" and "S is for sun" I sing, "C is for caterpillar" and "S is for sassafras."  Hey, whatever works).  Anyway, we sing this song so often—during diaper changes, on walks, etc.—that Kate can now name a word for every letter of the alphabet.  I give her the letter and she responds with the word.
Me:  A is for…
Kate:  Apple.
Me:  A-a-apple.  That's right!
Me:  B is for…
Kate:  Ball.
Me:  B-b-ball.  That's right!
Me:  C is for…
Kate:  Caterpillar.  (Which is my little victory, knowing she learns more from me than the video.)
We go through the entire alphabet…and then usually start all over again when Kate squeals, "Again! Again!" because she loves this little game so much.
On the talking front, Kate is putting simple sentences together, such as "Mom, sit please." And "Hi Bunny, how are you?"  One Saturday morning we were looking out the window at the rain and she said, "Rain, rain, go away, come again on Saturday."  This was something she heard Grandma Pam say on Tuesday (only Pam had said the actual saying which is, "Rain, rain, go away, come again another day.").  When Kate noticed—4 days later!—that it was raining again, she remembered the saying and tried repeating it.  I cannot get over that memory of hers!
We introduced play dough this month (what took me so long?!) and she loves it!  Another current favorite is plastic bottles with their caps.  I have discovered that an empty water bottle and its cap will keep Kate entertained through an entire morning of running errands.  She loves holding the bottle, crinkling it, pretending she's drinking from it, and trying to put the cap on and take it back off.  I love that she can find enjoyment in such simple things.
Remember when
Kate realized I answer to the name "Dusty"
in addition to "Mama"?  Well she finally realized that "Daddy" also answers to "Greg" and boy is she putting it to use!  Please excuse the horrible quality of this video (totally out of focus, grr!) but I just had to share it.  This is Kate calling for "Greg" and I find it absolutely hysterical!
Something else I find hilarious, is that Kate loves to run around and announce that she's a "naked baby!" after her bath. I finally caught her saying it (with a little prompting–she's camera shy!) on video before we put her pajamas on one night.
Another super fun month!