I recently finished my first half marathon and am now sufficiently recovered (and back to being lazy with time on my hands) so now's a good time to tell you all about it! For starters, my goal was to finish in two hours, and I did it in 1 hour and 56 minutes—woot!
Race day morning was a little rough. I was up and out the door on time, but it took me FOREVER to find a place to park! I thought I had given myself plenty of time to get my gear checked and get to the starting line, but that was definitely not the case. By the time I made it there I was fighting against thousands of people swarming toward the starting line while I was heading the opposite direction to get my gear checked! The National Anthem started playing before I even located Gear Check and I was stressed, stressed, STRESSED! Finally, I got my gear checked and started weaving my way through the crowd toward my starting corral. I thought I could finally breathe a sigh of relief, but then I turned on my GPS runner's watch that I use to keep track of my pace (super important!) and it was so overcast that it couldn't locate a signal. DAMMITALLTOHELL!!
Right about the time I'm taking a deep breath and resetting my expectations for my finishing time, a voice comes over the loudspeaker and announces that the start of the race is going to be delayed due to inclement weather headed our way. All runners should seek shelter immediately.
WHATTHEMOTHER?!
I decide to high-tail it back to Gear Check (which was in the Memorial Union on UW's campus, for all my locals) so I can at least get my phone and call G and Jill (my spectators) to let them know about the delay. I then spend the next hour and a half sitting on the floor of The Union next to a trashcan while me and thousands of other runners crammed into my personal space wait for word on if there's even going to be a race or not.
I'd spent months worrying about whether or not I was going to make it across that finish line—and now my biggest concern was just making it across the starting line!
An added concern was that I'd also spent the past three months training for a race that started at 7:00am. I planned all my long runs on Saturday mornings to start at 7:00am so I could test out different times, things, and amounts to eat prior to running to be properly fueled for the longer distances.
And now here I was—7:00am long gone—sitting next to a garbage can, glaring at the lightening outside, and starving my ass off. I finally decided to take my chances and inhaled a granola bar that I'd had the foresight to toss in my bag before leaving the house that morning.
Finally, an hour and a half later, they announced that the race was back on. I quick called G and Jill, re-checked my gear, headed to my starting corral, got a signal on my runner's watch (yay!), did a few jumps and stretches to wake up my legs…and then we were off! I ran the first 3 miles in the pouring rain, but then it cleared up and we had pretty good weather for the rest of the race.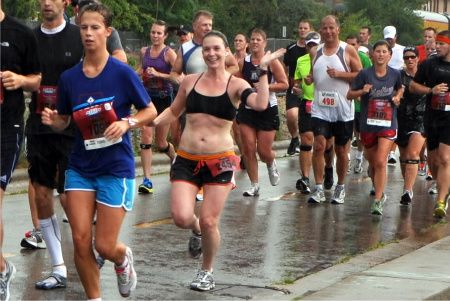 Mile 2. Soaking wet. Still raining.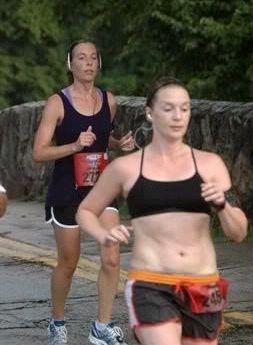 Mile 4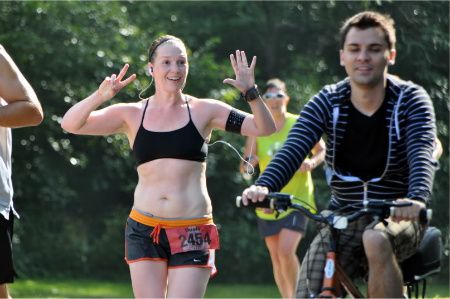 Mile 7
My friend Jill–almost 8 months pregnant!–jogged with me at the 7 mile mark (and later at the 9 mile mark) to give me a little pep talk.  How awesome is that?!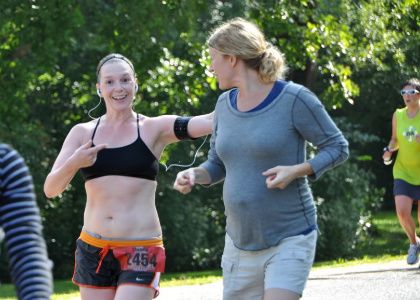 Rounding the corner at Mile 8, and my first sighting of G and Kate!  G and Kate (in her stroller) ran along side me for a little bit, too.  It was so much fun seeing them!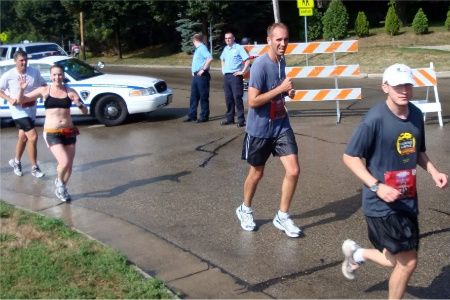 I kicked all these guys' asses.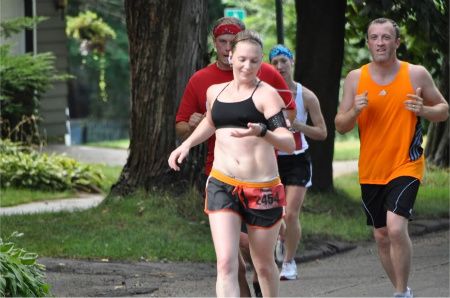 Checking my pace at Mile 9.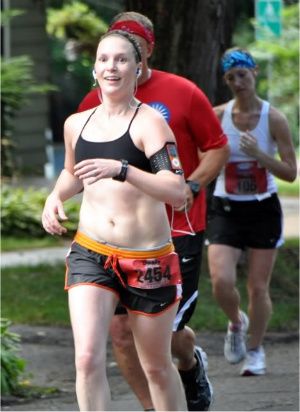 Still more than 3 miles to go?  Damn!

Crossing the finish line!
Once I saw that finish line I said to myself, "Okay, time to kick it up a notch!" and I tried to get my legs to go faster, but it was physically impossible. I didn't have any notches left!  I once heard that if you could sprint at the end of your race it meant you didn't give it your all because you still had some gas left in the tank. It was pretty clear I was running on fumes at the end, and that's how I KNOW I honestly gave it my all.  Such an incredible feeling!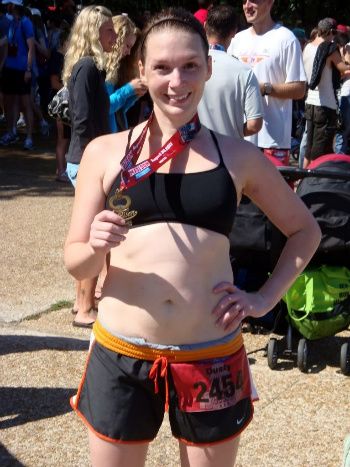 Me and my beloved finisher's medal…which doubles as a beer bottle opener.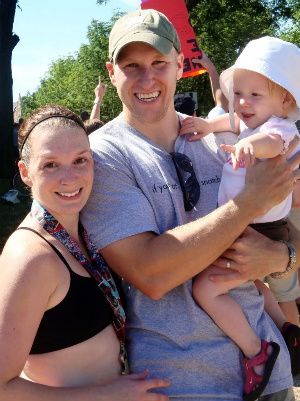 My fans!  G and Kate were at the finish line to cheer me on!


My friend Jill, her husband Shane, and their son Brady also braved the weather!
Jill and Shane are THE BEST spectators anyone could ask for!  They popped up at four different points during the race (it was like "Where's Waldo?") to cheer me on, and even joined me afterwards for a celebratory beer!
Even though the morning got off to a rough start, it ended up being an amazing day!  After one failed attempt, I had finally completed my first half marathon and the accomplishment felt amazing.  My running felt so strong the entire race and I could tell my training had really paid off. Knowing that all that hard work paid off and that I gave that race my all…it was such an incredible feeling.  I can't even describe it.
Which leads me to my training.  Many of you have asked what kind of training program I used, and the answer is I created my own schedule based heavily on Hal Higdon's half marathon training programs.  I did a mix between his novice and intermediate training programs, and tailored it to incorporate two BodyPump classes at the gym per week (my favorite strength-training class).  You can see my actual training schedule below (click to enlarge) as well as adjustments that I made as I went.  I think it worked really well for me and I'll probably follow it again for my next half marathon.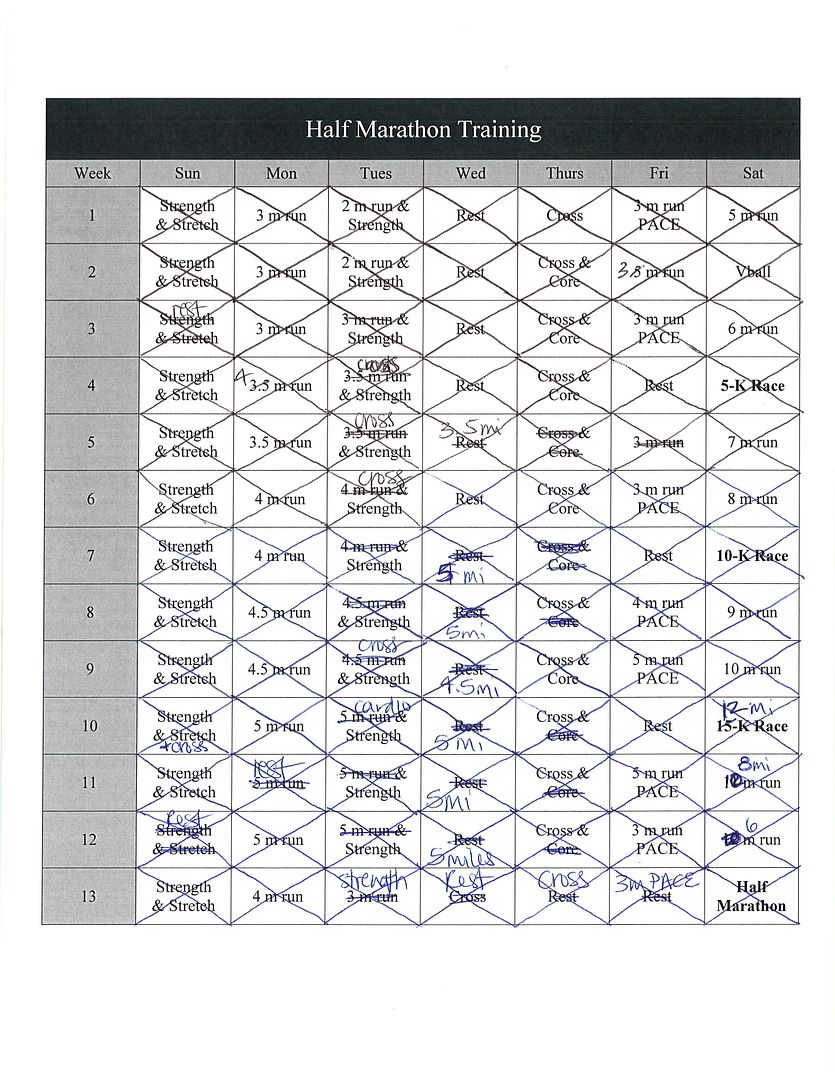 My half marathon training schedule (click to enlarge).
 Another popular question is when I found the time to train.  This was definitely a challenge as training was a HUGE time commitment. Before I even started I had to make sure I had G's support, because I knew he'd have to pick up a lot of the slack I'd leave behind. On weekdays I stuck with my normal routine for most of the day, and then did my training after Kate went to bed at 7pm.  Then I'd shower and have a handful of minutes to do something else (usually prepare our food for the next day) before my bedtime. I did my long runs (the most time consuming training day of the week) on Saturday mornings.  From May to August there was pretty much no room left in my life for anything other than G and Kate, work, training, Jerseylicious, and cooking the occasional meal. G did nearly all of the cleaning and laundry during this time because I just didn't have the time to help out.  I certainly couldn't have done it without his support, and I was so grateful to have it!
I'll end with a breakdown of my splits for those who are interested:
Mile 1:    9:02
Mile 2:    8:47
Mile 3:    8:51
Mile 4:    8:49
Mile 5:    8:50
Mile 6:    8:52
Mile 7:    9:02
Mile 8:    8:36
Mile 9:    8:58
Mile 10:  9:10
Mile 11:  8:37
Mile 12:  8:40
Mile 13:  8:24
By my watch I finished 13.1 miles at 1 hour 55 minutes and the course was an extra 1/10th of a mile long (other runners with GPS watches reported the same), however my official chip finish time was 1 hour 56 minutes. 
I'd love to hear how your training/experience compares!  And, as always, feel free to let me know if you have any other questions!