You may recall about a year ago when I revealed that I sold my beloved dining room table (because God told me to).  That decision took our great room from its former living room/formal dining room combination to one large family room with tons of wide open space for Kate to play–a decision I've never once regretted!
Before my little Eat Pray Love epiphany, our living room was confined to the space in front of the arch, and our formal dining room lived in the space behind it.  While I was happy to sell my dining room table…I wasn't quite as eager to say goodbye to the linear chandelier that hung above it.  I love that thing and was convinced I could make it work in the space.  To do so–and to reach my overall goal of having a lot of wide open space for Kate to play–I pushed the loveseat all the way back to the chandelier and added a console table behind it.  This well-lit seating area now makes the perfect little spot for storytime!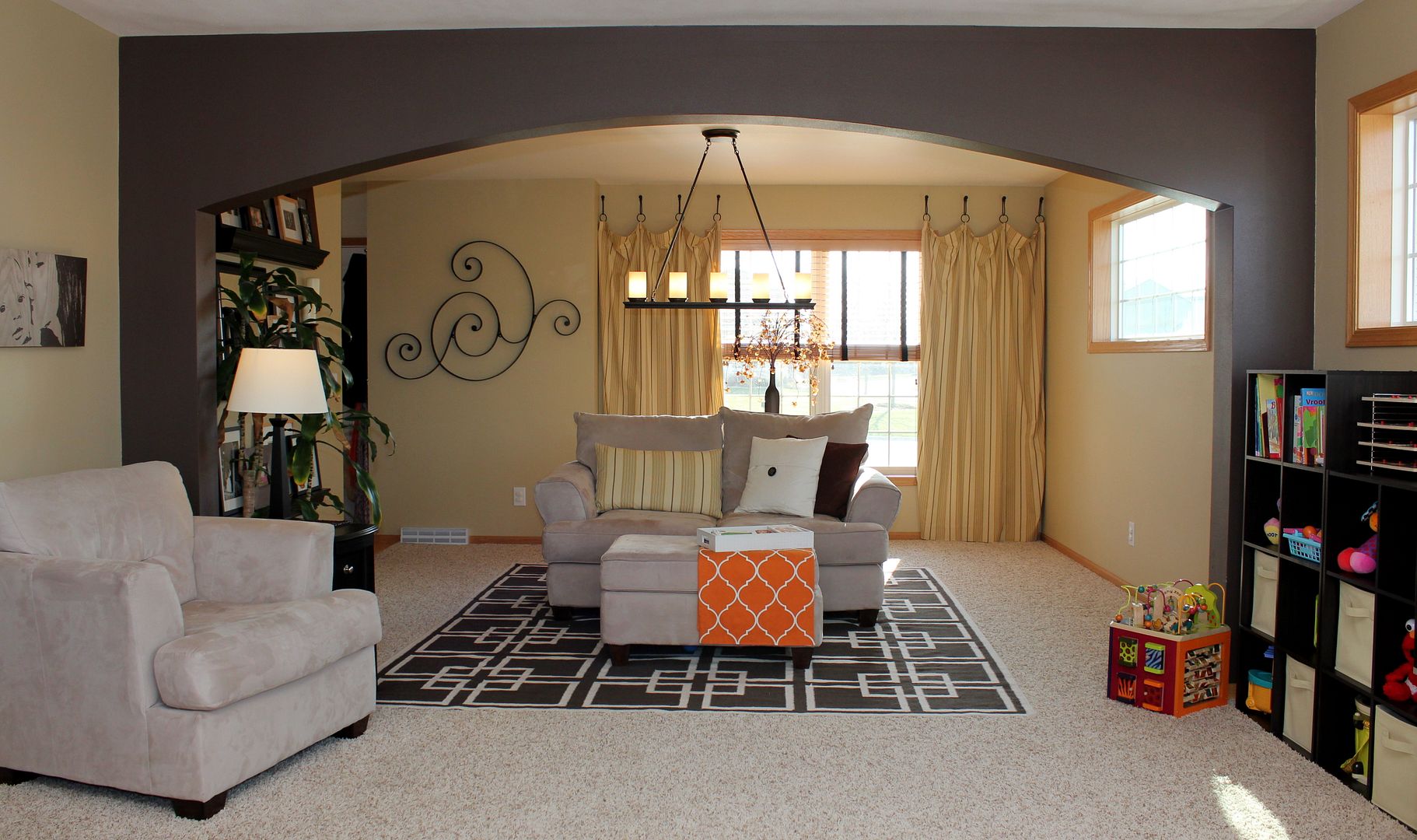 Our family room today (click to enlarge).
Baskets under the console table hold blankets for the whole family…and yes, that includes baby blankets for Elmo, too.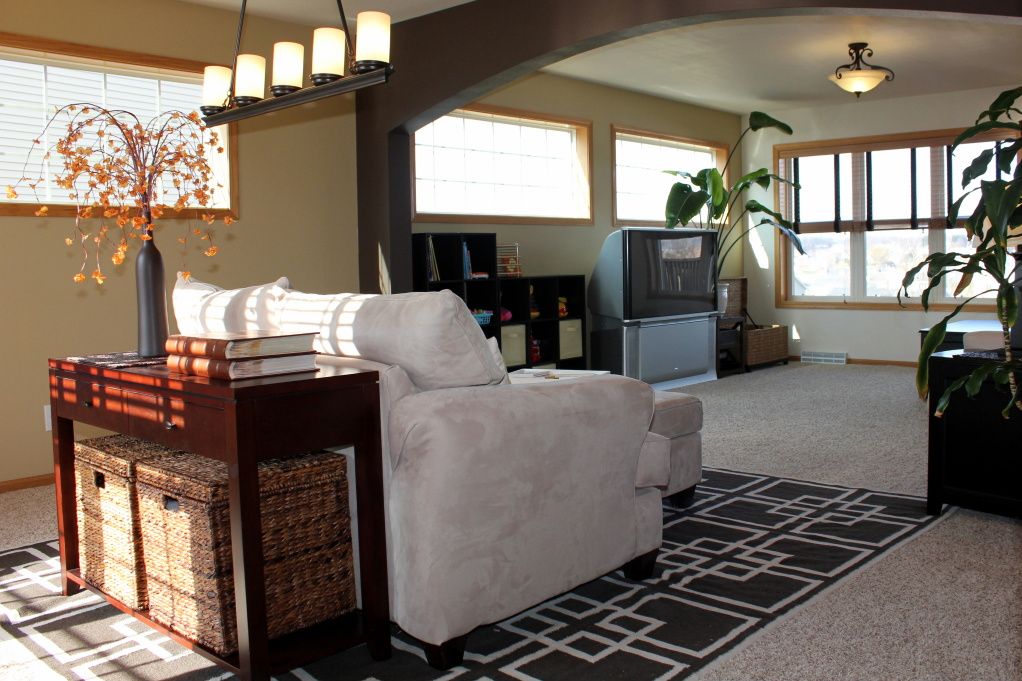 So long formal dining room, hello reading spot and wide open spaces! (click to enlarge)
This orange table runner is not only my favorite color, it's also a $6 steal from Pottery Barn!  Folded in half and draped over the ottoman, it adds a fun pop of color to the space–and hides stains!  (Which are inevitable, I'm telling you.)  A tray full of Kate's favorite books sits on top of the ottoman at the perfect height for her to grab.
A new chair filled the space to the left and added extra seating.  Hanging above the chair is one of my favorite photographs of me and Kate, transformed into a beloved piece of artwork by Modern Bird.  That 12×24″ slab of wood is easily the most talked about and admired piece by guests in our home!
I kept the floor-to-ceiling photo gallery wall from our former dining room intact, mainly because I put a lot of work into it and didn't want to take it down and patch the holes, but also because it's really our only spot to display family photos.  While the rest of our house is very kid-friendly, I decided it wasn't necessarily a bad idea to teach Kate that occasionally some things are off limits.  We used the photo wall to teach her "no touch"–something she needs to understand when we're at other people's homes and there are things she shouldn't touch.  She quickly understood that she can look at the photos on the wall…but "no touch."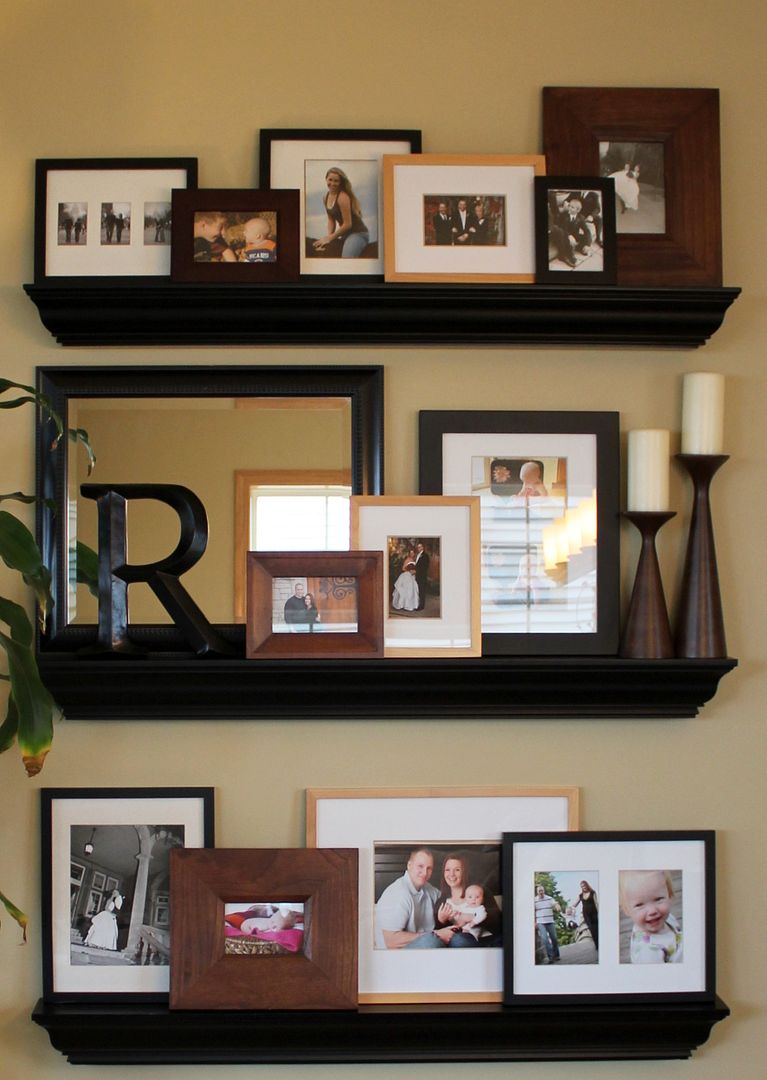 A mix of frame finishes, and black & white and color photos.  See, you really can mix it up!
The couch (facing the TV, of course) finishes out seating for the space:
The hardest working wall in the house!  Kate's toybox (far right), G's ginormous TV, and the only other piece of new furniture we bought for the space–storage cubes from Target to hold even more of Kate's toys and keep them easily accessible for her.  And of course, lots of wide-open space in front for playing!
Some of Kate's most beloved things:  books, puzzles, a ModTots birdie plaque (okay, that one might be mine), her Laugh & Learn Puppy, blocks and cubes, Baby Tickle Elmo, her favorite Alpha-books, B. drum & music set, and fabric bins filled with balls, Little People animals to go along with her Noah's Ark, and her B. Zany Zoo activity cube.
And there you have it–our randomly stained, rarely picked-up updated, kid-friendly family room!