Check out this post to see Kate's Sesame Street birthday party in its entirety!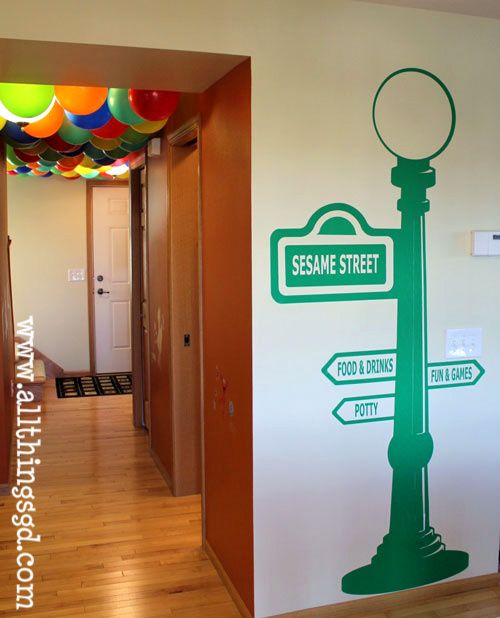 Kate's Sesame Street Birthday Party!
Interested in all the behind the scenes details about Kate's Sesame Street birthday party?  Then this post is for you!
The party planning began with searching Pinterest for Elmo birthday party ideas (I'm resourceful like that) and then jotting my ideas down on good old pen and paper (I'm old school like that).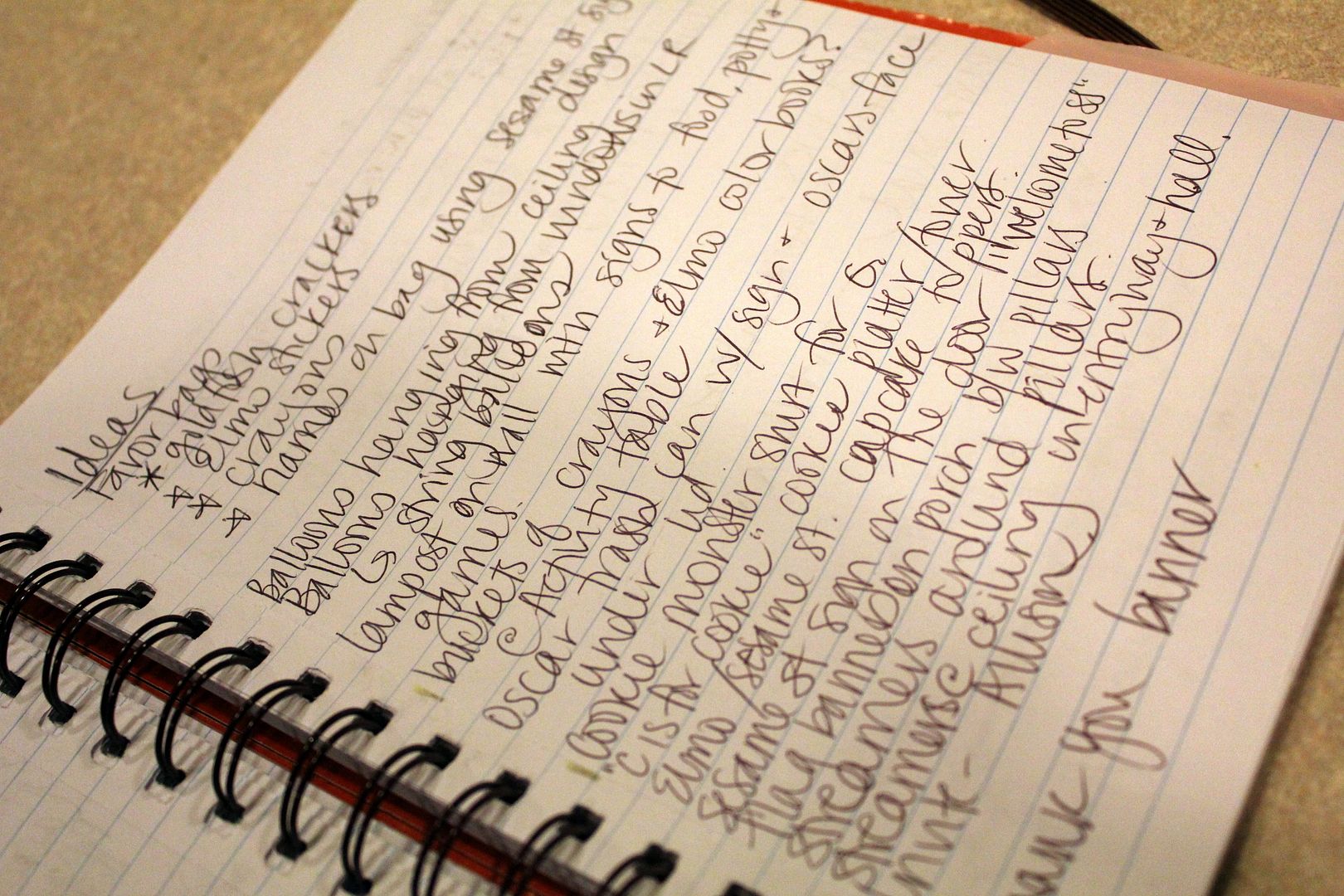 As I've said before, when it comes to party planning, one idea sparks the next, and then the next…and before I knew it, Kate's Elmo-themed party had turned into a Sesame Street-themed party!
Balloons
I got the idea to hang balloons from the ceiling from Pinterest, and took it to the next level by blanketing our ceiling with them.  Although it was time consuming (it took about 5 hours for me to hang just the entryway balloons–not counting all the time G and his buddies spent blowing them up), it was a great way to have a big and colorful impact.  Balloons also hung from the ceiling over the kitchen island and in our living room windows.  The grand total came to over 130 hanging balloons–so fun!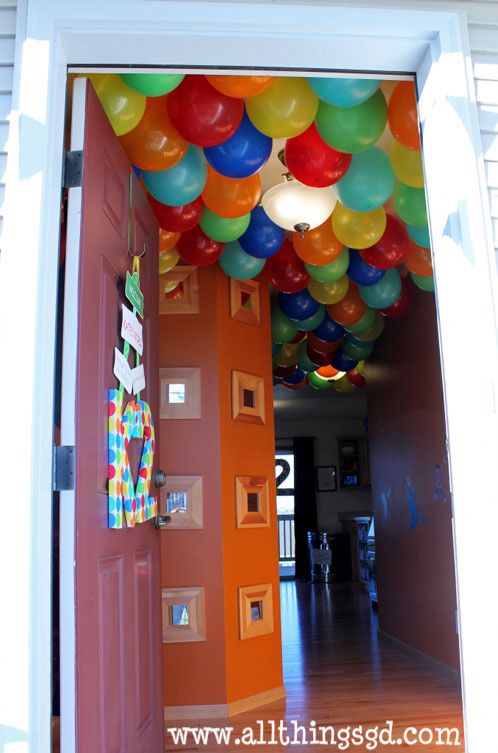 130 balloons!
I hung each balloon from the ceiling individually using fishing line and miniature 3M Command hooks:

A ceiling-level view (click to enlarge).
Sesame Street Birthday Party Lamp Post
The 7′ tall Sesame Street lamp post wall decal is an idea that came as a result of me doing nothing but eating, sleeping, and breathing Kate's birthday party once I get into party planning mode.  I like to call it "My Crazy" and will often joke with G that "I'm in a manic stage" during this time.  Others may label it "BSC."  Whatever.  I own it.  Here's just a sampling of my manic thought process that led to the lamp post idea:
We can't have a Sesame Street birthday party without a lamp post. 
How does one find a Sesame Street lamp post?
Is there an actual "Sesame Street" I can just steal one from?
Oh, these little 3′ ones on Etsy are cute…
Wait!  We should get a life-sized one!  HELL YES!!
But where to put it?  There's no room inside.
Where?  Where…where…where?
How about a flat one on that wall?!  Oh snap!
With directional signs to the food and games!
AND THE POTTY!!
Yes.  This must happen.  Surely someone makes this.
F*#&.  No one makes this.
My brilliant artist friend Allison could paint one right on the wall! 
…But she lives 5 hours away.
…And I'd have to paint over it afterwards.
Hmm…that's not unreasonable at all. 
Let's call that Plan B.  I'll put Allison on standby.
It is due to the plain and simple fact that my friend Allison is one of the busiest people I know, that My Crazy didn't immediately jump to this solution and call it a day.  Instead, I started emailing wall decal companies with my idea in hopes that someone could create what I was looking for.  Wall Slicks (the company that also made the tree in Kate's room) was my winner.  They were so great to work with and I am thrilled with how the lamp post turned out!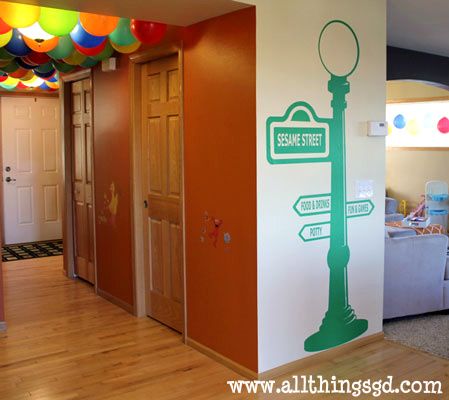 Water Bottle Labels
I made these water bottle labels by printing polka dot designs out on 8.5×11″ paper, cutting them to size, securing them in the back with double-stick tape, and adding a Sesame Street character sticker to the front.  Easy peasy!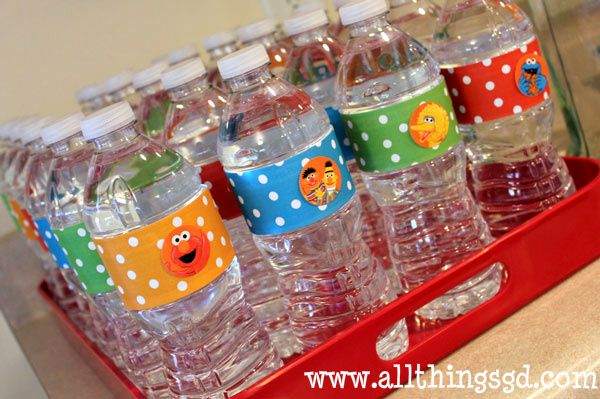 Personalized Cups
My idea for the kids' lemonade cups originated from me being a bit of a germaphobe.  I printed out "This cup belongs to: ______________" labels on name tag stickers and added Sesame Street character stickers to the upper corner for an additional way to help kids to recognize their cups.
Elmo loves his crayons, and they were the perfect kid-friendly tool for writing on the labels.
Favor Bags
I made these favor bag toppers inspired by the Sesame Street sign in Microsoft Publisher (a rounded green rectangle with a yellow outline centered over a green oval with a yellow outline; add text), and printed them off on cardstock.  I cut around the sides and bottom of the rounded rectangle with scissors, and then used an exacto knife to trim around just the oval line on top.  Then I folded the rest of the paper at the top of the rectangle, so that the label is like a little tent that goes over the bag, with the oval top standing up.  I closed the favor bags with one staple in the center and secured the tent on top of the bag using double-stick tape, one piece on each side.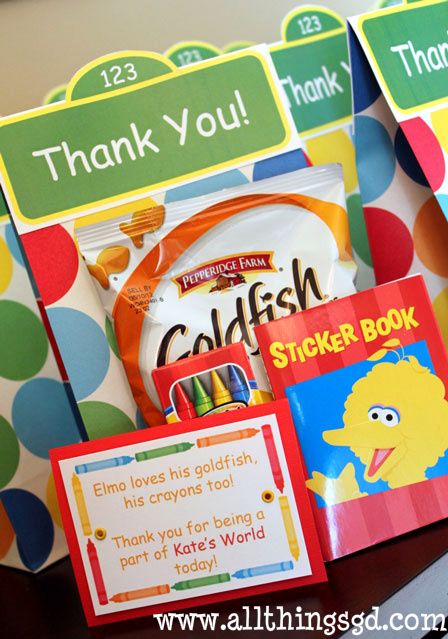 Cupcake Tower
I made this cupcake tower out of cardboard cake circles, soup cans, ribbon, wrapping paper and hot glue, thanks to a tutorial from Annie's Eats: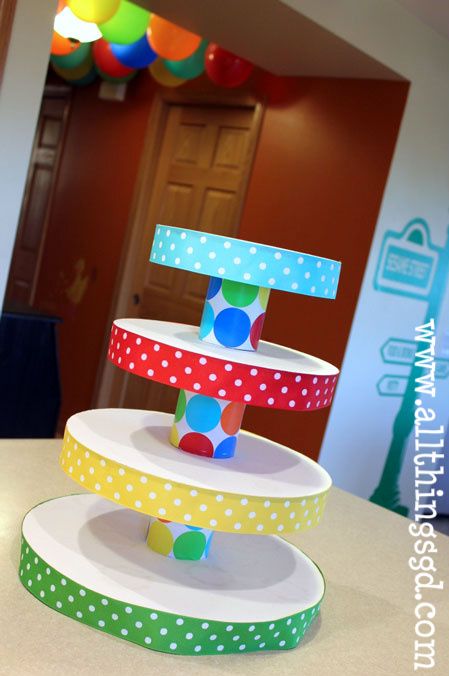 Additional Sesame Street Birthday Party Touches
Ribbon around the chandelier shades were secured with double-stick tape: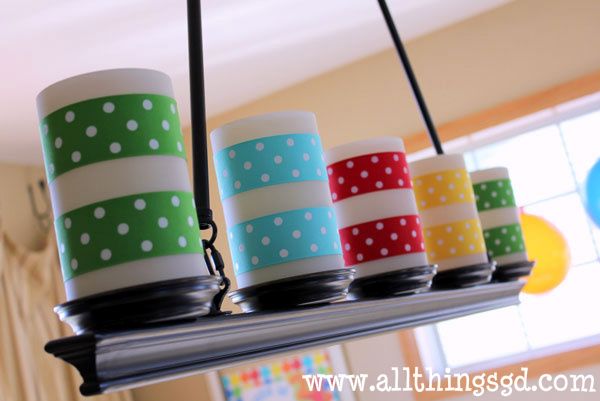 I cut this large "K" and "2" (and the smaller "K" and "2" that I used for the front door sign) out of thick styrofoam that was part of the packaging from when Kate's activity table arrived, and wrapped them in colorful dot wrapping paper.  You don't see them in many of the pictures from Kate's party, but they hung from the patio doors in the kitchen and looked great!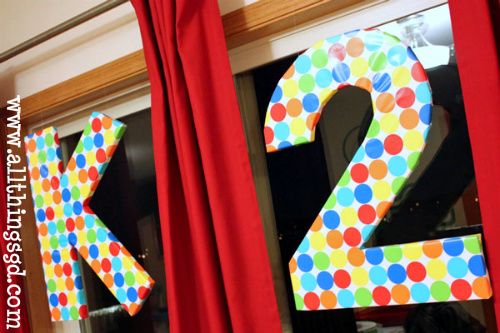 I used Sesame Street toys Kate already had as additional party decorations, like her chattering Cookie Monster toy for the cookie tower: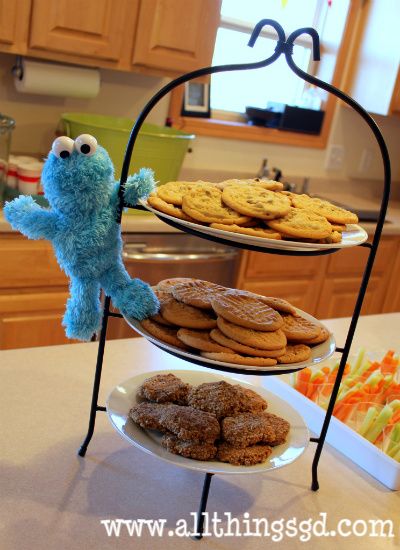 It was by sheer luck that Kate's favorite Sesame Street character, Elmo, was the character associated with the number 2 on these coloring sheets (found at SesameStreet.org) that we used at the kids' activity table.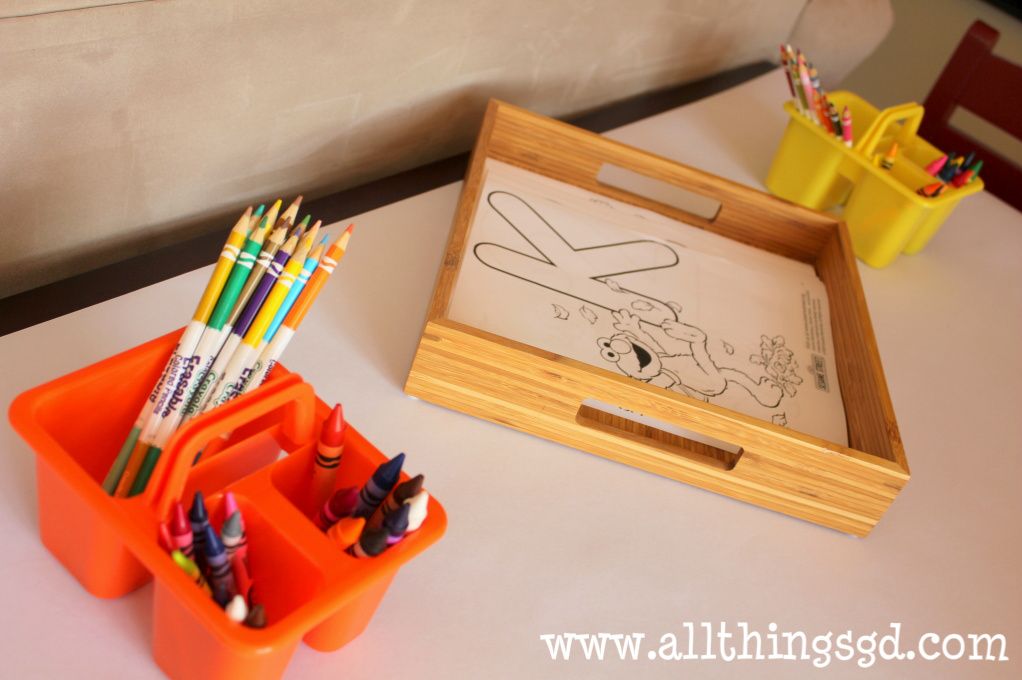 I planned, decorated, baked, and cooked for Kate's party all in the span of two weeks…which is an improvement from the one week I gave myself last year! Maybe next year I'll start a little earlier in hopes that it'll keep My Crazy in check.  We'll see!
Sesame Street Birthday Party Supplies & Shopping List
Invitation:  Made by my talented friend Allison
Bunting, hung from the front porch, favor table, kitchen sink:  Target
Dot wrapping paper:  Target
Dot favor bags:  Target
Balloons: Party City
Sesame Street lamp post wall decal:  WallSlicks.com
Sesame Street wall decals: Target (also sold on Amazon)
Polka dot ribbon:  JoAnn Fabrics
Polka dot tablecloth: Target
Dot placemats: Target
G's Cookie Monster shirt:  Wal-Mart
My Sesame Street shirt: 80stees.com
Kate's personalized Elmo shirt:  Made by my talented friend Kent
Oscar's trash can: Menards
Crayon caddys on the activity table:  Target (Dollar Spot)
Stickers: Target, Wal-Mart, Hobby Lobby
Mini fishbowl for Goldfish crackers: Party City
Food
Mini Pigs in a Blanket
Ham & Cheese Spirals (a variation of this recipe)
Pizza Bites with Marinara Sauce
Pasta Salad
Fruit & Yogurt Platter
Veggie Cups
Homemade Granola Bars
Goldfish Crackers
Sun Chips
Pretzels
Desserts
Cupcakes
Cake Pops
Chocolate Chip Cookies
Peanut Butter Cookies
Kate's Oatmeal Banana Drops
Drinks
Lemonade
Bottled Water
Beer & Wine
I think that covers it all, but if there are any lingering questions feel free to let me know!
Want to see more?  Check out Kate's Sesame Street 2nd birthday party in its entirety!  Want to recreate our party for your little one?  Check out my FREE Sesame Street Birthday Party Printables!