Two weekends ago I made a trip to Louisiana with a handful of my girlfriends* to surprise our friend Natalie–the most beautiful person I know, both inside and out.  Natalie is currently pregnant with her second child (29 weeks) and our plan was to show up on her doorstep and help her get the nursery ready! 
Bourbon Street, however, had other plans for us…
Natalie was expecting two house guests for the weekend–Beth from Alabama and Kent from Georgia, who arrived at Natalie's house (about an hour from New Orleans) on Friday afternoon, but the rest of us were a surprise.  While Beth and Kent were enjoying a leisurely road trip across the southern United States, my friend Allison (in Minneapolis, MN) and I were stuck in our respective cities' airports cursing the snowstorm that decided to hit the Midwest that day, and crossing our fingers that our planes would still take off.  After nearly two hours of sitting in my aisle seat and not being even 50 yards closer to New Orleans, our pilot finally announced we were cleared for take-off.  They just needed to de-ice the plane first which should only take another 20-30 minutes.  (It's right around this time that you start questioning what you're wishing for.)  After the de-icing, we were finally off!
Allison had similar delays at her airport, so by the time we had both landed in New Orleans, Natalie, her husband Joe, Beth, and Kent had already drove into the city for dinner.  Allison and I picked up our rental car and headed to the French Quarter to meet our friends and give Natalie a surprise so big we hoped it wouldn't send her into labor! 
Here's video of Allison and I walking into the restaurant and right up to Natalie's table:
Can you imagine being out for dinner and in walk your girlfriends from across the country? It was such a fun surprise!! Even Nat's husband, Joe, was caught by surprise!
Shortly afterwards, our friend Aly arrived from Florida, surprising Nat yet again!
If you recall, the whole reason we were all there was to help Nat get the baby's nursery ready…but of course we were so close to Bourbon Street that someone (not me!) suggested we at least check it out for a drink or two.
Famous last words.
There's no shortage of fun when my girls* and I get together. Add Bourbon St. to that mix, and it's the perfect storm–starting with hurricanes**.
Girls* on Bourbon Street!
L to R: Natalie (with Baby Joe), Allison, Aly, Me, Kent, and Beth
The reason we were all there–adorable Natalie!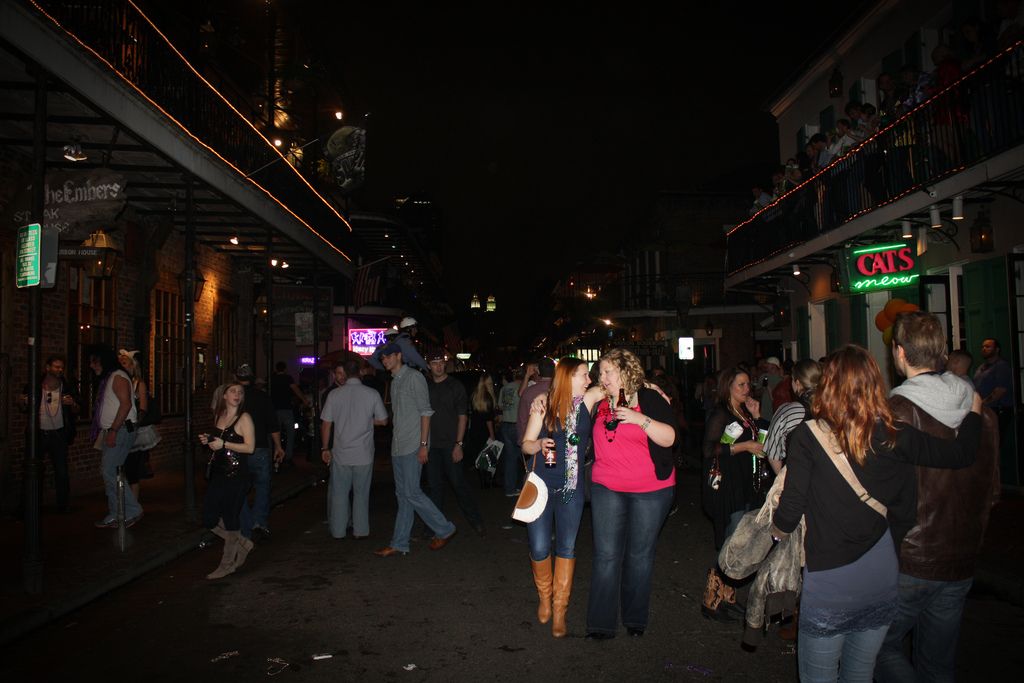 Me, Kent & Bourbon Street
Keeping track of Allison's scarf all night was a joint effort:
Aly, Nat's husband Joe, Beth  (and hurricanes, eek!)
A shot of me catching some well-deserved*** beads from the balconies above:
It's Bourbon Street, people.
It had to be done.
The next day did not go exactly as planned.
Instead of getting up early and tackling the nursery, the majority of us slept in and nursed hangovers.
By that afternoon, we were ready to take charge…or at least take turns taking charge and taking naps:
Glasses, no makeup, and a hangover.
Bourbon Street: 1
Dusty: 0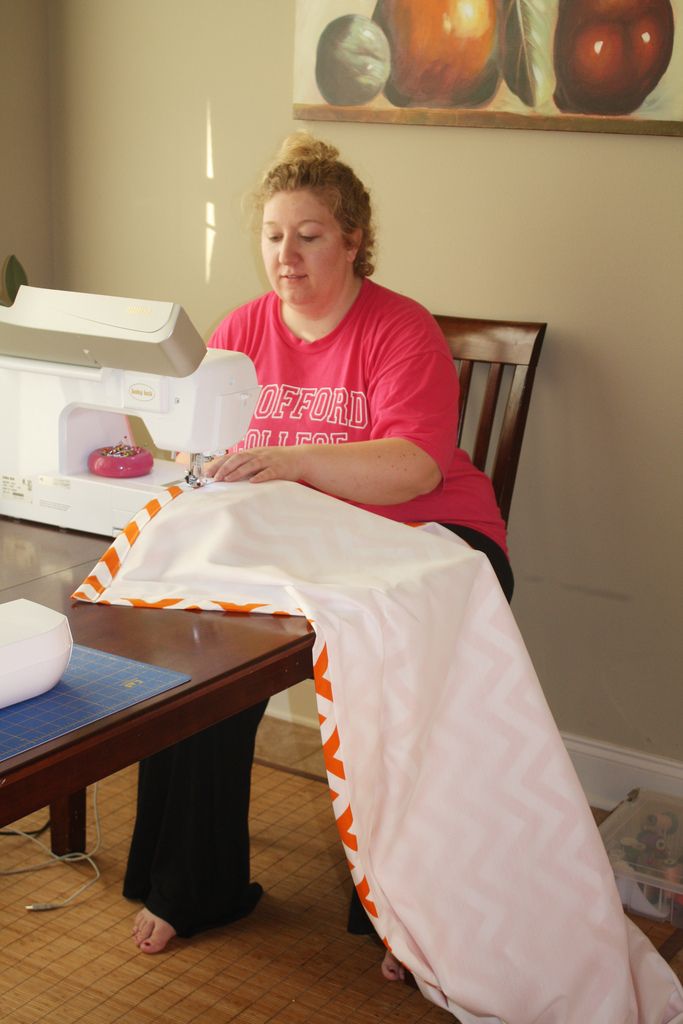 Kent sewing up a storm in the kitchen.
We didn't get as much done as we had hoped, but we at least finished the stripes!
That evening we all managed to clean ourselves up enough to look presentable for a dinner out at New Orleans Food & Spirits:
No hurricanes on this table!
…followed by a quiet night back at Natalie and Joe's house where we had one last surprise for Nat–a baby shower! Our group of friends* pooled our money together prior to the trip, and Beth got her shop on buying all sorts of cute clothes, toys, and baby things for Baby Joe.  Beth scored some awesome finds, and hopefully that little man is set!  
The next day (Sunday) was the day I flew home, so back to NOLA we went to see a few sights before I had to be at the airport.  Our first stop was beignets at Cafe du Monde!
After that, we strolled the French Market where Beth had me try my very first fried green tomato.  We said goodbye to Aly after the French Market (she had another friend to visit in NOLA that evening), and then Allison, Beth, Natalie, Kent and I grabbed some lunch and I tried my first muffuletta sandwich.  After lunch we strolled and shopped around Jackson Square: 
I love, love, love this picture Allison snapped of beads**** hanging from a balcony in the French Quarter!
A quick drive through the Garden District on our way to the airport, and it was time to say goodbye. My fabulous weekend of fun with friends had come to an end, but I know someday I'll return!
Bourbon Street and I need a re-match.
 
————————————————-
The title of this post is a nod to Etta James, who passed away on the day we arrived in NOLA.  She is currently heard in the Flo Rida song "Good Feeling" which was our song of the weekend!
*Whores
**A ridiculously strong and fruity cocktail loaded with more liquor than any human should ever consume.
***I doubt you'll need your calculator to figure this one out.
****Turns out I'm not the only girl who loves her beads. Kate spotted them instantly the morning after I returned home, and promptly adorned herself with all of them. I'd spent Sunday afternoon trying to find the perfect souvenir to bring home for her, and it turns out the beads I snagged on Friday night were all she needed!