Speaking of goals, let's take a look back at my 2011 resolutions, shall we?
1. Be on time.
As I stated in my 2011 Resolutions Check-In, this isn't exactly my strength. Case in point:
It's February 8th and I'm just now wrapping up my 2011.
In fact, that's not entirely true since I still have pictures from the last two months of 2011 to organize and upload to my "2011" photo album. And I still need to finish Kate's 21, 22, and 23 Month posts (Mom of the Year!) from last year. And guess what. I still need to write about Kate's cleft palate repair surgery—from 2010!
CLEARLY NOT ON TIME!
I cannot in good conscious give myself credit for this one. I will instead audit the course and give myself an A for effort—in life.*
2. Run 400 miles.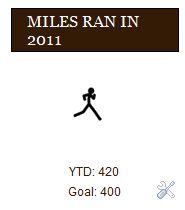 BAM! How you like me now?!
Okay, really, I shouldn't be talking trash because I barely squeaked this one out. And considering I even trained for (and completed—woot!) my first half-marathon, it's actually a little pathetic that I didn't log more miles than this.
Meh. I'm giving myself another A on this one.
I grade on a curve.
3. Find more time for blogging.
Let's let the numbers do the talking here:
Number of posts published in 2010: 112
Number of posts published in 2011:  96
WINNING!
(And by "winning!" I mean "sucking at life." Same as Charlie Sheen.)
If my 2011 resolutions had been (1) getting shit done whenever I get around to it, (2) completing my first half marathon, (3) writing 96 charming and witty blog entries; 93 of which are about my daughter, and (4) visting Starbucks so often they give me a gold card…well, there just wouldn't be any room for improvement, now would there? And I'm all about self-improvement!
Stay tuned for my 2012 goals.  We'll revisit this topic.
*Although as previously stated, really I set this resolution with the goal of not being late to meetings and appointments and I totally kicked ass in those two categories.
My solution was to simply schedule fewer meetings and appointments.