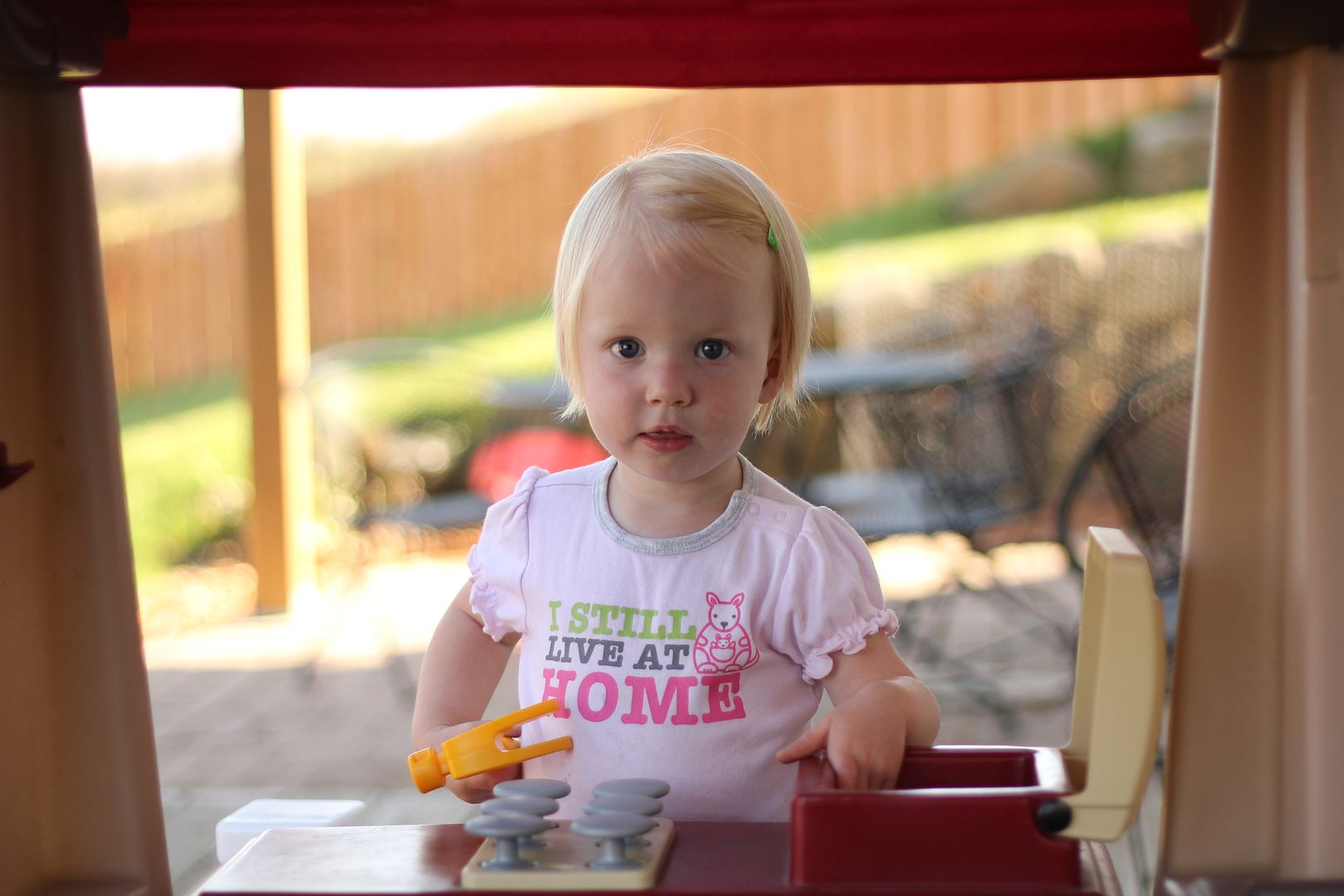 Kate: 21 Months
I really need to catch up on Kate's monthly posts, so bear* with me as we take a little stroll down memory lane. This lane in particular takes us all the way back to Halloween. (Almost like time travel—but without the DeLorean.)
Kate was supposed to be a ladybug for Halloween—a costume she picked out weeks prior and had been happily wearing around the house since she got it. But of course, in typical toddler fashion, on Halloween night she refused to put it on. Our original plan was to just take her around to say hi to the neighbors (and later eat all her candy) but since she didn't get dressed up there was really no reason to go out. Instead we all stayed home and she helped hand out candy to trick-o-treators—a task she ended up LOVING far more, I'm sure, than collecting candy for her parents. Every time the doorbell rang she ran squealing to the door shouting, "Kids are here! Kids are here!" and when we opened the door she'd say, "Trick or Treat!" and "Happy Halloween!" It was the cutest thing! She then insisted on standing in the doorway and waving goodbye to everyone as they left, shouting, "Bye kids! Bye, kids!" Oh, it was hysterical! This little 1-1/2 year old waving and calling, "Bye kids! Bye kids!" to groups of kids five, six, seven times older than her as they were leaving our cul de sac—like she's some kind of little old lady! It totally cracked me up.
Something else that's been cracking us up this month is that Kate has taken to "tap dancing" everywhere she goes. Kate's Great Aunt Anne (a.k.a. "Mimi") was in town for a visit, meeting Kate for the first time. Mimi enjoys tap dancing as a hobby and she dazzled Kate when she showed her a little dance. Ever since then Kate's been shuffling around the house, doing her version of "tap dancing like Mimi." I laugh every time! Especially when she breaks into her little tap dancing moves while in mid-walk, taps a few feet on her way to her destination, and then continues walking as if nothing happened.
She's got personality, this one.
Speaking of her personality, I've been meaning to document a few qualities about her that are pretty dominant, but may not seem apparent when I write about her. I document a lot of the funny and creative things she does, but Kate is also incredibly cautious and observant. In pretty much every environment other than home, Kate prefers to hang out with me or G (either sitting on our lap, or us holding her) until she "warms up" to the room. We allow her as much time as she needs, and when she decides she's ready she'll get down and play or explore. Before joining a group of other kids, she'll hang back and assess the situation; see how the other kids are playing, and decide if that feels like a good fit for her. For example, some kids see a bouncy house and they can't tear into it fast enough. Kate sees a bouncy house and she'll get excited, want to go over and look at it (with me or G by her side, typically) and then she'll hang back and watch the other kids and decide which kids she's comfortable being in the bouncy house with, and which kids she's not. She has always been highly attuned to her surroundings, and this observant and cautious nature of hers seems to be an extension of that. I never push her to join the group or get in the middle of the action because, frankly, I don't want her to ever lose this quality. It's something I absolutely love about her. Some may view her as clingy or shy, but G and I know better—she's an incredibly outgoing little girl, who also values her personal space and knows her comfort zone. It'll be interesting to see if she retains these qualities as she ages (I'm looking at you, teenage years).
Another quality about Kate that blows my mind is her incredible memory. We can tell her the word for an object, and she'll never forget it. You could say something in front of her once, and she'll bust it out a week or two later. Two of my favorite things I heard her say out of the blue this month:
"Uh-oh spaghettios"
"Okey-dokey artichokey."
More cuteness…Kate mastered saying her alphabet last month, but now she finishes it singing, "Now I know my ABCD's…" and adds the extra letter in there. G and I tried correcting her for awhile, but she's made up her mind—they're her "ABCD's." Case closed.
Other songs Kate enjoys singing are "Happy Birthday" (it was G's birthday this month so I taught it to her; now no matter whose birthday it is, Kate always sings, "Happy birthday to Daddy!"), "Ring Around the Rosie" and, "Twinkle Little Star."
I also love listening to her mimic us as she pretend plays with her stuffed animals. She'll put Puppy in the highchair of her play kitchen, put a spoon to Puppy's mouth and say:
"Puppy eat."
"Try it!"
"No?"
"Okay."
Kate loves her play kitchen. Other current favorite things include her playhouse outside (she's playing at it in the picture above), her B. Snug Bug toys, climbing up on furniture or the ladders at the playground, trucks (she loves watching the garbage and the mail trucks when they come) and making lists.
Yep, you read that right.
One of Kate's favorite activities right now is to ask for a pen and a pad of paper, and then she pretends to scribble on it and will tell you, "I'm making a list."
That's my girl!
Kate also says "goodbye" to everything— the swings at the park, all the kids at daycare ("goodbye friends!"), "goodbye playground!", "goodbye milk!" It's comically obsessive, and it actually comes in handy when we're transitioning her from one activity to the next ("Kate, say goodbye to the bath water. It's time for bed.")
We're starting to be a little more consistent with sitting Kate on the potty. She first sat on the potty at 15 months old after showing interest, and peed in the potty a few times, and even pooped in it once. At the time Greg and I weren't consistent with putting her on there and eventually she lost interest and stopped asking**. More recently, however, Kate seems ready to give the potty another shot, so we're trying to do a better job of giving her a few minutes of potty time throughout the day. The first time I put her back on the potty—after a couple of months of not being on it—she cried and wanted off. I was kicking myself for not sticking with potty times back when she was younger and wanting to be on it! I tried putting her on the potty a few more times over the next few days and each time she seemed more and more upset about being on there. The last thing I wanted was for her to start associating the potty as a negative thing, so to turn it around I decided to offer her her very first lollipop (this is the kind I buy). I explained that it was a "potty pop" and she only got to lick on it while she sat on the potty. It did the trick! Kate quickly went back to enjoying her potty time.
One day shortly after that Kate told me she wanted to use the potty, so off to the bathroom we went. "Lollipop?" she asked, and I gave her one. "Red pajama book?" she asked, and I sat down on her little stepstool in front of the potty and read her current favorite book. This has now become the potty routine in our house. We've yet to have success with her peeing or pooping in the potty again, but at this point I'm just glad she no longer has the negative association and we're able to gradually work on making potty time a regular part of her day.
Video time!  This first one is a clip of Kate's "regular" dancing:
And here's a video of her "tap dancing" like Mimi:
Playing with Daddy and being turned "upside down!" (one of her favorite things this month):
Here's a clip of her talking on my iPhone. She likes to pretend she's talking to my friend Jill, which I always find funny because the truth is Jill and I never talk on the phone (we're texters). In this clip she says she's "talking to Jill" and then she carries out both sides of their conversation:
"Hello."
"Hi."
"How are you?"
"Good."
This last video is simply of Kate and I hanging out in her room on one of our Momdays. I really wanted to capture her just being herself and this video does exactly that. You're welcome to take this peek into these precious 8 minutes of our lives.
*Is it "bear" or "bare" in this context? I can never remember. Although I'm pretty sure I'm not asking you to get naked with me, so we'll stick with "bear."
**Dammit
Additional Kate 21 Months Posts:
Things Loved in October
Kate's Room Revisited