The 2012 Academy Awards may have recognized a silent film for its highest award this year, but there was nothing silent about my Oscar party!
Have you ever listened to six women chatting in one room?
When they've been drinking wine??
It's a true art form how so many conversations can be held by so few people–each woman dipping in and out of the conversations in front of her, beside her, and behind her as needed.
There should be an Academy Award for that!
We partied the night away decked out in our red carpet finest things we've had in our closets forever.  Most were old bridesmaid dresses (Beth's dress is her bridesmaid's dress from my wedding, just shortened!), and mine was something I wore for formal night on a cruise G and I took years ago.  It was such a fun way to get a little more use out of clothes you never thought you'd wear again!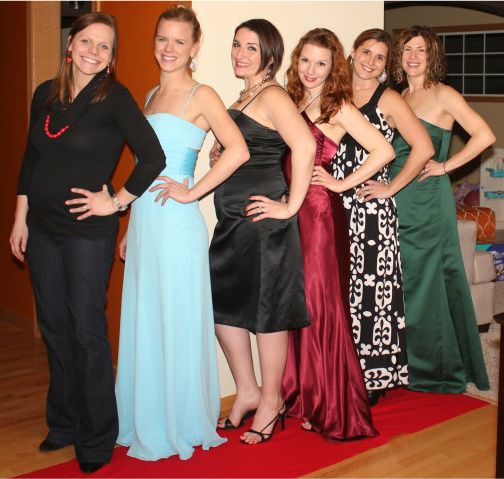 Glamour Girls (L to R): Leah, Erica, Beth, Me, Sarah, and Jill
G made himself scarce for the evening, so the photo above was taken using a self-timer. We didn't realize at first that my camera was set for continuous shooting, and coincidentally enough it captured a shot of quite possibly the only moment of the entire evening that we actually watched the awards show!
The girls, giving a quick pose, once they realized the camera was shooting:
Everyone brought an appetizer (and some wine!) to share and once again I set up a candy buffet with homemade caramel corn and favorite movie theatre candy.  It was hard to resist–especially for Kate!  (See an outtake photo on my Facebook page.)
Mike & Ike martini
Additional deliciousness included these Mediterranean Antipasto Skewers that I made:
And a treat tower filled with homemade Oreo truffles, chocolate-covered strawberries, and dark chocolate peanut butter cups:
In addition to bringing apps and drinks, my friend Beth also brought these beautiful roses to the party.  Such a sweetie!
My lovely friend Leah had to pass on the wine this year because she is 6 months pregnant, so I made her a delicious Mango Coconut Water smoothie instead!
Erica, getting the red carpet walks started!
Followed by Beth:
Leah, strutting her stuff at 6 months pregnant:
Next on the red carpet–Sarah!
Followed by Jill:
Oh! I forgot to mention–both Jill and Erica (in the blue dress above) gave birth to their second children a mere five months ago!
(If I didn't love them so much I'd hate them.)
Last up, the host:
I really need to work on my posing. Case in point, here's an outtake of me "working it":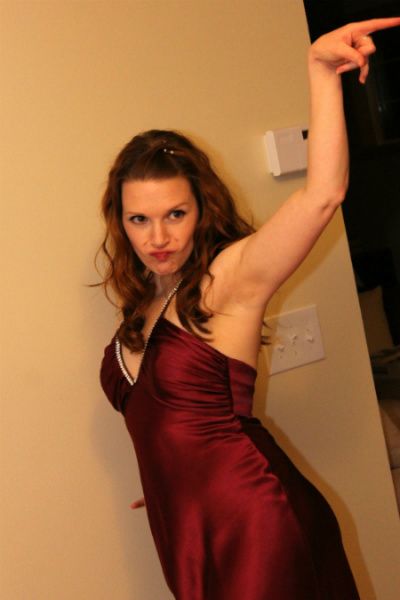 I should've never stopped watching America's Next Top Model.
You can't have a red carpet, without red carpet interviews, and luckily Beth and Sarah had that covered for us:
That's the gist of the night, but I can't resist adding some of my favorite outtakes!  First up–my friend Sarah showing off (at my orders) her incredible arms that make me seven shades of green with envy:
Erica, bringing sexy back:
Beth and I, keeping the party going!
Me, Jill, and a senior prom pose:
Beth, "working it" way better than I do:
And lastly, a hair shot.  I loved the tutorial my reader Sabrina shared with me, and my curls looked great all day long.  This is a picture of them over 12 hours after I took my mini buns out–after a full day of cleaning, prepping, and partying!
The evening was a wine, candy, laughter, and fun-filled one with much attention being given to each other and our own little red carpet, and almost zero given to the actual Oscars themselves.  Why should the stars have all the fun?!