I'm no expert on the anti-plastic movement, but I do know it's out there. I've read enough magazine headlines while standing in the checkout line to know that Glass = Good. Plastic = Poisonous Cesspool of Cancer-, STD-, and Alien Baby-Causing Chemicals.
We've been slowly making the great migration to glass in our house, but a couple of things were holding me back:
I still have perfectly good chip-free, stain-free plastic storage containers that I'm not ready to just toss.
Glass food storage is expensive!
I'm getting around #1 by continuing to use my perfectly good plastic to store food that doesn't need to be reheated, and I'm getting around #2 by getting creative!
A few months ago I was scraping out the last of Kate's applesauce jar and was about to toss it in the recycle bin when I realized, "Hey, this is a good sized glass jar. I could use this for something!"
Here's something you should know: I'm about the furthest thing away from a hoarder that a person could possibly be. I despise and refuse to keep things in the house that don't meet a current need or serve an identified purpose "just in case."
I have about a 2 second window between realizing "I could use this for something" and coming up with exactly what that "something" will be, or else that item must be evacuated from my house. Lucky for that applesauce jar, I thought of it!
Kate's empty glass applesauce jar—an object created to hold food—can be used as glass food storage!
(Do they hand out Pulitzers for this kind of brilliance?)
Since then, almost no glass jar has been tossed in the recycle bin at our house—applesauce jars, salsa jars, honey jars, alfredo sauce jars, the jar the peanuts came in—all of them get a new life once emptied of their original contents! (The only jar I've reluctantly tossed since coveting glass storage is the minced garlic jar—no amount of washing could get rid of that strong garlic smell and I didn't want to risk everything being stored in it tasting like straight garlic.)
Ground oats for Kate's Oatmeal Drops in an applesauce jar, orange slices in an artichoke hearts jar, Green Smoothie in a honey jar, and homemade taco seasoning in a salsa jar–just a few of the many things I store in glass these days!
The great thing about reusing glass food jars (other than their $0 price tag!) is that they can go straight from the fridge to the microwave for re-heating. I've even been using them for freezing batches of soups and sauces!
I fill the jars almost to the top (leaving space at the top since liquid expands when it freezes), and refrigerate it first to get the jar and its contents cold. Then I set the jar upright in the freezer with the lid off, wait until the contents freeze, and then put the lid on the jar. Large jars (like applesauce jars) work great for freezing 2 servings of soup, and small jars (like salsa jars) are the perfect size for freezing single servings! I love grabbing a jar of chili from the freezer, transferring it to the fridge to thaw, and bringing it to work for my lunch, heating it up, and eating it—all from the same jar. It makes a great grab-and-go lunch during the busy work week!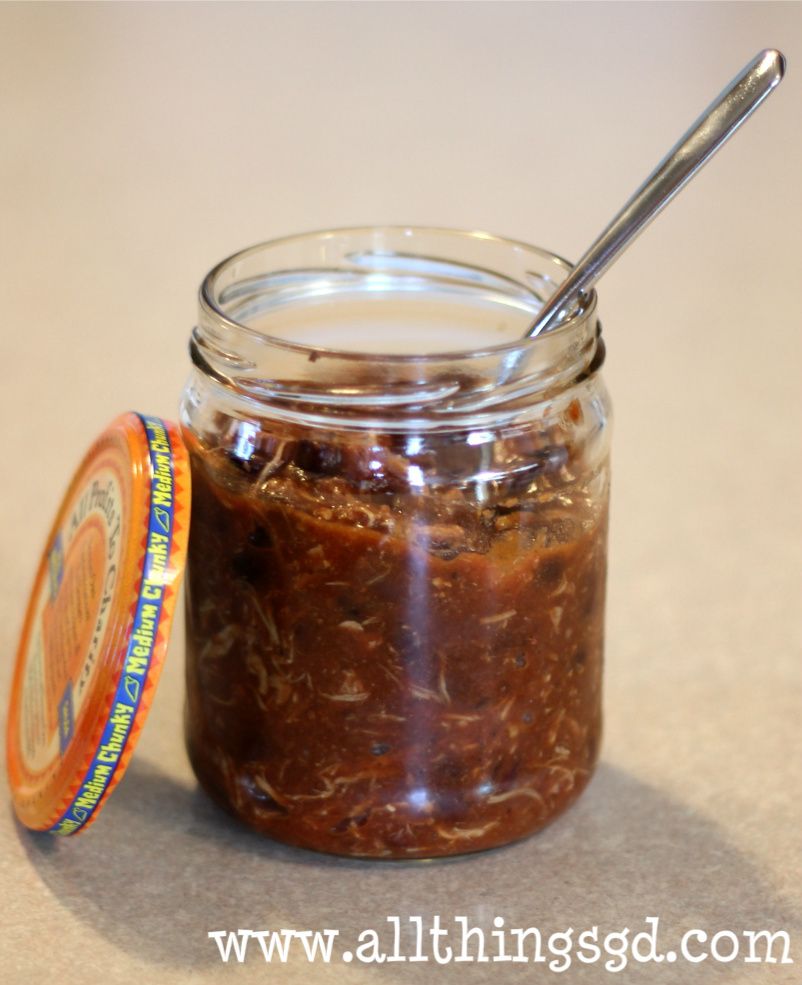 Chicken Taco Chili in a salsa jar–a single serving grab and go lunch!
Have I convinced you to covet all things glass in your house yet? If not, send all that glass goodness my way—I'll put it to use!