G and I had such a wonderful time visiting his sister Lesley and her boyfriend Ben in Seattle!  We arrived on Thursday afternoon after dropping Kate off at daycare and me taking lots of deep breathes trying not to have a nervous breakdown.  A quick stop at Starbucks before heading to the airport and a 4 hour flight later, and we had arrived!  Lesley and Ben live in the upper Queen Anne neighborhood and our first order of business was exploring their beautiful neighborhood while we waited for Ben to get off work.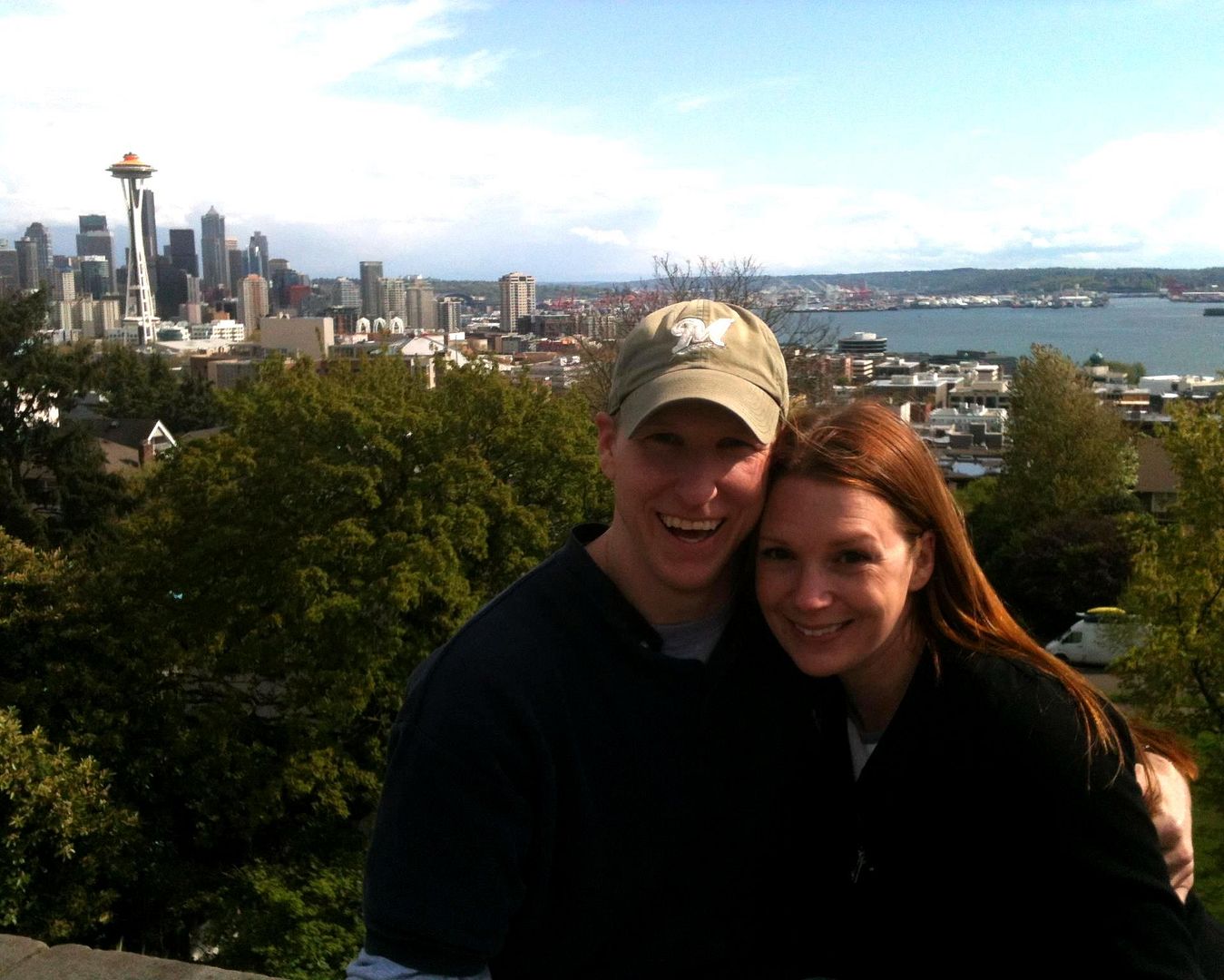 Overlook at Kerry Park in Seattle
Lesley's neighborhood is on a huge hill, so we had excellent views of the Space Needle and downtown Seattle.  I'm afraid of heights the way a Kardashian is afraid of getting cancelled so we didn't go up in the Seattle Space Needle, but happily admired it from the ground.  They painted the top of it orange in honor of its 50th anniversary, but I like to think it was because they knew I was coming.
Thursday evening included dinner with Ben and Lesley in Queen Anne, followed by our introduction to Menchie's Frozen Yogurt Shop (the devil!).
On Friday morning G and I started the day with a run – he ran 3 miles and I ran an additional 2 (those were my Menchie miles).  Afterwards, I met jbhat at a coffee shop while G relaxed back at the house.  Ben and Lesley both had to work on this day, so G and I had the opportunity to explore Seattle on our own.  We walked to downtown and our first stop was Pike Place Market!
Our first order of business at Pike Place was hitting up the very first Starbucks store ever opened!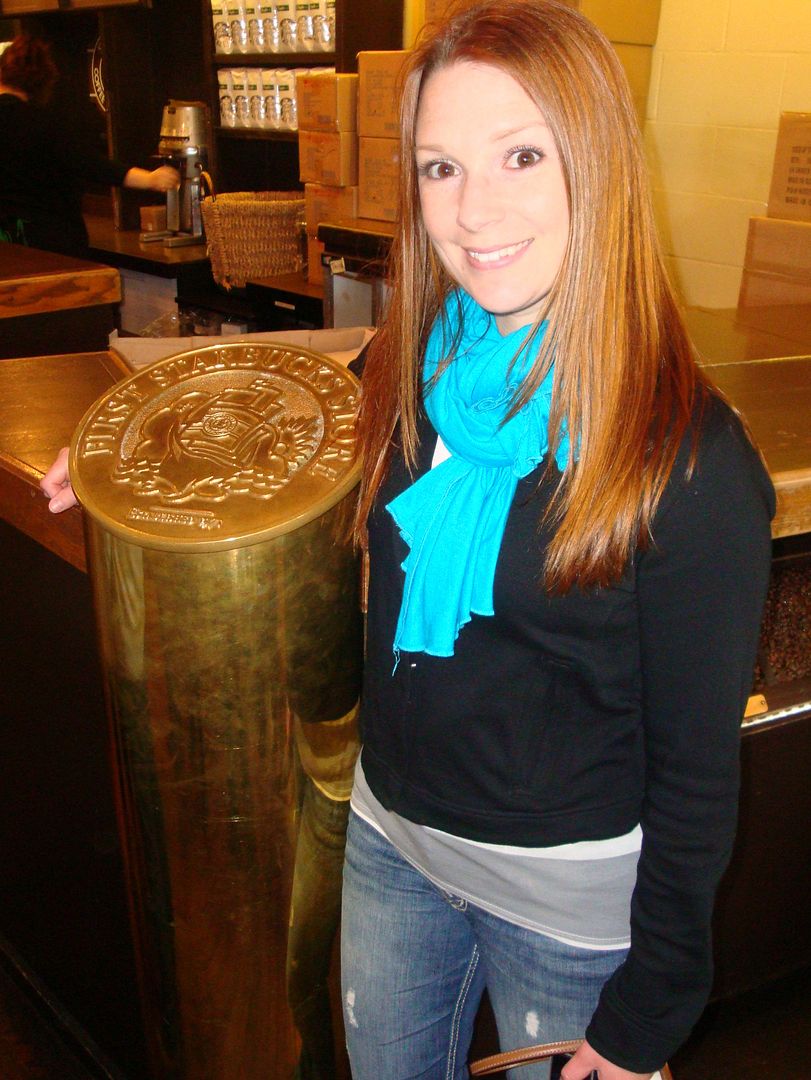 This brass thing inside says "First Starbucks Store" on top.
I got a grande nonfat chai tea latte, and this began G's weekend love affair with caramel frappuccinos.
The Market was fantastic, and I think if I lived in Seattle I'd be buying fresh salmon, vegetables, and flowers there every week! 
G and Willy, the fish guy
G read about the Giant Shoe Museum in the Market and joked for weeks leading up to the trip that that's what he was the most excited to see.  It was basically just a wall you walked up to and there were four different windows you could look into for a quarter each.  Kind of a like a peep show – but with giant shoes.
G put his quarter in to see the giant shoe behind the curtain.
I just saved you $0.25.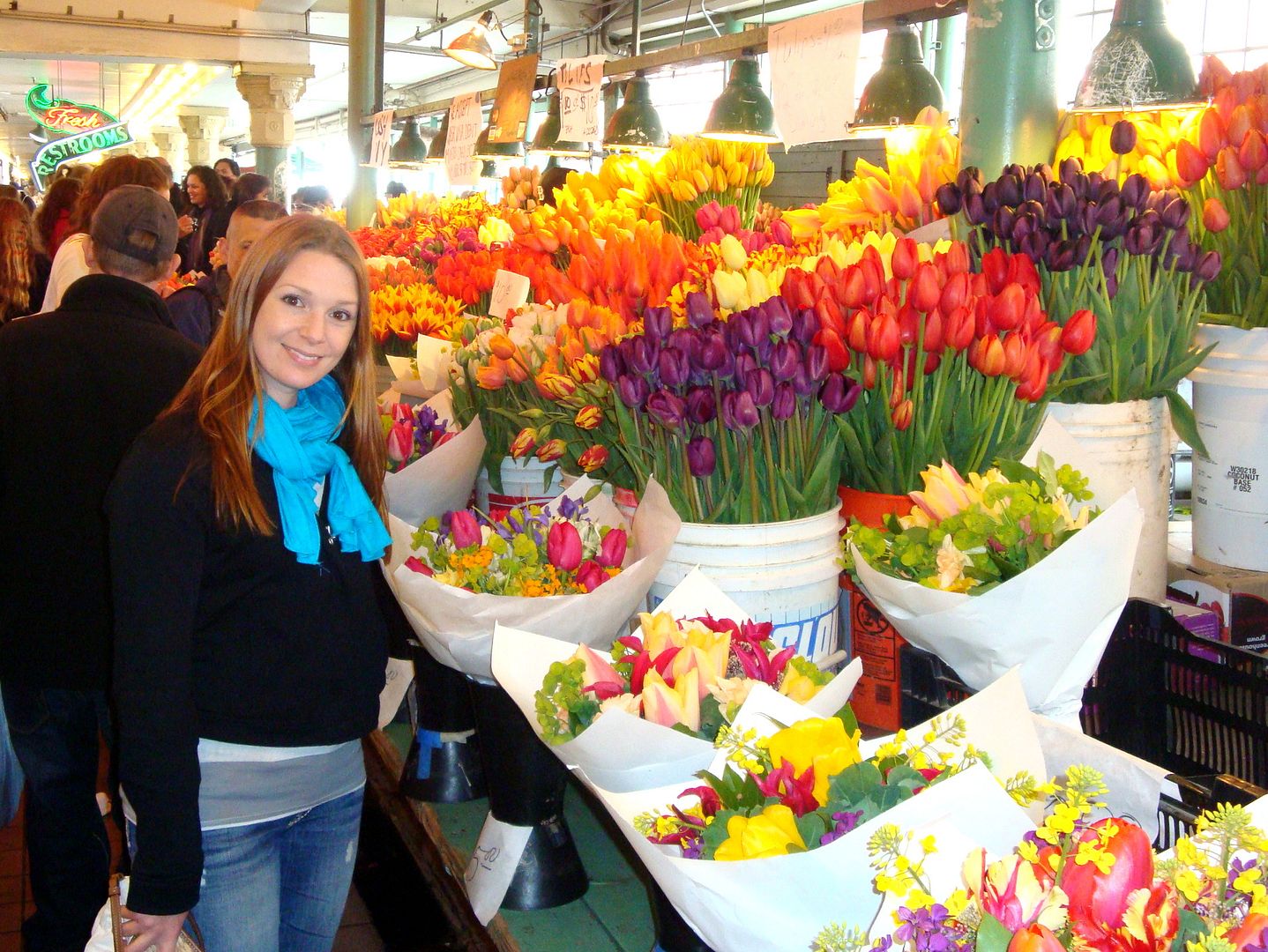 Lots of beautiful fresh flowers!
We had lunch at Lowell's (they filmed a scene from Sleepless in Seattle there!), dessert at Rocky Mountain Chocolate Factory, and then continued exploring downtown Seattle. I was really excited to check out the Underground Tour, so from Pike Place we walked down to Pioneer Square and enjoyed a beer while we waited for our tour to start.
Did you know Seattle has an Underground?!  See that beautiful grid of glass in the sidewalk our tour guide is standing on in the first picture?  That's my tour group standing underneath that exact same glass grid in the second picture!  Turns out it's not just a pretty sidewalk detail – it's actually a skylight put in when downtown Seattle was rebuilt (following a fire in 1889) in a way that raised their street-level up one story, leaving all the original sidewalks and first stories of buildings now underground.  It's a fascinating bit of Seattle history and so neat to see!
The third picture below is our tour guide standing in front of what used to be the main entrance of Seattle's first bank (and is now underground).  The 4th picture below shows our tour group entering another part of Seattle's Underground, going below street-level.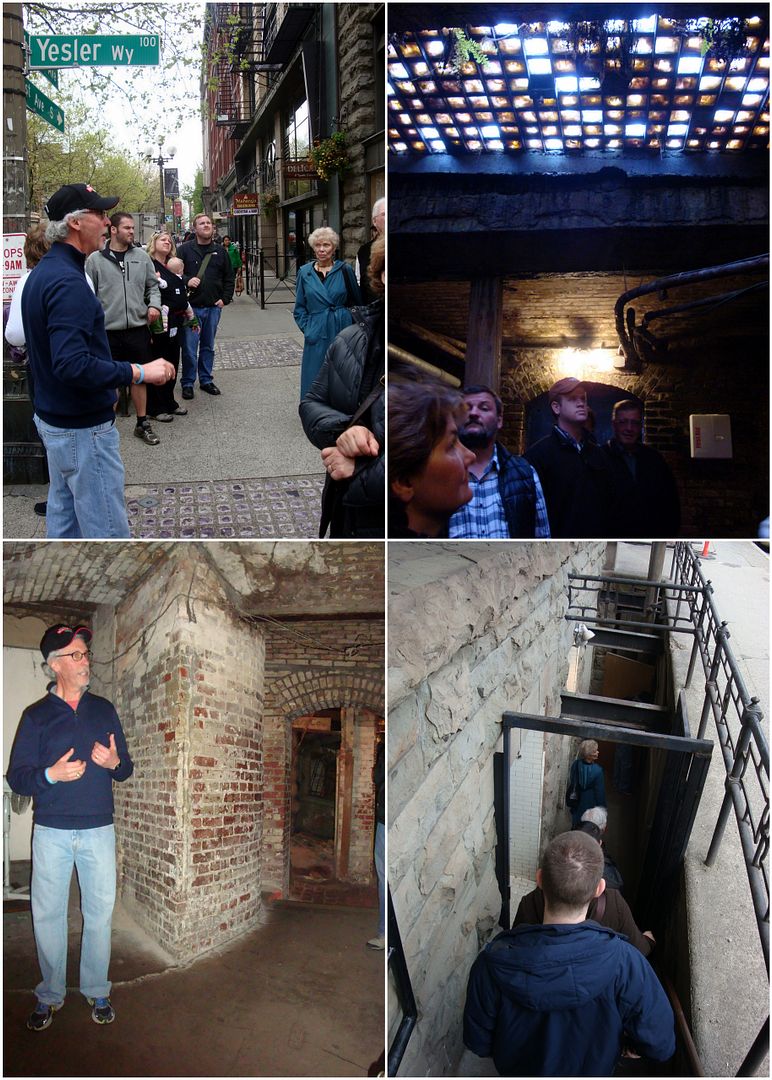 The Underground Tour
After all the running walking we'd done for the day, our feet were tired, so we had G's sister Lesley pick us up from Pioneer Square on her way home from work.  That evening the four of us went out for sushi and had drinks in Ballard with Ben and Lesley's friends.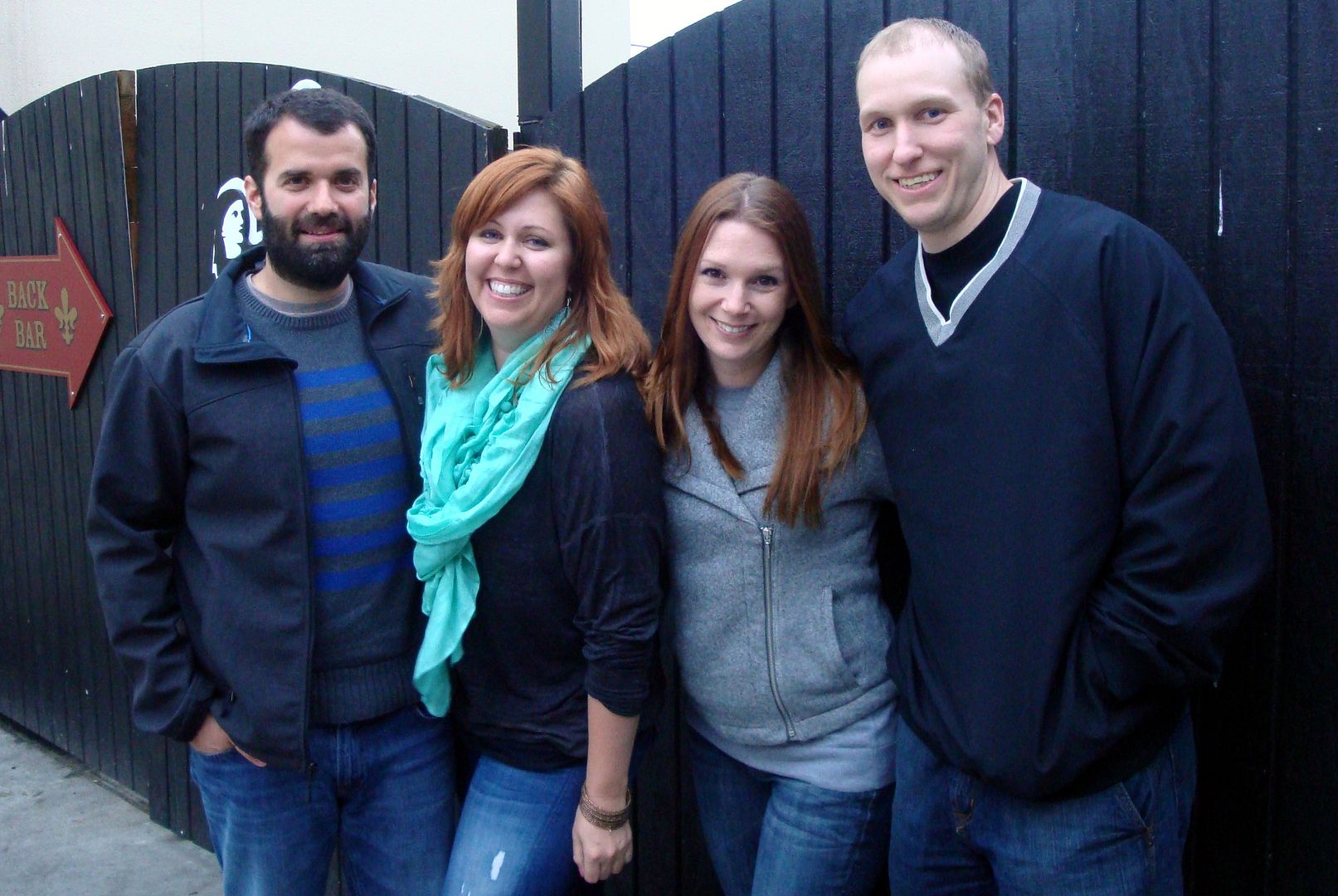 Ben, Lesley, Me, and G
On Sunday morning we hiked through Discovery Park with Ben, Lesley, and their dog Morty.  I didn't bring my camera for the hike, but it was beautiful!  Afterwards, (after our second visit to Menchies) Lesley took us to Ballard Locks to watch boats go through the Lake Washington Ship Canal.  It's a pretty neat process!  Basically, a "lock" is a controlled passageway that allows a boat to go from a body of water at one elevation to another body of water at a much different elevation.  While we were there, we saw two boats being raised up in the locks so they could continue on their way.
The first three pictures below show the boats entering the lock from the west.  Once both boats are secured inside the lock, the west doors close, and the boats are now completely enclosed.
The second set of pictures are taken looking in the other direction and show the lock filling up with water to bring it up to lake-height.  Once the lock is filled and the boats are raised to lake level, the east doors open and the boats continue on their way!  The whole process of filling the lock takes maybe 5 minutes.
Click to enlarge
Beautiful mountains in the distance:
On our last night there we met Ben's family for dinner at Steelhead Diner (so good!), followed by drinks downtown.
We had so much fun visiting Ben and Lesley (and Morty)! I absolutely loved Seattle. It was such a fun place to visit and I'm really looking forward to returning in a couple of years – and next time with Kate!