Pop the bubbly – we've got some celebrating to do!
(You can't see, but I'm doing "raise the roof!" motions with my hands.)
(And maybe a little dance.)
I've got a colorful new blog design thanks to my fabulously creative and amazingly talented friend Allison!
I loved my old houndstooth header she created for me, but after 3 years it was time for an update.  Let's face it, my former tag line of "taking life one bottle of wine, 64 throw pillows, and a dozen handbags at a time" was just a smidge outdated.  Over the past two years, those 64 throw pillows have been replaced by the 64 stains I now need to get out of my couch, and my designer handbag budget is now my daycare and organic groceries budget.
Life has changed.
My blog has changed.
And now, after months of planning, I've got a fabulous new design to go along with it!
Here's how utterly incredible my friend Allison is when it comes to graphic design:  I emailed her with a wide variety of ideas that pretty much had nothing in common with each other, and articulated quite clearly that I could not quite articulate what it was I liked about any of them.  The only real direction I gave her was that I wanted to keep orange (my favorite color) in there somewhere.
I'm lucky that Allison is one of my very best friends and knows me so well because she not only understands my desire to keep things as simple and clean as possible, but she also knows my blog and created a header that showcased topics that weren't even on my radar!
The VERY FIRST design idea she emailed me for a blog header was almost exactly what you see above, and it took my breath away. I couldn't see any similarities between it and the ideas I sent her, yet it was absolutely perfect.
She told a story in my blog header without saying a single word.
And that, my friends, is the mark of true talent.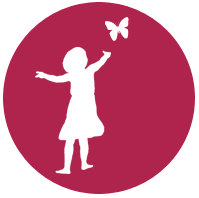 This magenta circle featuring a little girl reaching toward a butterfly was so utterly perfect for Kate that I literally fought back tears the moment I saw it.  This is one of the many examples where Allison's friendship and attention to detail are priceless.  Kate adores butterflies, and this magenta color has reminded me of her ever since I painted her nursery this color – two things an impersonal graphic design company would have never known!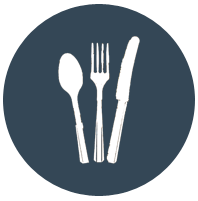 This food-related circle took me by surprise when I saw it in Allison's original design because I never intended to write about food as much as I do, but it is definitely where my interests are these days and I don't see that changing anytime soon. I told Allison I think she knows my blog better than I do!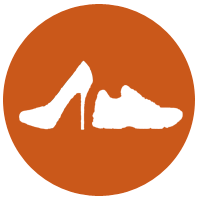 One high-heeled shoe in honor of my fashion posts and one running shoe in honor of my running posts?  There's only one word for it:  Brilliant!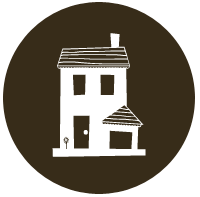 The only change I made to Allison's original design (other than colors) was adding this house circle to the mix.  Even though I haven't blogged about home design as much as I used to, it's still something I love and a topic I know I will always write about – plus I love that this house represents my home life, and that is something I'm certain I will always be writing about!
I absolutely love the simplicity of this design, and I know from personal experience that oftentimes it's the things that appear "simple" at the end result that actually take the most work.  I cannot thank my friend Allison enough for all the time, thought, patience, and attention she put into this project. From the blog header, to the sidebar designs, to the background and fonts, to my new logo and signature – heck, even my Facebook page! – her talent and creativity has touched every part of my new design, and I am forever grateful.
I hope you love the new look here at ATG&D as much as I do!